Nicola Stroud, Head Teaching Professional at Burnham & Berrow Golf Club, explains how to keep your golf game on track for 18 holes
One question I get asked a lot is: "How do I hold onto a good scorecard?"

More often than not, what happens when we're playing well is that our game is steady and our short game is better than usual, especially putting. We gain confidence and play with calmness, unaffected by anxiety or doubt. This will normally occur pretty naturally, but don't confuse this with believing that you were playing without any thoughts.

The problems typically start to occur around the 10th to 14th hole… Suddenly realising that we have a good scorecard in our hand. Thoughts then start to gradually pop into our mind and we begin thinking about the competition or our handicap and all of a sudden we start changing things. We of course don't mean to, but it just happens without us being aware of it.
We're programmed to think negatively
Unfortunately, most minds are programmed to think negatively first and react stronger to that negativity. For example, imagine you won £1,000! But then, imagine you lost £1,000 in the street… I bet most of you would have a far greater and longer reaction to the loss. This is also the case with most positive and negative situations on the golf course.

When we start to realise that we have a good scorecard, we start to have thoughts about not messing it all up. The effect is that we begin to protect shots, look for more danger areas to avoid, and start to worry about poor shots before they've happened. All of these thoughts then lead to doubt, which is the biggest killer of all golf shots.

When discussing the subject of holding onto a good card then losing it, most golfers say they are playing well when they don't think of anything, so they will ask me how to clear their mind.

However, golfers can never think of nothing, it's just not possible. For example, think about times when you've needed to lay up in front of a lake with a 9-iron, ready to hit the next shot over it... How many times have you then proceeded to either fat it not far, or thin it into the lake anyway? This is because you haven't focused on an actual target, but instead, thought this is a simple layup and just loosely or lazily played the shot. It invariably doesn't go well.
Stay in the moment
The key is not to try and focus on nothing, but instead to focus on staying "in the moment".

What does that mean? It simply means focusing on the specific shot in front of you. Stay calm and keep to your practised routines that give you comfort. Make sure your visualisation of the shot is clear and that you have a plan. Then commit to that plan! It means that you deal with your shot and hit it without any query, without worry and without doubt.
Words by Nicola Stroud
About Nicola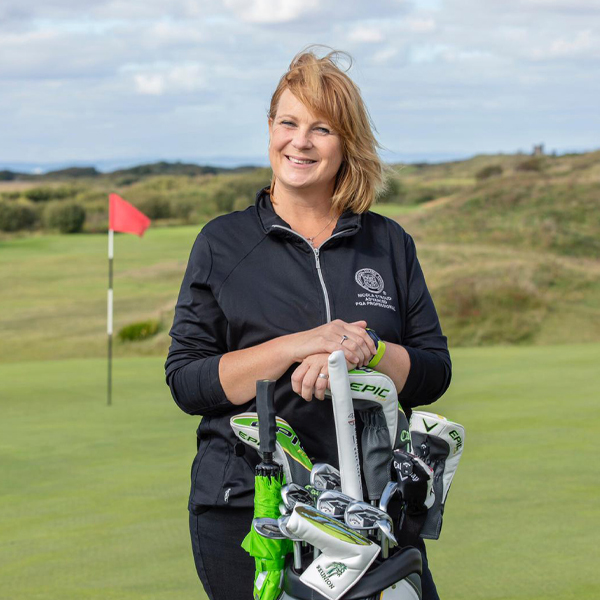 In the first of her Mental Game Series Nicola Stroud talks about controlling nerves and anxiety - read the full article.