New waterproof range from Abacus featuring Bounce rain jacket and waterproof trousers
Abacus Sportwear's latest apparel collection boasts a bespoke range of high-performance outerwear that is designed to protect golfers from the worst of weather conditions, while enabling them to play their best.
Featuring full rain suits, waterproof jackets, padded gilets, stretchy windbreakers, cosy mid-layers, waterproof trousers and a wide selection of weather-beating accessories, the Swedish brand's new range is packed with stylish pieces designed to allow golfers to carry on playing their favourite sport in all climate conditions.
Among the standout products in the high-performance range are the all-new Bounce rain jacket and trousers, which are made from a four-way stretch, waterproof fabric that is also highly breathable, making them perfect for easy, unrestricted swinging in the rain.
Abacus Bounce Rain Jacket
The Bounce rain jacket, which is fully waterproof and windproof (15,000 WP/MVP rating), is powered by StretchDry Technology, a unique material that consists of three bonded layers. The inner material is made from the same soft, stretchable material as the outer layer, in between which is sandwiched a breathable membrane which prevents water from getting in, while transporting body heat to the surface before it evaporates into the air.
Heat-sealed seams, a fully waterproof front zipper, a drawstring hem, tapered wrists, and a stand-up collar also improve the protective fit and further enhance the unbeatable protection offered by the Bounce Jacket.
A chest pocket and two handy front pockets add to the practicality of this lightweight winter essential, which is offered in four colours for women (white/grey, navy/white, orchid and black/grey in size XS-XXL and in six colours for men (navy, black, grey/black, navy/grey, orange and navy/orange) in sizes S-XXXL.  RRP - £199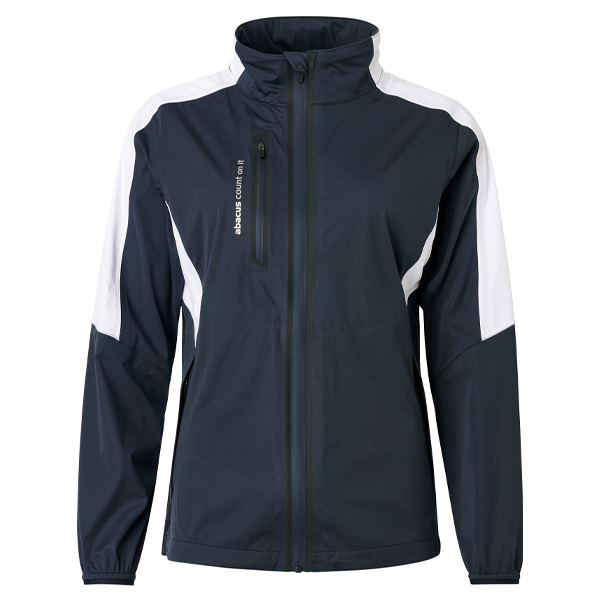 Bounce Rain Trousers
Completing the Bounce waterproof suit are the Bounce Rain Trousers, which are made using the same StretchDry Technology as the jacket and feature adjustable waist band, two front pockets, one back pocket and long zippers on the outside of the legs for easy on off even whilst wearing golf shoes.  Available in Women: XS-XXL Colours: black, navy and light grey and Men's: S-XXXL Colours: black, navy and grey. RRP - £149
Bounce Waterproof Trousers
For those that find putting waterproof over trousers on and off a cumbersome chore, Abacus have released their range of highly breathable Bounce waterproof trousers (15,000 WP/MVP rating). Made from the same StretchDry Technology as the Bounce waterproof suit these trousers can be worn both on and off the golf course and are the perfect addition to any golfer's winter wardrobe.
The lightweight Bounce Waterproof trousers have a flexible waist, two front and back pockets and are offered in grey, navy and black for both women and men. Women's:  36/46 (UK) and Men's: 28/30 to 32/34. RRP - £129 
To find out more details, or to view the entire Abacus Sportswear range, visit: www.abacussportswear.com
Check out our selection of six winter golf boots that will keep you on the golf course - find out more.