Pops of colour, new designs and interchangeable pieces mean you can build a versatile golf wardrobe with Glenmuir this season
We're big fans of Scottish golf clothing brand Glenmuir, so it gives us great pleasure to introduce the Spring/Summer 2022 (SS22) collection with vibrant colours cobalt and sorbet as well as the classic colour bordeaux incorporating a crisp twist combing white, navy, and light grey. The focus remains strong on sustainable performance fabrics as well as luxurious natural fibres combined with contemporary styling.
Polo Shirts
Superior Performance golf shirts are made from active fabric which is highly functional with moisture-wicking technology delivering breathability, +40 UV protection, thermoregulation and enhanced freedom of movement. This year, the classic performance polo shirt g.Paloma sees the addition of bordeaux (pictured below), this colour is also available in the men's complementary style g.Deacon making it the perfect option for team wear.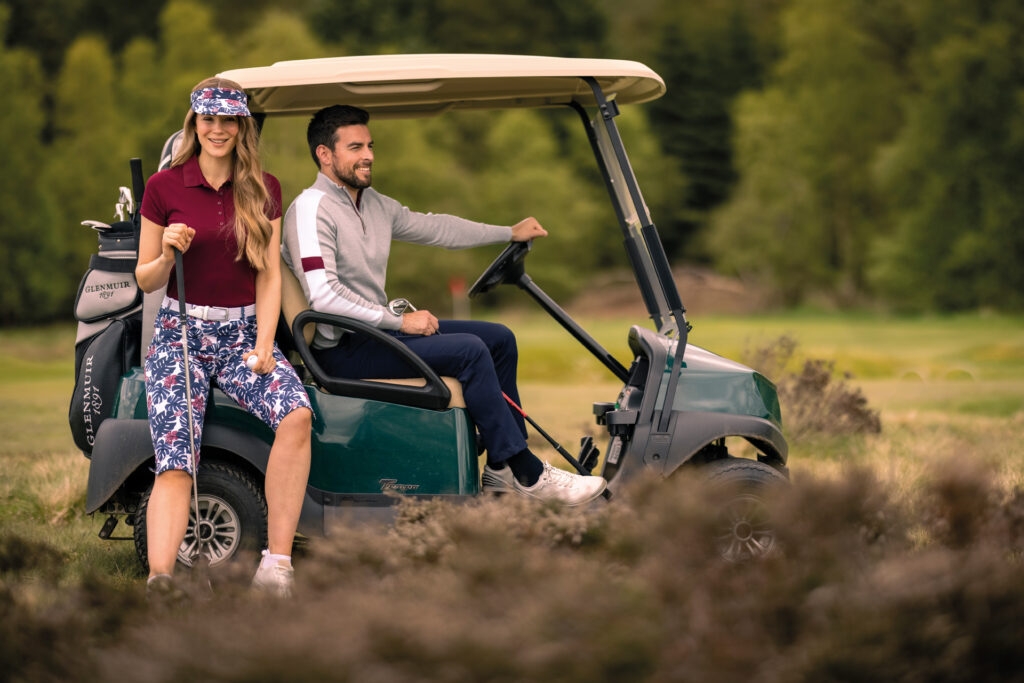 New sleeveless styles in SS22 - g.Priyanka provides a sporty option incorporating piping, panelling and a zipped neck with a stand-up colour, whilst g.Heidi (pictured below) has a selection of houndstooth or tropical prints to choose from, perfect for outfitting with the g.Alma skort or g.Phoebe pedal pushers. The prettiest sleeveless shirt incorporating ruffle detailing and rhinestone buttons welcomes the additional cobalt colour option. g.Perrie and g.Stella (pictured in top image) are both sleek and stylish short-sleeve pique polo shirts available in three colour options each.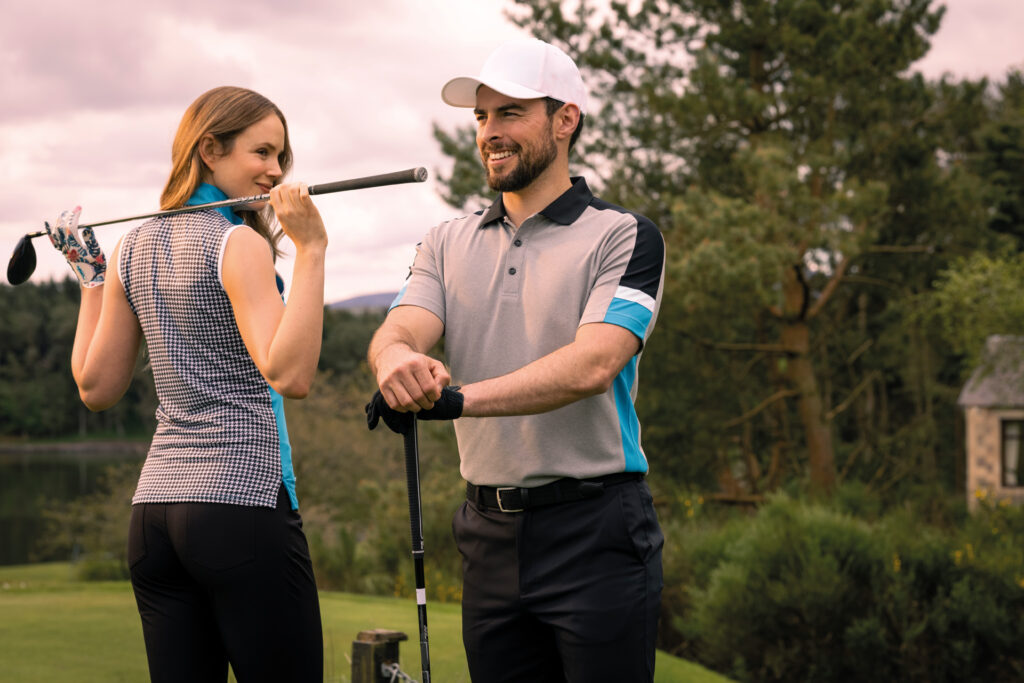 Mentioned already, the g.Phoebe pedal pusher and g.Alma skort each have four new colour options; cobalt, sorbet, cobalt tropical print and navy tropical print, perfect for endless outfitting combinations when teamed a classic or stylish seasonal shirt.
Knitwear
Glenmuir are pioneers in golf clothing in natural fibres which are renewable and environmentally friendly. g.Paige and g.Silvia are fabulous new golf knitwear styles. g.Paige has small embroidered flowers with lurex detail whilst g.Silvia is designed with an elegant pointelle stitch on the chest and sleeves. g.Isabella is a new full length zipped sweater combining a sporty sleeve stripe with sparkling rhinestones.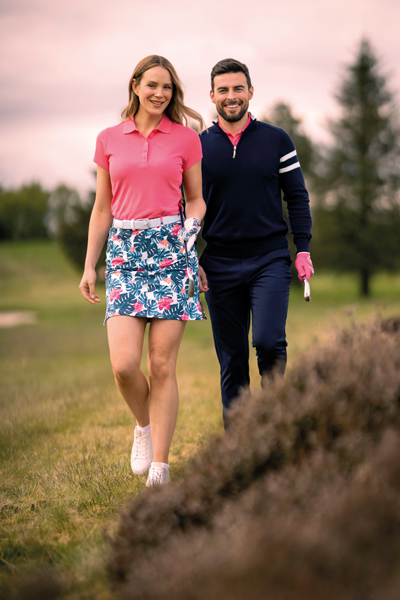 For golf outerwear, the g.Carina Midlayer has two new tropical print options; white/cobalt tropical print and navy/navy tropical print, whilst g,Poppy the Storm Bloc.® performance jacket also adds an exciting navy/navy tropical Print colourway.
I think it's safe to say that we're a little bit in love with this new SS22 clothing range from Glenmuir. There are extensive clothing options beyond these core pieces available via the Glenmuir website and for those that cannot wait until the products become available in February, you can view the Glenmuir SS22 catalogue here.
The new SS22 Glenmuir golf clothing collection will be available online and at your local pro shop from February 2022.
Defy the elements in Sunderland of Scotland SS22 with Ocean Blue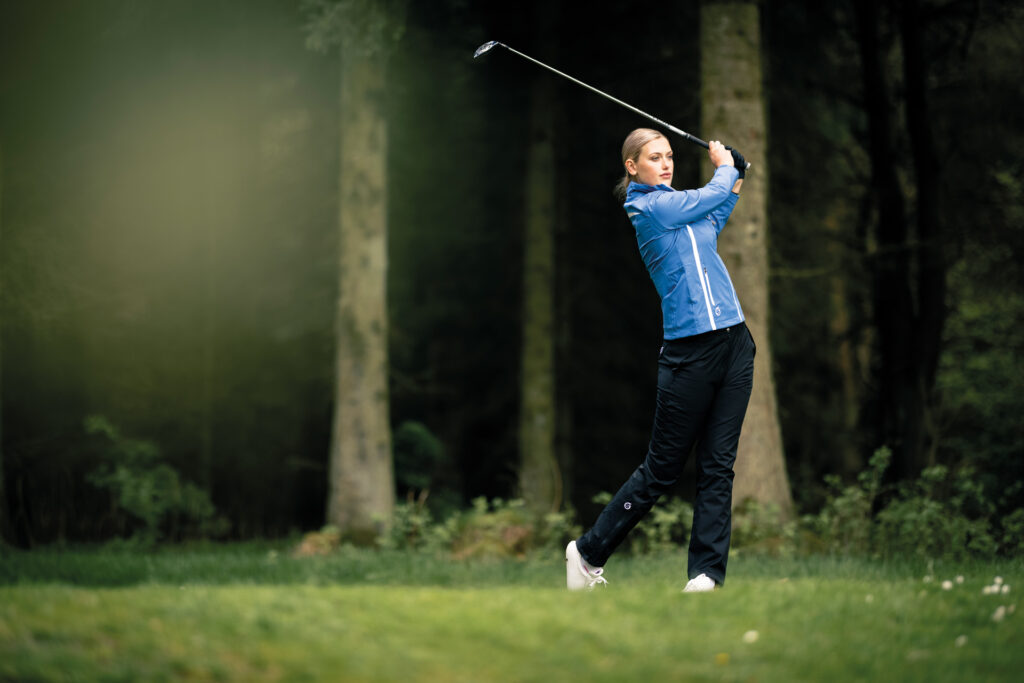 If you want to prepare to be #NeverWeatherBeaten then you need to look no further than the original golf waterproof brand Sunderland of Scotland. Here are a look at the highlights from their SS22 collection where they have introduced the new Ocean Blue to the range.
There is a Lifetime Waterproof Guarantee with Sunderland of Scotland golf waterproofs. The s.Killy jacket, pictured above, (RRP £120) engineered with a lightweight polyester technical fabric with mechanical stretch combined with flattering panels looks fresh in the new ocean/white colourway. The luxuriously soft touch featherlight s.Whispedry Tech-Lite jacket, pictured below, (RRP £150) has a new offering in silver marl with ocean waterproof zips.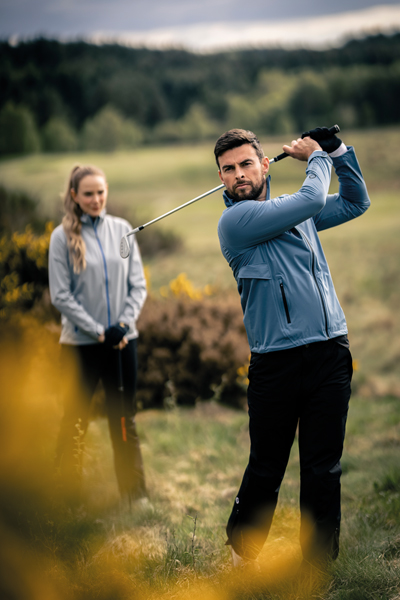 For the popular golf thermal coldwear collection the s.Arosa thermal water repellent midlayer (RRP £70) adds a crisp new colourway to the mix in white/ocean. The s.Nira fleece jacket (RRP £80), a sleek design with contoured seams and discrete in seam pockets, made from a smooth fabric outer warm polar brushed fleece inner. The s.Nira jacket is both shower and windproof and has been introduced in ocean/white. Whilst the s.Zonda lined sweater has a fresh silver marl/ocean/white colourway introduced.
The new SS22 Sunderland of Scotland golf clothing collection will be available online and at your local pro shop from February 2022.