Unrestricted swing & comfort at the heart of latest Galvin Green range offering more sustainable choices
The 2022 Part One collection from Galvin Green is inspired by offering golfers freedom of movement in the swing and a greater choice of sustainable, long-lasting garments designed to enhance performance in all weather.
Galvin Green has the greatest depth of sustainable products on the market, the range offers top-level performance and comfort in the most extreme weather conditions and in a wide selection of bold colourways and size options. The collection features multiple layering combinations to ensure that every golfer feels complete freedom to play, independently of weather conditions, while enjoying the ultimate GameDay experience in confidence and style.
Nicholai Stein, Galvin Green CEO said:
"Unrestricted freedom is at the heart of every golfer's game and Galvin Green has matched that ethos with a dedication to create garments crafted from technical fabrics that maintain the highest standards in environmental protection. When the mind and body are free, that's when we are at our most productive and confident. The Part One collection allows all golfers to feel that sense of freedom, whatever the playing conditions.
"Our designers have created a striking range of new garments that will appeal to all ages and thanks to our close relationship with leading eco-friendly suppliers around the world, we have been able to put even more emphasis on the 'Green' in Galvin Green, by creating a collection that contains more sustainable fabrics than any previous range."
Elite performance is built into every detail of each garment in the Part One range and that focus is balanced perfectly with a holistic approach to sustainability, thanks to the use of Bluesign®-approved fabric or materials certified by OEKO-TEX 100, from buttons to thread.
Women's SS22 Part One collection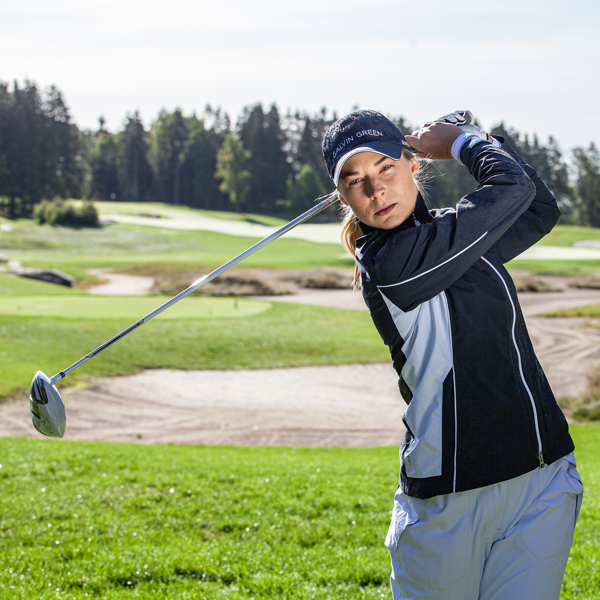 The women's GORE-TEX waterproof range sees the 100% waterproof and windproof AILA Paclite® jacket (RRP £289) offering great protection from the elements when paired with the new ALINA Paclite® trousers (£229) to create the ultimate lightweight rain suit. Both made from stretchy Bluesign®-approved fabric, the jacket has shaped sleeves for easy movement, a 2-way front zipper and front pockets. It comes in four colourways and sizes XS-XXL. Weighing only 320 grams (in size medium), the trousers are designed for on-course comfort thanks to adjustable leg width and an elasticated waist for a perfect fit. An abrasion resistant split inseam and leg hem guarantee unrestricted freedom in the golf swing and durability.
The sleek and sophisticated LORELLE jacket is the latest offering from the women's INTERFACE-1™ range. Packed full of features, the versatile jacket doesn't compromise on style, providing an elegant look both on and off the golf course. Windproof and water repellent, the jacket has a level #3 warming effect - the highest available from Galvin Green in the INTERFACE-1™ category. Extremely breathable and perfect for layering with other garments, the LORELLE is available in six sizes and two distinct colours. RRP £219
The ultra-comfortable DONNA hoodie spearheads the extensive INSULA™ collection. With a drawstring at the base of the hood and front pockets, the hoodie is as stylish as it is functional. Soft and stretchy Quickdry fabric offers perfect on course comfort while being extremely breathable and warm.
A key focus in the VENTIL8™ PLUS garments is the trendy patterned combinations on offer to women golfers. The extremely breathable MARISSA shirt and MARIE skort deliver an eye-catching look in the Blush Pink/Black/White and Surf Blue/Navy/Pink colour combinations. Providing UV 20+ protection, the OEKO-TEX 100 certified garments ensure golfers can remain cool thanks to the light, soft and comfortable feel to the outfit.
To see the full Gavin Green 2022 Part One collection, visit www.galvingreen.com
Like what you see? Then you may be interested in the new Galvin Green UpCycle Editon here.