A unique opportunity to play at the No.1 golf club in Wales & host to the 2025 AIG Women's Open
Monday 26th July 2021
Itinerary
Registration from 09:30
Tea/coffee & Danish pastries
Your round of golf
Format: Individual stableford (full handicap)
Post round rolling buffet
Note: There's no need to change out of your golfwear for the buffet and prize presentation unless you prefer
Prize presentation/depart
PRIZES
🏆 Individual - 1st, 2nd, & 3rd positions
🏆 Team – best two scores from four on each hole
⛳ Nearest the Pin, Gets the Gin
🏌️‍♀️ Longest Drive
Prizes kindly sponsored by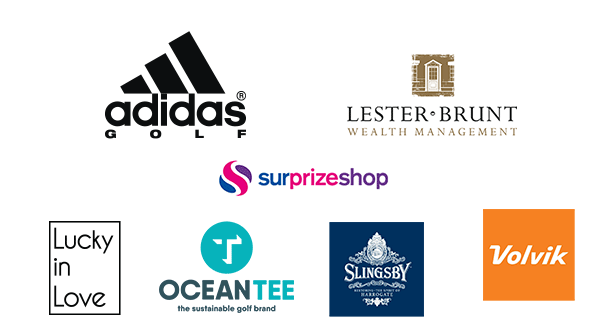 LOCAL INFORMATION
TRANSPORT
Car M4 Junction 37 (4.9 miles, 11 minutes)
Plane Cardiff Airport (23.2 miles, 45 minutes by car)/ Bristol Airport (72.4 miles, 1 hour 35 minutes by car)
Train Pyle Station (5.3 miles, 14 minutes by car)/ Bridgend Station (8.1 miles, 24 minutes by car); Cardiff Station (33.1 miles, 45 minutes by car)
Taxis Chauffeur Driven Taxis 01656 788887/ VIP Luxury Travel 01656 786409/ Singletons 01656 651222
Bus X2 Porthcawl - Weekday buses run every 15 minutes between Porthcawl and Bridgend and every 30 minutes between Bridgend, Cowbridge and Cardiff.
Rental Cars: Enterprise Rent-A-Car 01656 663366
HOTELS
Cae Court (Bridgend – 8.7 miles, 21 minutes by car) Cae (Welsh for field) Court boutique hotel is set beside the
River Ogwr and directly in the shadow of St. Mary's Nolton Church in the small market town of Bridgend.
The Great House (Laleston – 5.8 miles, 14 minutes by car) A beautiful grade II listed building originating from c. 1550, the hotel is believed to have been a gift from HRH Queen Elizabeth 1 to Robert Stanley, Earl of Leicester.
The Fairways (Porthcawl – 1.3 miles, 5 minutes by car) Situated on the Heritage Coast with panoramic views over the Bristol Channel.
The Rose and Crown Nottage (Porthcawl – 1.9 miles, 6 minutes by car) Luxury beds, well-appointed bathrooms and rooms packed full of the charm and character you would expect of a historic village Inn.
RESTAURANTS
Isabella's Braseria & Tapas Bar (Porthcawl – 1.6 miles, 6 minutes by car) Mediterranean ambience offering a fusion of continental flavours.
Harbour Kitchen (Porthcawl – 1.8 miles, 8 minutes by car) Opened July 2017 in the Jennings Building development of Porthcawl's Harbour serving an eclectic British menu.
El Prado (Laleston – 5.7 miles, 13 minutes by car) Set within the picturesque community of Laleston, specialising in traditional Spanish cuisine. The authentic, rustic charm generates a relaxing atmosphere.
BARS
Harbour Bar Enjoy cocktails, beers, wines and views of Porthcawl.
The Waterfront Situated on the seafront in Porthcawl overlooking the Bristol Channel.
Cosy Corner Lounge Industrial vintage-themed lounge, with nautical overtones perfectly located on the seafront of Porthcawl. Relaxing spot for coffee, light bite, lunch and cocktails.
OTHER GOLF
Pyle & Kenfig Golf Club 01656 783093
Southerndown Golf Club 01656 880476
Pennard Golf Club 01792 233131
Machynys Golf Club 01554 744888
ATTRACTIONS
Porthcawl Enjoy a long walk along the beautiful Rest Bay including the Wales Coastal Path that follows the boundary of the course. The Grand Pavilion Theatre is located just back from the seafront.
Kenfig Home to one of the finest wildlife habitats in Wales. Glamorgan's largest natural lake, Kenfig Pool, is set on the edge of this beautiful sand dune landscape with spectacular views across Swansea Bay to the Gower. The Reserve is home to a wide variety of rare and endangered species of plants and animals.
Cowbridge Located in the Vale of Glamorgan, approximately 7 miles west of Cardiff, an affluent market town with a traditional high street full of independent shops. Tuck into a spot of lunch at The Bear Hotel or Arboreal.
Bridgend Designer Outlet Luxury shopping area offering designer and high-street fashion brands at discounted prices.
Port Talbot Margam Country Park 19th Century Tudor Gothic Mansion designed by the architect Thomas Hopper for Christopher Rice Mansel Talbot. The house was built in 1830 – 40 using sandstone from nearby
Pyle Quarry Listed Grade I as a mansion of exceptional quality, the Castle features a vast stairhall and octagonal tower.
St Fagans National History Museum An open-air museum in Cardiff chronicling the historical lifestyle, culture, and architecture of the Welsh people.
Cardiff The capital City is home to iconic stadia including the Principality Stadium and Millennium Centre (Theatre). Cardiff Castle, one of Wales' leading heritage attractions, is located within beautiful parklands at the heart of the capital. Recently named the 6th best shopping destination in the UK, Cardiff has the whole spectrum of shopping, with charming Edwardian and Victorian arcades and modern shopping centres. Escape the hustle and bustle and head over to Cardiff Bay where you will find a whole host of restaurants and bars.
Swansea The Gower Designated as the UK's first Area of Outstanding Natural Beauty back in 1956. From wild moors and limestone cliffs to golden beaches, the Gower is a geological treasure-trove with inspiring landscapes. The Liberty Stadium is the home of Swansea City Football Club and the Ospreys regional rugby team.
Supermarkets
Co-operative (Porthcawl), Asda (Pyle), Tesco (Bridgend)
Cash points
Porthcawl Town Centre (various)/ South Connelly Petrol Station