A review of our Women & Golf event at Woburn as we return to hosting larger golf events
Two weeks after our successful trip to Royal Porthcawl in Wales we headed to the southern outskirts of the Midlands to Woburn Golf Club. Woburn is a firm favourite of Women & Golf and we like to hold an event here most years due to the fantastic course and hospitality on offer.
Woburn has three courses, the Duke's, Marquess and Duchess - we were to have the whole of the Duke's course to ourselves. The Duke's course was designed by Charles Lawrie and was the first of Woburn's three courses to be opened in 1976. The par-75, 6065 yard course has fairways lined with pine, silver birch and chestnut trees. Whilst heather, bracken and gorse add to the character of the course, as well as providing some of the natural hazards of each hole.
Our day at Woburn
This was the first large scale event we have been able to run since the relaxation of Covid rules, so it was a pleasure to welcome 92 golfers to join us for the day.
The format was an individual Stableford, plus there was a team element with the best two scores from the four counting on each hole.
Prizes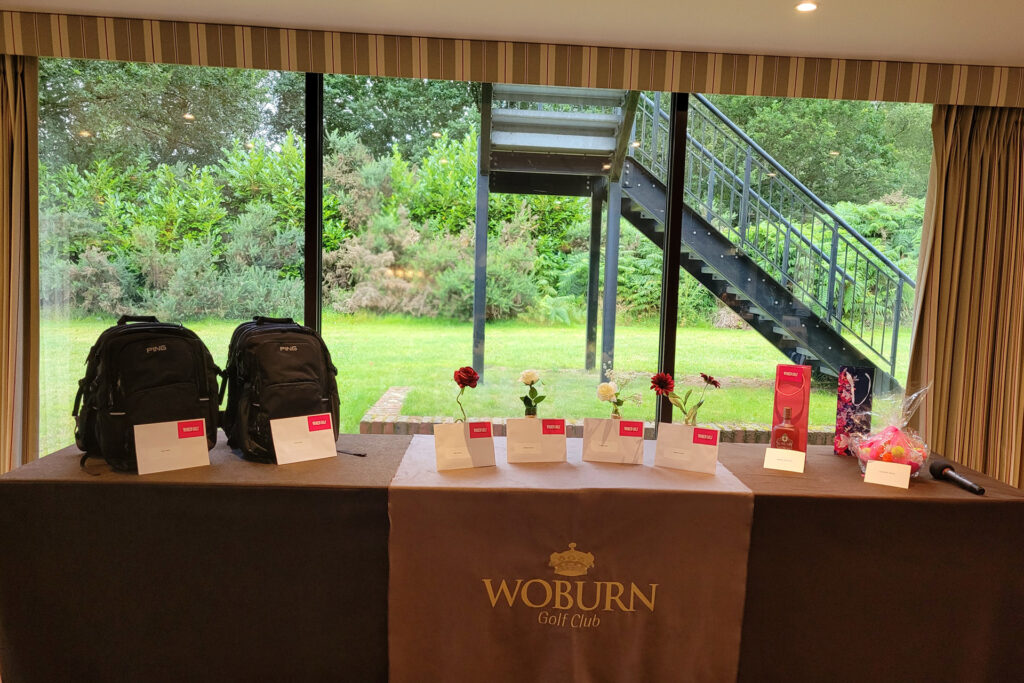 The prizes were kindly provided by our sponsors PING, Slingsby and Volvik.
🏆 Individual - 1st, 2nd, 3rd & 4th positions - PING Apparel vouchers - £200, £150, £100 & £50
🏆 Team – best two scores from four on each hole - PING backpack
⛳ Nearest the Pin, Gets the Gin - Slingsby bottle of gin.
🏌️‍♀️ Longest Drive - Two dozen Volvik golf balls.
Before heading onto the golf course
Whilst everyone enjoyed some breakfast before heading out onto the course, we had invited Lizzie Smith, a Clinical Hypnotherapist, Hypnoanalyst and BWRT practitioner, to talk to our guests. Both Lizzie and I were pretty nervous, as it was my first time conducting a Q&A and Lizzie's first time in front of an audience.
A couple of DEEP breaths and we were in. It was an interesting discussion around how hypnotherapy and other techniques could help to improve your performance on the golf course. We talked about practical examples and touched on areas such as bereavement, menopause and other factors outside of golf that could have an impact on our game.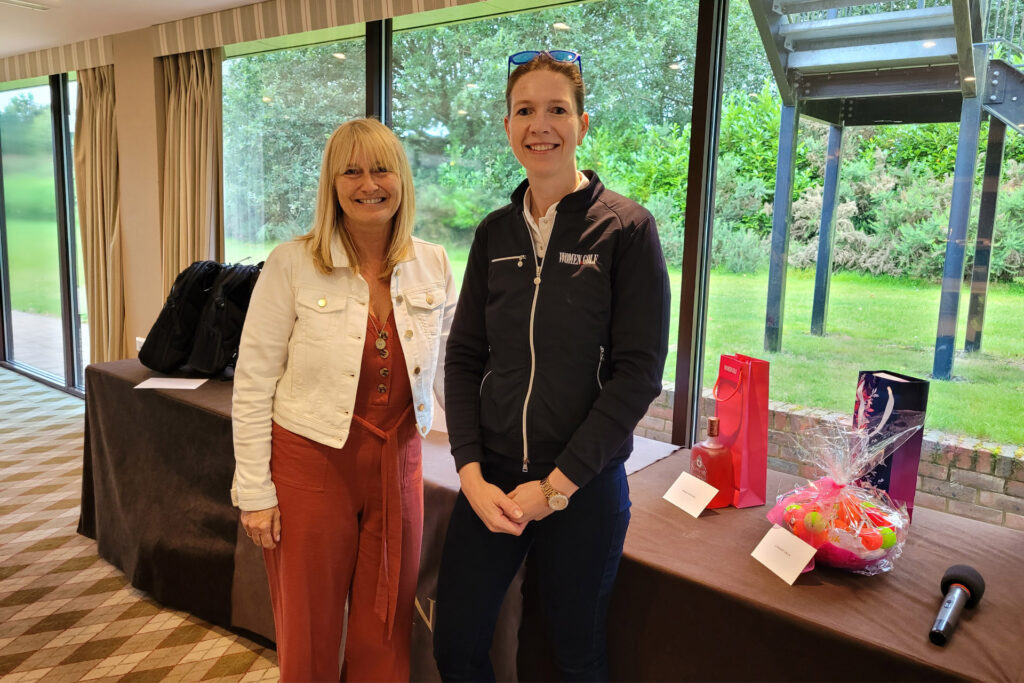 It was great to have people ask questions after the session and speak to Lizzie personally about issues that she may be able to help them with.
If you're interested to find out more, we did a Q&A with Lizzie back in June that you can watch here.
As well as a Q&A we were also lucky to have Chloe and Tamsin from Surprizeshop, who created a pop-up shop for the day. There was lots of clothing, accessories and bags available to purchase - which proved very popular before and after people's rounds.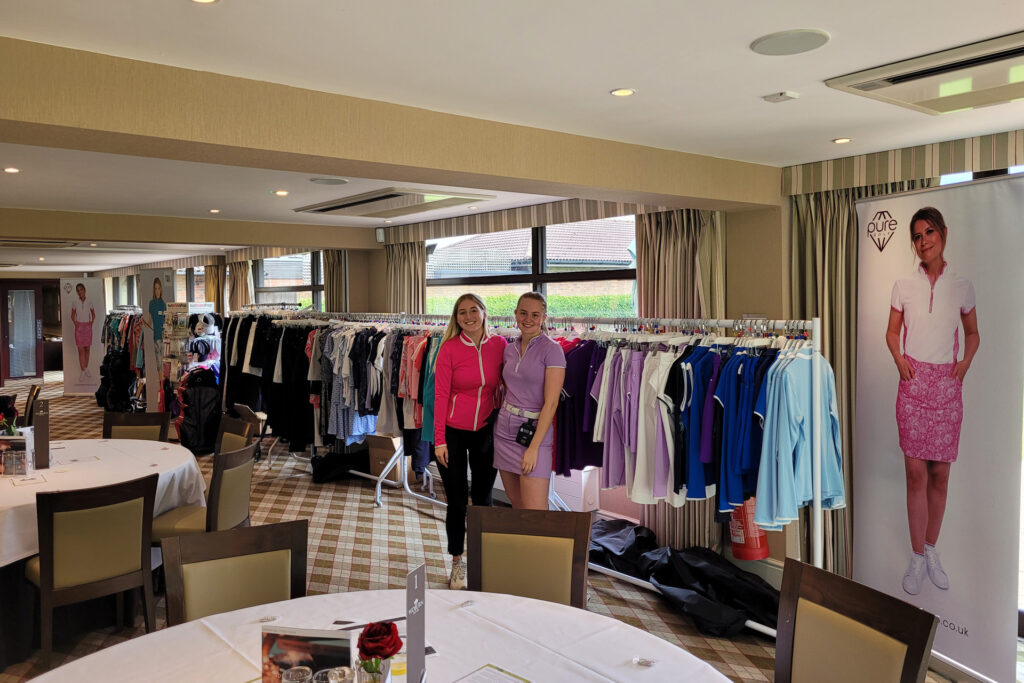 On to the course
Complimentary range balls were available, as well as the practice putting area for everyone to warm up. There was one brief but heavy shower as players made their way to their starting holes for the shotgun start.
However, as the hooter sounded, the sun came out and we had reasonably calm conditions on the course. I was positioned on the Duke's course iconic third hole, where Matt from our sponsors Lester Brunt Wealth Management was on hand with Cat to take the team photos. We definitely hadn't sent out a memo but the theme of the day very much seemed to be around blue/pink/white and/or black.
The third is an intimidating hole but you really wouldn't have thought it as the majority of players tackled it with ease, maybe with just half a club too much on occasion.
After the round
Upon returning to the clubhouse, drinks could be purchased from the bar which was conveniently placed just by the Bedford Suite. The players were then provided with a buffet-style meal - an unusual sight in recent times. The format is informal, so there was no need to change and those that hadn't had a chance to shop were able to at the Suprizeshop pop-up.
Prizegiving
In the individual and team events, we had clear winners, but with two players with joint points in second and third and six players tied in fourth place, we had to use countback to decide the prizes. The winners were as follows:
🏆 Individual - 1st Julie Stephenson with 37pts, 2nd Rachel Paul with 35pts c/b, 3rd Helen Johnson with 35pts and Aly Brice with 33pts c/b.
🏆 Team – Sarah Jones, Shona Keene, Margaret Batley and Julie Stephenson with 84pts.
⛳ Nearest the Pin, Gets the Gin - Ann Deane.
🏌️‍♀️ Longest Drive - Polly Rowell and Jana Voigt.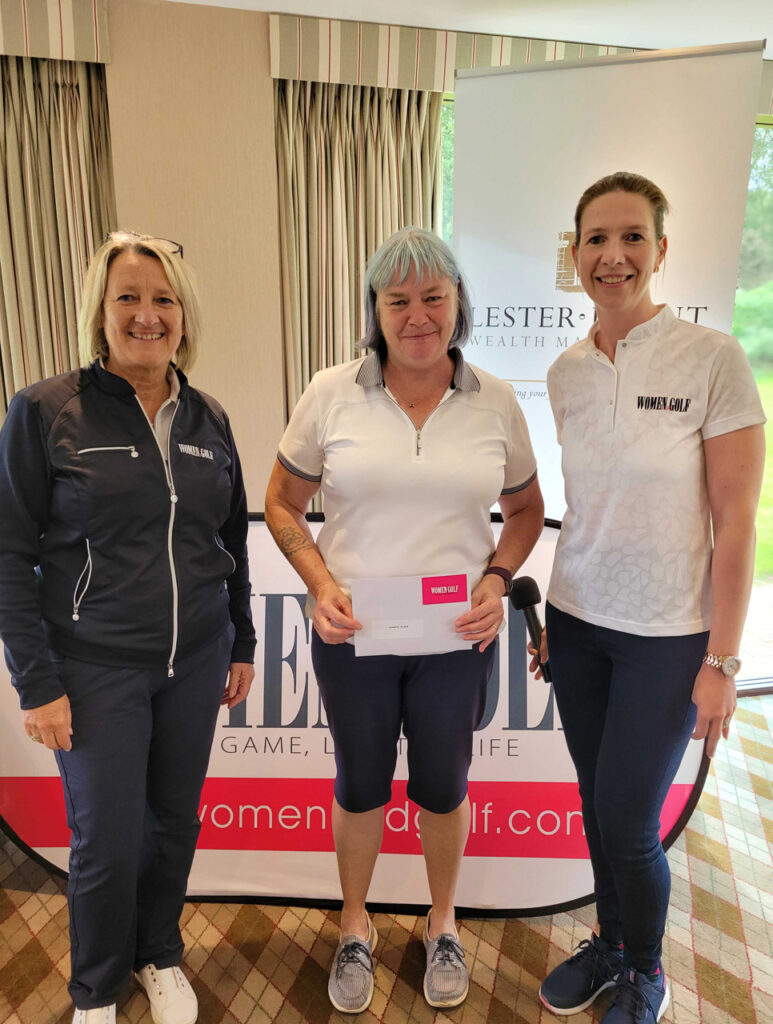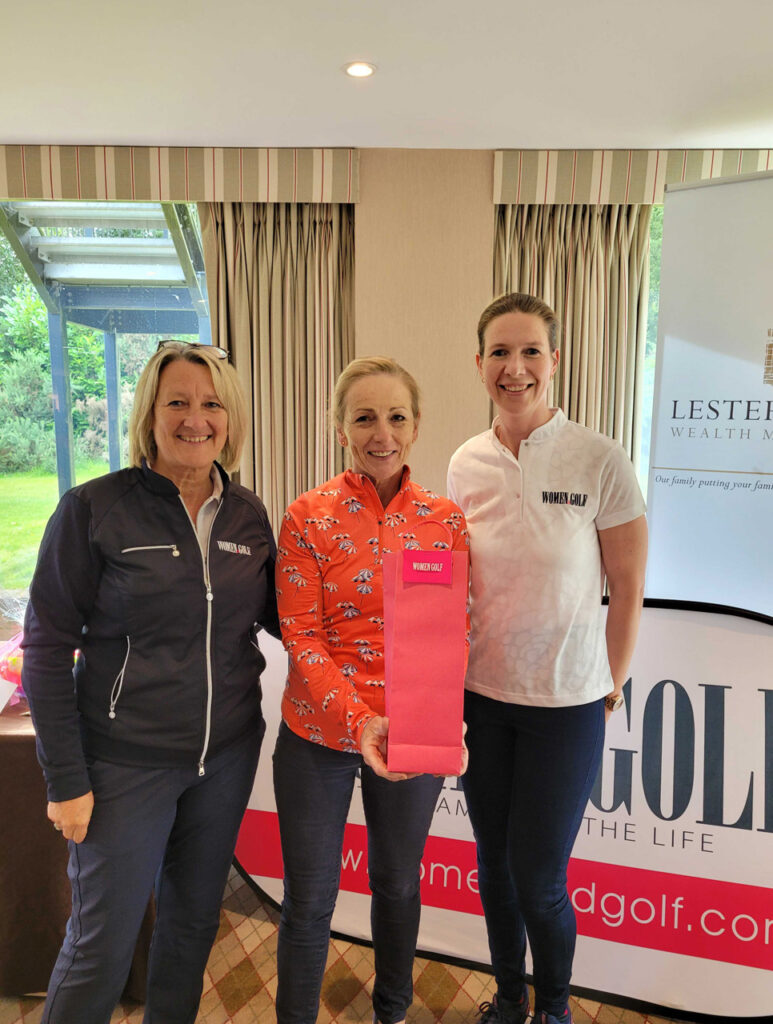 It should be noted that in all the competitions that have been run at Woburn and in our experience at Women & Golf we have never had a joint Longest Drive before. The course marshall was even called to adjudicate!
Goody Bags
We must also mention the goody bags, which we believe are an integral part of any golf day! Thank you to our sponsors including PING, OCEANTEE and Suprizeshop for supplying the gifts - a few bits are missing from the picture below.
A special mention to our partner Lester Brunt Wealth Management who not only supplied gifts but also brought a team to the event to help with administration and, as mentioned already, photography on the day.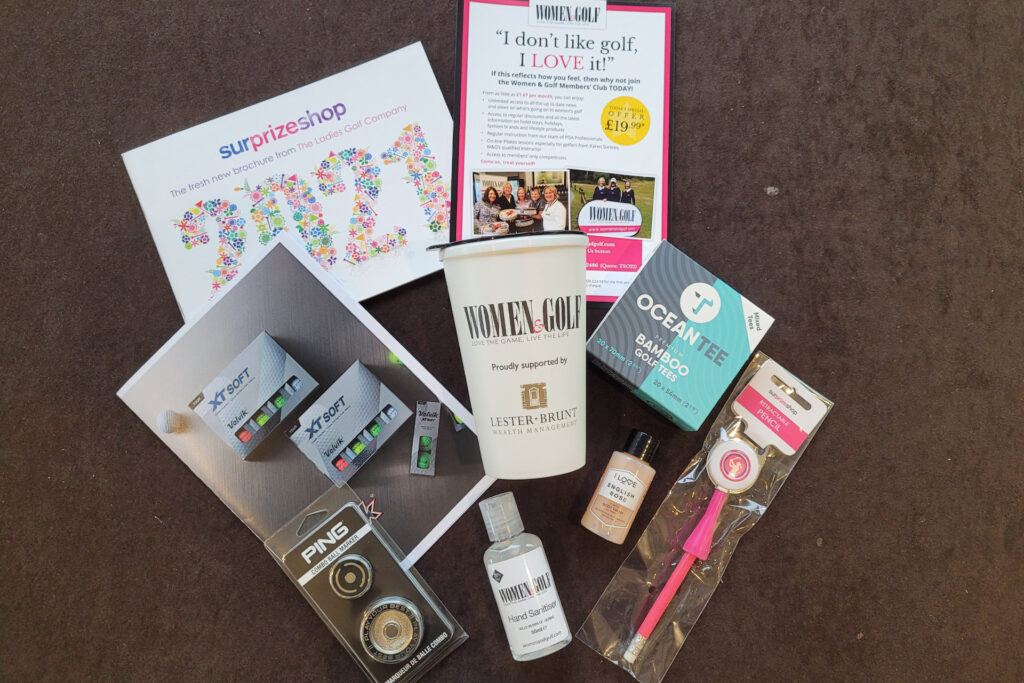 Finally, to all the competitors who came to support the event, thank you so much, we had another brilliant day and were so pleased that the rain, mainly, stayed away.
Lester Brunt Wealth Management
Cat from LBWM was on hand to help us throughout the day and the main questions she got asked the most were: What is a Financial Advisor and why would I need one? Here she explains why seeking financial advice is something that is open to everyone no matter whether you have £1 or £1million!
We are excited to announce our first event of 2022 which will be at Royal Norwich Golf Club on May 16 find out more about the event here.
Did you know that you can get discounted entry into Women & Golf events by signing up to our Women & Golf Membership? There are a whole host of other benefits of becoming a member. Find out more here.