Thinking of heading to Majorca? We reveal the top five courses as rated by Your Golf Travel customers

Majorca might be better known for its beautiful coastline, secluded coves, limestone mountains, Spanish architecture, and charming wineries, but it's also home to some incredible golf courses.
The largest of the Balearic Islands can be accessed from UK airports in a little over two hours, so from a convenience standpoint, Majorca is an amazing option, where golfers can roll out of bed when their alarm goes off in the morning and be on the first tee just after lunchtime.
In total, there are 23 golf courses on the island, with something to suit every taste and budget - from cheap and cheerful nine hole courses to tournament standard layouts that have hosted European Tour events. But which ones should be top of your list when it comes to booking a Majorca golf holiday?
Well, a quick look at customer reviews from Your Golf Travel customers would suggest that the five courses below certainly won't disappoint…
Son Gual - 9.4/10 (25 mins from Palma)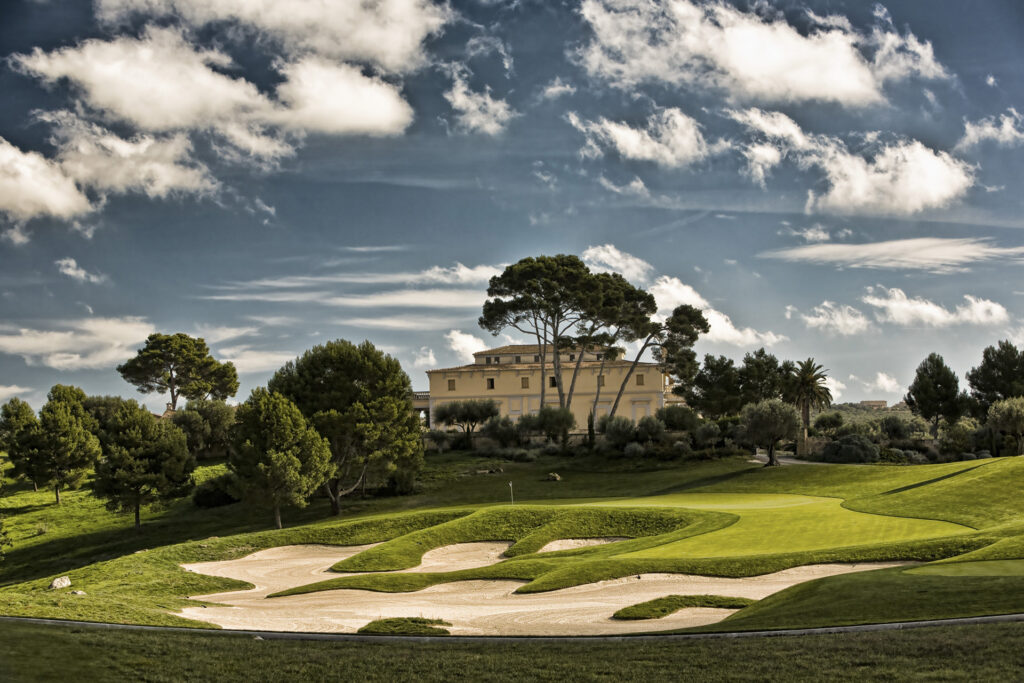 Golf Son Gual opened for play in 2007, and while there are plenty of fantastic golf courses from which to choose from (23 and counting) on the largest island in the Balearics, it's probably fair to suggest that as far as the "best course in Majorca" goes, it's a straight shoot-out between Alcanada and the amazing Golf Son Gual.
The story behind Son Gual is interesting too.
Adam Pamer, a double-glazing magnate with a penchant for golf, grew frustrated at the quality of some of the older golf courses in Majorca after purchasing a holiday home on the island. The logical solution when you love golf and have bundles of cash? Build your own golf course obviously!
In total, over 1.4 million cubic metres of earth were moved and sculpted into one of the most beautiful courses imaginable, where vibrant wildflowers, olive trees, dramatic bunkering, and expansive water hazards combine to provide a thoroughly enjoyable test of golf.
A course rating of 9.4/10 from Your Golf Travel customers is well deserved and with the likes of Son Quint Golf, Son Muntaner Golf (more on that soon) and Son Vida Golf all within easy driving distance, it's a must for anyone jetting off for a Majorca golf holiday.
Alcanada - 9/10 (50 mins from Palma)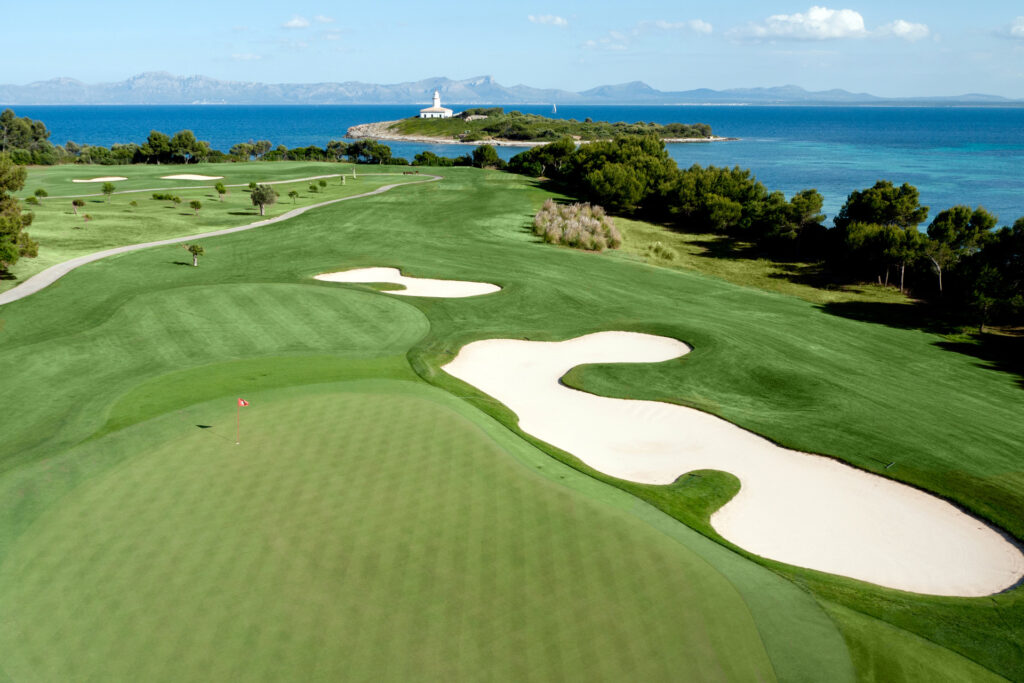 Perched above the Bay of Alcudia on Majorca's gorgeous North-East coastline, Club de Golf Alcanada could well lay claim to being the most scenic golf course in Majorca. Designed by the esteemed Robert Trent Jones Jr, Alcanada isn't just a beaut, it's also a fantastically designed layout and is ranked inside the Top 15 golf courses in all of Spain by Top 100 Golf Courses.
The condition of the golf course is perennially superb as well, so golfers can add perfectly manicured tees, fairways, and greens to the already enticing combination of scenery and a great test of golf. Speaking of a test of golf, expect a huge variety of holes, exciting elevated tee shots, forced carries over valleys and ravines, and, due to the course's spectacular setting, a stiff coastal breeze to contend with too.
Son Muntaner - 9.0/10 (25 mins from Palma)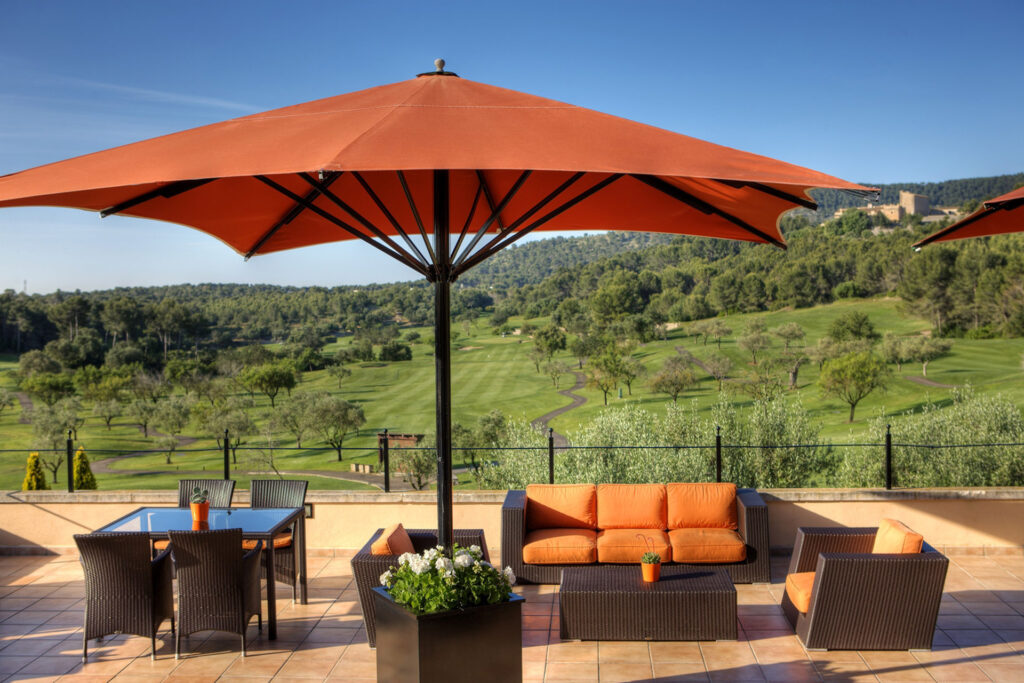 One of three 18 hole layouts at the Arabella Golf & Spa Resort in Majorca, Son Muntaner opened for play in 2001 and measuring in at over 7,000 yards from the back tees, offers one of the most challenging tests of golf on the island.
Rated 9/10 by Your Golf travel customers, this attractive course with a clubhouse that sits perched on a hillside overlooking the fairways is regarded as the premier course on the Arabella Resort, which is just a short drive from Palma, making it a great inclusion for anyone looking to combine top-class golf with some time in Majorca's Capital.
Son Quint - 8.6/10 (25 mins from Palma)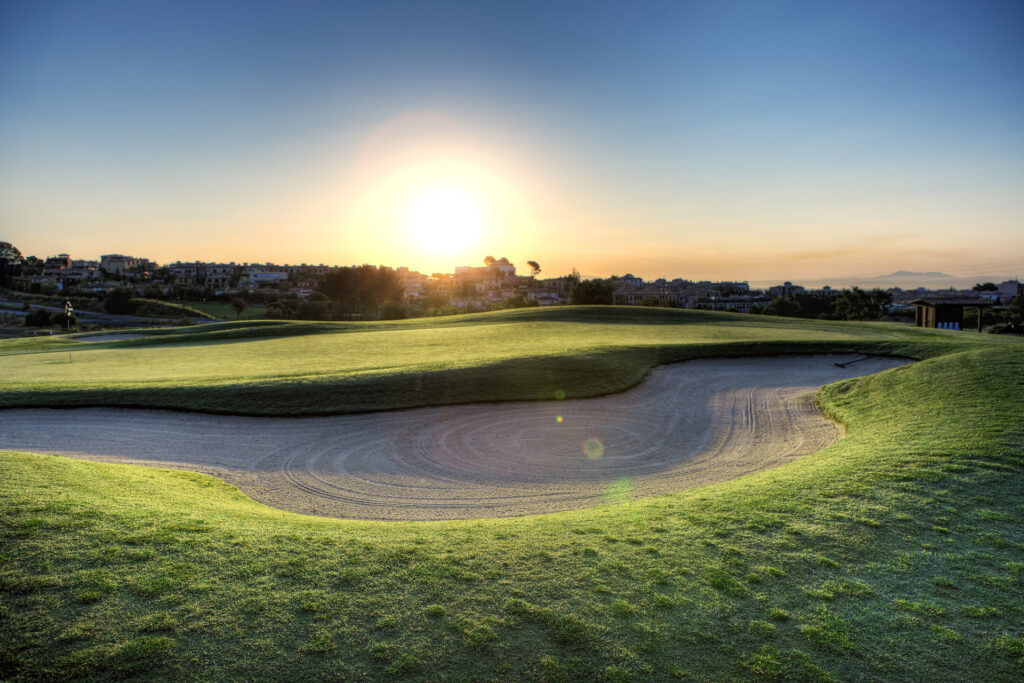 With Son Vida and Son Muntaner already in place, Son Quint joined the Majorca Golf party in 2007 and offers golfers a relaxing and very walkable round of golf, where players are treated to views across the Bay of Palma on their way around the course. It's probably fair to say Son Quint is the most manageable of the three at Arabella so higher handicappers will be right at home, with very few water hazards in play and a more subtle approach taken towards the bunkering. Pine and olive trees are dotted up and down the fairways calling for a degree of accuracy from the tee but are rarely overly penal should you not quite find the fairway.
Pula Golf - 8/10 (50 mins from Palma)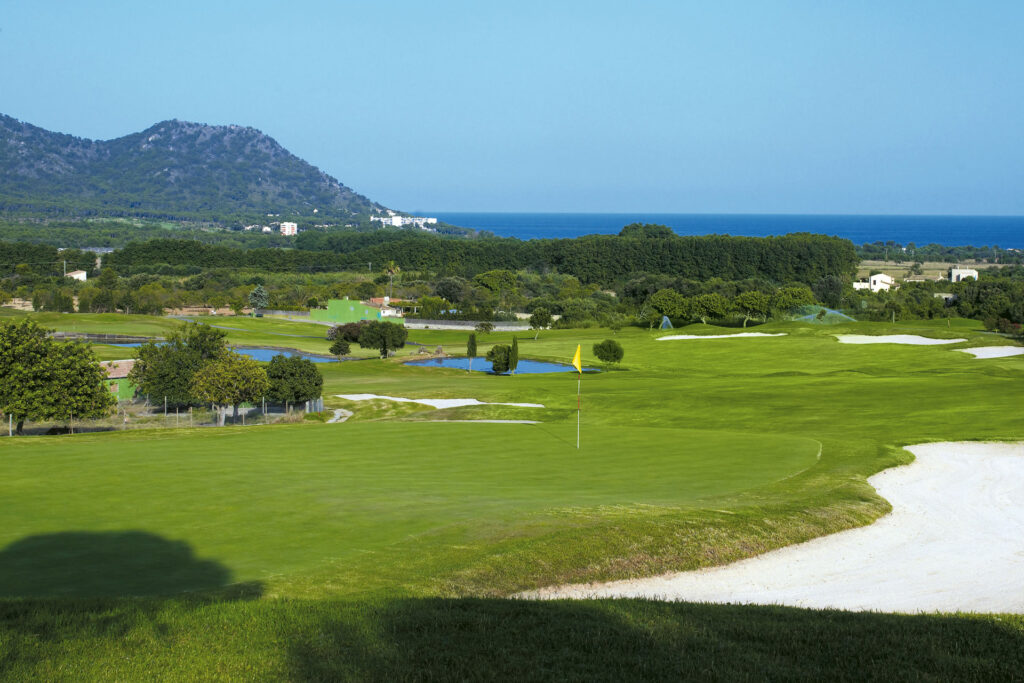 Pula Golf arrived on the Majorca golfing scene back in 1995 as a friendly, gently challenging resort course, but what awaits golfers now is a very different test of golf. European Tour legend and the mastermind of the "Miracle at Medina" at the 2012 Ryder Cup in Chicago, Jose Maria Olazabal led the way on an extensive remodelling of the course and after three phases of intensive work being carried out, Pula is now a bona fide championship test capable of hosting European Tour events.
Ironically, during a five-year spell when Pula hosted the Majorca Classic, Olazabal ended up winning his 23rd European Tour title at the very course he had such a big hand in shaping into what it is today!
Pula is located a 50-minute drive from the Majorcan Capital of Palma, but with all the hotel and resort facilities you'd expect from a top-class modern golf resort right on-site, visitors can enjoy a tranquil and relaxing Majorca golf holiday packed full of comfort and convenience.
Other notable golf courses:
If you have time, here's a few mor courses worth playing:
Away from the fairways: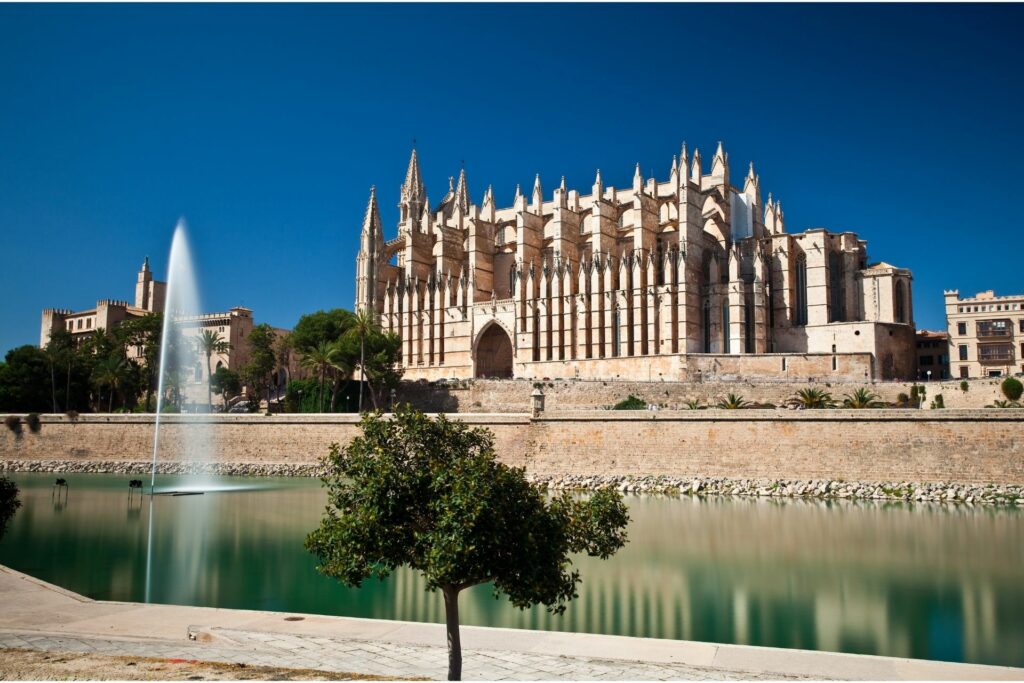 Of course, Majorca has plenty to offer away from the fairways too. Palma is the island's capital city and offers easy access to historic attractions including the stunning Palma Cathedral, also known as La Seu, as well as charming townhouses, churches, vibrant public squares, and markets. Of course, if you're looking for some nightlife after a day on the fairways and are feeling adventurous enough to venture away from the comforts of your golf resort of choice when Palma comes alive at night, it'll be just the place.
For something a little slower-paced, head to one of Majorca's many beaches. The island is famous for its crystal-clear waters and secluded little coves that are just right for anyone looking for a somewhat private slice of island life.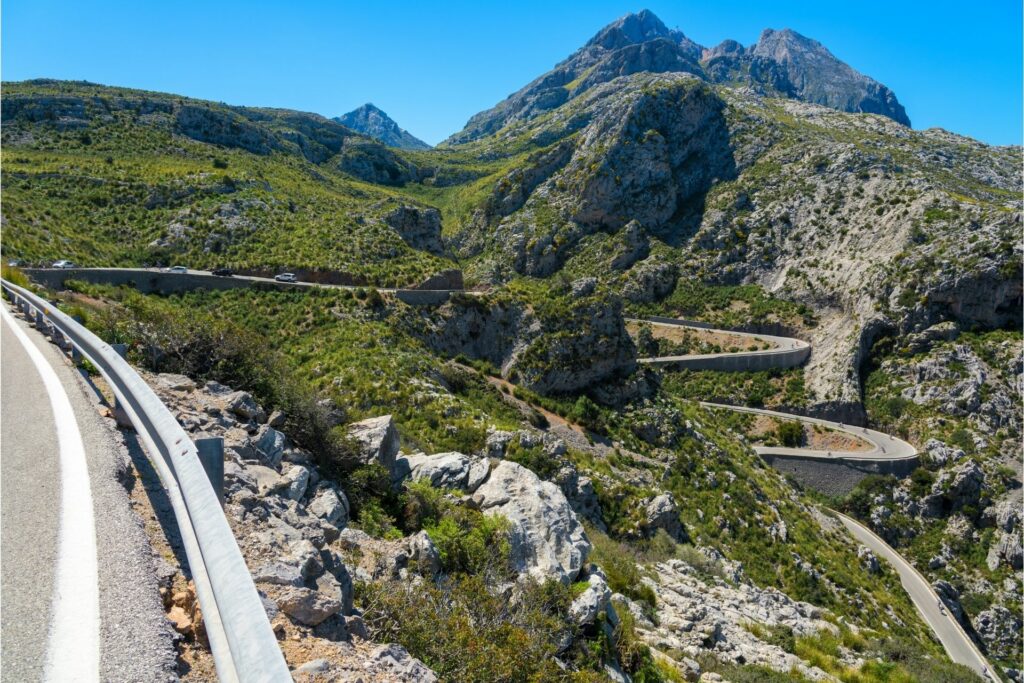 The island is also a hiker and cyclist's paradise. The Serra de Tramuntana, a UNESCO World Heritage Site as of 2011, is Majorca's most impressive mountain range, where adventurous souls can enjoy challenging climbs and exciting descents all the way from Andratx in the south to the Cap de Formentor in the far north of the island. Overlooking an island so pretty, you'll be treated to some beautiful views along the way too.
If you're looking to escape to one of the leading lights of the Mediterranean and enjoy top-class golf as well as all the other things that make the island life so intoxicating, Majorca should be at the top end of your list.
This article is sponsored by Your Golf Travel.