Editor Harriet Shephard discovers that the Cotswolds it a picturesque staycation option with plenty to offer.
Driving into the village of Castle Combe in the Cotswolds is like entering a painting of the most stereotypically quaint English town you can imagine.
Old stone cottages with thatched roofs line the narrow streets, amongst which you'll find adorable cafes, cosy pubs and a trickling stream with a humped back bridge.
It's so pretty it almost feels like you shouldn't be driving through it at all, but despite its chocolate-box appearance this is a fully functioning place where people actually live (the lucky things).
My trip to The Manor House was my first ever visit to the Cotswolds (don't judge me, I'm a Northern girl) and I was immediately blown away.
Then, once we started up the winding driveway to the hotel, found right in the centre of this beautiful little settlement, I really felt like I'd landed in a fairytale.
I'm not ashamed to say that I filmed the whole thing as we swooped around past the ivy-covered turrets and through the pretty grounds.
Looking amost as though it was literally made to rack up the likes on Instagram; this luxurious resort manages to apeear both grand and impressive but feel warm and welcoming.
It's kind of like a cute mini castle. The entrance way and lounges boast dark wooden furnishings, purple velvet sofas and comfortable armchairs with chess sets out ready for a leisurely evening game. I almost felt emotional as I realised I had basically achieved my childhood dream of going to Hogwarts.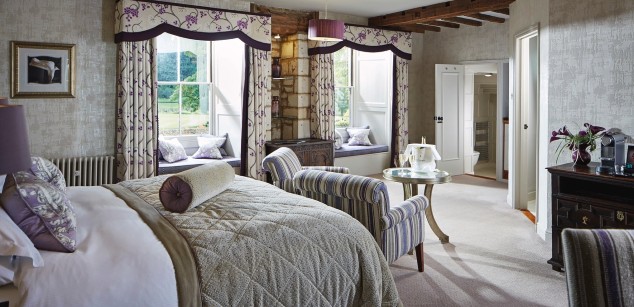 The very quick temperature check at the entrance was quick and reassuring, and we felt safe and well looked after throughout the rest of our stay, too. There was plenty of room to socially distance from the other guests, our room was spotless and fully sanitised and the restaurant staff were quick and efficient with the table-serviced food and drinks.
We arrived too early to check in (yes, I was rather keen to make the most of it), so on the super friendly receptionist's recommendation we set out to explore the Rose Garden.
If you've ever read The Secret Garden or watched the '90s film adaptation (nostalgia alert), then you'll have a very accurate idea of what this magical place is like.
Totally the opposite to the pristine and soulless gardens that normally surround such grand hotels, the grounds are full of authentic charm with crumbling statues, flurries of wild flowers and shaded wooded pathways.
I was also most excited to spot a plaque and tree planted in honour of Kate and Justin Rose (legends), who got married at the hotel back in 2006.
You can easily spend a lovely couple of hours just strolling around the grounds or going into the village for an ice cream or a drink at the 12th-century Castle Inn pub, also owned by the estate. Rooms are available in here too, as well as in a row of delightful little cottages.
But we were staying in a HUGE room in the main house that was absolutely stunning.
All the rooms in the 14th century venue are individually designed and full of quirky touches. I was most impressed that I could watch a trashy film whilst having a bath, and I'm still dreaming about how comfortable the enormous bed was.
The food
Back out for dinner, we discovered that the bar stocked an exceptional selection of exotic gins and finely crafted cocktails; ideal for enjoying in the evening sun before heading inside to the Michelin-starred Bybrook restaurant.
Offering superb classic dishes delivered with flair and class, we were absolutely blown away. Never have we tasted such a superb goats cheese and onion tart, delicate cod with smokey leeks or an Eton Mess that looked so much like a work of art.
Then, after a peaceful night sleep there was time for more eating with a full cooked breakfast (vegetarian, eggs benedict and Scottish smoked salmon are all on offer too).
All this was before we had even started on the main reason for our trip here; the golf course.
The golf
It's just a few minutes' drive from the hotel to the golf club, although you can also reach the course by foot via one of the many public footpaths.
The championship-standard 18 hole course brings plenty of drama with it's valleyside location – we were advised to use a buggy and we were so glad we listened. The ups and downs are really quite steep, but the good news is that this means there's plenty of picture-worthy holes, particularly the 17th which offers a jaw dropping 120-foot drop to the green.
It's almost enough to make you feel dizzy, so make sure your playing partner is ready with your phone to capture a snap of you conquering this magnificent hole.
Designed by Peter Alliss and Clive Clark, the River Bybrook features on many of the pretty holes. That combined with the luscious greenery that surrounds it means you may well lose a few balls along the way, but this tremendous experience is more than worth it.
All the members we met along the way were super friendly, and checking in at a cool silver airstream caravan was also a fun touch.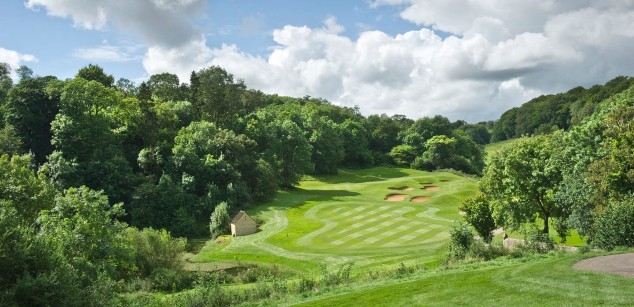 The local area
The Cotswolds is an endless stream of beautiful countryside and adorable historical villages, but at The Manor House you're only about a 30-minute drive from the stunning city of Bath, too.
Plus, when the spa reopens you can pamper yourself after your round with a range of luxurious treatments.
Perhaps I'll just have to return and try one myself when it does open again (yes, I am desperate for any excuse to get myself back here).
Essentials
Packages at The Manor House until the end of September start from £199 per person per night.
This includes breakfast, £30 towards dinner at The Castle Inn, use of the driving range and 36 holes. You can also upgrade to dinner at the restaurant for £45.
Meanwhile, packages for rooms at The Castle Inn start from £149 per person.
For more information visit www.exclusive.co.uk/the-manor-house.