Golf Course Reviews by women, for women, provides a first of its kind for female golfers across the UK and Ireland
Today we're delighted to announce the launch of a new feature on the website. Golf Course Reviews by women, for women, has been nearly a year in the planning and today marks a significant moment for Women & Golf.
The new golf course review section on the website will give female golfers the unique opportunity to have their say about the golf courses that they play. Plus it will give fellow golfers the chance to find golf courses that really have women golfers in mind.
There are over 200 UK and Ireland golf courses already ready to review, with more courses being added weekly. There is also the option for golfers to add a course that they would like to review. For those looking for inspiration, users are able to search by region and/or star rating to find a golf course in a specific area.
Prior to today's launch, the Review section was tested by Women & Golf Members at the end of 2022, to gain feedback and fine tune the review process, before launching to the wider Women & Golf community.
As well as being able to provide a written review and give the golf club a star rating out of five, there are also female-specific questions relating to areas such as slope rating and changing facilities.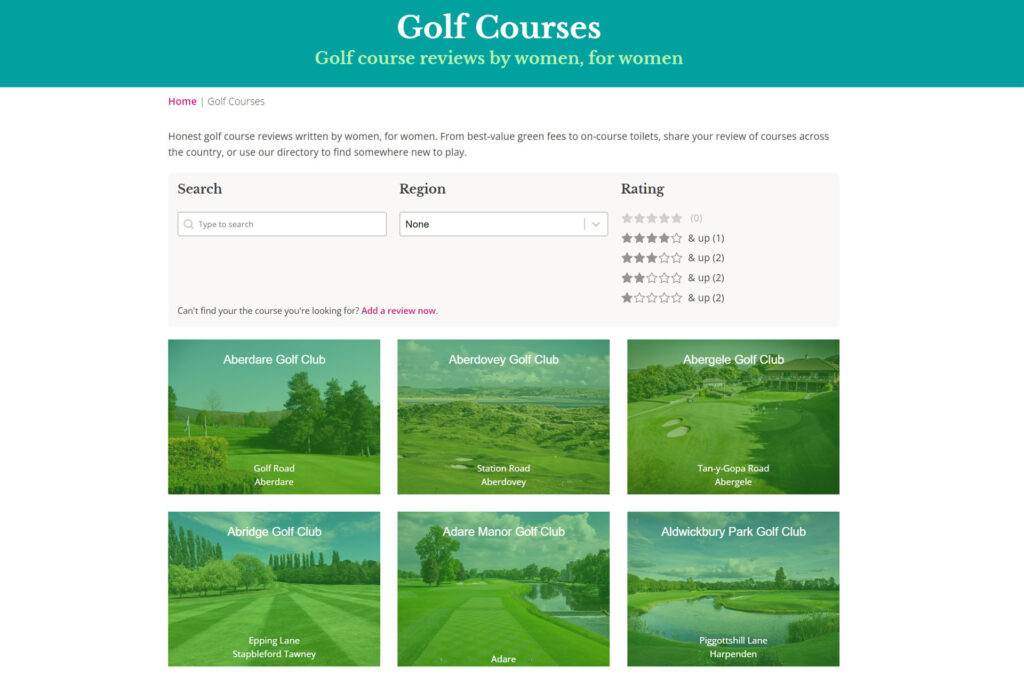 Embracing the new golf course review feature
There is of course work to do to make sure that every golf club in the UK and Ireland are able to be reviewed. However, we believe we have a great starting point to work from and are confident the listing of clubs will grow quickly.
To make the Golf Course Reviews by women, for women, the success we know it can be, we are going to rely on the user-generated content from you our readers, who we believe will embrace this new feature.
As the platform evolves, it is our hope to extend across the world, especially in America and Australia where our readership continues to grow.
We're really excited to launch our course review section and look forward to seeing how it is received by our fellow women golfers.
Golf Course Reviews by women, for women https://womenandgolf.com/golf-courses
For any golf clubs interested in getting in touch with regards to having their course included or for any advertising opportunities, please contact Jane Lees, Head of Sales & Marketing.