We held our first ever Women & Golf Business Networking Event this week at Parkstone Golf Club, with more than 40 businesswomen joining us from across the country.
The aim of the Women & Golf Business Networking Event was to introduce women – who had never picked up a club before – to the benefits of playing golf both in business and personally.
From exercise and making friends, to opening doors to new career opportunities, we made it our mission to prove that golf can be a connector on so many levels: widen your network of potential clients, win business and get you invited to those corporate golf days only your male counterparts seem to attend.
In collaboration with our partner, Lester Brunt Wealth Management, the day was held at Parkstone Golf Club, in Poole.
Throughout the morning, we heard from Eddie Bullock, former PGA Captain and one of the most highly regarded golf consultants in the UK; Philippa Kennedy OBE, former journalist, editor and Loose Women presenter; Sue Smith MBE, Chair of Swim England and Graven Hill Village Development; and Lauren Spray, Women & Girls Manager at England Golf.
"Omnia Feminae Aequissimae", started Eddie Bullock, "women are equal to everything".
That set the tone for the day, with each of our speakers telling us about the role golf has played in their lives and the opportunities it has bought about for them.
Philippa Kennedy OBE told us: "Golf has taken me around the world over the years. It's a great game and a great test of character … It's not a bad place to find romance either!"
Sue Smith MBE spoke about the opportunities she felt she had missed out on throughout her career by not playing golf, saying "I wish I'd taken up golf earlier to make it work for my career".
She also talked a lot about the power of networking within golf vs in any other environment. "Networking in an environment where it's fun is so much more productive. You've got plenty of time to talk about things and make real connections."
Our final speaker, Lauren Spray, told us: "Golf for me is a hobby and a career. In my role, I love being able to give back to the game; to create new opportunities for people to play and support them in getting into golf".
"Golf is a game that anyone can play - young or old. You will meet different people from different backgrounds, and people you wouldn't necessarily come across in your day-to-day life. Because of that, it's a great opportunity to network. You'll have genuine conversations over common ground, doing something you enjoy; you can't underestimate the power of that."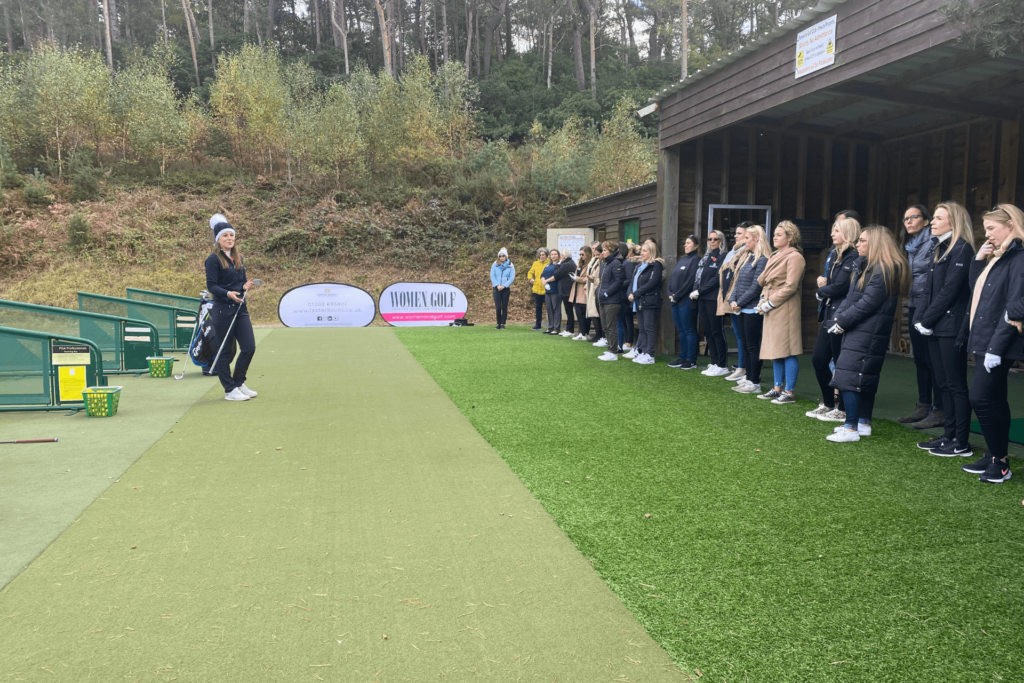 Now inspired by our fantastic speakers, it was time to hit the range. After learning about the fundamentals of the swing with Alice Davis, PGA Professional at Parkstone Golf Club and manager of the Parkstone Ladies Pink Golf Academy, attendees were free to try their hands at golf for the first time.
In minutes, the driving range was full of laughter, clapping and cheering, and it was clear that the golf bug was really starting to bite for a lot of women!
Back in the warmth of the clubhouse, we spoke to some of the women who attended the day to see whether their attitude towards golf had changed.
"To be honest, I came today because my boss asked me to, and I never thought I would be interested in golf. Well, that has definitely changed! I loved it today – that feeling when you hit the ball! I'm definitely going to start going to the driving range and see what happens."
"I can definitely see the value in playing golf."
"I'm sick of being left behind whilst the men go and play in corporate golf days. I'll be joining them soon!"
All in all, it was safe to say that we'd accomplished our mission; we'd taken more than 40 women who had never played golf before, opened their minds to the opportunities of playing, and changed their perception of the game.
We'll be holding more networking events in 2022. Keep your eyes peeled on our website – dates to be released soon! In the meantime take a look at our Business Networking event gallery.