Columnist Patrick Brennan investigates Women in Turf and highlights the experiences of Katie McCormack, Assistant Superintendent at Eagle Ranch
The life of a Turf Care operative is complicated.
Early starts way before the sun rises, operating heavy machinery, often carrying out tasks alone, with a multitude of variables beyond your control, sacrificing sleep and spontaneous social activity for the incessantly growing fairways, all to make the golf course pristine for people you will likely never meet.
As you move up the ranks to Irrigation Technician, Assistant Superintendent or indeed, Superintendent itself, these issues are only amplified.
Who'd do it and how many are women?
Well, according to The Golf Course Superintendents Association of America (GCSAA) they had 8,778 superintendent members in July 2019. Only 69 (0.78%) were female. Yet, in the three subsequent years, the members total has surpassed 19,000; where it is expected over 250 are female.
The Australian Sports Turf Managers Association launched an initiative this year to promote the Women in Sports Turf Management Strategy, arranging work placements, volunteer programs – and assisting in tournament reparation over a multitude of sports, including golf.
The British and International Golf Greenskeepers Association (BIGGA) now have over 6,000 members; including three women in their Senior Management Team
Score Golf shed light on the Turf workers in Canada in August 2022; back in the 1990s, there were two Superintendent females in the whole of Canada. When pressed for a recent figure, prominent female Super Leasha Schwab was unable to answer, demonstrating the rise in female Superintendents of late. Pushing through the grass ceiling, indeed.
Meet Katie McCormack, a British Assistant Super working in BC, Canada.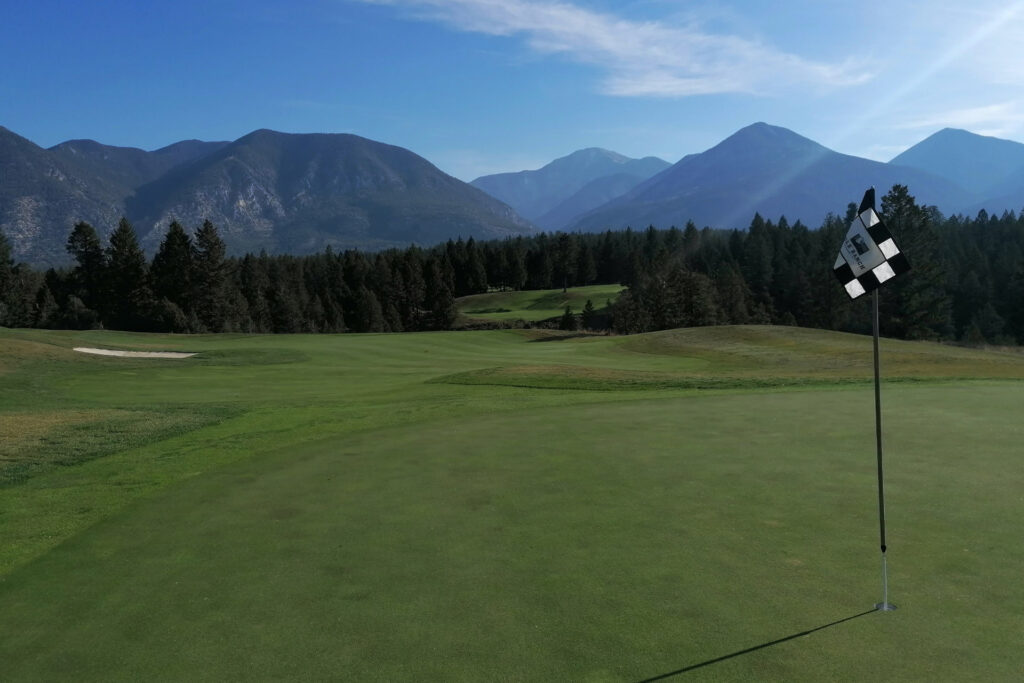 Katie is based at Eagle Ranch resort in Invermere, ranked #85 in the Top 100 courses in Canada. It requires a lot of work to maintain this position, something I participated in first-hand throughout 2022.
No stranger to the hurdles faced in a male-dominated environment, Katie's leadership style is by example. A hands-on approach to the role has pros and cons; you are often best coaching the operatives to a higher standard, rather than doing it for them. Yet, you want to quash any idea that you do not work as hard as they do.
A part-time firefighter volunteer and full-time Assistant Super, her loyalties mean she is stretched thin on the best of days, but that does not deter her work ethic. Often required to make do with half a team due to staff shortages, late sleepers, Covid-19, the dog eating the car insurance papers and every other excuse you can think of, the season still gets completed successfully and the course quality remains high, despite the financial, time, and personnel constraints on the job.
If you were to postulate that Turf Care doesn't appeal to women because they'd receive more money driving the beer carts, you'd be right. The tipping culture in Canada makes a monumental difference to take-home pay, and cart girls are singing all the way to the bank. There are embarrassing stories online of female Turf workers being asked by golfers if they had a beer for sale in their carts, in amongst the hole cutters and string trimmers.
Seasonal work is easier when more money is made, we all know that. Most seasonal workers do not want their memories living abroad to be filled with time clocks and work responsibilities. For this reason, Turf Care is a tough sell.
However, the rewarding nature of working the greens keeps women like Katie striving for success from behind the scenes, rather than out front facing the customers. And as we were so often told, without cart girls, customers may grumble, but without Turf Care, they would not be playing at all.
Turf Care: A re-think
Perhaps a change of tune is required from my introduction.
Who wouldn't want to earn money while their friends sleep, be hard at work while the sun rises over the mountains and churn through podcasts and playlists to their hearts content? The job enables one to look back on their handiwork with satisfaction each day, all before 1pm; then clock out, roll into a 2pm tee time and question your pin-cutting abilities as you take three putts from 15 feet.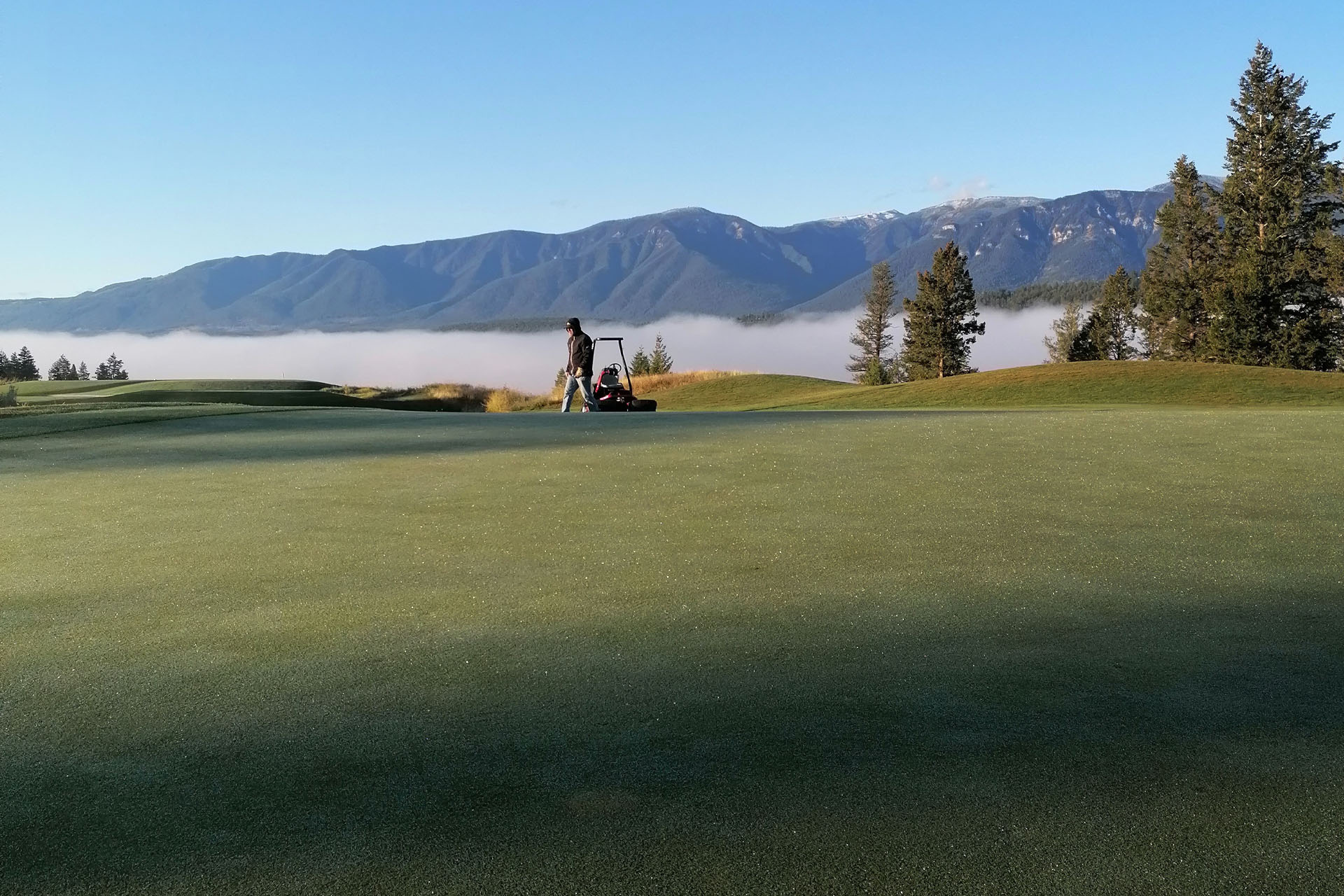 When you put it that way…
Katie is also part of a mentorship program centred around Women in Turfgrass Management; a community that asks advice, shares stories and offers guidance for younger women in Turf. The aim is to use experienced workers to assist the next generation of female workers in the industry as they negotiate their Turf Care career. This is an ideal environment in which staff can be incentivised and retained by golf courses.
As golf course design and complexity progress, I can see players preferring caddies with some Turf experience, such is the benefit of just a 1% advantage over a competitor. The guru-like knowledge of a Superintendent can strike awe into the keenest golfers, knowledge of grass types and grain directions, bunker edges and pin positions could be the difference between winning the Open and losing it. If nothing else, a career in Turf shows passion for the game and a commitment and work ethic that is now hard to come by.
However, for those who enjoy hard work, seizing the day, contributing properly to a company and being part of an incredible environment, Turf might just be the right fit. And with more hard-working women like Katie paving the way, they are only setting better examples for the next generation of workers who look after our prized golf courses around the world.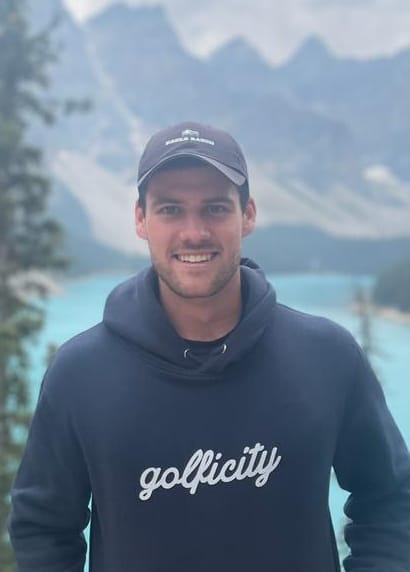 Meet Patrick Brennan
Patrick is originally from the Lake District, UK but moved to British Columbia, Canada after university. He writes for several media outlets, including Golficity, and has been doing so for over six months.
His main writing interests are professional golf tours, the Majors and any good underdog story!
He comes from a sporting family and, when not cycling or skiing, plays off a six handicap - trying and failing to keep the family bragging rights, often due to a streaky driver!