Our new Women & Golf Editor Emma Ballard explains how lockdown made her appreciate her weekly coaching sessions for what they do for her mental health, as well as her golf game
With golf's popularity continuing to soar, it's clear that lockdown has made so many of us enjoy and appreciate our favourite game even more than we did before.
But for our new Women & Golf Editor Emma Ballard, it was her weekly group lessons that she really missed when golf shut down.
In August 2020, she told us that she never realised how much the classes helped her unwind, relax and cope with the stresses of work and motherhood, until they were taken away from her.
This is her story...
"Monday night is golf night, come sunshine, rain or sub-zero temperatures.
Yes, for the last few years, a group of us have met at Bromsgrove Golf Centre, Worcestershire at 8pm for our weekly lesson with Head PGA Professional Rob Laing. The winters on the driving range always seem the longest and as we head into the New Year we find ourselves counting down the weeks until the clocks change and the lighter nights mean we can finally head out onto the golf course to practice.
This winter felt no different, maybe a little wetter and less cold, and in January as we celebrated four years of our lessons, we decided that this year we'd actually set ourselves some targets to achieve by the end of the year. The standard gaining or lowering of handicaps and playing more often were all top of the list. We were all determined that this year was going to be our best yet!
But as we all now know, coronavirus put pay to every single plan that we had.
As we came tantalisingly close to the clock change we were put into lockdown. For all of us, there was an unknown time frame as to when we would be able to do anything "normal" again. We did attempt the odd ZOOM call on a Monday night and although it was good to catch up, it didn't make up for actually getting out onto the course. Although I obviously appreciated what other people were going through and the sacrifices being made, I couldn't help feeling a bit disappointed every Monday evening when I would normally have been out playing golf.
You see, for me, Monday nights have always been more than just about golf. But ironically I don't think I really appreciated this until it was taken away.
Of course I want to improve and become the best golfer I can be, but our group lessons, especially the ones spent out on the golf course, have helped us to gain so much more than just a better understanding of the way that we play.
Our group all work, juggling meetings, school pickups and all the general household mayhem, so that hour on a Monday night gradually become very precious to us.
It was a place where we could chat about anything or, if we didn't feel much like talking, we could simply take in the beautiful surroundings and just get lost in the moment. Even on the driving range, a bad day at work could be made to feel a lot better.
So, to have that taken away and replaced with the new pressure of lockdown was seriously disheartening at times.
For me, I didn't feel I was doing anything to the best of my abilities – whether it be as a mum, wife or employee. I know others had it much worse, so I'm not complaining, it just became so apparent that exercise and keeping active are essential if we want to maintain any sort of mental balance.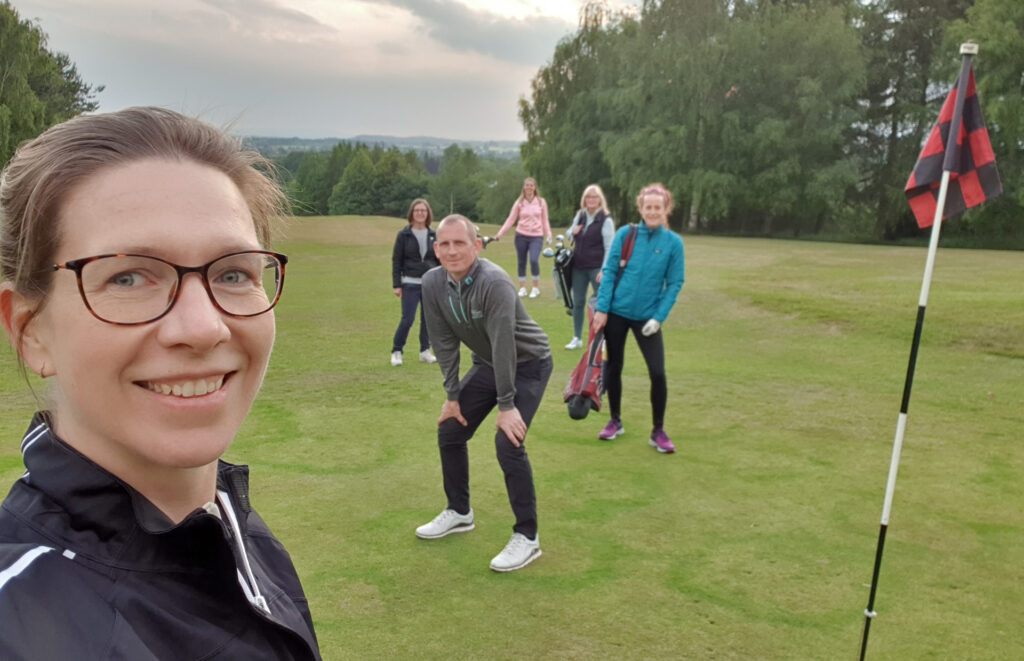 Golf & Health research has shown that golf has a number of mental health benefits from helping to reduce anxiety, increase confidence and boost self-esteem. Physical activity, like golf, is also a way to help treat mild depression.
Now that we are able to get back together and head out onto the course for our Monday night lessons, I've experienced these theories first hand and I'm more convinced than ever of their validity.
We've all commented on how lucky we are to have this time together to talk through our anxieties whilst trying our best not to three-putt.
We've all learnt not to take anything for granted and although I'm sure I'll slip back into some of my old ways of thinking eventually, I know I'll always remember the joy and freedom I felt when I hit my first tee shot.
Plus, how happy I was to get back out on the golf course with my friends, talking about mundane things and supporting and encouraging each other.
We're all so pleased and grateful that we started this weekly routine. We know that regardless of what happens in the future or if we ever take a break from the game, we'll always have the sanctuary of the golf course to return back to."
Has lockdown make you appreciate golf more? Get in touch and let us know.