Editor Emma Ballard speaks to current Kent Junior Girls County Captain Ellena Slater
As the profile and number of girls grow in golf, we need role models at every level of the game to encourage these girls to take part and stay in the sport.
Previously we have talked about the role that the golf club Junior Captain has to play. This time we're taking it up a level to the County. We spoke to Ellena Slater, the current Kent Junior Girls County Captain, to gain more insight into how she got into golf, being part of the County set-up and her time leading the Kent Junior Girls Team as she looks ahead to university and career in the industry.
Kent Junior Girls County Captain Profile
Name: Ellena Slater
Club: Kings Hill Golf Club, Maidstone, Kent
Age: 18 years old
Handicap: +2
Junior County Captain: 01/01/22 – 31/12/22
Golf idol: Annika Sörenstam
Ellena Slater Q&A
How did you get into golf?
My older sister and I started together when my Dad took us to the driving range. He told us that if we could hit the ball 75 yards, he would take us to Tudor Park which was our local golf club at the time.
I remember one time I was crying because my sister, who is three years older than me, was able to hit the ball further than I could. I felt it was so unfair and think it showed how competitive I was from a young age.
It wasn't long before Dad was taking us to Tudor Park. We'd play a few holes or nine but not 18. I also played a lot at Tonbridge Golf Centre, where I started with the weekend roll-ups. These were often led by my home coach James Jones, who still coaches me now. He's been my coach for 12 years.
I got my first handicap when I was 10 years old and I properly got invested into golf when I was about 14. That was when I realised it was what I wanted to do and how much I loved the sport.
How did you get involved with Kent County?
My first event was with Kent Girls at Prince's in 2017 at their Spring Meeting, where I won the handicap trophy. I remember thinking 'Wow, this is cool!'
It was also an opportunity to see the older girls playing, in particular Nicole Stewart, seeing the way they hit the ball. Even though she hardly knew us she was so welcoming and spoke to my Mum. It's what inspired me to want to play in more of their competitions.
They have a number of events and matches throughout the season and I started to get invited along. Then I was called up to do the Junior Girls Squad training with the intermediate handicap girls. From there I worked my way up, slowly but surely, with the county events and that helped me to get into bigger competitions, such as regional, national and then into the England Golf South East coaching squad.
It really has been a great platform to help me to get into bigger competitions.
Tell us about your most recent highlight with the county team.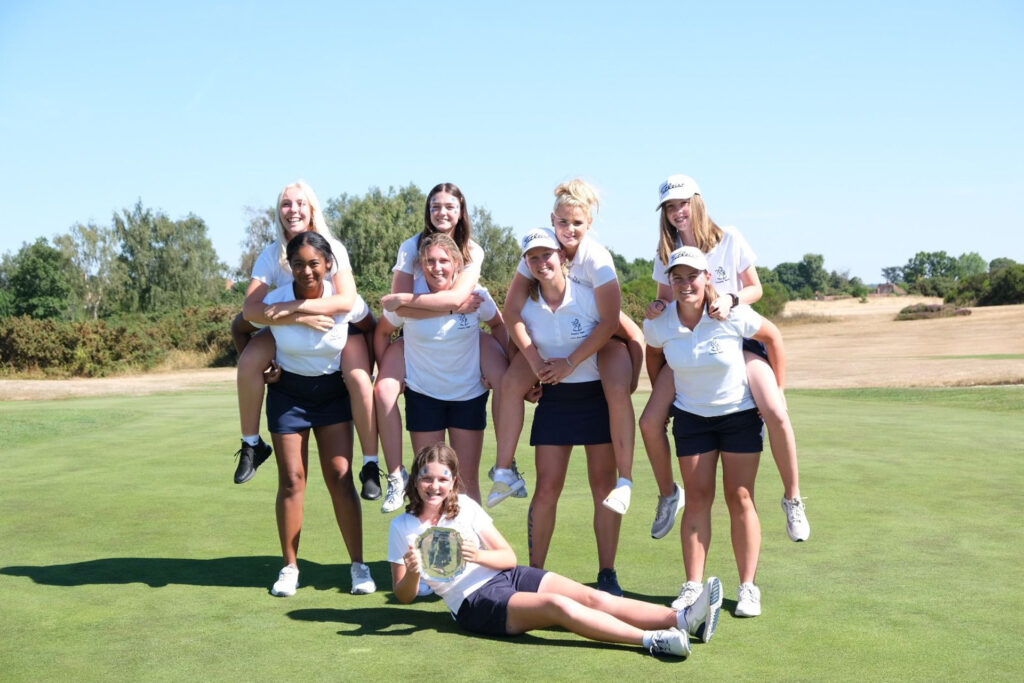 Well, obviously I am biased, but definitely the win at the Junior Girls County Match Week (South Region - Kent, Hampshire, Sussex, Surrey and Middlesex) in August. It was hosted at my home club Kings Hill. The atmosphere was absolutely amazing. It was really nice to win all four of my matches, quite substantially.
But also to watch one of the younger girls, who is only 15, handle the pressure. Our team were all standing crowding around the back of the 17th green, crossing our fingers trying not to show any emotion. Watching her win her match and then us all running onto the green afterwards was definitely a highlight.
How do you become Junior Girls County Captain – is it a rite of passage?
I think it's based on a few things. The Junior County Captain tends to be one of the older girls but it is also about how much you have contributed to the county. I've been involved in the Junior Girls County Match Week since 2018 and I've really immersed myself in all aspects of the county. Events, training, I really got stuck in and made good friends. I don't want to sound big-headed but I am also one of the stronger girls in the county. 
What does the role of Junior Girls County Captain entail?
I've gotten involved in quite a few things over the year so far. We have a Multi-Squad Day, every January to start the year off. One of the first things I had to do was to organise all the girls and get them into groups and get them going on the right path ready for matches.
There's obviously the role model aspect, by showing them that you are committed by turning up to training on time and making sure everyone feels included. We've had quite a lot of new girls joining in the last year, so I have made sure that they have someone to talk to and to make them feel welcome.
The more girls that I can inspire, the more they are going to play and the more they are going to want to continue. Which really helps the county in the future.
I also did a lot of preparation leading up to Junior Girls County Week, where I was involved in the decision-making of the final team. Once we had selected a team, I gave everyone course notes, because it was Kings Hill which I know very well. I helped to organise a match against the Kent boys at the club. I also arranged and made up gift bags for the girls. The idea was to really keep the motivation going leading up to the event.
Where possible I have tried to help out with the other volunteers at Kent Golf – Tita, Cheryl, and Judith, they put in so much work. So sometimes, just to ask, is there anything I can do to help and ease their workloads.
That's a lot of work! How did you manage your role whilst studying for your A-levels?
I'm not going to say it was easy! Obviously, during exam season, I couldn't get involved in as many of the Kent events but I still tried to turn up to training as much as I could. I was able to slot in golf around my revision.
But as soon as I put my pen down on the 24th June, I was straight back into helping with the county. Two days later, I took part in the Women's County Week which was really, really fun. It was great to get the double win!
At times it was tough and I did get a bit overwhelmed with everything. The main thing I did was to think about what my priorities were, what do I need to do right now and what can wait for a little bit and just communicate with people so they understand.
An example of this was organising hoodies for the girls. I was asked to get it done as soon as possible. I explained that I had an exam and would get it sorted out when it was over. You need to let people know if you're struggling with the work and golf balance. Then that always helps people to be understanding. If you don't communicate, then they won't know that you're struggling with all the workload.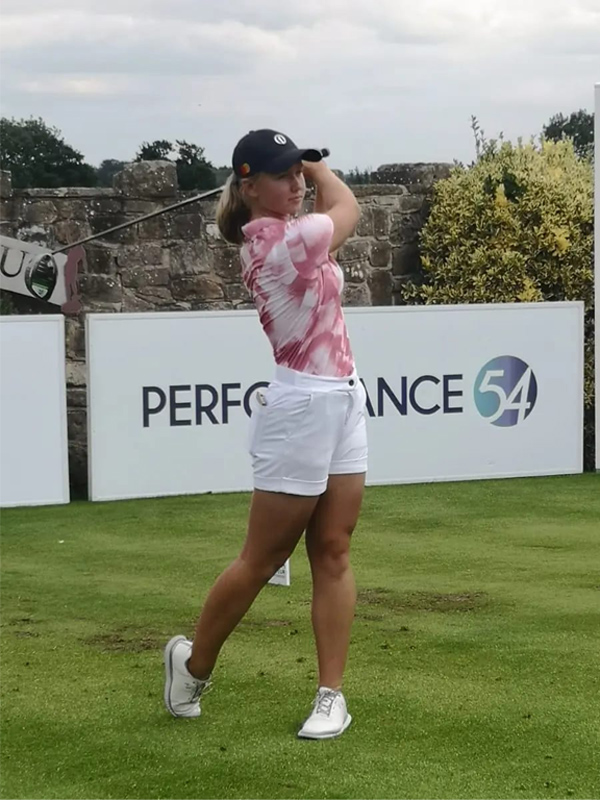 You've just started studying in America, what made you decide to make the move stateside?
I think it was lockdown. Obviously, you couldn't do anything, confined to the back garden, chipping off a mat on the patio. It made me realise how much I missed golf and how much I wanted to be doing it every day.
So, I started looking at options post sixth form and just thought, what can I do to help my golf? I looked at UK universities. I tried looking at what was available in terms of golf and the perception for me was that I would be committing too much time to a degree and not enough time to my golf. At the end of the day I want to be the best professional golfer I can be. I asked myself if this was really the best path for me.
I knew a couple of players from Kent who had gone to study in America, Nicole Stewart and Nicole Amos. So I started to research that area and I found that the student/athlete balance was so much better and the colleges treated you really well. They valued your athletic career, whilst still fitting in your education.
I didn't want to completely forget my education. If I get injured in the future, I need a backup. But that's the only way I view it, as a backup if I'm injured. I started looking into that and funnily enough one of the first universities I looked at is the one I am going to.
Which university are you attending and what will you be studying?
I'm at Northern Arizona University (NAU) and I'm studying a degree in nutrition. I thought, when I'm a pro, I can be my own nutritionist/dietician, as opposed to having to employ someone to help me out!
What are your plans to finish your year as Junior Girls County Captain?
My plan whilst being at University was to communicate more over WhatsApp. I spoke to Cheryl, our Junior Girls County Manager, to make sure I knew when all the events were whilst I was away. I wanted to send good luck messages to everyone.
When I get back, my Mum and I are hosting a Christmas Meeting because the Kent girls have never had a Christmas Meeting. I'll be donating a trophy and we're going to play at my club, Kings Hill. Luckily for us, Kings Hill is in great condition in the winter, it drains really well. It'll be our last get together of the year and a perfect way to finish off my year as Junior Girls County Captain.
Find out more about Kent Golf Union here.