Last week W&G columnist Patrick Brennan caddied for a group from Iron Lady Golf, a community all about inclusivity and the opportunity to use golf as a tool for friendship, networking, team building, and getting outdoors in Canada
We were first introduced to the Iron Ladies on a bright sunny day at Cabot Links golf course, Cape Breton, Nova Scotia. It's a lot of introductions, clubs, markers, pencils, scorecards and handbags to remember; but the groups were agreed upon - and we were on our way. The distinguishable white and gold 'Iron Lady' golf caps can be seen bobbing along the fairway.
A few smooth swings off the first and my group of Sandy, Shirl ('Whirl'), Vesta and Diane had hit the ground running.
We made a positive early connection with the hybrids and the 7-wood right off the bat, but the 5 wood was to stay in the bag for now. Shirl and I hit it off immediately, the UK accent always creates a flurry of questions, and after some good conversation (and some good green reading) we were already great friends.
Iron Lady Golf
With Iron Lady Golf founder Lindsay zipping back and forth between the groups; providing encouragement, quick tips and motivational support, the caddies could not help but fall in line. Our entourage of four ladies, four caddies and Lindsay's occasional appearance spent our Thursday afternoon strolling around one of the best golf courses in the country; sharing stories and making memories.
Golf has the ability to connect people from all backgrounds, one of the reasons I find myself drawn to it even when I'm not playing well. You feed off the success and enjoyment of others. Being around the game is addictive, and a mutual love of the sport can unite two people instantly. That's what I witnessed while caddying with the Iron Ladies.
The ability to co-ordinate such a trip with this special group takes selfless determination and a passion for the game, both of which Lindsay had in spades. Shirl provided the group entertainment, as well as looking after the golfers and caddies alike.
On the way up the fairways, I told them all about my own journey from England to British Columbia. I taught them some golfing terminology, about being short-sided, three putting, flop shots, bump and runs – all the while putting my British spin on some Canadian words.
After raking bunkers, I explained the subsequent road trip over to Nova Scotia. Between giving yardages, I learned about the families of all the players, and the link between the group – some lifelong friends and some brand new. I learned about their own journey that got them to this tiny town in Canada, and their professional lives that enabled this trip.
As the sun was shining, I was reminded how fortunate we all were to be here - with several more ladies in mind that were unable to make it this time.
Memorable highlight of the round
I also told Shirl about my book of caddying experiences, where each player - good or bad, moody or cheerful - gets their name etched into my personal memoirs, usually accompanied with a memorable highlight of the round. Apart from the scintillating company, we had made it to the 14th hole at Cabot Links without that stand-out moment happening just yet.
The shortest hole on the course is by no means the easiest, with bunkers, wind, elevation and a sloping green to consider. We had 79 yards, but playing more like 65. Nine iron would do the trick. Head down, smooth swing.
A great shot followed, rolling out to about 15 feet.
The putting hadn't been the best up until this point. We understood each other well, our longer putts we would call a 'wailer' – meaning you hit it hard. Our word for a shorter putt was a 'shoe-to-shoe'. For some reason, the pace and line just hadn't matched up thus far.
As we squat down to get the read, the edge of the green looks as if it would lead straight into the water. A few miles of beach stretches towards Cabot Cliffs one way, with the rest of Cape Breton Island curving away to the other.
I do my usual walk to the hole, picking a spot to aim for, followed by the applicable instruction. This time, the words "just outside the right edge". Shirl told me that she didn't want to hit it too hard, due to previous 'hard luck' (my phrase of the day) with the fast greens - and would be very happy with a two putt. I said okay.
She stood up, and rammed the ball straight at the hole.
It didn't even have time to break left before it rattled the flagstick and buried at the bottom of the cup. The crowd went wild – we had made birdie!
The personal memory for the book had been created, and group photos naturally followed. We finished strong over the last four holes - before some more pictures, and a promise to give it another good go at Cabot Cliffs the next day.
Fun and enthusiasm for 18 holes
Being a caddie has its ups and downs, and you always see variation in your golfers. Some expect their best day, every day. Some have the luxury of playing the course several times. Some travel a long way to get here, embarking on the bucket list trip of a lifetime.
Everyone starts out enthusiastic and energetic, but it is difficult to maintain that level for four hours during a round of golf.
However, the Iron Ladies did exactly that.
It was revitalising fun from start to finish – and we were lucky enough to follow it with a second round at the Cliffs course the next day, with Jill, Barbara and Wendy.
The Iron Ladies possessed the ability to have fun and yet stay competitive. Mix in an appreciation for their surroundings, respect towards each other and the caddies, a willingness to listen, and try new things with their golf game makes for a perfect day out. A willingness to impart knowledge paired with a yearning to receive it makes for a pretty good duo. And this works both ways.
The caddies were professional, the course and conditions were sublime, and the golfers were fantastic. We're lucky enough to be hosting the Iron Ladies 2.0 in September. I'll be ready and waiting in the new merchandise - to do it all over again.
Find out more about Iron Lady Golf by visiting their website here.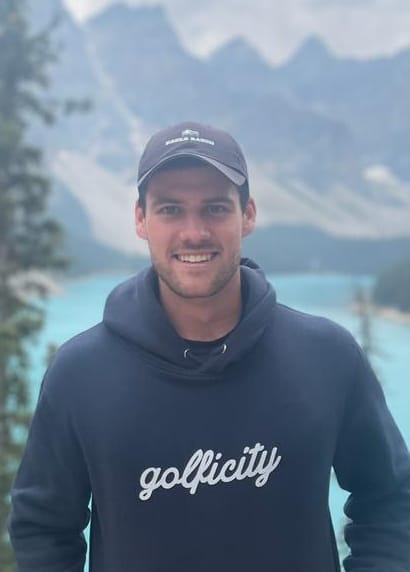 Meet Patrick Brennan
Patrick is originally from the Lake District, UK but moved to British Columbia, Canada after university. He writes for several media outlets, including Golficity, and has been doing so for over six months.
His main writing interests are professional golf tours, the Majors and any good underdog story!
He comes from a sporting family and, when not cycling or skiing, plays off a six handicap - trying and failing to keep the family bragging rights, often due to a streaky driver!