This week, the Women & Golf team went to Pitch – an interactive golf experience and bar in London. Here's what we thought.
After the washout that was last Christmas, we were looking for somewhere a bit different for the Women & Golf Christmas party this year.
And what better place to host a team of golfers and golf writers than Pitch?
Set over three floors – the Clubhouse, Mezzanine Lounge and Academy – Pitch is one of London's coolest hangouts whether you're into golf or not.
In the Clubhouse, there are three simulator bays decked out with smart tech and a full set of Callaway clubs. Each bay holds up to 10 people and you can choose from games like nearest the pin and longest drive, or compete over a few holes.
You can pick from your favourite courses around the world – like the infamous par-three 7th at Pebble Beach – and of course there's a running leader board to make things really interesting.
Word of warning: If you've got anyone like me in your group, it gets pretty competitive.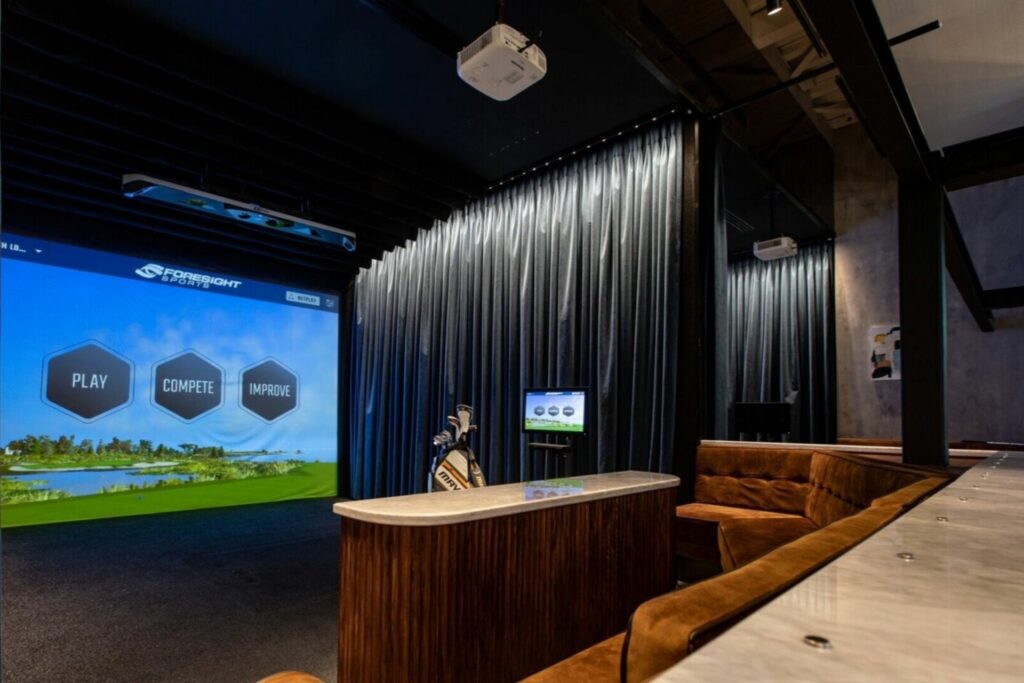 There's a bar right next to the bays, and you can order food and drinks to get delivered to you whilst you play.
Honestly, if I can't get out on a golf course, this is the only way I want to hit balls from now on.
There's no catering on site which means that food is ordered in from local restaurants Honest Burgers, Pizza Pilgrims and HAZ. It's not super smooth but it works because the food is so good.
We did have a long wait for our meals to arrive, but as you're busy hitting balls (and shamelessly trying to move up the leader board), it wasn't really an issue. The Pitch team swooped in with an extra round of drinks and quickly sorted the issue out for us.
And that wasn't the only time the Pitch team were on hand to help. We had a mixture of young and not-so-young people in our group, some tech-savvy and some not. It's impressive tech but there's definitely a knack to using it. And that's where the team at Pitch came in. They helped us set up each game and generally made sure everything went smoothly. We were never just left to get on with it ourselves and that made a big difference.
When we finished playing, we headed up to the Mezzanine Lounge; a chilled-out bar area on the top floor, overlooking the bays beneath. It's a cool place to have a drink and laugh about the games you've just played downstairs. Or in my case, pretend you're not sulking because you didn't win.
Downstairs in the Academy, there are five simulator bays, available for lessons and general practice. Reserved for members, each bay has some seriously clever tech to help you work on your swing, including a double camera system.
There's even a SAM Putt Lab if you want to hone your putting skills whilst you're there.
Why places like Pitch are so good for golf
With the likes of TOCA Social, Flight Club and Clays Bar popping up over the city, there's definitely a growing interest in immersive activities. More and more people are swapping sit-down drinks for interactive experiences that combine cocktails and games. And it's a winner for me.
As far as golf is concerned, places like Pitch can only be positive for the game. Pitch doesn't just get golf clubs in more people's hands. It completely repositions golf and gives it a fresh new look that it hasn't had before.
All of a sudden, golf is cool.
It's exactly what we need to get away from this idea that if you're not playing 18 holes, you're not really playing golf.
However we get people into the game, however they choose to enjoy it, it's a good thing.
Pitch is set to open a second, even more impressive venue in Soho in 2022. To find out more about both venues, visit PitchGolf.London.