Enfield Golf Club Junior Captain Issie Brunskill has had a jam packed golfing summer! She's here to tell us what she's been up to.
The Junior Captains play an important role at golf clubs where there provide a solid link and voice from the younger generation at the club. We want to follow the year of one Junior Captain and see exactly what it is like to be in the role, what it entails, the highs and lows and see whether they are able to achieve the changes they hope to make during their year in office.
Issie Brunskill is the Junior Captain at Enfield Golf Club, you can read her introductory Q&A here.
Junior Captain's Drive-In
Like in my Spring update, I'm starting with the Junior Captain's Drive-In. It was on the 4th July, on a nice day, just a little wind. I had been practising bombing drives on the driving range but I still felt so nervous as I headed to the tee. To make it worse, everyone was standing behind the tee box. Thankfully I took a deep breath and pured it down the middle.
The drive-in was followed by a Texas scramble where I played with the Club Captain and relatively new juniors. It was great to be able to play with them and make them feel welcome at the club. The rest of the teams were made up of just juniors. We finished the day with tea, cake and a prize-giving, which thankfully I didn't have to give a speech at.
After finishing school, the summer was PACKED with golf!
Junior Girls County Week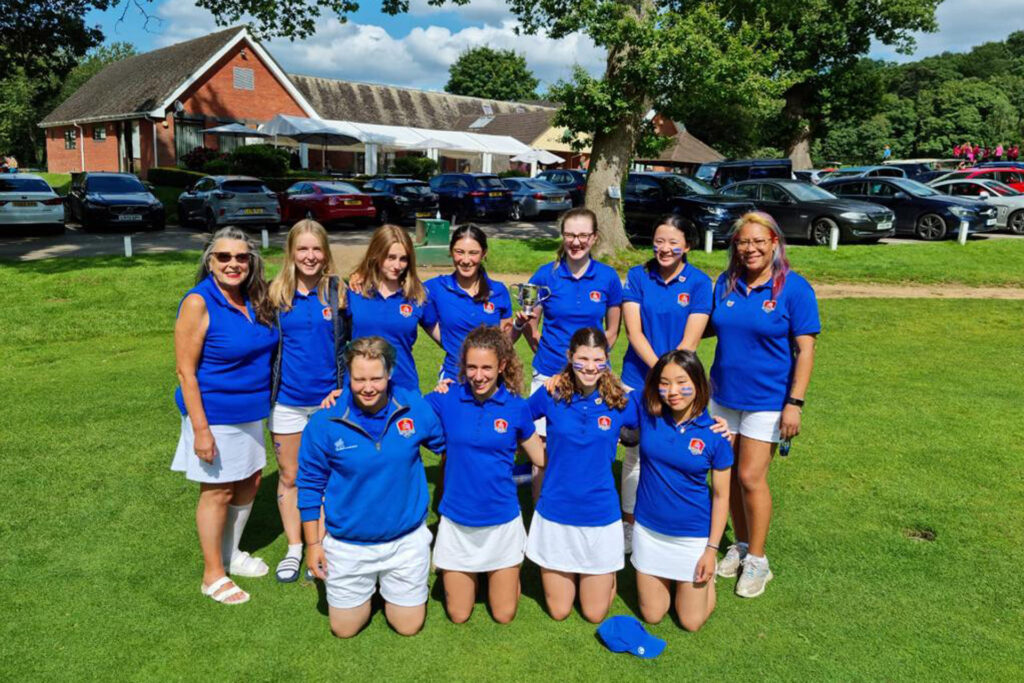 First, there was Junior Girls County Week at Puttenham Golf Club. I was obviously there with a team from Middlesex and the other teams were Kent, Surrey Sussex and Hampshire. We played 36 holes every day, over the four days, and the standard of golf was really high. I find it really inspiring to see an even higher level of golf that I am at yet. We came 3rd overall and 1st in the Stableford, winning the Sue Coombe trophy.
We were supported by Darragh and Di from Middlesex Golf and Nicole, one of my teammate's Mums. It was great to have them there. We had beautiful weather and I enjoyed the course. It was a little funky in places and quite tight, so the odd slice cost me but it was fun to be able to hit driver then wedge on some holes.
Jim Roberts Cup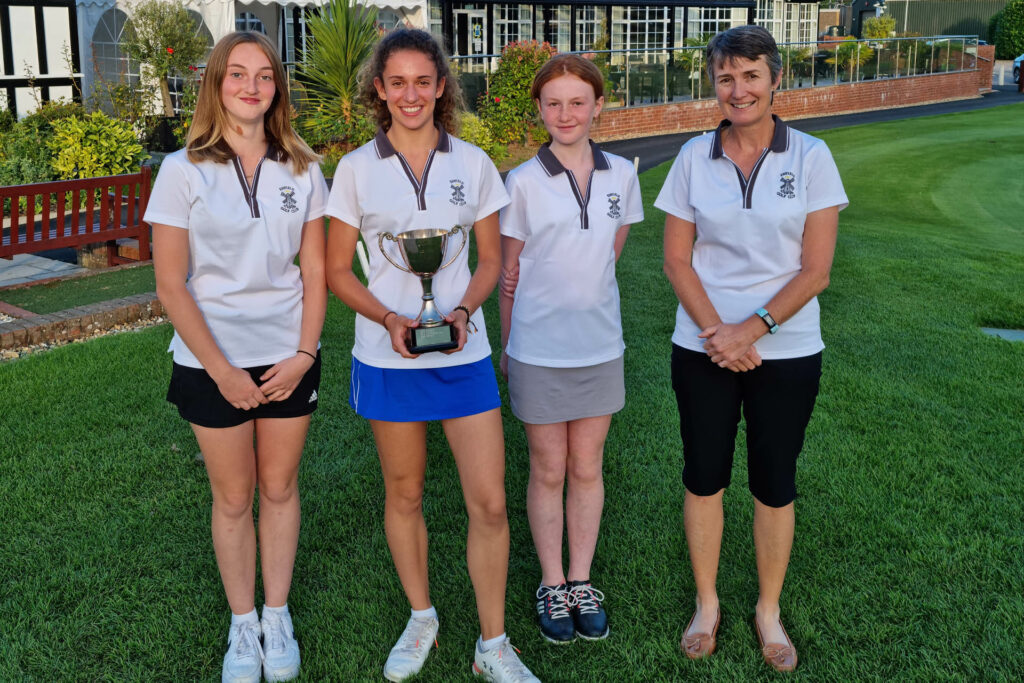 Next was the Jim Roberts Cup which is an annual event to honour Jim Roberts who was the junior organiser at North Middlesex Golf Club. It's basically a fun day for juniors and their junior organisers. We played at Stanmore Golf Club, the format was a four-person team event, with three juniors and the club's junior organiser. Stableford, two scores count on each hole. I played with Eleanor Dagger, Katie Roper and our JO Kathryn Tiddy. We won with 86 points. It was the first time I had played in it but the second year in a row that Enfield had won. I also had my best front nine to date shooting +1!
Playing my best golf
Then I played in the Middlesex Eamonn Kneafsey Championships at Enfield. I took my good form from the Jim Roberts Cup into it and shot my lowest round ever, a 76. We played two rounds and I was the U26, U21 and U18 Nett prize winner.
August also saw me make my debut for the Middlesex Women's 2nd Team at Sudbury Golf Club against Hampshire. We played foursomes in the morning and I won with my partner, Sudbury local, Mina Hoshina on the 16th. I then played singles in the afternoon, losing on the 15th. It was such a great experience and I hope to play with them next year or maybe in the first team if I can get my handicap low enough.
Finally, it was the Enfield Junior Club Championships which was a really good day. I won the gross prize for the second time. I wasn't expected to win, so I was so happy that I was able to do it.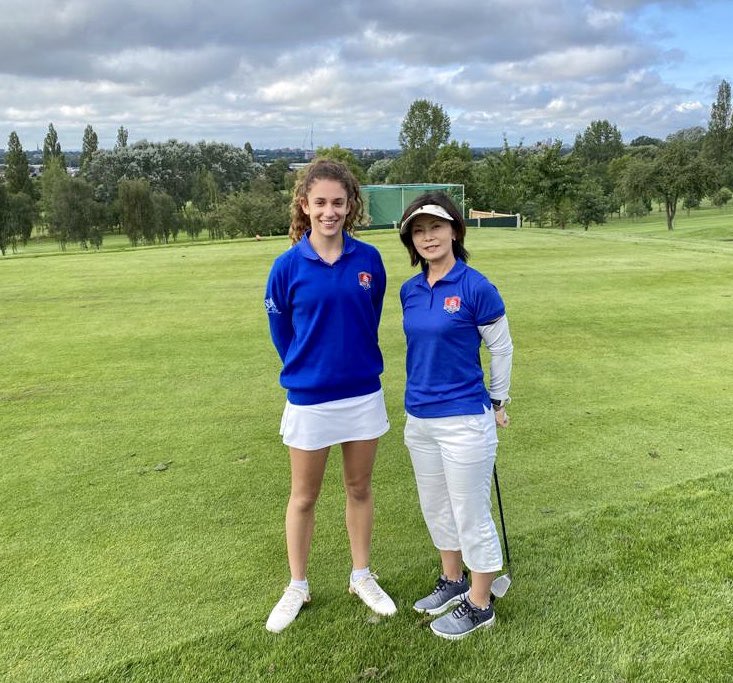 Golf goal achieved
The other big news from the summer was that I achieved my main golf goal for the year by getting my handicap into single figures, I am now playing off 9.8!
Ladies to Women
I am also really pleased to tell you that I have been able to drive change at Enfield. I talked about it in my first Q&A and thought it may be too ambitious to achieve in a year but I am so proud to say that we've changed the wording at the club from Ladies to Women. Here's what happened.
After meeting with the Chairman, it was decided that the name change from Ladies to Women should be put to the vote with the women's section. They voted in favour and that was then put to the main committee who agreed.
The change has come really quickly and the golf club has been really accommodating. So far the website has been changed and the sign to the locker room door. There's still a couple of changes that need to happen around the wording of competitions but otherwise, I am so pleased that I have used my time as Junior Captain to make a real difference at Enfield.
I definitely think it's a generation thing as I know there are women at the club that didn't see the need to change the name but I feel the more we are exposed to it, the more accepting we become. I just don't feel very empowered by the word ladies and I don't think it represents golf in the right way. I feel so lucky to be part of a forward-thinking and inclusive golf club.
What's next
Well, it's my birthday next week, so I am very excited about turning 18! I'm obviously back to school, so I won't be playing as much golf. In November we have the Junior Presentation Evening, which means I am going to have to make a speech…I'm not going to lie, I'm already worried about that. Hopefully, I'll give you another update before then.
Issie Brunskill
JUNIOR CAPTAIN PROFILE
Name: Issie Brunskill
Club: Enfield Golf Club
Age: 17 years old (18 on 21.09)
Handicap: 12.6 to 9.8 (achieved my goal to get into single figures)
Junior Captain: 01/01/21 – 31/12/21
Golf idols: Rory McIlroy and Anne van Dam
Golf goal: To get to single figures
We will be checking back with Issie next month to see how she is getting on. Are you a Junior Captain or do you know a Junior Captain? We always want to hear more stories from juniors, so if you have a story to share or want to get in touch, then please drop us an email here.