Last week long drive was propelled into the spotlight thanks to Bryson DeChambeau. We catch up with Women's Division winner Kanani Lodge
The world of Long Drive was opened up to a bigger audience last week when Bryson DeChambeau swapped the Ryder Cup for the long drive grid in Mesquite. There's no doubt that he shone a light on a part of golf that many don't know much about.
The Pro Long Drive Association World Championship took place on September 27 to October 1. DeChambeau made the final in the Open division but was eventually beaten by World Number one Kyle Berkshire with a drive of 422 yards.
In the Women's division, 25-year-old Kanani Lodge, who has only been on the long drive scene for two years, claimed her first world title with a 332 yard drive. We caught up with the American professional long driver who has used her track and field experience to make her a real force to be reckoned with.
Q&A with Kanani Lodge
How did you get into golf?
My first memories of playing golf began when I was about nine years old. My stepfather had signed me up for Summer Monday tournaments with the USJGA and I played my first round of 9 holes before I even knew the rules of the game. I instantly fell in love with watching the ball fly far after hitting my tee shots.
That love was my fuel to continue playing throughout my youth and into high school. I never realised how good I was or how significant my yardages were until I won my first tournament around 13 years old and had outdriven seniors in high school. If I'd known what Long Drive was back then, I think my life would be a lot different now!
When did you find out about Long Drive and think it would be good to compete in?
I didn't find out about the sport of long drive until two years ago, right after I graduated University and was looking for a part-time job to make some extra money. I started researching the sport just before the 2019 World Long Drive Championship but didn't think I had a chance of keeping up with the other women, so I didn't sign up.
After that I moved to Hawaii for a job and started hitting balls at the local driving range. This was when I was spotted by some long drive recruiters and was put into contact with Bobby Peterson, my current professional long drive coach. He invited me to his facility in North Carolina, and offered me a chance to try out for his team.
After two days of hitting with him, he told me I was the fastest women he'd ever seen. I gave my job notice that I would be pursuing long drive, and two weeks later I was with Bobby and some other amazing long drivers competing in Mexico for Team USA Long Drive.
When Covid started shutting everything down, I never got the chance to return to my job in Hawaii, so I decided to train and compete full time.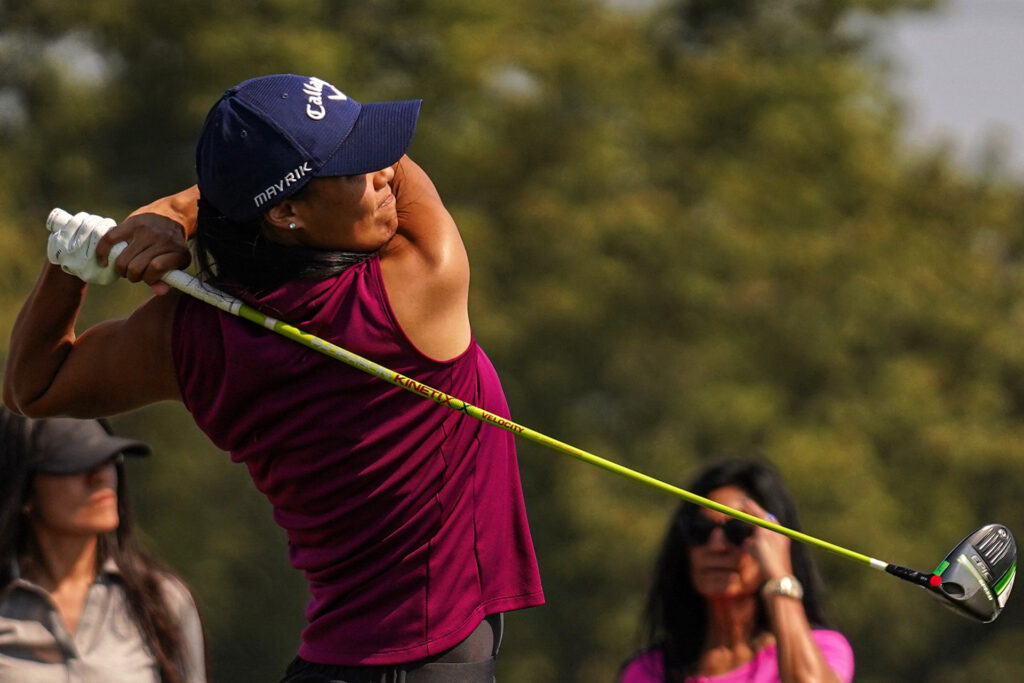 Tell us more about your time as a track & field athlete and how that has helped with long drive?
When I entered University, I wanted to try something completely new, since I didn't take full advantage of it in high school. At the time, I was a member of the Naval Reserves Officer Training Command and wanted to improve my running and strength training. This led me to walking onto Savannah State University's Track & Field team, where I ended up becoming the team captain and their number one Thrower in the Field division.
Since I was brand new to Track & Field, my coach decided to let me try out all of the throwing implements to see which I was best at…I ended up competing in all of them (javelin, shot put, discus, and hammer) with javelin as my personal favorite. I even had unrealistic dreams of making an Olympic team if I trained hard enough and long enough.
I give 90% of the credit for my long drive success to my training in throwing. The muscle movements and explosive emphasis needed for throwing correlated perfectly to a powerful long drive swing, my background in formal golf then helped give my swing a controlled and consistent shape.
You came onto the long drive scene not long after the World Long Drive Championships were pulled and there was a global pandemic – how have you managed to compete?
The player community in long drive is absolutely amazing, like I imagine it is in most professional sports. The amount of passion and dedication these athletes have for their sport is unbelievable, and is what fueled the creation of the Professional Long Drive Association and Extreme Long Drive Association.
After World Long Drive was sold by the Golf Channel during the pandemic, the players and coaches of Long Drive gathered to create their own tours in order to keep the competitions going while the world dealt with Covid. Both organisations have funded their own tournaments and given the players something to work towards. I think it's also made us all a bit more appreciative of the work that's involved in running a professional sport. I have competed in both tours, out of my own interest as well as the desire to help grow and support the sport.
Have you won all the competitions that you have entered?
Yes, fortunately. My winning streak is what motivates me to keep working and finding new ways of using my success to speak and motivate others to compete and give long drive a chance.
Watch the Pro Long Drive Association World Championship Women's Division Final
You won the recent Pro Long Drive Association World Championship (PLDWC) – how was the whole experience for you?
The experience was fantastic. It's been two years of hard work both on and off the field, working with both organisations to create worthy tournaments and speaking to other women to compete despite the global hardships we are all facing. It was truly the light at the end of the tunnel, giving myself and I think a lot of other players the hope we needed in Long Drives future as a professionally recognized and respected sport.
What's it like playing in Mesquite as we've heard it's a pretty special place for all long drivers?
I don't have as much experience to speak from as other players, but I do love Mesquite. It's an absolutely gorgeous venue, with a lot of potential for growth as the years go on. I think having the practice grid and tournament grid so well placed and in proximity of each other allows for a very unique experience for both the players and spectators.
What do you love about long drive?
Definitely the energy from the players and fans. It sometimes feels like as a sport, we are the underdogs, and that somehow fuels us all to cheer a little bit louder and support each other a little bit more, because we are all fighting for more recognition. I've made some life changing friendships through this sport, and it's allowed me to pursue my passion for athletics. It's really special to find something you're truly good at in the world, and enjoy it on top of that. To be able to dedicate my life to it as a career is just icing on the cake.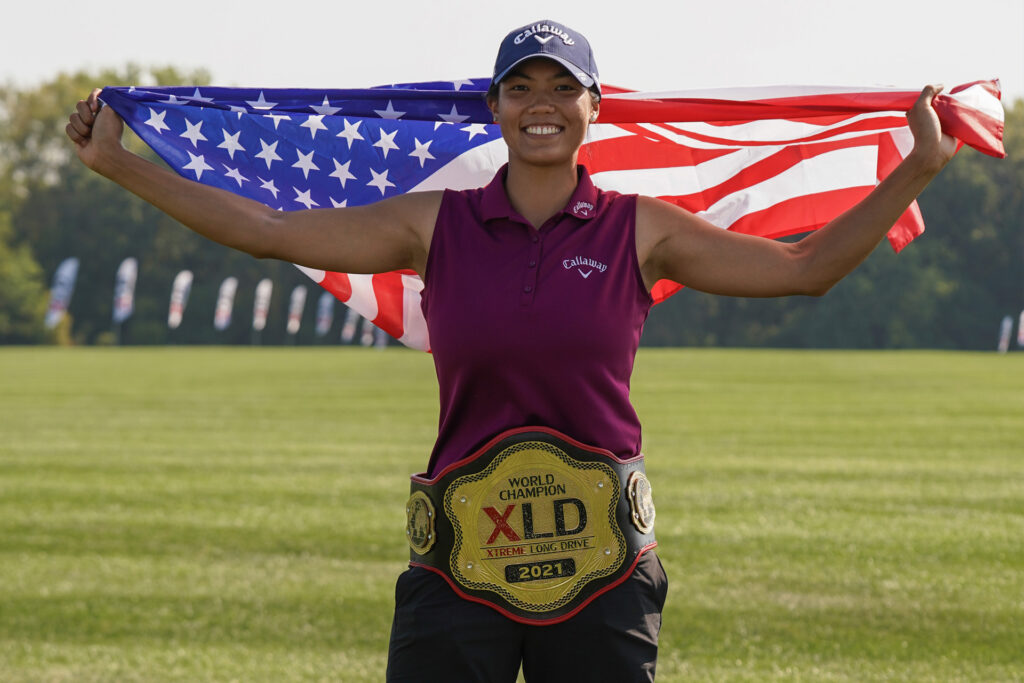 Bryson DeChambeau, what sort of impact did his presence at the PLDAWC have?
I can't give a big enough thanks to Bryson for what he did for our sport this past week. Not only did he selflessly use his platform and notoriety to give our sport recognition and a voice, but he also wholeheartedly enjoyed himself and that was truly special. The golf world will now have more reason to look into us long drivers, and I think it helped display the potential other athletes have at enjoying and finding success in this sport. Bryson happened to be a golfer, but more so, he is a well developed athlete, and that speaks volumes to any other athletes out there who are looking for a sport to belong to.
What's next for you?
Once Covid restrictions lift more to allow visitation on college campuses again, I would love to start touring different schools and spreading the world about long drive. I think the biggest hinderance to our sport is that a lot of people, like myself, just don't know anything about it. If I could show college athletes that Professional Long Drive is an option, like the MLB, the PGA, etc, I think more people would pursue it.
It's not just athletes who have a golf background that can have success in this sport, and I want that to be emphasised. I attest my success to Track & Field, but tennis athletes, softball players, rugby, the list goes on for the types of sports trainings that would make individuals fierce in long drive. I want to use my platform to encourage others to not be afraid to try something new. For now, I've started my off-season training, and plan on being even faster and longer next year.
Follow Kanani's long drive journey via her Instagram and YouTube channel.