We speak to Marketing Executive, Kate Protopapas. She's on a mission to change the culture at Muswell Hill to make the golf club more diverse and inclusive.
There's no denying that women's golf – and women's sport in general – is going through a bit of a moment right now.
But try as we might, golf can't quite shake off its bad rap; it's too white, too male and too expensive, unwelcoming and not inclusive.
Initiatives like The R&A's Women in Golf Charter are going a long way to right the game's wrongs, but if we're being honest, there's still some way to go. We need to change the culture of golf, get more women on the fairways, and we need to get more women working in the industry.
Inspiring women in golf: Kate Protopapas
In our most recent series of articles, we'll be speaking to female leaders in the industry to showcase the depth of opportunities there are for women in golf.
We'll prove that there's a lot more to golf than just playing it. In fact, you don't even need to be a golfer to enjoy working in the industry – though we can't promise you won't get bitten by the golf bug in the process.
First up, we speak to Marketing Executive, Kate Protopapas. She's on a mission to change the culture at Muswell Hill to make the golf club more diverse and inclusive; to attract more women to the club and – more importantly – make them feel comfortable when they're there.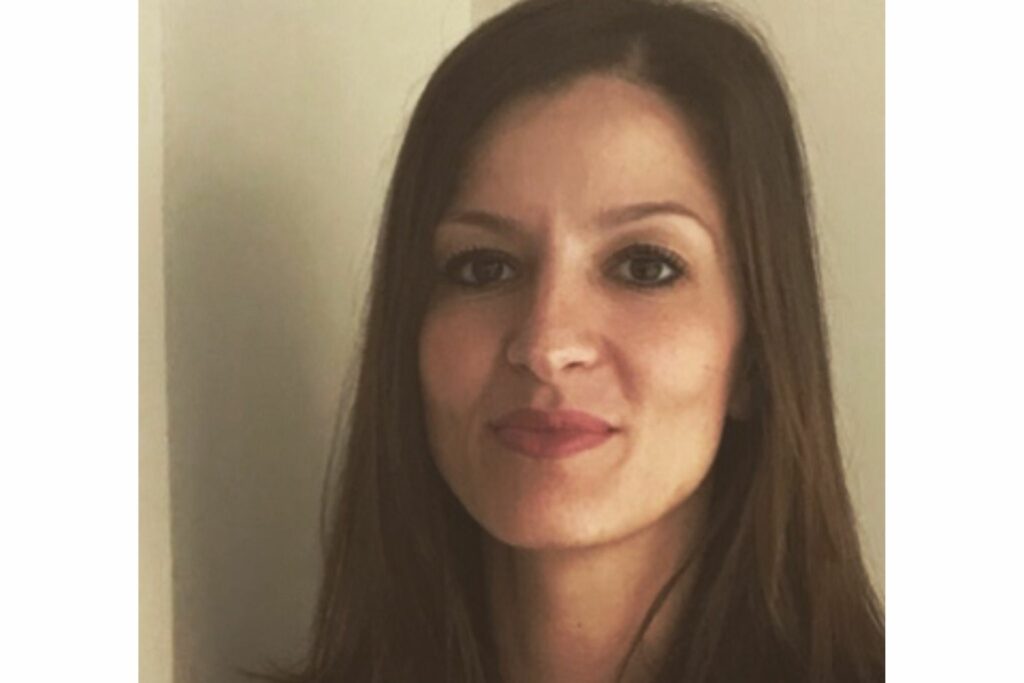 When did you join Muswell Hill Golf Club as the marketing executive?
I joined Muswell Hill Golf Club as a part-time Marketing Executive in October 2017.
I was completely new to golf when I first started at Muswell Hill, coming in with a lot of curiosity because I had a lot to learn and was a complete outsider. My background as in-house marketing meant that one of my priorities was to ensure cohesion and consistency across all the moving parts of the business and the golf industry presents unique challenges here.
Why did you choose to start working in golf?
It wasn't golf specifically to be honest; I was looking for a local in-house marketing role that would be challenging in new ways and enable me to have greater contact with people.
What do you like about working in the golf industry?
Within the microcosm of a golf club is a dynamic environment and more so since the onset of the pandemic. That has brought with it a new set of challenges for clubs, certainly on the membership front. To its credit, the industry is evolving quickly. We, like many other clubs, have had to with agility, diversify and adapt to shifting sands; no two days are the same.
Ultimately though, people are at the heart of it; from those who are complete newcomers to the game to those that are greatly dependent on the golf club for their health, wellbeing, and social connection.
What were your thoughts about golf before you started working in the industry?
My first experience of golf was as a teenager. My friend worked at a golf club at the time, and I went to the clubhouse to meet her. I was wearing jeans and as soon as I walked in, I was asked to leave. She told me to go home change, and of course I went home, and I stayed there. Apart from the odd bit of mini golf on the Essex coast that was my first and last experience of golf until I joined Muswell Hill.
What are you doing to attract more women at Muswell Hill?
A year after joining Muswell Hill I joined the Academy and as a beginner and member of staff on the 'other side' I was able to share my insight into what it was like for a beginner, female golfer at the club. I went through the programme in the same way any other newcomer would and being able to bring my feedback was a huge advantage.
I could say well actually that isn't very clear, or that could be easier – there were a lot of gaps we might not have picked up on. That led to us reenergising the academy programme, which subsequently has seen fantastic growth.
The pandemic has enabled us to make further changes that we hope have accommodated greater integration and momentum for newcomers. We're focused on member experience across the board whilst recognising that there is more to be done to help women to make the most of their time at the Club as complete beginners. Especially pertinent now as we are seeing more movement out of the Academy into playing memberships.
Muswell Hill Golf Club is a recent signatory to the Women In Golf Charter and the focus of it is inclusivity; from the first time a woman makes an enquiry about learning the game to when she has been a member for several years; how are we ensuring a level playing field?
Women make up around 17% of our membership. Our academy is about a 50/50 split, and so our goal is to improve their experience as a member and convert more of them into members.
That we are having a degree of success in attracting women to the game for their first time doesn't mean we are resting on our laurels. Their foot in the door really is the first step and how we bolster their experiences of the club and the game, how we nurture and guide them, is where the work begins.
As part of the Women in Golf charter, we're proposing a member support scheme. Longstanding members will act as champions of new members and members that move from the Academy to a playing membership, offering them different experiences and different benefits of being a member. We know that having a familiar face(s) at the club is beneficial and will facilitate those transitions.
We're also focusing on juniors and attracting more girls to support them getting into golf at a younger age. We're taking part in Girls Golf Rocks in September and running girls' taster sessions during Women and Girls Golf Week in August.
We have a newly appointed female PGA professional on the team, who is also the junior organiser.
You talk about changing the culture of the golf club. How do you think you'll achieve that?
The Women in Golf Charter has been a fantastic initiative and is supporting is changing the culture of the golf club. That cultural shift takes time.
The commitments we have made in the Charter are there to inform us of our day to day as well as long term goals.
We have appointed a pro-active and enthusiastic charter champion to help us fly that flag.
There are so many dos and don'ts in this game, and a lot regarding rules and etiquette and it can be very off putting if newcomers are being corrected all the time. We are considering our language and approach and engaging members to help us with this.
Do you think it's been an advantage coming into the industry as a non-golfer?
Definitely – coming in as outsider has been very advantageous.
Before I joined, I had the same pre-conceived notions of golf as most people. People within the industry are aware of the various perceived barriers to the game but a fresh pair of eyes can always help.
Looking back over my four years here, the change and progress the industry as a whole has made has been phenomenal.
What is your one piece of advice for other golf clubs looking to grow their women's sections?
Female under-representation in golf exists for reasons that many golf clubs may not be comfortable with looking at.
Acknowledging the ways clubs and the industry at large have made great strides towards inclusivity is just as important as taking stock in the fact that women have been historically excluded from the game.
To cultivate a vision for the future that includes a level-playing field at the heart of it is a good place to start. Considering the barriers and perceived barriers in place through research and member interaction and prioritising the dismantling of these barriers as part of strategic and tactical plans, is where the work begins.
There are many positive images and stories of women in golf today and being in support of these publicly via social media and celebrating female members within club environs is also important.
The Women In Golf Charter is much more than a box-ticking exercise; it's an invitation to embed a new and better culture and an opportunity that clubs should be grabbing with both hands.
Do you work in the golf industry? We want to hear from inspiring women like you! If you have a story to tell, we'd love to share it with our readers. To get in touch, please email [email protected].