What does it take to fuel Team Europe to Solheim Cup success? We speak to their nutritionist Amy O'Donnell
Tell us about your golf background?
I come from a golfing family as my Dad plays, so I started playing golf when I was about eight years old. He's always played off about three or similar and I've always been determined to get lower than him! I currently play off a three handicap but that can sometimes vary a lot. I'm a member at Portrush and of the club in my town Whitehead Golf Club. And then when I go to university in England, I'm a member of Hoylake as well. I just love it.
I also caddie here at Portrush. I'm used to playing all the time in the summer and caddying. It's what I do when I come home from uni. But now that I have finished uni, I'm just caddying until I get a job.
What are your thoughts on The Open returning to Royal Portrush in 2025?
I actually worked at the last Open at Portrush, I was a buggy driver for one of the golf commentators Mark Rolfing from NBC. It was great, I drove him about for three to four hours a day and then I got to go watch the rest of the Open. It's brilliant for the economy and local area. I just loved every second. I can't wait for it to come back here.
What did you study at university?
I did a Sports Science degree at Liverpool John Moores University for three years. Then I wanted to do my Masters in Sports Nutrition which was also at John Moores. That's what I did during the pandemic, it was good because it was remote and I had nothing else to do so I just threw myself into my Masters to try and keep myself busy.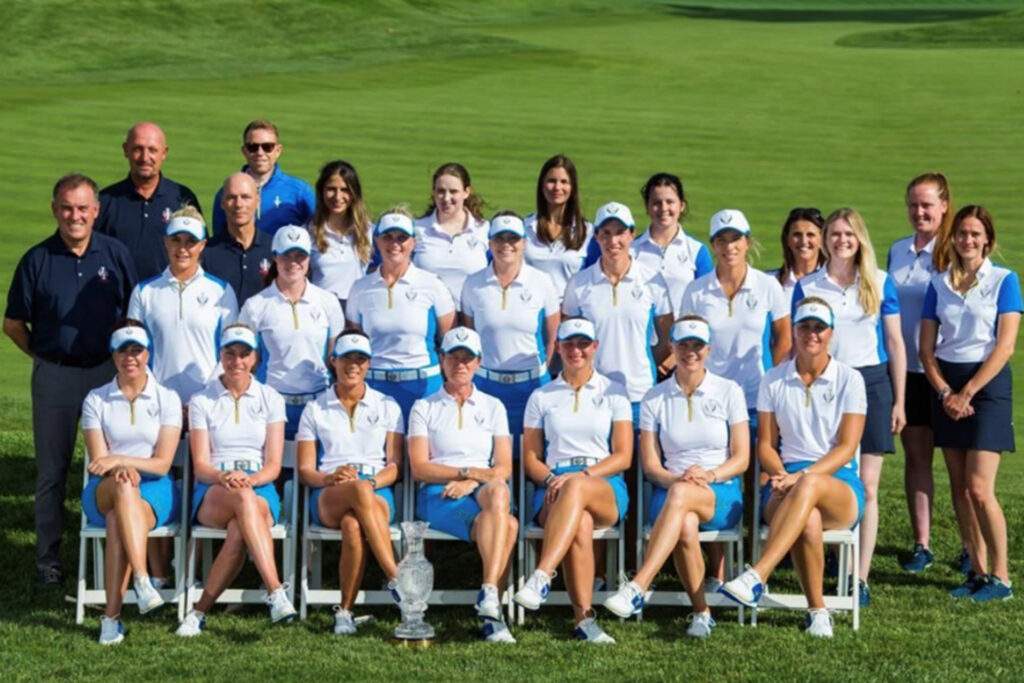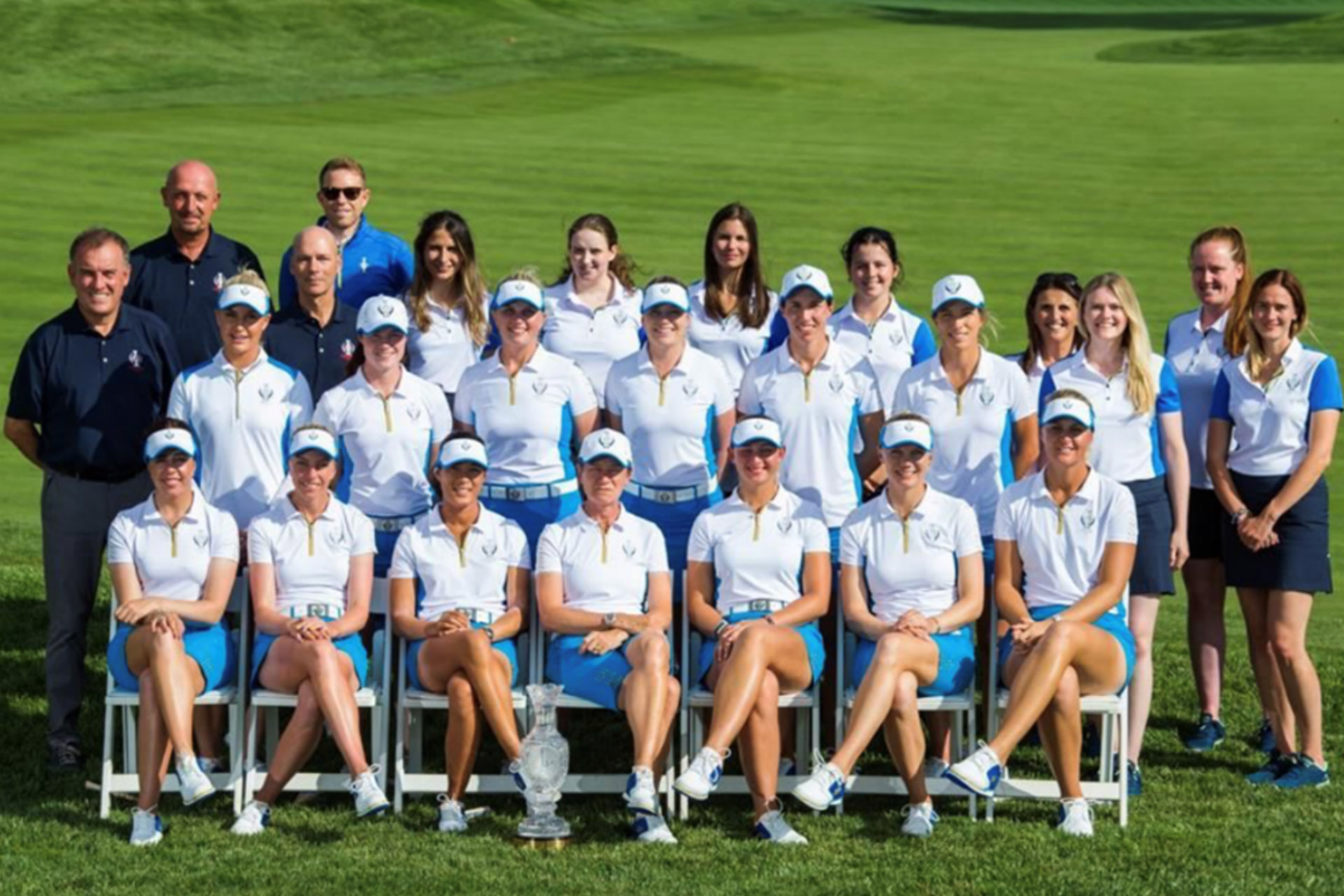 How did you get the role of nutritionist for Team Europe at the Solheim Cup?
It was during my Masters. I spoke to one of my uni tutors Graeme Close, a really renowned nutritionist who works with the European Tour. I chanced my arm at the start of the year (2020) and asked if there were any placements within golf and he said he'd see what he could do. Then it turned out the Ladies European Tour were looking for some nutritional work to be done, to redesign menus for their tournaments. This involved giving caterers guidelines on how to layout foods and what foods to layout.
Then out of the blue, I got an email from Graeme asking if a fancied a trip to Toledo to help with the Solheim Cup. I had to prepare a little presentation of what I could do and showed it to them via ZOOM. They liked it and offered me a spot in the support team. That happened around March this year.
What background work did you need to do in advance of Solheim?
It was a bit different because it was a one-off tournament. A daily job for a nutritionist would involve things like consultations and things like that. For this event I was receiving the menus that they were preparing for the tournament from Inverness Club and the hotel we were staying in. I just adjusted them accordingly in favour of enhancing their performance, to be able to build a performance player.
Then I designed easy educational infographics with information about certain nutritional areas to educate the players, because they don't want to be bombarded with too much information. I wanted to keep it as simple as possible because I know people can really overcomplicate nutrition.
One of the other things that I did was to send out a questionnaire to see if there were any sort of dietary intolerances, or any allergies and stuff like that, that we should be aware of and in turn let the hotel and golf club know about it when serving them breakfast, lunch and dinner.
How much did the players know about nutrition?
I don't think there's been a lot of nutritional support offered to the players before. I provided educational nutritional advice to all the players and was pleased to know that they were eating the right food. To try and improve their performance I was giving them little energy balls and recovery smoothies.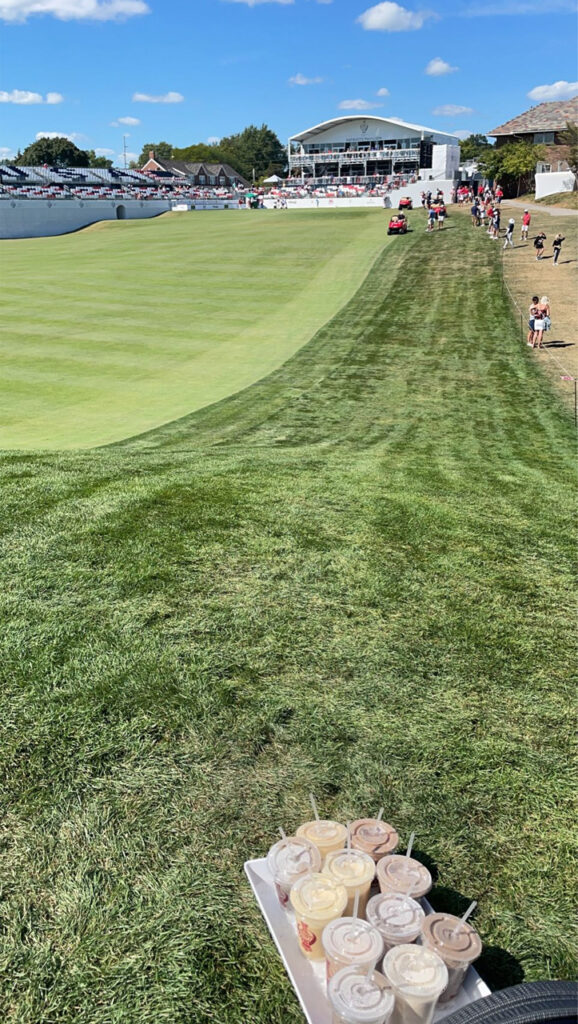 What was it like for you in Toledo?
It all started on the practice days, making sure when we had breakfast at the hotel, the food there was laid out correctly, everything was labelled and we had all the choices that were needed. It was also similar to when we had breakfast at the golf club because all the players were straight into that room to have breakfast. It was a case of making sure the food looked appealing, it was the right things, it was all labelled.
Whilst they were out playing golf, I would make the energy balls and little snack bags with fruit and nuts and get them ready for the next day. I'd then put them in the locker room in the fridges or on the side on one of the benches so that they were easy for the players to get to. They turned out to be really popular which was good as it kept me busy.
It was the same with lunch. I'd make sure that everything was set out properly. I previously mentioned the recovery smoothies. I made a little ingredients list that I would give to the players in the morning for them to tick whatever ingredients they would prefer and I'd get them ready so the players were prepared for the next day.
The days were very similar, but obviously tournament days were a bit more intense. I would prep most food for the players and caddies before they went out. But sometimes they would radio in for a smoothie that they needed or ask me to bring out some more energy balls. It would be a case of grabbing it and getting in a buggy. On the final day, I'd made them all up their recovery smoothies and I sat by the 10th fairway and offered them one and their caddies. They proved to be very successful, especially as it was roasting on the last day.
They were long days but it was all worth it.
Could you give a rough idea of what a daily meal plan might look like?
The player had to make informed choices as the meals were in a buffet style. I'd laid out some educational signage on how to make a good performance plate and printed out and given it to them beforehand. Then it was about telling the players to make sure they had a sufficient amount of carbohydrates, proteins and then vitamins and minerals on each plate for energy, recovery and rehydration.
An ideal performance plate would consist of protein for recovery carbohydrates for energy and the healthy fats, vegetables and fruit for rehydration and to make sure their immune system is working to its best to fight off any illnesses that they might get out there.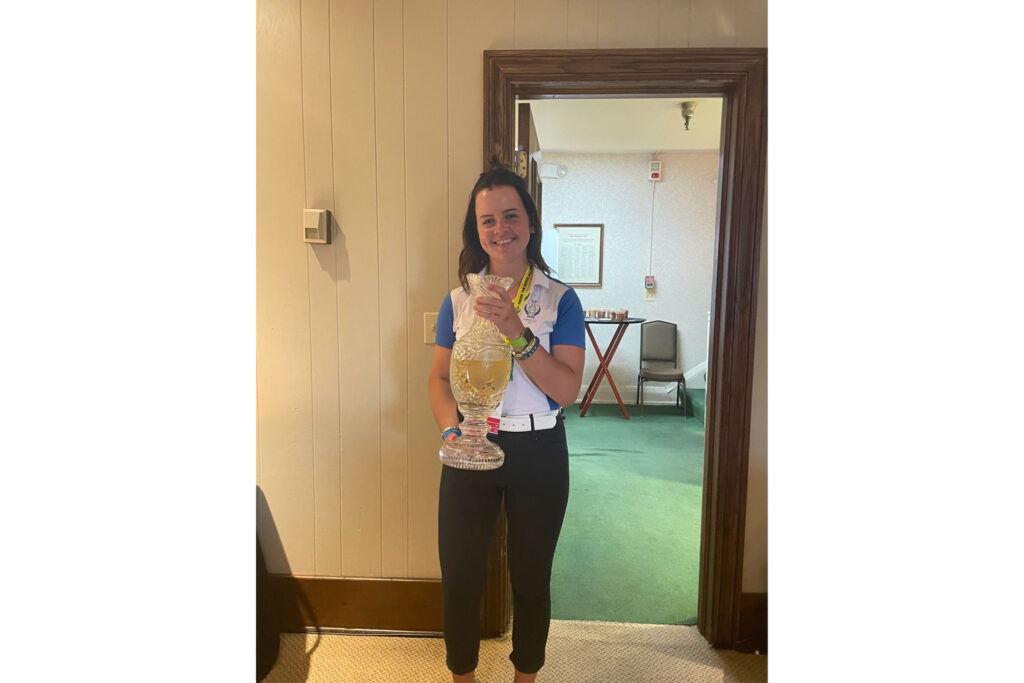 Tell us more about your magic energy balls?!
I think some of the players had had something similar before but they did seem like a bit of a novelty in Toledo. The players really took to them and so did the caddies, they complimented me numerous times on how much they liked them!
They were just so handy, you put them in a zip-lock bag and take them out on the course with you. There were some days when I was making 100-150 a day, but they were quick to make.
I made them from gluten-free oats and then depending on what flavour I was making, it was either peanut butter, almond butter, or mixed nut butter, then almond milk, mixed fruit and seeds. Sometimes dark chocolate chips are thrown in and then there is honey. There were also chocolate ones that were made using cocoa powder and shredded coconut. I made different versions throughout the week.
Sometimes players would come in and request a certain one and sometimes I'd have to go out on the buggy and give them more as they and their caddie had finished them. They're just so handy to eat and only small but were a great source of energy.
What about on the first couple of days when some players played both in the morning and afternoon sessions. How did you manage that from a nutritional point of view?
I was definitely more focused on the players that were playing in both sessions. It was about making sure that they came in, got some lunch and then were ready to go. I noticed that players did realise the importance of having a meal before going out again to make sure they were getting refuelled. It was also about encouraging them to have a recovery smoothie and making sure that there were enough snacks in the locker room to take out into the afternoon session.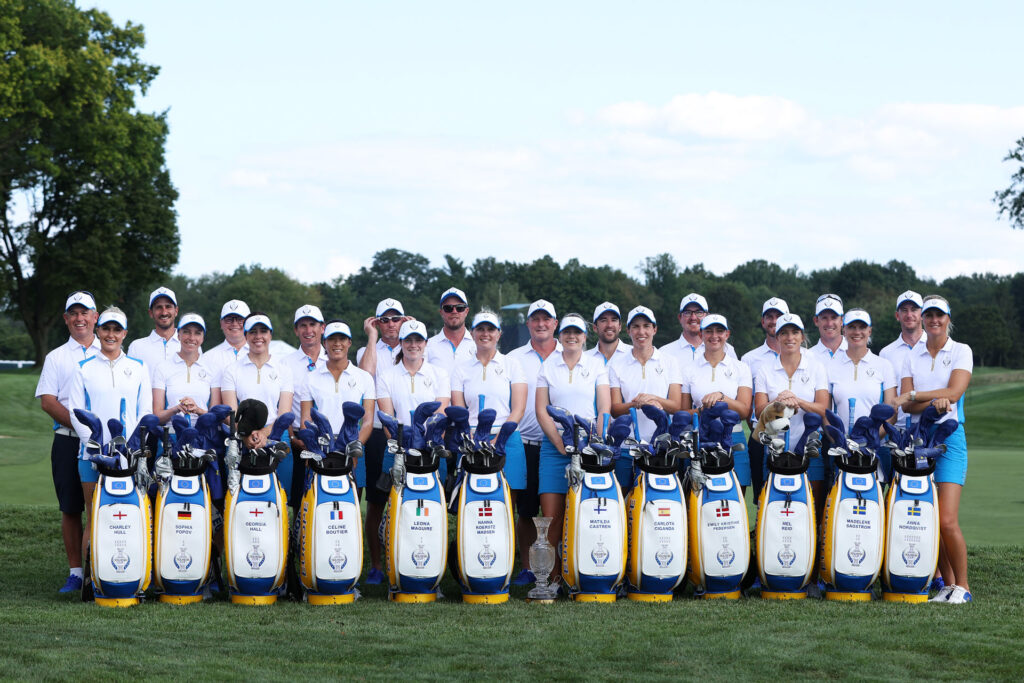 Were you the only nutritionist there for Team Europe?
Yes, I was the only one out there providing the nutritional support. But the Ladies European Tour staff and helpers were a great support if I needed anything and helped to guide me throughout the year.
Did your nutritional support extend to the Captain and Vice Captains and support team?
It extended to anyone within our little tournament bubble. We were all part of the team, so if anyone wanted to ask me a question, ask advice or want something specifically made for them, then I was happy to do that.
Have you been to the Solheim Cup before?
No, I've only ever been to The Open at Royal Portrush and few tournaments after then. It was actually my first trip to the States. It was a great experience. I was just so happy to be able to combine my passion for the sport and my area of expertise.
It was unbelievable. Even though there weren't many Europeans there it was great to be surrounded by a proper crowd again. It sort of felt like a bit of normality, considering the past year and a half. And then it was also good because it's one of my first face-to-face nutritional experiences. Getting to interact with people this time and give advice or get the food and all prepped, and it was just really nice. It was also good to work in a team environment too, which obviously doesn't happen a lot in golf.
What does the future look like for you?
I'd love to stay within golf and end up offering nutritional support there. But nutrition is great as it's something that can be done in any sport. It's an area that opens a lot of doors. You'll have to watch this space because jobs are pretty hard to find at the moment. So, as I said at the beginning, I am back caddying for visitors to Portrush whilst I plot my next move.
About Amy O'Donnell
My name is Amy O'Donnell, and I am a very keen golfer myself, currently playing off a three handicap. I am a member of Royal Portrush, Hoylake and Whitehead Golf Clubs. I have always been very interested in developing my knowledge in nutrition as I find it a very interesting area and how it can vary in different sports. I was lucky enough to study Sport Nutrition at Masters level at Liverpool John Moores University and from this an opportunity to attend the Solheim as the European's Nutritionist came about!
Qualifications: BSc Sports and Exercise Sciences and currently waiting for my results in my MSc in Sport Nutrition.