We catch up with South Korean LPGA tour players Jin Young Ko and Sung Hyun Park
After a disrupted 2020 LPGA season, due to the global pandemic, South Korean world number two Jin Young Ko came back late into the season to finish fifth at the Volunteers of America, tied second at the U.S. Women's Open and then win the CME Group Tour Championship.
Ko is joined by fellow South Korean and two-time major champion Sung Hyun Park, as we talk to them about the last year on the LPGA tour, major preparation, Olympics and their charity work with LG SIGNATURE.
A T-2 finish at the U.S. Women's Open and then winning the season-ending CME Group Championship – only your third and fourth events of the LPGA season. How were you able to get into that winning mindset again after such a long time away from the LPGA?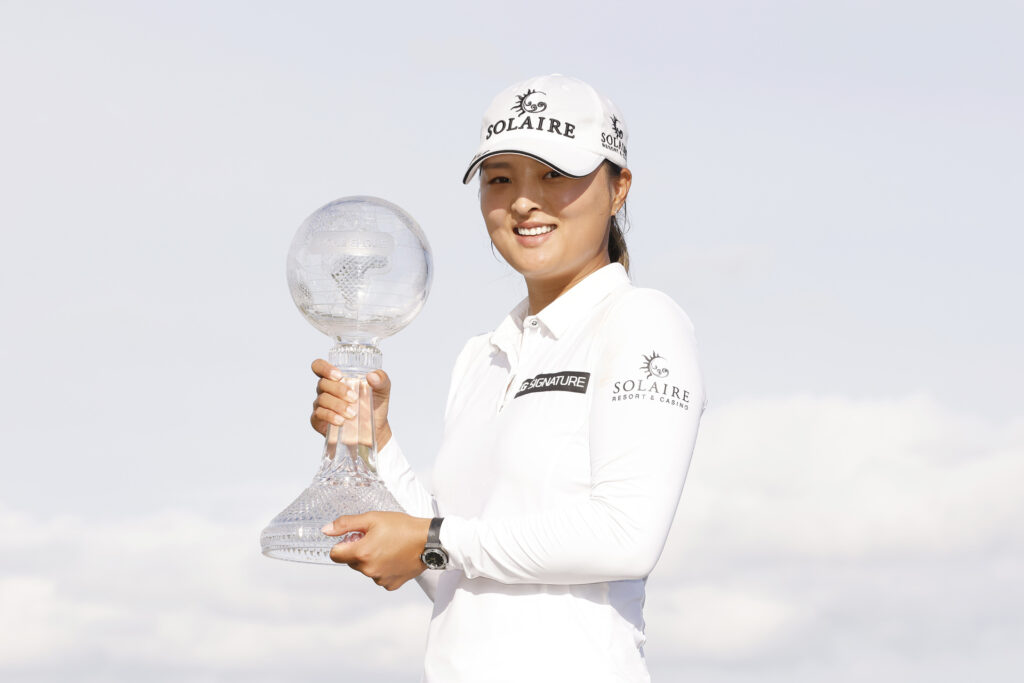 KO: The 2020 season was a tough year for everyone. The number of competitions has decreased a lot, and I really missed being together with my close friends on LPGA tour. After mainly participating in KLPGA tournaments at the beginning of the season, I came to play at the U.S. Women's Open as well as the end of the second half of the season. And I was indescribably satisfied and pleased to win the CME Group Tour Championship after showing good performance at the U.S. Women's Open.
The results of the 2020 season were more meaningful as they made me be able to gain confidence for the next season.
It must have felt quite unusual to defend a Major championship after 2 years. Although the result won't have been what you were looking for, did you enjoy your return to France at the Amundi Evian Championship?
KO: I was so disappointed that last year's competition was cancelled due to Covid-19. France and Evian that I visited again after two years were still so beautiful and, pictures of myself here and there at the venue reminded me of memories winning the last championship. I still can remember the exact moment when the Korean flag was taken down.
Although I am not satisfied with this year's results, the Amundi Evian Championship is very special to me. I promise that I will come back with better performance next year.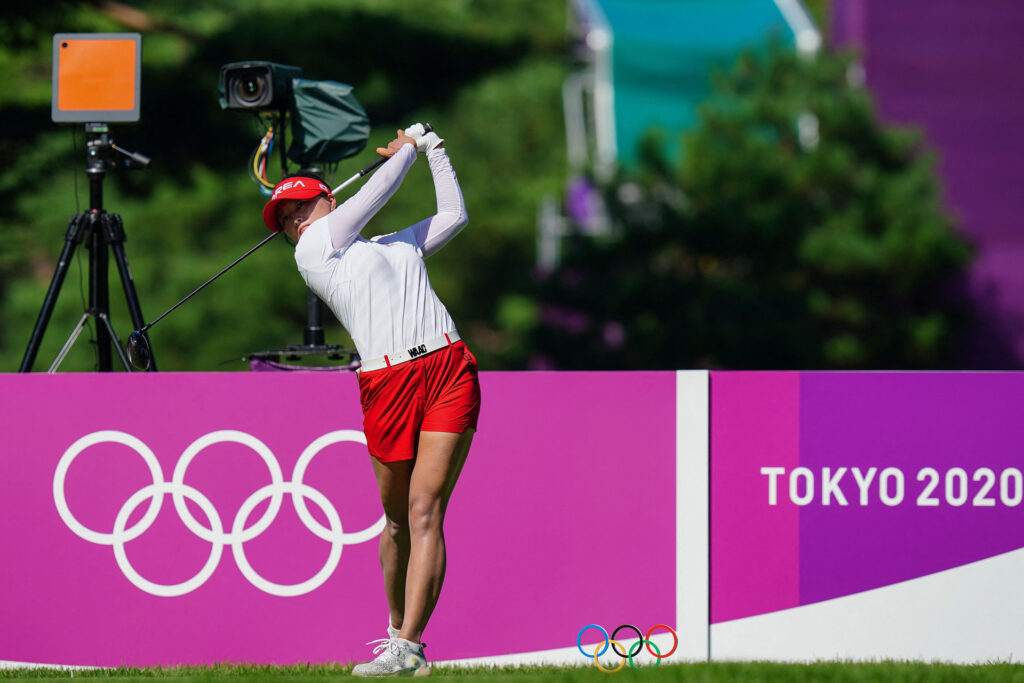 To go straight from a Major to the Olympics must have been quite challenging. How was your first Olympic experience? Did it feel very different from your normal LPGA tour events and how did you cope in the extreme heat?
KO: After the Amundi Evian Championship, I was physically exhausted due to the long trip - from France to Japan through Korea. Even though I failed to win a medal, it was my first Olympic participation, and I did my best to represent my country. At the Olympic golf course, I went around the practice round with the players I saw on the LPGA tour and competed with them, which was not much different from other LPGA events. Although the extreme heat sometimes made me get physically exhausted, I tried to endure it through adequate hydration and using umbrellas and focus on every shot until finishing the 18th hole.
Why did you make the decision not to play in the AIG Women's Open? That must've been a hard decision to make.
KO: Of course, participating in tournaments is important to players. However, I believe that taking care of oneself is more important than anything else. Even though it was hard to make my decision not to play in the AIG Women's Open, plenty of rest helped me recover from fatigue and, I am now preparing for the next tournament through physical training and exercise.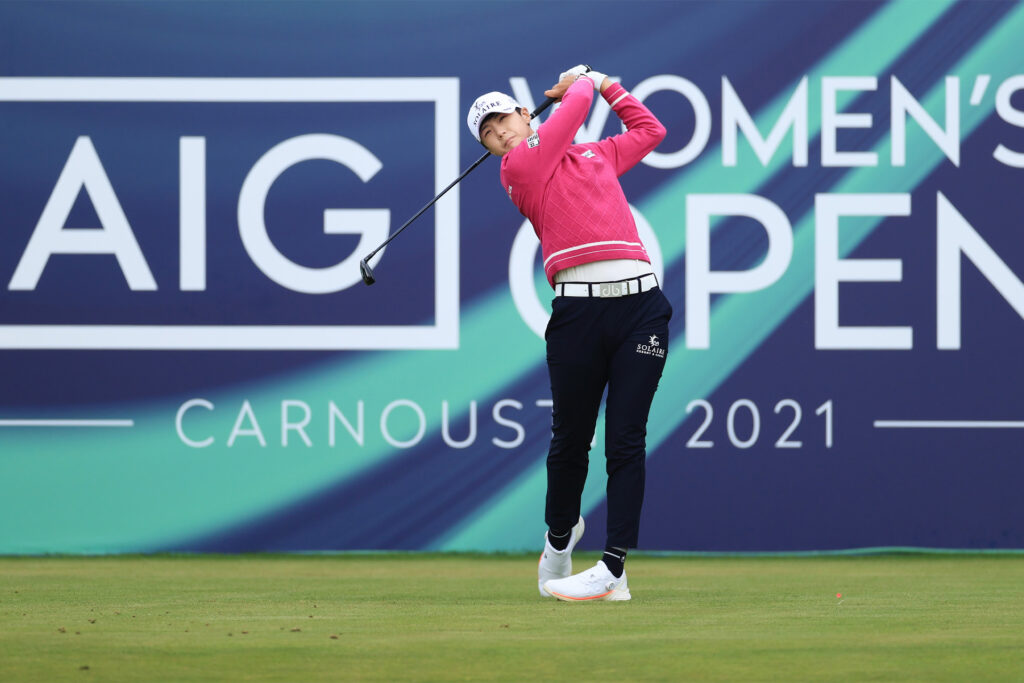 You last played in the AIG Women's Open in 2019 at Woburn where you finished 8th. You're not as familiar with links courses such as Carnoustie. Did you find anything particularly difficult?
PARK: Links golf is a difficult course that tests golfers because of the potentially strong wind. In particular, the last four holes are known as the most difficult ones in the world golf course and, I realized that they were not easy in real after playing the holes.
What did you do to prepare for the AIG Women's Open after the Amundi Evian Championship?
PARK: I keep trying to analyse my swing and find my own swing. After the shoulder injury, I changed my swing so that shoulder won't get hurt again and, I'm still correcting the swing every day and changing it for the better. I will continue to try to fit the missing puzzle out of ten.
What was most impressive during your time in Scotland?
PARK: Golf originated in Scotland. Anyone who is interested in golf and its history would have dreamed of playing golf once in Scotland. Although I was unable to leave the hotel except for the tournament venue under movement and activity restrictions due to Covid-19, I was satisfied that I experienced the links golf and the historic Carnoustie in Scotland.
You're both ambassadors for LG SIGNATURE, an official sponsor of the Amundi Evian Championship, tell us about the Stronger Together auction? We hear you gave some fantastic items to be sold to raise money for children and families affected by Autism.
KO: While there have not been many opportunities to see my fans due to the pandemic, thanks to a meaningful charity event at the Amundi Evian Championship by LG SIGNATURE, I could become a part of the event and interact with my fans. As it was a great opportunity for me to see my fans even though it was through online platforms and to support autistic children and their families who are facing difficulties in the pandemic.
I think it was also a big opportunity for everyone to cherish the message 'Stronger Together' again. As the whole world is having hard time due to Covid-19, I hope we could comfort each other and share together to overcome all the difficulties.
PARK: It is an honor to join the meaningful charity event through LG SIGNATURE. While I've participated in donations at every chance, and it was a charity auction this time, which I am not used to. I carefully chose and donated cherished items that meant a lot to me, so that we could raise as much money as possible for the charity.
Amongst the items I donated was my TaylorMade P750 8 iron which is very special to me. In 2019, my idol Tiger Woods used it to hit the ball a few times when filming a commercial together and I won the Singapore Championship using the iron thanks to its good energy.
You can see Jin Young Ko and Sung Hyun Park next week at the Cambia Portland Classic in Oregon after the LPGA tour takes a rest week this week after the Solheim Cup.