How Annika Sörenstam uses a lifetime of experience to help future generations of golfers follow in her footsteps
Annika Sörenstam is regarded as one of the greatest golfers of all time and with such an impressive résumé you would expect that nothing would have ever really phased her. But for her cool and calm exterior on the course, she was very shy and hated the idea of giving speeches.
Just before the recent Junior Solheim Cup, we spoke to Annika, a Rolex Testimonee, about her captaincy and how through that role and through the ANNIKA Foundation she has been able to advise and guide the future generations of golfers who are looking to emulate her. Interestingly the focus is far from being all about winning…
How do you overcome the intimidation factor that a lot of the girls at your Foundation and at the Junior Solheim Cup must feel in your presence?
You need to get yourself grounded and get the same level and talk the language that they do and make it fun to share experiences. They're not always about winning, a lot of it is the mistakes I've made, I want them to know that I'm human, so humanise myself.
I think it's important to share the journey. In my clinics, I share the journeys, the things I learned, I try to relate to them at that age, what they were going through what I was feeling, and I don't necessarily talk about my successes.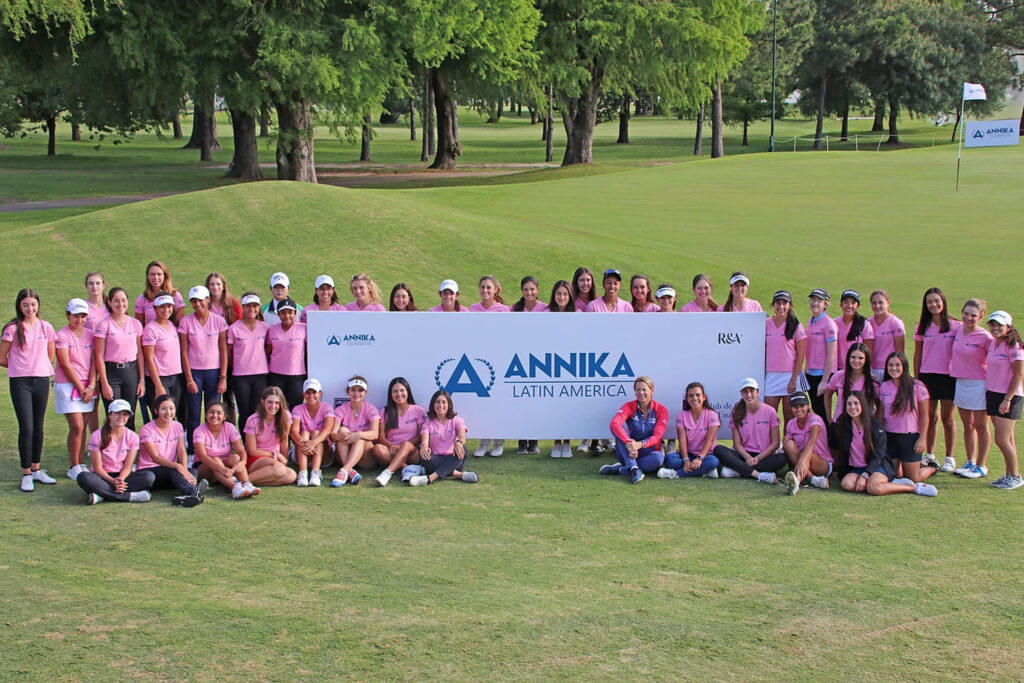 I talk about facing my fear when I was in school, and I missed a putt on purpose because I was afraid of giving a winner's speech. I think a lot of people look at me and say, you would miss on purpose at amateur level just because you didn't want to be in the limelight! Giving speeches was the biggest thing. I didn't raise my hand at school in class, because I thought if I say the wrong thing, they will laugh at me.
I think that these players probably think that I'm this superstar, and I can be in front of cameras, and I can talk. Of course, I have overcome a lot of that. But, you know, I started out with not wanting to even be seen, I really wanted to grab the trophy and run. When I talk to them, then I think a lot of them resonate in different ways. It's about talking about our weaknesses, how you can work on them and make them a strength.
I think that's one story when I think they really understand that, you spend all this time practicing, and then you just throw it out. Which I really did, I mean, I would chip and three-putt or chip and two-putt or maybe leave a shot in the bunker, just so I didn't have to win. This is a story that really sticks with players because we all have something that we fear.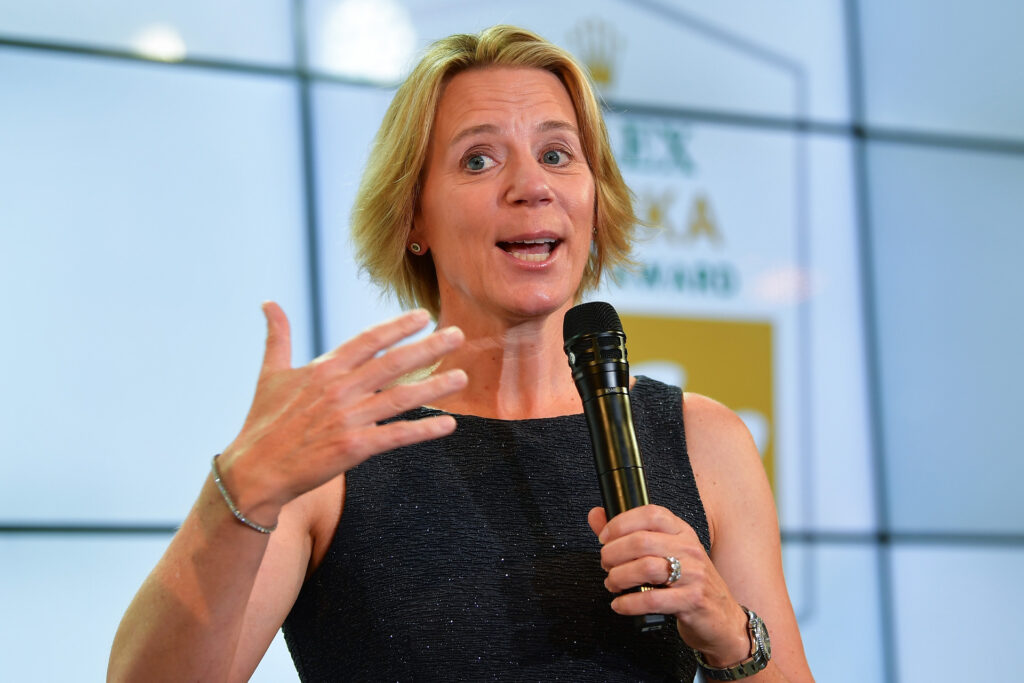 I also share a story of when I played in the ANA Inspiration, and I put "face your fear" underneath the brim. And I looked at that, and I tell them, you have to find ways for you to handle situations you're uncomfortable with. It's very, very common that people that you might see portrayed as having big confidence and ease with everything, it's not always like that.
I have several stories that these players can relate to, I'm far from perfect, and I have learned from my mistakes. I'm here to share with them and help them not to make the same mistakes.
When did it become easier to talk in public?
I wouldn't say it's easy, but with practice and I'm very comfortable with certain topics. We're talking about golf, we're talking about the things that I do, whether it's my Foundation or the things I believe in, I think when you talk about something that's authentic to you, that comes from the heart.
That's what my clinics are about, we talk about routines, golf in college, working with a caddy, tee times, bumpy greens, whatever they want to talk about. I've been there, I've done that, and I tell them this is just from my own personal experience. It makes it easy when you talk about things you're passionate about when you talk about things that you know. If they asked me to go up on stage and talk about microns and space, I would feel very uncomfortable! When you talk about things that you really love, and then you can just be yourself, which is what I talk about is being yourself.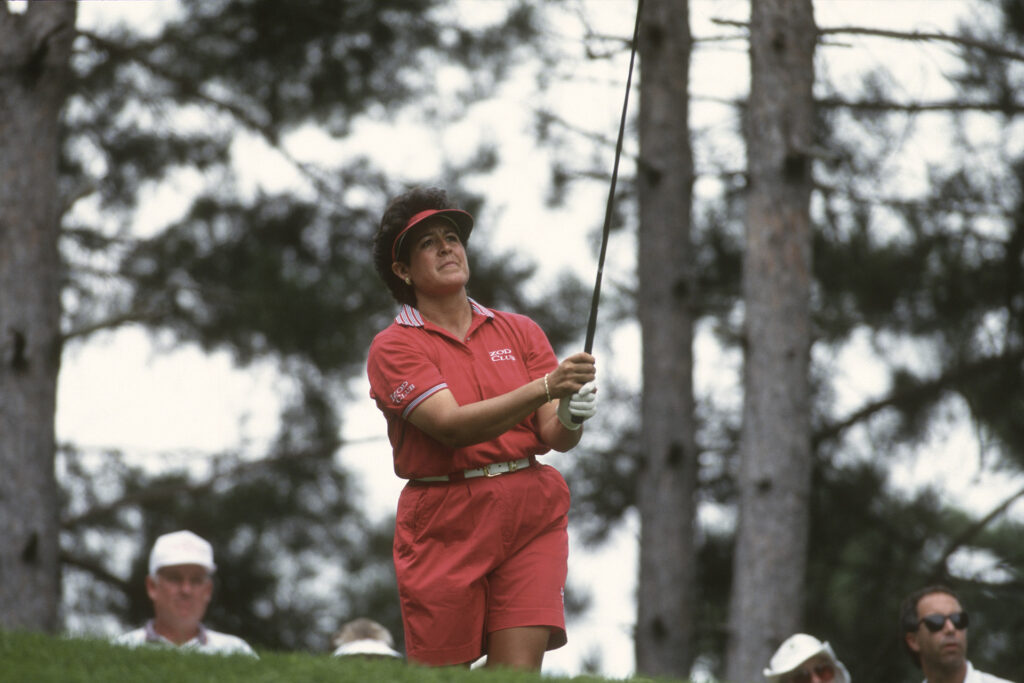 When I won the US Open in '95, I remember some of the headlines were "here's the next Nancy Lopez". I looked at myself, I said, "I'm not the next Nancy". She comes out a lot more outgoing, smiling and friendly. I'm not saying I was mean but I had more of a stoic, Swede type image. I was extremely focused, I was in my office, I was totally disciplined and so I felt pressure right away. I'm not Nancy, and then it took a little time and a lot of discussions with myself. Everybody does things their own way and this is who I am.
I have to be myself, there has to be different ways to portray the sport and we see that all along. That's the best way you've just got to be you. Look at Lorena (Ochoa) she's a little different than I am and look at Karrie Webb, we have different ways of doing things and how we appear and I think it's okay to just accept who you are and when you do that, it's a lot easier.
I talk a lot about that. You don't have to be anybody but you and I think that just takes a lot of pressure off too.
Was there ever a time where you thought you'd thrown it and then actually ended up winning?
I don't remember that happening but I can tell you that I ended up finishing second in a tournament and they asked everybody to say something. You can imagine that I was like, then I might as well have won, I still have to say something! It was at that point I realised, just do your best and you have to deal with it.
Find out more about the ANNIKA Foundation here.