EDGA, the international body for disability golf, shares the story of Dutch player Monique Kalkman, who had cancer as a teenager which left her in a wheelchair facing huge life challenges
This summer's Olympics in Tokyo has revealed the tough times that many champions must endure. Monique Kalkman knows as much as anyone about the highs and lows of life and sport, the importance of family and friends, and finding strength within yourself to keep going, whether to just get through the day, or to hit the baseline or hole that putt.
Monique has an athlete's understanding of perseverance, which first meant honing early tennis skills by pounding a tennis ball against the bricks of the garden wall. She was a very good player, judged by many in her Dutch community as "the next Chris Evert", and Monique loved watching Chrissie on TV.
A life changing moment
Then in 1979, aged 14, when hopes and dreams were blazing, mysterious exhaustion led to the discovery of a cancerous tumour on her spine: following surgery she was confined to a wheelchair.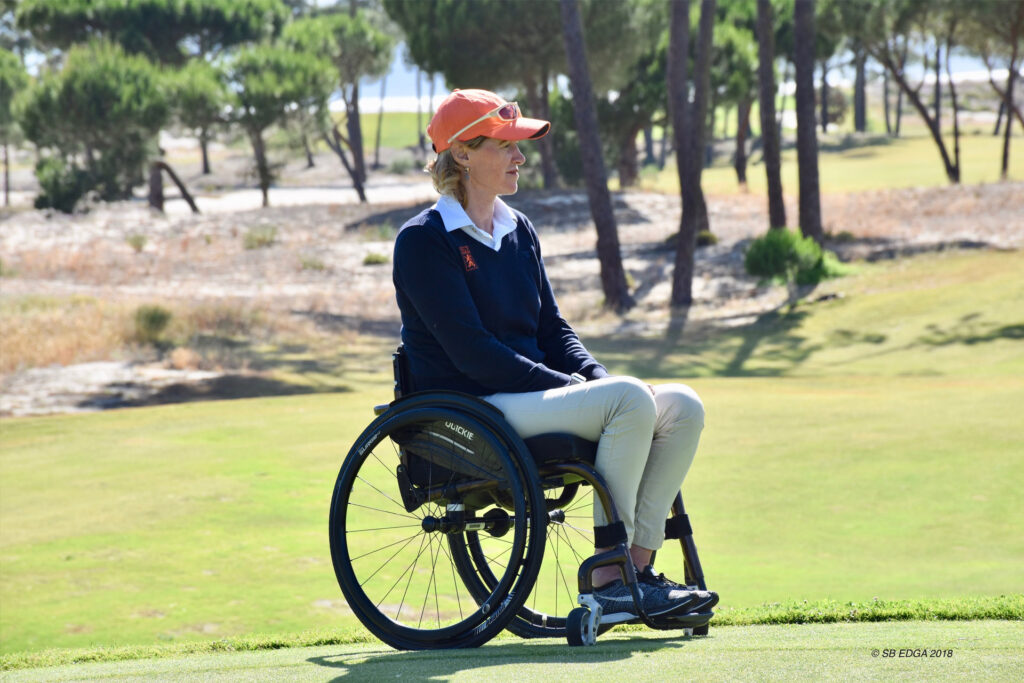 She said of that time:
"It didn't cross my mind, what will life be, how will it work at home, how will it work with boyfriends; there was one thing I thought about – there goes my tennis dream."
Monique came through this with the help of her large, always positive, family which includes six siblings. Even at 14-years-old Monique refused to be defined by her disability by well-meaning 'white coats' in a gloomy rehab centre. The family looked at the "glass half-full" and you soon gather that Monique's emotional intelligence at that age must have been remarkable.
Competing at the Paralympics
Within a year she was watching the Paralympics and four years later would go on to win the gold medal in table tennis aged 19, in 1984, before winning gold medals in tennis at successive Paralympics; and earning the crown of World No:1 for six years, frequently watched in matches court-side by the family boxer dog, Murphy. Murphy watched a number of these landmark wins:
Paralympics 1988, Seoul: silver (singles, demonstration);
Paralympics 1992, Barcelona: two golds (singles and doubles);
Paralympics 1996, Atlanta: silver (singles) and gold (doubles);
IWTF World Champion 1992, 1993, 1994 and 1995.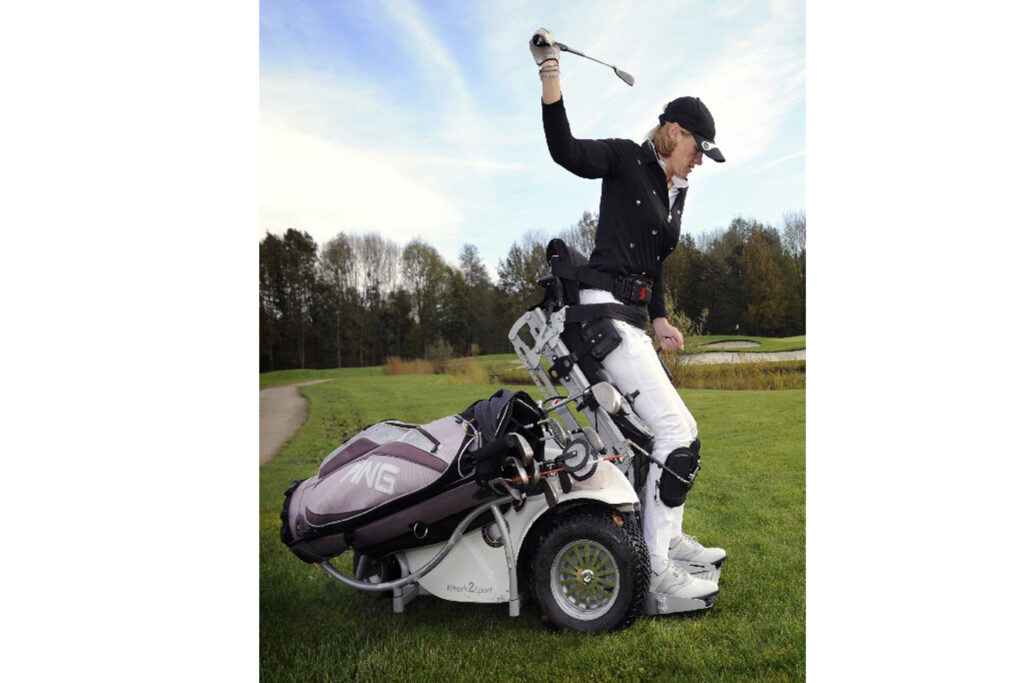 Ten years after retiring from tennis in 1997, Monique was drawn to golf, "amazed by the beauty of the nature" on a golf course. She uses what is called a 'paragolfer', which allows her to play from a standing position. The paragolfer suits a one-handed swing for mobility and rhythm, and today she belts a golf ball with her right arm with the same conviction as she used to belt that tennis ball against the garden wall.
'Going for Golf' Foundation
Monique has been a regular player in EDGA golf tournaments for more than a decade. She started her 'Going for Golf' Foundation in Holland which helps many people in rehabilitation through golf – helping to break down barriers for many people with disability. And it's all done with a smile, and a dry sense of humour.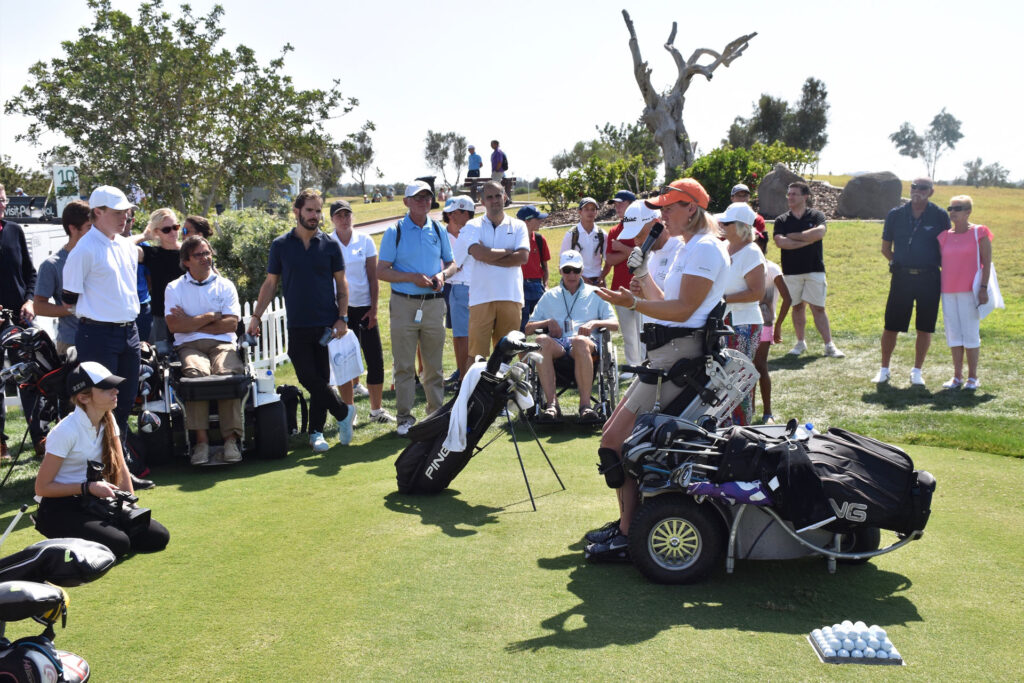 Through her experience and contacts Monique knows that nothing is straightforward when growing the sport of golf. She wants to see more women and girls with disability coming into the game. Monique said:
"We need to start somewhere and we need people with a vision and I see that coming into place now. If I can be part of this, that's fantastic."
She said it would be "amazing" if some of the young kids today who have a disability and are finding golf could one day be in the Hall of Fame for golf themselves. She added:
"And we might think this isn't going to happen but that's what we thought in tennis 30 years ago. So it can happen."
One day in 2017 Monique's telephone rang. It was one of the legends of tennis, Stan Smith (former Wimbledon Champion). She was invited to be an inductee to the International Tennis Hall of Fame. In that year's Australian Open, Monique found herself on the same court with the likes of McEnroe, Becker, Laver, Navratilova, and she got to meet and chat to Chris Evert herself.
A remarkable story, and a remarkable person.
You can read more about Monique and more inspiring stories from the EDGA players at www.edgagolf.com.
Words by Ben Evans.