EDGA, the international body for disability golf, shares the story of Australian player Kirsty Wilkinson, who was diagnosed with a rare multi-systemic genetic connective tissue disorder
When life is a real struggle, sometimes, somehow, you have to "just get out there", and let the rest look after itself. Kirsty Wilkinson did just that, with a golf club in her hands, and it put a smile back on her face again.
Like many Australian youngsters, Kirsty loved her sport, in competitive swimming and also gymnastics and netball, and a little later in field hockey, with a close circle of friends in her team. When you're hooked on sport like this, you think it will never change.
But as a young woman, Kirsty had "the rug pulled from under" her, after two car accidents in two years (she was blameless in both) in 2007 and 2008. 
A life-changing diagnosis
After struggling to recover from the injuries she was eventually diagnosed with a rare multi-systemic genetic connective tissue disorder called Hypermobile Ehlers-Danlos Syndrome. Symptoms vary, but many people suffer significant and chronic pain around their joints.
This has been part of Kirsty's reality – years of pain management, exhaustion, and pressure around keeping well. She has had to endure many surgeries, prolonged anxiety and also depression.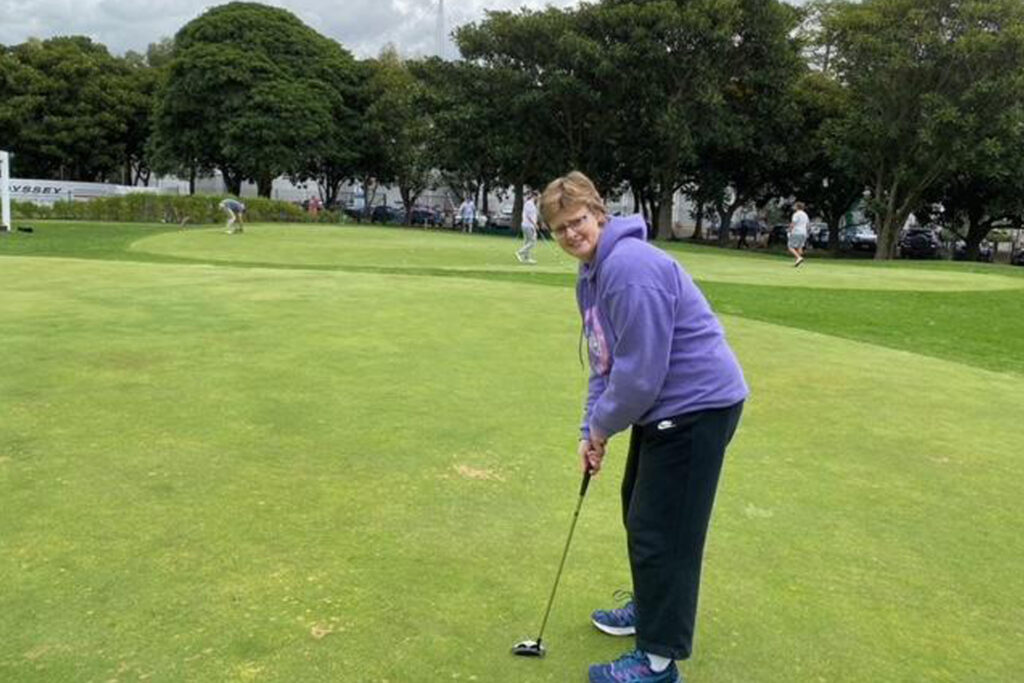 Golf saved Kirsty's life
It has taken a fair while to see light at the end of tunnel, but golf has helped her find this. The exercise and focus Kirsty found in learning to play golf has now made a huge difference to her life, helping her physical and mental health considerably, and offering a social network of new friends in the process.
In short, it's Kirsty's belief that, "Golf saved my life."
Kirsty says:
"They say that following trauma often these conditions can rear their ugly head. I think that's certainly what happened in my case. I guess living a daily life of both chronic pain and fatigue, you certainly have to pace yourself, and be really mindful in what you do.
"Golf has really saved my life, because I had become very depressed, and I became very anxious as well from my car accidents. It's really hard when you've played sport all your life, and then all of a sudden, the rug is pulled from underneath you. I've had nine knee operations in total, and I've had surgery on both shoulders and my left ankle as well. So, it did start taking its toll. So really, [golf] saved me."
Kirsty's love of Japan
Kirsty Wilkinson was born in Whyalla, near Adelaide, Australia, but she moved around a fair bit as her father Tim was a civil engineer. This gave her a certain amount of confidence in exploring the world and mixing with others, and was an early foundation for her starting her own international import and export consulting business of today, called Asia Market Makers, with a specific accent on wine, specialising in the Japanese market.
She loves Japan has a double degree: a Bachelor of Arts majoring in advanced Japanese language (she also teaches this), and a Bachelor of Business qualification in international trade.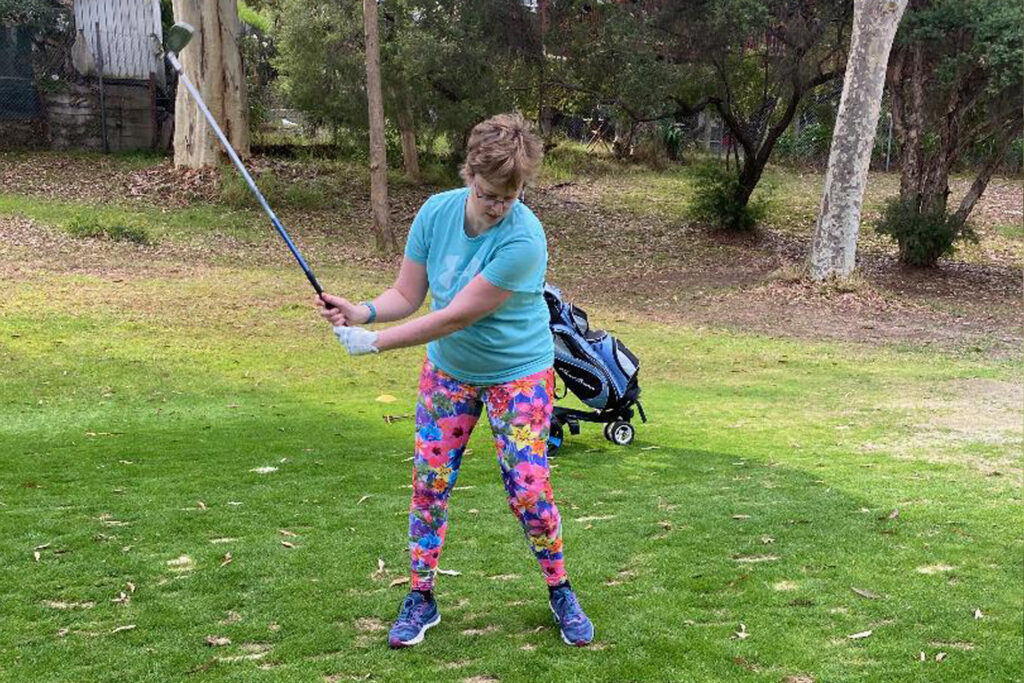 Her busy business life and a healthy network of golfing friends is today's story but not long after her car accidents Kirsty found herself in a dark place. She praised the health experts who have supported her in her physical and, importantly, psychological wellbeing and progress.
She says:
"One of the things that I know is, when you have depression, you avoid catching up with family and friends. So, I try to catch up regularly even if it's just over the phone. The other thing is, I stop eating as well. I just have to remind myself that I need to keep eating. So, if I'm not in a good place, I'll still make healthy snacks, to help keep me going.
"And one of the best things you can do is actually have a routine. You feel so much better. It may include going for a walk, or for me it would be going out and playing some golf. Those kinds of things are really a feel-good factor. Taking that first step is often the hardest thing. But once you actually start, then it does become much easier."
Recovery through golf
Kirsty really loves golf. Today, she is thriving in her development with her coach Craig Spence, and honing her game at Albert Park Driving Range, one of Melbourne's premier golf facilities. She is tinkering with new golf clubs to get the right custom-fit options to suit the need to swing to protect her joints and frame and keep her healthy, and at the same time get the most out of the clubs to help with distance and accuracy.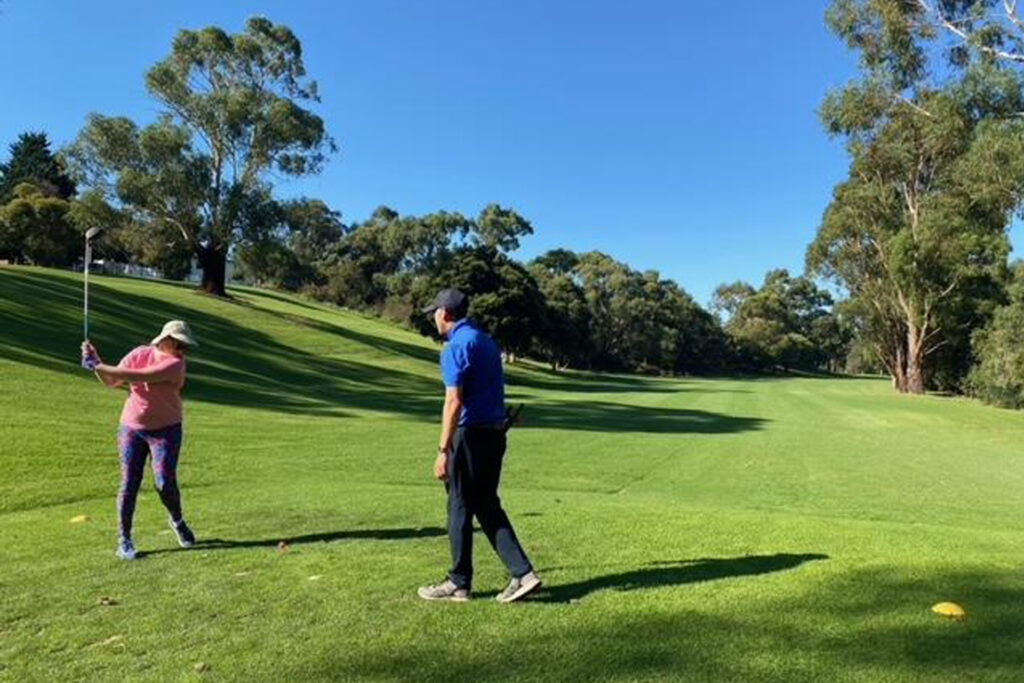 Talking about how important golf is to her, she says:
"Without golf, I think I'd find it really hard, because I think what happens when you have chronic injuries and conditions, often people actually lose a lot of friends as well. It's hard when you don't always feel your best. But having something like golf means that I can go out and play a few holes or it could be nine holes or whatever, at least it helps me get out and meet other people. I think that's really important."
Kirsty's advice to others with a disability, who are thinking of giving golf a go, is unequivocal:
"Just do it, just do it. I think there's just so much to gain. One is meeting new people, developing new skills, getting out in the fresh open air, helping to manage your stress. There are just so many positives. But I'd say just do it, get out there."
You can read more about Kirsty and more inspiring stories from the EDGA players at www.edgagolf.com.
Words by Ben Evans.