EDGA, the international body for disability golf, shares the story of Fiona Gray - Junior Convenor, Lady Captain and barmaid at St Patrick's Golf Club
Words by Ben Evans
"I live, breathe, and crawl out of bed to be able to play golf."
Words that show, for those who endure long-term injuries and conditions, that golf can be a vital part of your future.
Spoken by Fiona Gray from Northern Ireland, they resonate for 2023, on the comeback trail from her latest knee surgery. In golfing terms the year ahead may well be a memorable one. She is the Junior Convenor at St Patrick's Golf Club in County Down, and her considerable hard work has gone into the junior programme that offers a weekly welcome to 70 boys and girls as they all learn the game together.
This is also a year where she will be honoured to be called the Lady Captain; only in the bar will this title not apply. Here, where she helps out on many evenings serving the drinks, you can still call the barmaid, Fiona.
With organisational skills learned in the British Army, Fiona loves helping the 70 youngsters to reach their potential, describing the juniors as a delight to work with, alongside the club's PGA coach Charlie Bell and trusted volunteers.
Fiona says: "This is my third year, and I love it. I love the progress from the wee ones starting from seven and seeing them progress all the way up. And I've got the growth of the juniors and seeing how well they're coming on. They all play Gaelic football, football or hockey during the winter, so when they come to the golf it's all very competitive, and still very good fun. So I love it."
Ten surgeries on her left knee
Fiona's own playing ambitions rest on the latest of 10 surgeries on her left knee last October (it was a complete knee replacement this time). Hopefully, this should get her swinging well again off her impressive 6.9 golf handicap, though she is kicking herself that she returned to play too early in the club's winter league. The knee is OK, Fiona half-jokes, it's the rest of her that's falling apart.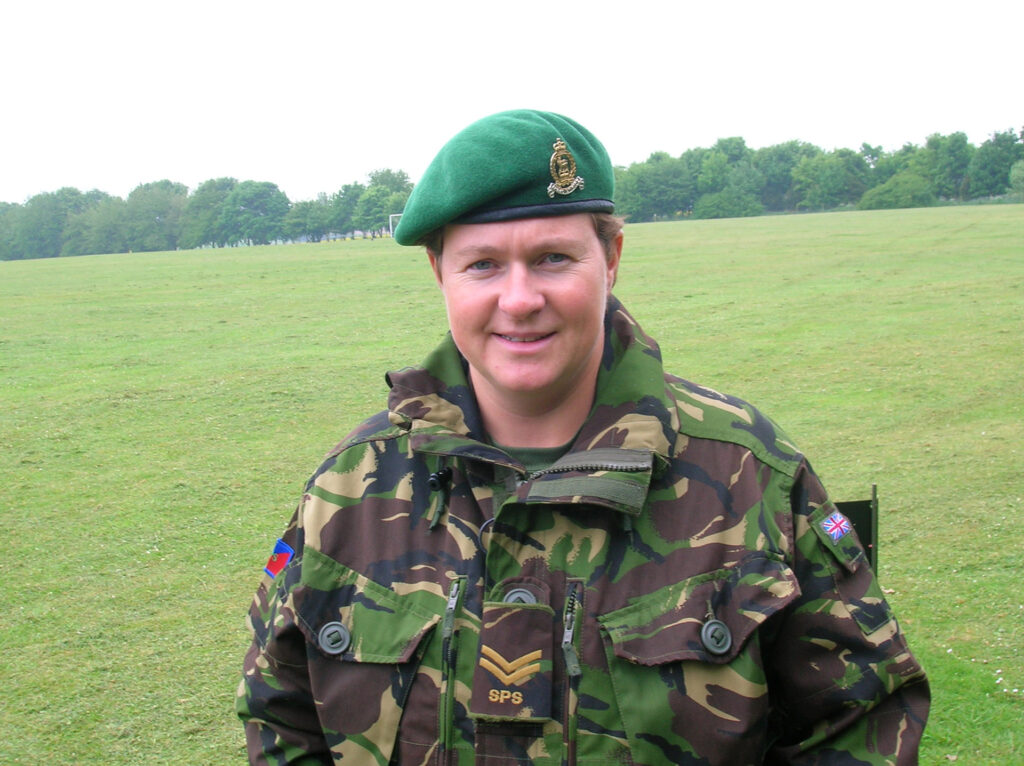 Optimism reigns here, partly as she loves playing and loves being at St Patrick's; after challenging times, including having to stop playing altogether for three years in 2009, and giving up a job that meant so much to her. Long-term back, shoulder and knee injuries knocking her back from things she loved. Hard to take for the four-time winner of the Army Ladies Golf Championship.
Signing up for the British Army, aged 21 in the mid-nineties, Fiona would serve with the 32nd and 47th Regiments of the Royal Artillery, the First Royal Anglian Regiment and other units. Her active duty as a Driver/Signaller took her on two United Nations Peacekeeping Tours to Cyprus and military exercises in Egypt, and she led her colleagues as a Corporal.
In her late twenties, she was a three-handicap golfer playing for the Combined Services and Army teams, as well as Hampshire County. But the niggles turned to debilitating injuries and soul-destroying trips to clinics and hospitals on numerous occasions, the pain conspiring against her. Despite 20 years of distinguished service, Corporal Fiona Gray had to take a medical discharge in 2014.
"I just want to get out there and play golf"
Fiona says: "As you can see by my medical records, it all tolls up at the end. But I still wake up in the morning and I just want to get out there and play golf, regardless of anything else. Now people are asking me, 'Oh, come back to the hockey and do the umpiring.' I say, 'I'm not fit enough for that. I'm fit enough to play golf at a level that I can play.' And that's what I do now."
Meet Fiona and she has a laid back and calming personality, but she admits that after being a Corporal, she enjoys the responsibility of helping others.
"Yes, because once you reach the rank of Corporal, you have to be able to lead from the front, and that's what I'm doing now. I'm leading a team of 70 young people and leading meetings for the junior conveners. Obviously I'm going to be a Lady Captain now, so I'm going to be in charge of a committee. It's all coming together and it's all been learned from the Army."
Committee room, or working in the bar, it's about people.
"Good camaraderie. It's good craic basically. And you get to know all the personalities within the club as well, and you make yourself known… So it's a part-time job and it's just really enjoyable.
"I've stated that when I'm in the bar I'm Fiona, and when I'm out officiating with this jumper on, then I'm Lady Captain."
Sport had always been in Fiona's blood and her CV is highly impressive. Her family were all golfers: her Dad 'Dessie', who sadly passed away in January this year aged 92, her Mum Gerry and sister Nicky. Fiona played cricket (batter and wicket-keeper) and hockey (goalkeeper), representing both Ulster and Ireland in age group categories to go with her golfing honours. The cricket was a joy, perhaps her favourite playing days being for Ropley Cricket Club in Hampshire, where her team's coach Andrew Morris inspired the players to be highly competitive but always with a smile on their faces.
"It was brilliant, yes," says Fiona. "I really enjoyed it. And great that it's such a young team as well. All age groups. There were ladies older than me and then there were young school girls, which was really good."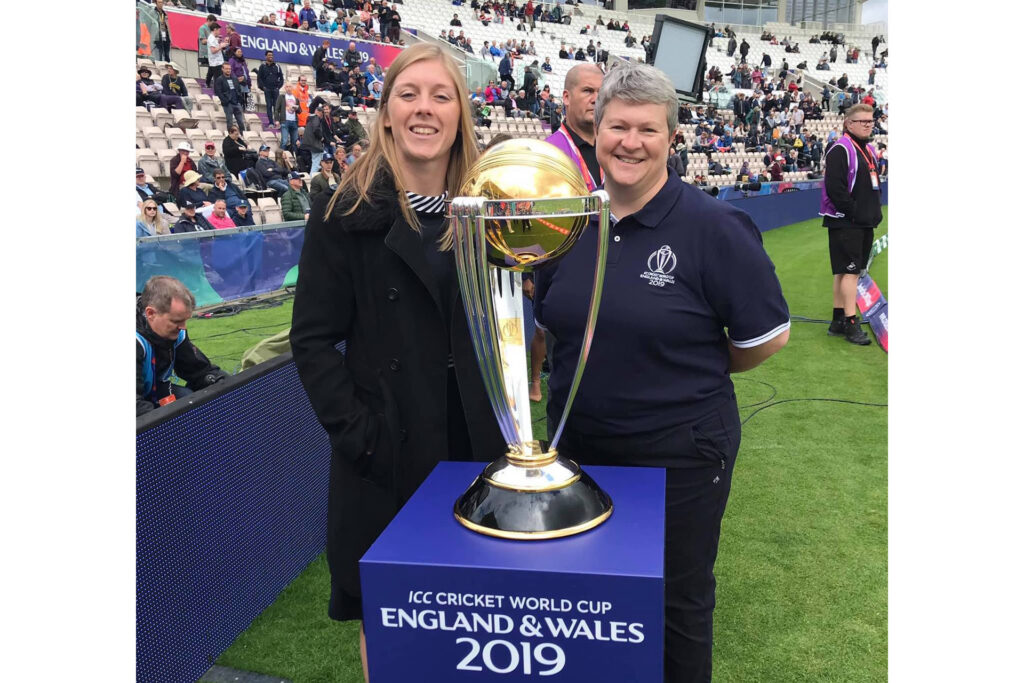 Helping support youngsters in cricket and players with a disability, after winning an award Fiona was honoured to carry cricket's T20 World Cup Trophy out onto the playing square at the Rose Bowl in Southampton, in 2019, where England were playing the West Indies. Applauded by the crowd, she would meet England cricket heroes Heather Knight and Paul Collingwood.
In hockey, she played for Farnborough and the Army, before becoming a respected hockey umpire.
Breaking the course record at Army Golf Club
Her purple patch as a golfer came in her days at the Army Golf Club in Aldershot, where she broke the course record during her spell as Army Ladies Champion.
After leaving the Army she kept her house in the home counties which she shares with a good friend, Catherine (whose dog Poppy she is currently also looking after, along with her own, Truffle), but it was returning home to Northern Ireland that would really lift her spirits again and the two Labradoodles have played a key part, with Truffle even helping Fiona to put something back into her local community.
Fiona says: "The countryside here is just amazing and you've got the walks, they're just breathtaking compared to city life. So I prefer it. It's beautiful, and I love the moss and the green and I don't care if it rains because it's just the beautiful scenery. So yes, it's good for the health."
Battle Back Golf
Fiona felt the mental pressure after leaving the army, and being so frustrated that the succession of injuries were holding her back, quite apart from the debilitating effects. Meeting injured military service personnel connected with the UK's Battle Back charity gave her renewed confidence in herself and her ability to play well on the golf course again.
"Yes, because I had Battle Back, and we were all there with the boys, with disability, missing limbs… And that just gave me more confidence. I know my injuries aren't visible, but I have them and I have it mentally, but going along to their events, their matches and things like that helped.
"That brought back the military camaraderie for me and we went to America and played against the Americans. And then recently in 2019, we went to Australia. That held me together, and then I started to dip into different jobs and then physically it wasn't good for me. Then pre-Covid I thought, 'Oh, what am I going to do with myself?' I came home and then I just had Truffle with me at the time. So I just walked everywhere. So that was mentally good for me."
Fiona adds: "Truffle is also a registered therapy dog. We went to disability schools and we sat with children that were very isolated but Truffle is very calm and placid and she loves being stroked, she has a very lovely nature basically. So now Poppy is another character! [Fiona laughs]. She just loves to play basically, but she belongs to Catherine and so I'll probably be taking her back in April."
Returning to golf
When Fiona first returned to golf after her long lay-off in 2009, she admits she was overly serious about the scoring, too focused, forgetting to smile and smell the flowers along the way as the saying goes. But she was nevertheless proud that she had worked so hard to get back to a five handicap from around 11. Today, she says she is far more relaxed and loves all the good things about the game in the fresh air. That's what it's about.
"Getting some fresh air, getting out there and being able to smell the air and feel things, feel that club. It's feeling, isn't it? So just to be in a comfortable environment and meet new people, and have some fun."
Finding EDGA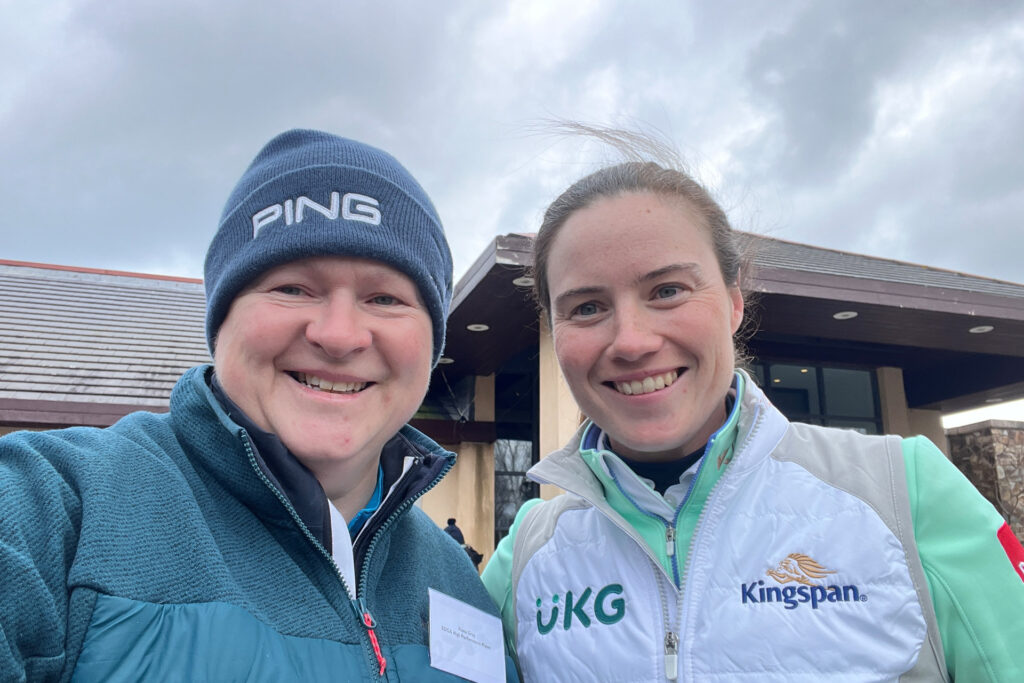 Last year, Fiona discovered events with the EDGA badge, making her debut in the Irish Open for Golfers with Disability, and the Italian Open, before qualifying to play in the RSM European Gross Series event in England.
Fiona supports Golf Ireland's desire to make the game more genuinely inclusive and was delighted to help make a short video at the Irish Open, promoting golf for the disabled and to attract more girls and women players.
She describes being the Ladies Captain of her home club as a great honour, and there is something special about the word Captain to her.
"Yes, massively, yes. Within the army, you're there to play as a team member. I couldn't be a Captain, because I wasn't the rank of an officer, so I couldn't be a Captain. So now that I'm leading as Captain, it's such an honour. Holding that responsibility helps me with my mental health, basically. If I didn't do all this, I think I would be in a dark place because of my injuries. I'm still doing physio and having a chiropractor to help me to get out there and play. But I'm in a better place now going forward, with all the help with the disability golf, especially."
The 10th knee operation is still "a work in progress", learning to live, and play, with it.
She says: "Well, that's what I mean... Then I play golf and then go to the bar. So you're standing up for a long period of time. I take medication, yes. But I go to bed and say, oh my goodness, why do I do this? But I live for golf. I love it, I live it. And that's why I'm so passionate for the juniors, because I've got so much enthusiasm, and that's what I bring to the ladies as well. I've got youth on my side. I'm very passionate about bringing the female charter [The R&A Women in Golf Charter] into the club. I went to a Golf Ireland workshop yesterday for incoming captains, so I'm just very passionate about golf and encouraging all abilities, like myself and everybody else."
Depending where you meet her, she may be Corporal, Lady Captain, or simply Fiona, but she will no doubt encourage you to keep playing, breathing in all the fresh air, and loving life.
You can read more about Fiona and other inspiring stories from the EDGA players at www.edgagolf.com and watch/listen to profiles of EDGA players at www.edgagolf.tv
More inspiring stories from EDGA, read about MS golfer Aimi Bullock - full article.