"A bad workman blames his tools". This could equally apply to golfers. But when your driver and woods are 15+ years old it really is time for a club fitting.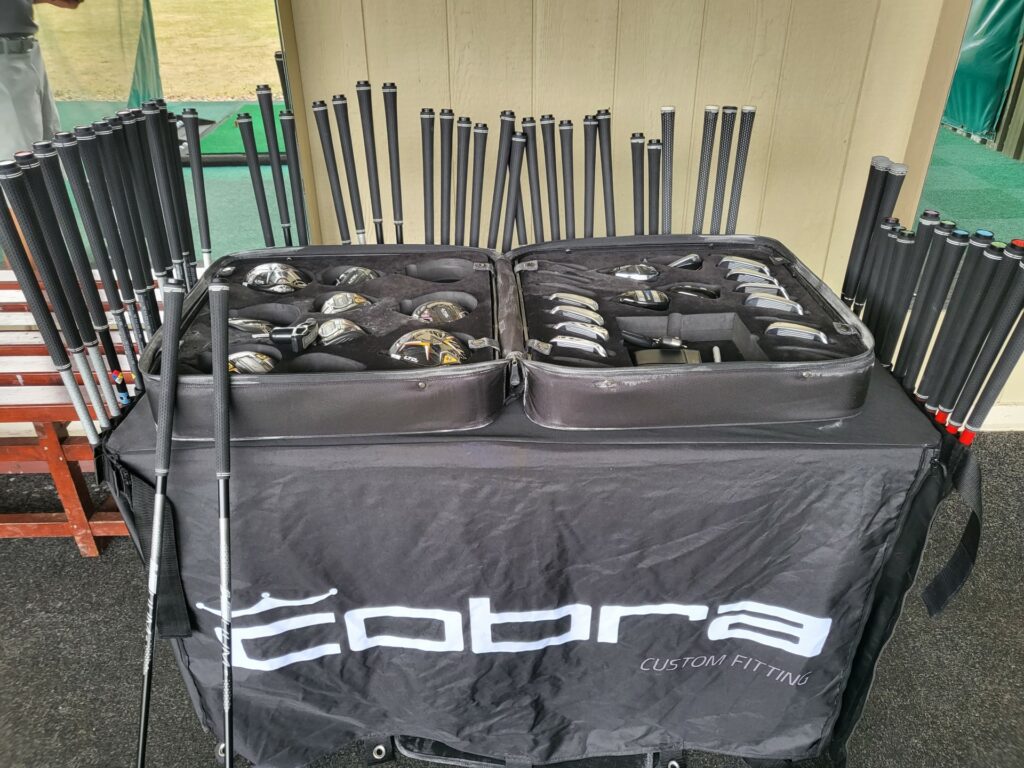 Women & Golf's Head of Sales & Marketing, Jane, goes through a custom fitting for driver and 3-wood with Cobra Golf.
As a golfer of 12+ years, I am ashamed to say I have only ever had one club fitting (for a 5-wood). My Cobra driver and 3-wood, which I love, were launched in 2003 and have served me well over the years. But I realise that if I am to achieve my goal of single-figure handicapper, I am going to have to improve my technology (and my consistency).
I booked a custom fitting with Billy Whiteman at Cobra at Sundridge Park (Surrey) but there are Cobra dealers located all over the UK.
Key elements of a custom fitting
Billy explained that the key elements of a custom fitting with Cobra Golf (regardless of what clubs you are wanting to be fitted for) is an assessment of how your current clubs perform and how they can improve on that to make you a more consistent golfer.
The length of our session for two clubs was around an hour but if you are looking for a full bag fitting then set aside at least 2-3 hours.
Cobra specialists will find you the best head, shaft length and shaft flex for your new clubs. They'll optimise them for loft, lie, weight, balance and grip to ensure you have everything you need to take your game forward.
Billy explained what this means
Loft – How much loft is presented on the club both at impact and at address. Too much or too little can hinder performance
Lie – The lie angle of the club being too upright or too flat can have a directional impact on your shots
Weight – Incorrect weighting of your clubs can cause a number of issues, including, timing, ball flight and club head speed.
Grip – Having the incorrect size grip can also cause issues throughout your golf swing depending on whether the grip is too small or too large.
We are all different heights and weights and, with the best will in the world, we all swing the club differently.
This was also a good opportunity to explain to Billy I had a problem with my left hip and had a tendency to hit left if I was not rotating correctly.
The Club Fitting Process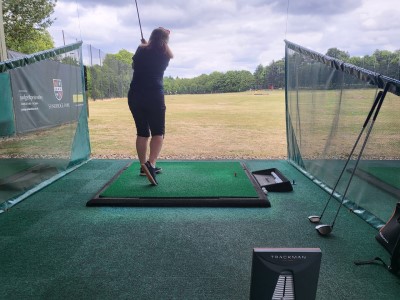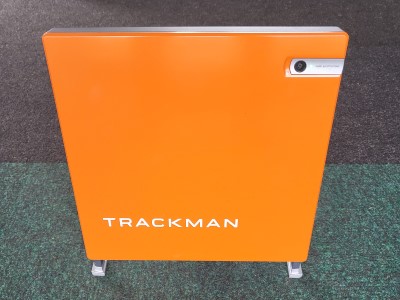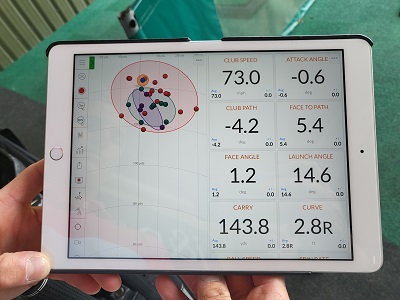 Billy asked me to hit several shots with my own driver and 3-wood and these were measured by a Trackman monitor. You've seen the Pros use these on the practice grounds at tournaments & then assess their performance on a tablet instantaneously. Billy pretty soon had some stats on my current clubs.
He explained some of the key numbers:
With my own Cobra clubs
Swing speed – 72 mph
Ball speed – 104 mph
Launch angle – 12 degrees
Spin rate – 3300
Ball carry – 137 yards
Total distance – 165 yards
With this information, Billy then put together a new Cobra shaft and driver/ 3-wood head for me. His bag of options as you can see from the photo above was mind-boggling. Straightaway, he asked me to take a series of shots with each club so that he could compare the data.
With the new Cobra clubs
Swing speed – 72 mph
Ball speed – 109 mph
Spin rate – 2900
Launch angle – 14 degrees
Ball carry – 149 yards
Total distance – 178 yards
The clubs felt incredibly comfortable and lightweight, as well as forgiving. I felt I was getting a better trajectory and hence carry. Billy explained the improved performance against my old clubs:
Ball speed – Increase of 5 mph
Spin rate – Decreased by 400 rpm, this is good because too much spin means the ball will stall
Launch angle – Increased by 2 degrees, this is good because too little launch means the ball will come out too low for optimum performance
Ball carry – Increase 12 yards or 9%
Total Distance – Increase 13 yards or 8%
New Cobra Clubs
Old Cobra Clubs
DRIVER
Head
Head
COBRA KING  LTDx MAX
Loft 10.5-13.5 (adjustable) 
1 KING COBRA 355SZ Offset 31.2cm2 Sweet zone 0.830 Milled titanium Loft 10.5
DRIVER
Shaft
Shaft
Helium 4Fl Nano Core Technology Women's flex
Aldila HM Tour 50 Womens Flex Low kick 50g
Hyper steel
3 WOOD
Head
Head
COBRA KING LTDx MAX    Loft 17.0-20.0 (adjustable) 
3 KING COBRA SZ Offset Loft 15
3 WOOD
Shaft
Shaft
Helium 4Fl Nano Core Technology Women's flex
Aldila HM Tour 50 Womens Flex Low kick 50g
For me, this was an enlightening experience and just shows how much technology has improved. I know my ball speed needs to improve and this is something I'm going to work on.
I'm delighted my spin rate and launch angle improved. A nearly 10% improvement in my ball carry and distance is only going to help me improve my Greens in Regulation stats.
Nevertheless, the jury is still out for me on the driver. I just don't like these big-headed clubs. But I will practice and no doubt reap the carry benefits. I love the 3-wood and can't wait to get my hands on them. Will keep you updated on my progress.
Read Women & Golf's First Look at the COBRA KING LTDx Max women's driver here.
Note for beginners
They say that most beginners just start with hand-me-downs (I started with my Mum's old PING irons) and I think there's nothing wrong with that. However, as soon as you have the golfing bug then I wouldn't hesitate in recommending a fitting. Most club Pros can easily get a mixture of brands to try and there are places like American Golf, AFG, Clubhouse Golf & Silvermere that have good selections and club fitting in their stores.
Need a fitting?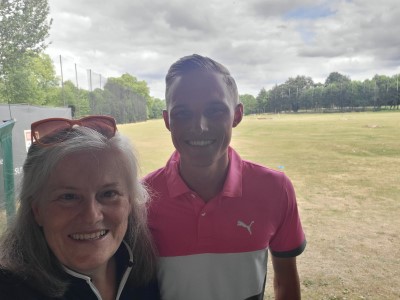 To arrange a custom fitting with Cobra Golf speak to Billy directly and he'll put you in touch with the nearest Cobra fitter or click on the link at the foot of the page for your nearest Cobra dealer
Billy Whiteman
07827 277522
[email protected]
A celebrity moment
P.S. Little did I know that I was in the next bay to a Slingsby Academy golf coach!
Sundridge Park professional Ainee O'Conner is tutoring Doctor and TV personality Zoe Williams in the 2022 Slingsby Academy. You can keep up to date with all the latest Slingsby news and hear Zoe's thoughts on taking the challenge here [watch video from 07:02].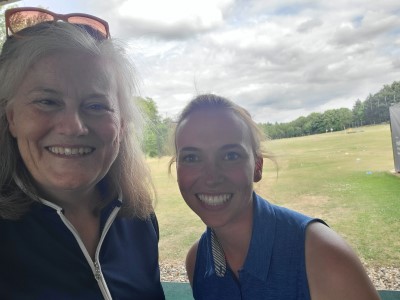 Want to find a Cobra fitting centre near you. Click here for the COBRA DEALER LOCATOR.