Editor Emma Ballard speaks to 15-year-old Adysn Schachtel, the only girl golfer on her high school team. We speak about her golf, her ambitions and meeting Annika.
Back in February, we headed to Stowe School in Buckingham to meet the inaugural girl golf scholar Chanel Fontaine-Geary to find out what golf life was like for her as the only girl on the school's golf team. It got us thinking about what it might be like for a girl in a similar position on the other side of the pond...
Fifteen-year-old Adysn Schachtel is coming to the end of her freshman (first) year in high school, Alcuin School in Dallas, Texas. As the only girl on her high school team, Adysn is determined to get more girls playing golf whilst also aiming to take her golf to the highest level.
Here we speak to Adysn, who currently plays off 9.7, about her journey into golf, playing for Alcuin as the only girl and her drive to make golf appeal to girls at her school and beyond.
How did you get into golf?
The first sport I became competitive in was gymnastics, and I competed in that from a young age for a number of years. My older brother, who is three years older than me, has always played golf and used to go and play with my Dad. I'd been out on the golf course with them before but it was when I was about 10-years-old that I went along with them to Eldorado Country Club in McKinney, Texas. Dad looked at my swing, said it looked really good and that we should get a coach to look at it.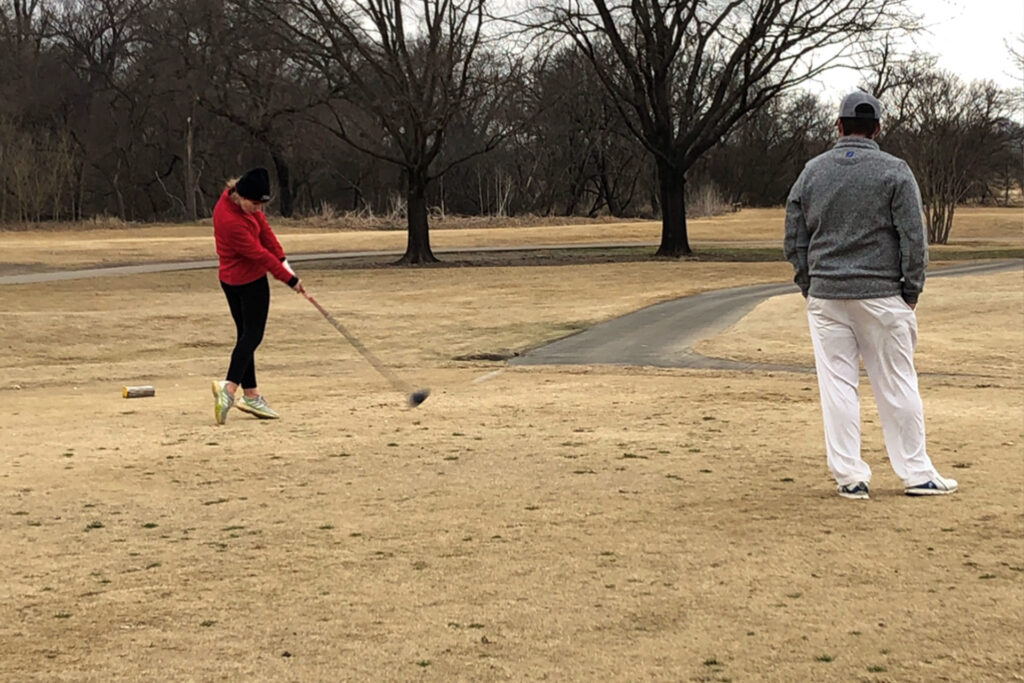 That was the real starting point for me and I switched my focus to golf. Initially, I wanted to be with a group of people because it was my first introduction to golf. As my confidence and ability grew, I started seeing coaches one-to-one.
My family moved from McKinney to Dallas, Texas, where I am now. There I joined a Country Club called Brookhaven. Here I started seeing Joey Anders, who happened to be Jordan Spieth's coach when he was in high school!
It was after moving that I decided to enter nine-hole tournaments, one day and 18 hole tournaments. This eventually progressed to me wanting to take golf more seriously and enter two-day events.
At this point, I switched coaches to Joey Wuertemberger at Texas Rangers Golf Course In Arlington. We worked really well together as I consider myself a visual learner. He videoed most of the lesson and afterwards, we take time to look at what work I would need to do on my swing. I found it easier to understand by learning this way.
The sorts of events I entered were NCPGA and AJGA tournaments. Plus my high school has fall and spring golf programmes.
Tell us more about how you've settled into golf at Alcuin School?
High school is where I have been really able to develop. The Alcuin coach Seth Sayler is amazing. We have a lot of tournaments as he's tried to schedule as many as he can. I placed in the top three in all my tournaments in the Fall and then this Spring, I placed first place in two of my tournaments and then third in the other.
I'm a freshman and I play varsity golf. Being a freshman is a challenge because you always have that in the back of your mind. That I'm going up against girls that could be accepted to colleges soon. That's going to be a disadvantage, but I know what I'm capable of. And even though my opponents could be bigger, stronger and have more knowledge, I know what I have shot in the past, which means I can do it again.
How big is your golf team at high school?
There are eight boys in the Alcuin high school team from freshman, sophomore to junior and senior, and then I'm the only girl.
To be honest, it can be a good thing because I don't have to rely on other girls, I only have to rely on myself. Admittedly, that comes with its own pressures. The main pressure is that as a representative of the school, I have no one else to fall back on. Also, at other school tournaments, I'll see other girl golf teams, and I see the support they give each other. Although I don't have that, I get along with the guys on my team, we give each other the support we need.
Are your high school tournaments an individual or team event?
At high school tournaments, they usually do both. There are normally awards for the top three in team and individual categories. At Alcuin, we can obviously only field a team in the boys' event as I am the only girl playing for the school.  
How are you trying to build awareness about girls' golf at your school and in the wider community?
Girls at Alcuin know about golf and it is available in a PE session but what I try and do is educate other girls about golf and why they would enjoy playing it. My ultimate goal is to have more girls playing for the school team.
I started an Instagram account – @girlsforgolf – about a year ago. The account is based on teaching girls how to play golf, I post videos of my swing and like to give advice about different parts of the swing, the grip, the takeaway, downswing, stance, and everything like that.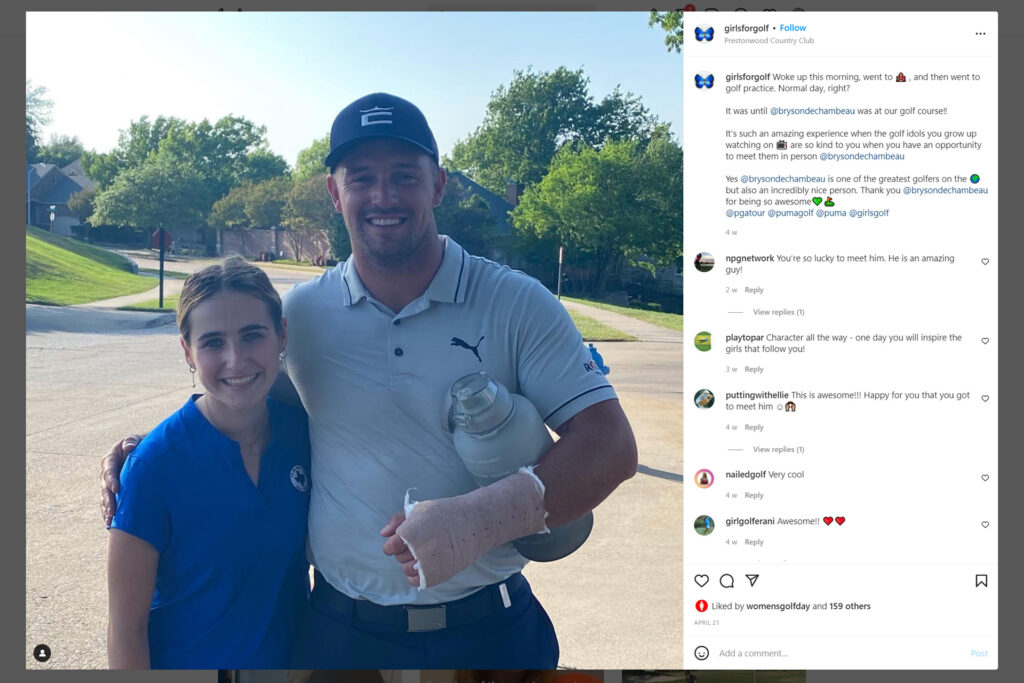 I also post funny videos and videos to show that everyone makes mistakes and everyone has bad days. Breaking down that idea that people who are better at golf than you, don't make mistakes or play perfectly every time.
When I think about the girls at my school, they like all fast-moving sports and then when they think of golf they think it's boring. I want to show how an individual sport is so great, with golf it's just you and the ball.
How do you manage your schoolwork around golf practice?
Golf practice at school is on Monday and Wednesday after school. But I also try to get in as much practice as I can on the other days. It can be really hard as a student-athlete, because you have to keep up your grades as well as your sport.
I have a lot of homework, but I know that I have to practice golf, because golf isn't a sport you can just practice once or twice a week.
My school, Alcuin, is very understanding about the balance between practice and school work. However, it's also not necessarily on how nice your school is, it's also on you because you have to have the motivation, you have to have the drive to finish your homework as well as know that you need to practice your sport to be at the level you are and to continue to get better.
Do you take part in any other sports apart from golf?
When I started high school, my aim was to make the golf team and because of this, I decided just to focus on golf.
However, more recently, I was looking into getting into tumbling again, because I loved tumbling. It's really good for core and arm strength. Obviously, upper body strength is a huge part of golf. Tumbling is also a fun way to just clear my mind and just have fun with a group of girls, maybe for an hour once a week.
Do you do any specific gym work?
I go to a chiropractor and they have a training facility in the back of the building. Oz the trainer there has worked on areas such as stretching. He gave me stretching exercises to do before tournaments, as well as using them in the morning and evening.
We work out with weights, lunges and squats and more CV exercises on the air bike. My main takeaway from the sessions is that they are fun, but he also keeps pushing me because he knows what I am capable of. He makes me believe in myself.
What has been the highlight for you since taking up golf five years ago?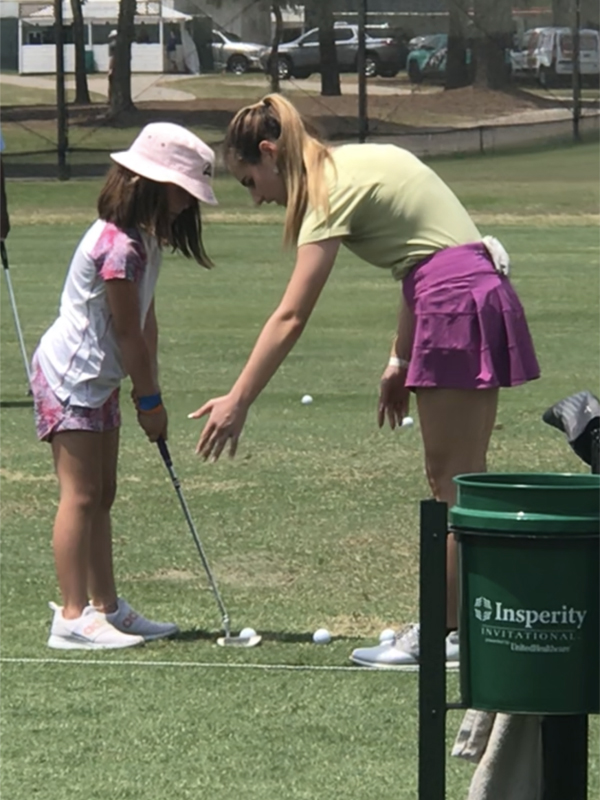 It has to be my most recent trip to The Woodlands CC a special "Share My Passion" Golf Clinic with Annika Sorenstam (pictured at the top of the page) at the PGA Champions Insperity Invitational. I was a volunteer golf coach with an amazing team from the Southern Texas PGA Junior Golf (STPGA).
To listen to Annika speak to the girls and for all of us to soak in everything that she was saying. It was incredible and Annika's words were inspiring to all of us.
What do you hope to achieve in golf?
Obviously, I want to keep playing golf throughout high school, hopefully go into college golf too. But I am also very passionate about giving back and helping others, whether that be helping them with golf or helping them in general. Just being a good person, but also, hopefully going further with golf and still getting good grades in school.
Do you have ambitions to play on the LPGA Tour one day?
I would want to if I got the opportunity to. Whether it's after college, or maybe if I got the opportunity before college. My Dad has taught me that you need to hold on to the opportunities that you are given and to work really hard so that you can achieve your goals.
Follow Adysn on her golf journey via her Instagram @girlsforgolf