Jin Young Ko shot a career-best 63 to win and defend the CME Group Tour Championship and become Rolex Player of the year. Whilst Collin Morikawa capped off a brilliant year with the Dubai double - DP World Tour Champion and Race to Dubai winner.
Although some may argue that Nelly Korda has had a better season after winning a major and an Olympic gold medal. There is no denying that Jin Young Ko is a force to be reckoned with on the LPGA Tour. Even battling a wrist injury during the final event of the season, she produced a stunning 63 to win the CME Group Tour Championship. This tied her career-best score for 18 holes and set the new tournament scoring record of 23-under-par.
The 26-year-old is the only player to win five events this season, the last person to achieve that was Ariya Jutanugarn in 2016, her 12th LPGA Tour title. The win also secured Ko's second Rolex Player of the Year award, she also won in 2019.
Ko hit 63 greens in regulation to finish the week, with her last missed green in regulation on No. 9 in the first round! She recorded only one bogey over her last 63 holes played which included 24 birdies, nine of those came on Sunday.
"It's really a great honor to get Player of the Year. Nelly [also] played really well, had a great year, even [won the] gold medal, win a major tournament and three other wins this year. I feel little sad to Nelly, but I was a little luckier than her, so I got the Player of the Year."
Most top-10 finishes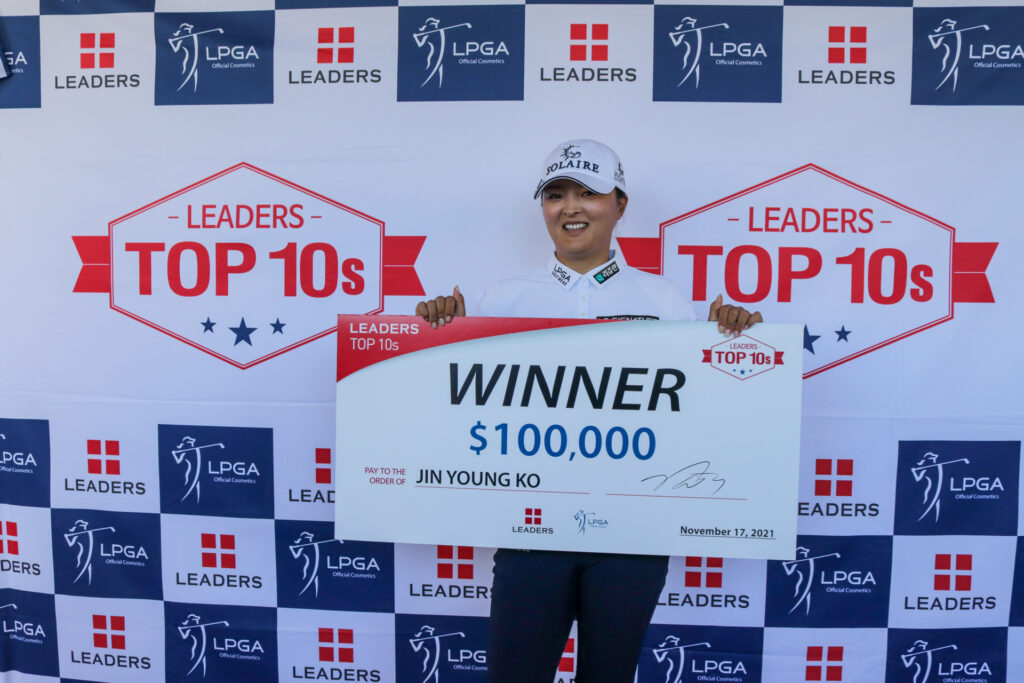 Earlier on in the week, Ko also won the LEADERS Top 10 competition and a $100,000 bonus after accumulating the most top-10 finishes during the 2021 Tour season. Ko clinched the honour following her victory at the BMW Ladies Championship in October.
Ko earned a total of 12 top-10 finishes in 18 starts this season. Lydia Ko edged out Patty Tavatanakit in a tiebreak for second and third place, respectively. Both players posted 10 top-10 finishes heading into the final event of 2021.
Lydia Ko wins Vare Trophy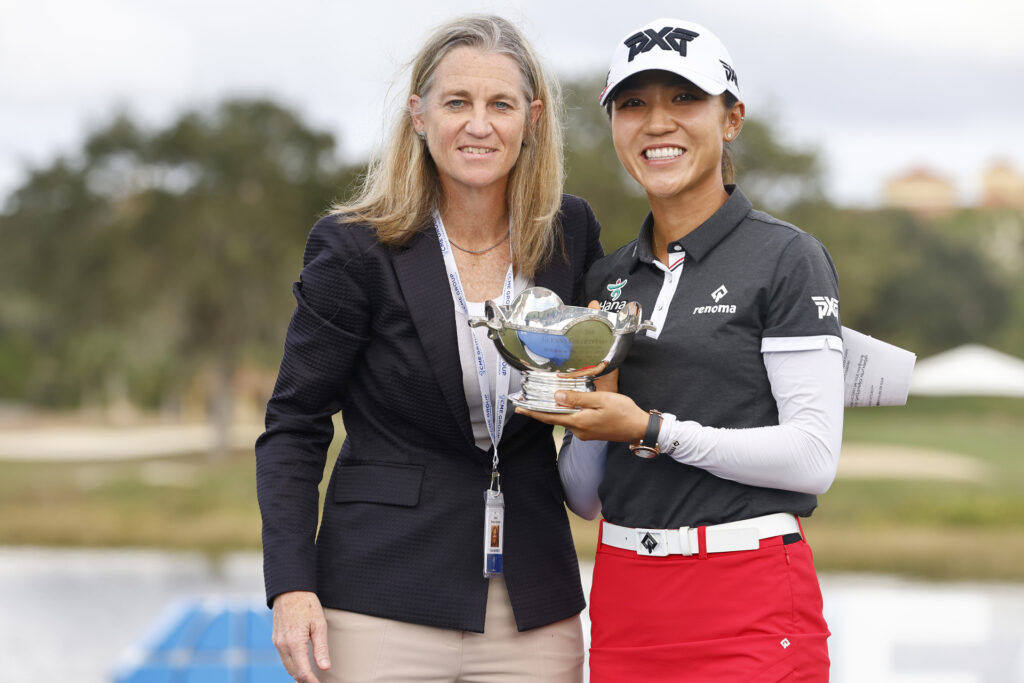 The Vare Trophy is given to the player with the year's lowest scoring average. For the first time in her career, this was won by Lydia Ko. To be eligible for the award you need to have played a minimum of 70 rounds during the season.
Ko's average was 69.329 from 73 rounds. Nelly Korda's average was 68.774 and Jin Young Ko's was 68.866 but neither met the requirement of 70 rounds with Korda only having 62 and Jin Youn Ko having 67 rounds.
The New Zealander said:
"It's really special because obviously it sums up the whole season. All the other things do, too, but at the end of the day golf is about how consistently well you can play and what kind of low score you can shoot."
AON Risk Reward Challenge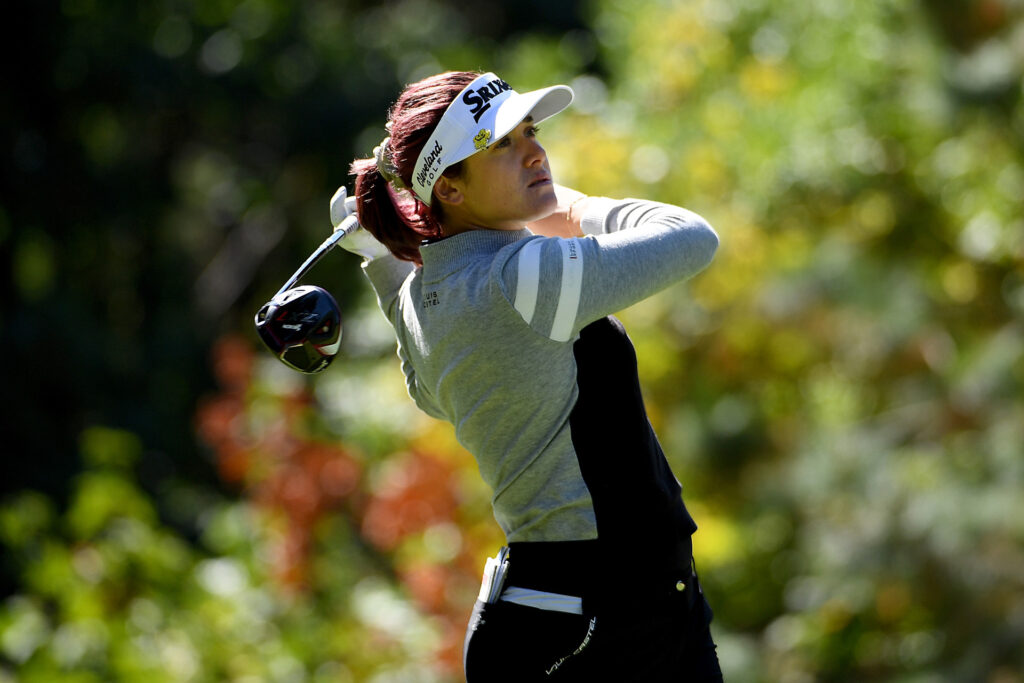 Hannah Green has won the 2021 Aon Risk Reward Challenge trophy and the $1 million prize. Green's ability to maximize opportunity propelled her to deliver the best season-long scoring average on Aon Risk Reward Challenge holes across the LPGA Tour. Green birdied 72 percent and eagled almost 10 percent of the Aon Risk Reward Challenge holes that counted within the 40 minimum rounds necessary to qualify for the Challenge. Additionally, on Aon Risk Reward Challenge par-5s during the 2021 season, Green's Go-for-Green success rate was 68 percent, compared to the LPGA Tour field average of 46 percent. She did not score worse than par on a single qualifying Challenge hole.
The 24-year-old said:
"Winning this season-long competition means so much to me. Because of the focus on decision making, winning really validates the level of solid strategic play that I am capable of. The fact that the Aon Risk Reward Challenge runs across both Tours, and represents equality in the work, strategy and effort that both men and women put behind their game, just makes it that much more special - I'm so excited to join Matthew Wolff as this year's winner and can't thank Aon enough for creating this opportunity."
Louise Suggs Rolex Rookie of the Year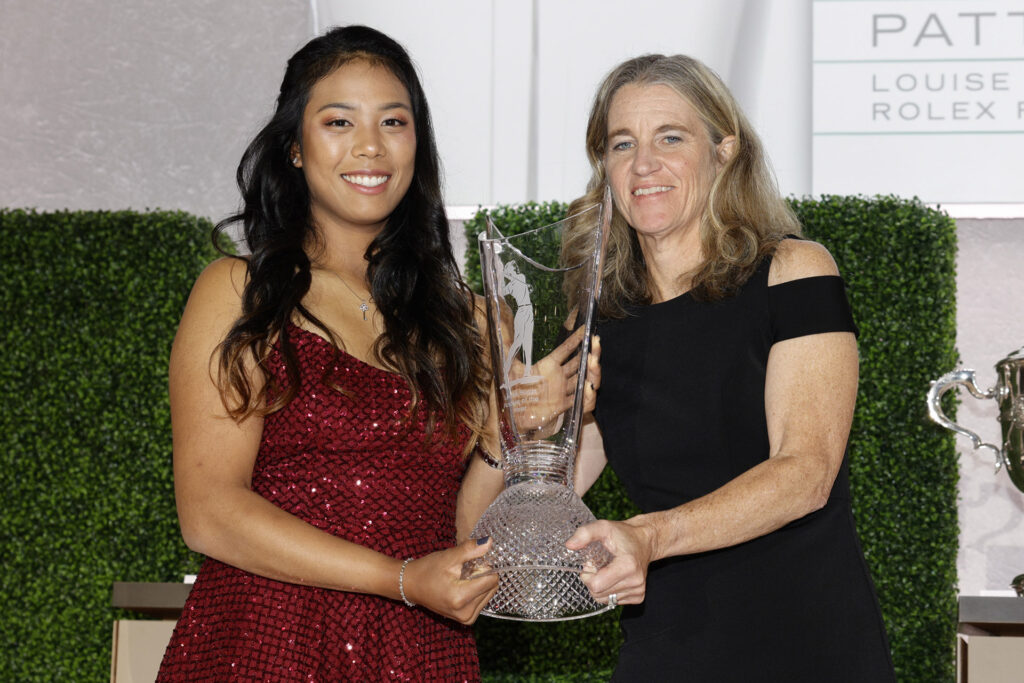 Patty Tavatanakit won the 2021 Louise Suggs Rolex Rookie of the Year award. Tavatanakit, who won the 2021 ANA Inspiration, clinched the honour following the BMW Ladies Championship in October. Tavatanakit earned 1,134 points through 17 events, and held a 355-point lead over second-place Leona Maguire with two events left in the 2021 season.
"Earning this award is a dream come true for me. It's once in a lifetime. I'm so thrilled that I get to add my name to a spectacular list of recipients that I have looked up to for many years. This season has been one to remember, and I'm excited to finish 2021 strong as the Tour's newest Rookie of the Year."
A brilliant 2021 is set to be an even more successful 2022 as the LPGA Tour announced another record-breaking year ahead - read the full story here.
Morikawa does the Dubai double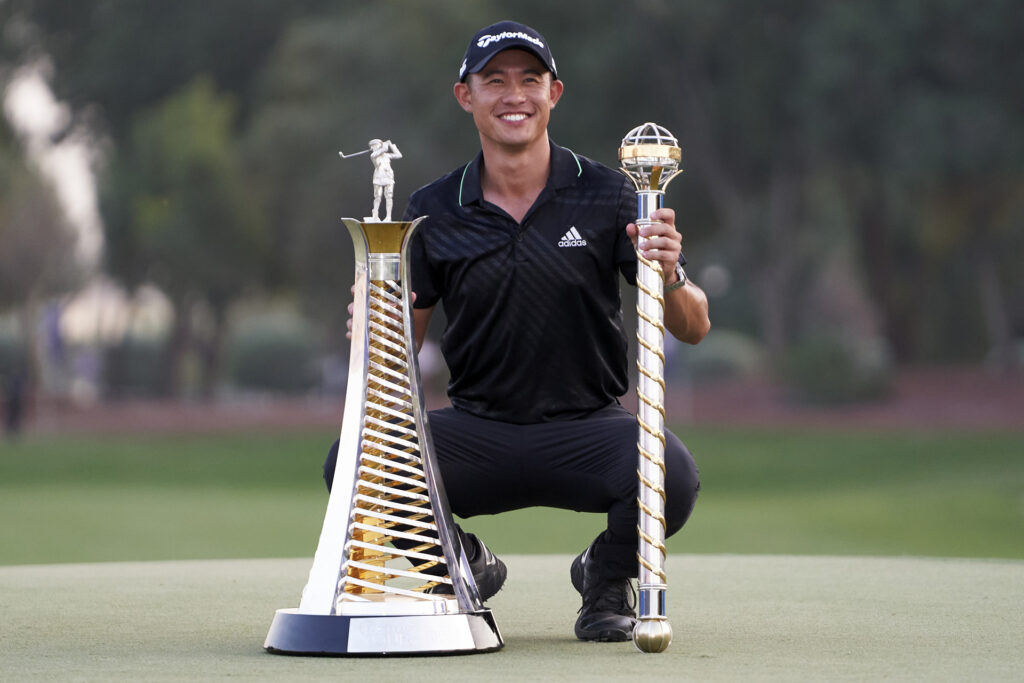 Collin Morikawa became the first American to win the Race to Dubai. The 24-year-old birdied five of his last seven holes to win his first Rolex Series title at the 2021 DP World Tour Championship.
The Open Champion entered the final round three shots off the lead at Jumeirah Golf Estates and produced a bogey-free 66 finishing on 17-under-par, three shots clear of Englishman Fitzpatrick, who also carded a 66, and Swede Alexander Björk.
McIlroy, a two-time winner of this event, had led for most of the day but dropped three shots in his final four holes to sign for a 74.
The victory for Morikawa is his fourth European Tour win in just 17 events and makes him the only three-time winner on the 2021 Race to Dubai.
"It's so special. I came here last time, first time to Dubai, obviously not having played too many European Tour events and I told everyone that I wanted to come out here and win - win the Race to Dubai and win the DP World Tour Championship, and I had it in my control this week. Obviously if I won, I would have sealed the deal, and that's all I focused on really.
"I'm still not number one in the world. So I still think there's a ton to work on. That's just kind of the nature of how my mind works and how I work, I just want more."
Tiger's back!!
In other news...
Social media was alight with shares and comments as Tiger Woods posted a video to his social media channels on Sunday. Maybe a comeback in 2022 isn't out of the question!
Which other tours would you like us to report on? Drop us an email with your request here.