The Scandinavian Mixed proved a huge success but let's stop belittling the women's game. Also, first time wins on the LPGA and PGA Tours.
There is always a worry with a new format or concept in golf, especially a mixed one, that it will not live up to the hype – Golf Sixes is one of the more recent ones that springs to mind. So, it was with a little trepidation that I settled in to watch the Scandinavian Mixed last week. It had top billing due to its legendary hosts, the format looked great on paper and the field were keen to embrace this inaugural mixed event.
The trepidation came because in these mixed event situations, like this one, it always seems to be that the professional women have to somehow prove themselves as worthy of competing with the men. I do not know whether that transfers directly to the female players, but I would not be surprised to hear that they felt added pressure going into the tournament last week.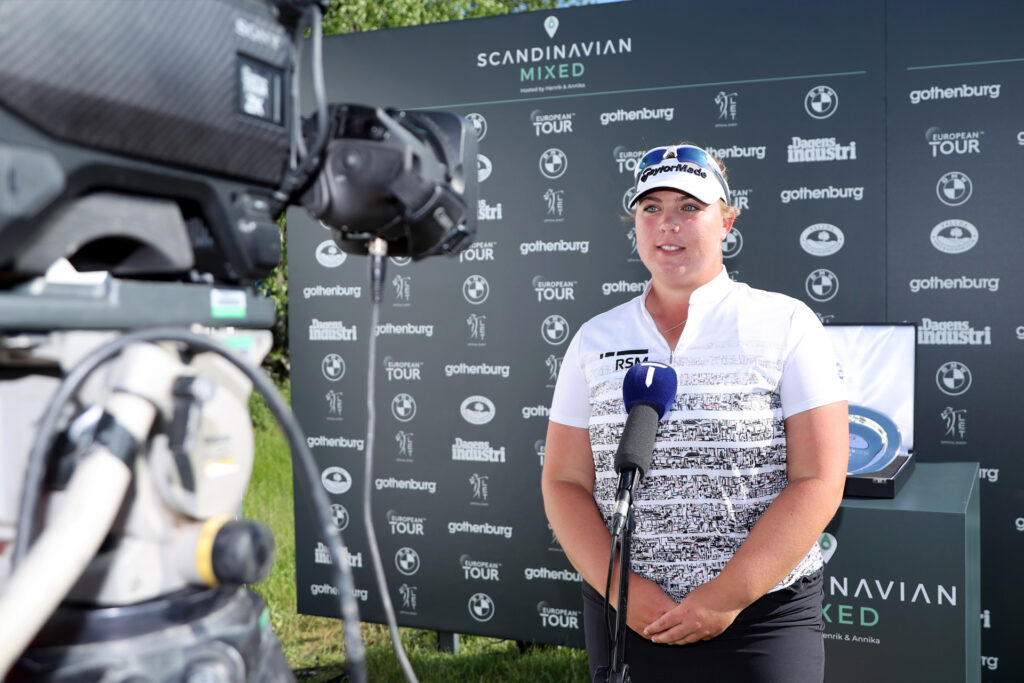 The way it was reported often felt like the women were lucky to have the platform that the European Tour had offered them rather than it being a co-sanctioned event. It was not a point that went unmissed by the players with Alice Hewson, who finished third, summing up her thoughts on the opportunity the tournament gave women's golf:
"This has been an exceptional opportunity for women's golf as a whole. For us to be on this stage and prove to everyone how good women's golf actually is has been such a good opportunity and I'm so happy to have been a part of it."
The inevitable debate around course set-up rumbled a little on social media but all-in-all there was a general feeling of positivity and Sky Sports commentator Richard Kaufman summed it up perfectly on Sunday:
There is no denying that having the Scandinavian Mixed co-sanctioned gave the event a larger profile for the female players than had it been a regular Ladies European Tour event but the women playing deserved their spot just as much as the men did.
I really hope we get to see more events like this in the future but we really do need to change the narrative around the need for women to be constantly grateful and to view these events as they are – a fantastic opportunity to see the best players on the European Tours battling it out for a win that is potentially life-changing regardless of whether you are male or female.
Maiden win for Caldwell at the Scandinavian Mixed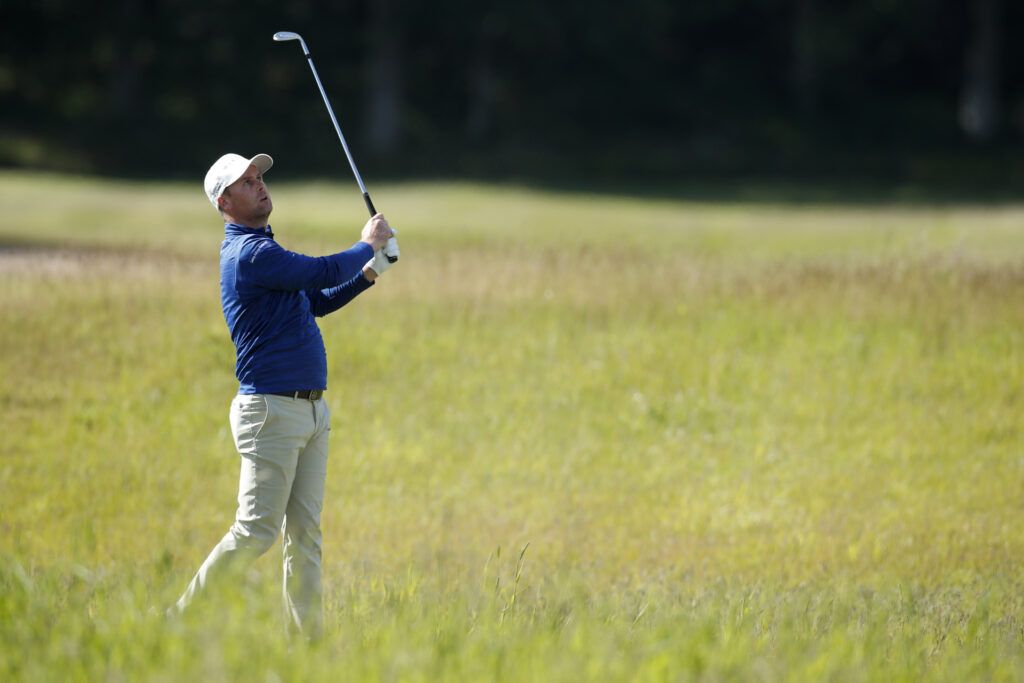 The week started with a field of 78 men and 78 women playing over the same course for the same trophy and it was Northern Ireland's Jonathan Caldwell who carded a closing 64 to get to -17 on the final day at Vallda Golf and Country Club.
Spaniard Adrian Otaegui had a chance to win it on the last but three putted the 18th for the only bogey of his 67 to sit a shot off the lead. England's Alice Hewson carded a closing 69 to finish third at 15 under, two shots clear of Australian Scott Hend and England's James Morrison.
This was Caldwell's first European Tour win and after a long journey to get to the winner's circle he was understandably emotional, he said:
"It's been a dream of mine for an awful long time. A lot of hard work goes into it. It hasn't quite sunk in yet, but hopefully more to come.
"In 2009 I played my first year, lost my card, played mini tours and Challenge Tour over the years, worked as well in a local golf store. It's been a long road but finally I'm here.
On a innovative week in golf, Caldwell added:
"It's been a tremendous week, I think what they've done this week is fantastic and I hope we have more weeks like this. The golf course was fantastic and I played with some great girls this week.
"I got a fist pump from Annika when I came off 18 which is pretty incredible - probably the greatest ever ladies golfer so that was pretty special."
This week it is all about the U.S. Open for the men and the Ladies European Tour has a week off.
A first win for Finland and Matilda Castren at the LPGA Mediheal Championship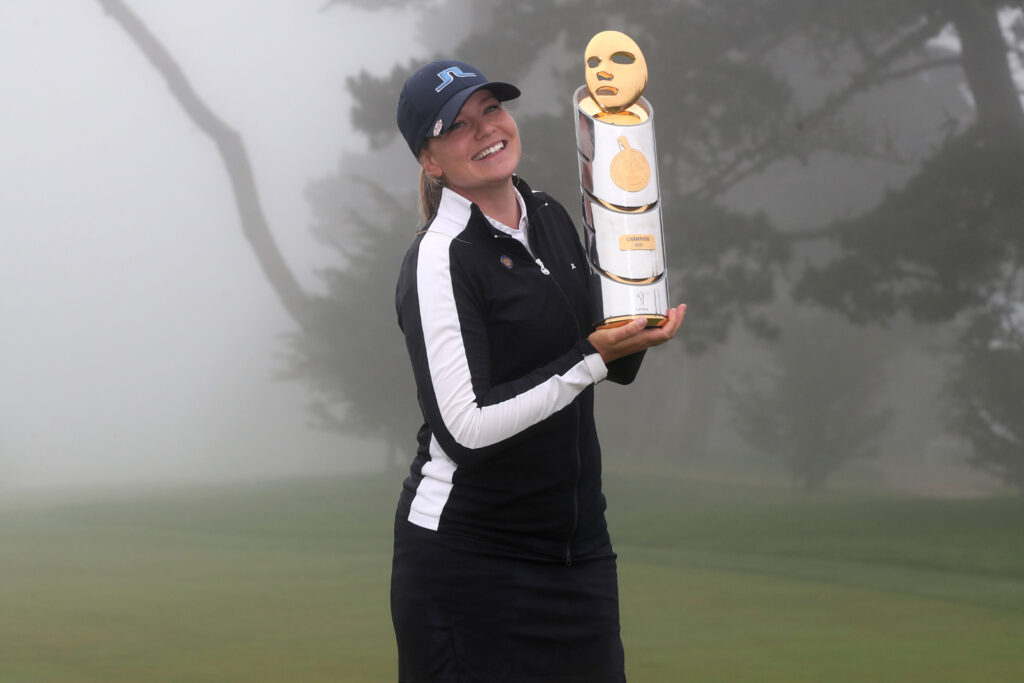 The final day of the LPGA MEDIHEAL Championship did not disappoint. When the fog settled, it was 2020/21 LPGA Tour rookie Matilda Castren atop the leaderboard in Daly City at -14 after a final round 65. Castren, who is the fourth Rolex First-Time Winner of the 2021 season, became the first player from Finland to win on the LPGA Tour.
The 26-year-old was confident that a win was always on the cards, she commented:
"I can't believe it's happening. I mean, I knew one day it would be me, but you didn't think it was going to be so soon. But I'm obviously so happy right now.
"It has been a dream of mine to win since I was a little girl, and to see it happen and to win, it's such an amazing feeling. There is nothing that compares to it."
Castren was effortless on the front nine, opening with three-straight birdies and then an eagle on the fifth hole. Another birdie on the ninth gave her a three-stroke lead at the turn over the 54-hole leader and fellow Symetra Tour winner, Min Lee. Lee carded a 69 to finish two shots off the lead.
Hannah Green and So Yeon Ryu posted 66 and 67s on the final day, respectively, to finish in a tie for third at -8. Ireland's Leona Maguire, who was leading after 18 holes tied for ninth at -6.
This week the LPGA Tour Meijer LPGA Classic at Grand Rapids in Michigan.
Another tour, another victory for South African Higgo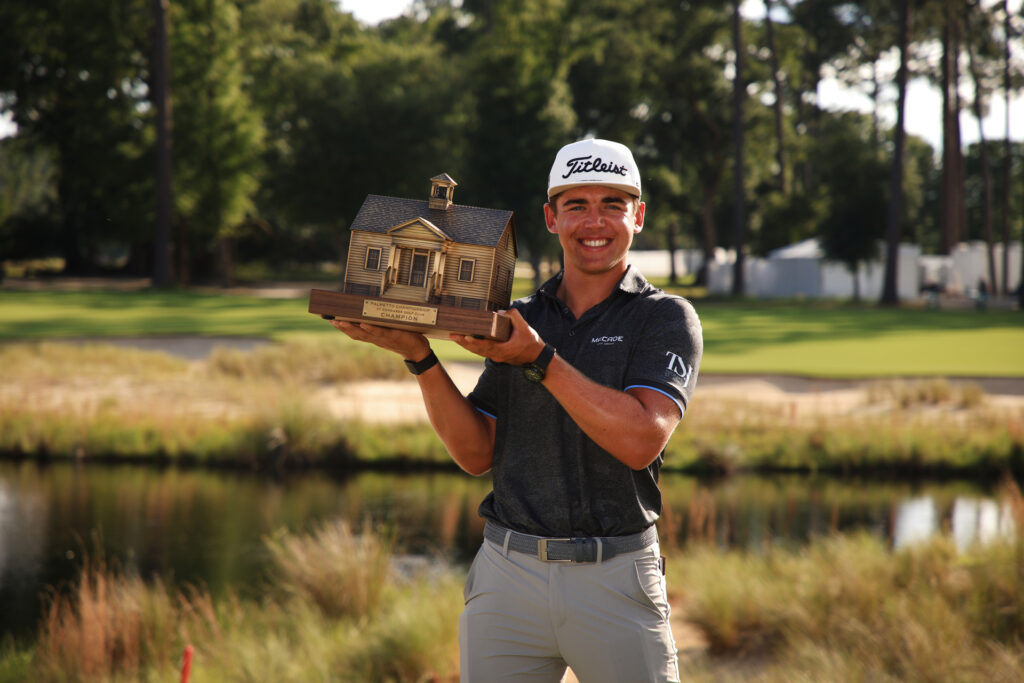 Garrick Higgo's fantastic year continued as he claimed his first PGA Tour title at the inaugural Palmetto Championship. He adds this win to his two wins on the European Tour this season and his Tour Championship win on the Sunshine Tour, putting together some impressive stats:
This was the South African's second start on the PGA Tour after his only other event being the PGA Championship last month. He achieved a one-shot win over long-time leader Chesson Hadley, who bogeyed the final three holes to finish in a six-way share of second place.
Talking about his win and his future on the PGA Tour, the 22-year-old said:
"I'm just proud of the way I hung in there. It was tough all the way from the start, and I definitely didn't have my A game off the tee, but I like that sometimes. I like not having to play perfect golf, but I enjoy scrambling and making a couple putts, which I did, which was awesome."
"My dream has always been to play on the PGA Tour permanently, so at the moment, I'll focus on that and see if I can keep going. Obviously, I'll play on the PGA Tour for as long as I want, and hopefully I can play out here forever. But I'll play in Europe for sure.
"My focus is still Race to Dubai, see how I can finish on that, and then play a couple of Sunshine Tour tournaments as well. If it wasn't for them, I wouldn't be here."
This week Higgo will be teeing it up with 155 other players at the U.S. Open at Torrey Pines.
Which other tours would you like us to report on? Drop us an email with your request here.