Jin Young Ko has back-to-back victories, Lily May Humphreys wins LETAS Order of Merit and much more...
Jin Young Ko wins BMW Ladies Championship on home soil
After starting the day four strokes back of 54-hole leader Hee Jeong Lim, Ko rallied with an 8-under-par 64, leading to a final play-off against the four-time KLPGA winner. With a birdie on the 73rd hole, Ko earned her second-consecutive victory, her fourth of 2021 and the 200th win by a Korean-born player on the LPGA Tour.
On the 200th winner, Ko said:
"This is a tremendous honour. And I think it's very fortunate that I am the player, the 200th win player, and I actually think that it's really fortunate that it was an event held in Korea as well. Obviously being the player of the 200th win of the Korean player was not a goal that I was working toward, it just happens so that I was really focused and I did my best and this came along."
Ko finished tied with Lim at -22, leading to extra holes. Lim teed off first, but Ko had the upper hand when her approach to the green landed just a few feet from the pin. One tap, and the 26-year-old walked away from LPGA International Busan with her 11th career win, her fourth come-from-behind victory and tied for fourth-most in wins by a Korean player in LPGA Tour history.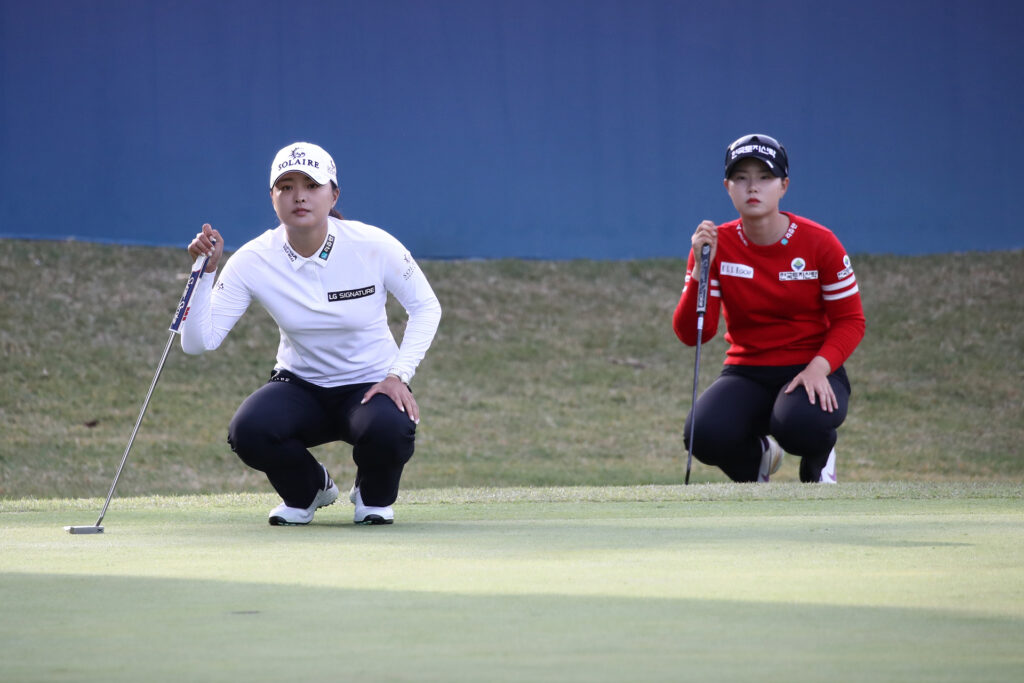 Ko was confident in the play-off, she commented:
"I wasn't that nervous going into the play-off. I think I was feeding off the confidence I had during the round. When I was heading to the tee ground, I turned to Dave and I told him that this was my first play-off ever, and he smiled, and he said, 'Welcome.' And that helped me ease those nerves."
Not only does Ko clinch the Leaders Top 10 competition with her fourth win of the season, but she is projected to return to World Number 1 surpassing American Nelly Korda. Ko has already been at No. 1 from July 20, 2019, to June 27, 2021, a streak of 100 consecutive weeks; she was also World No. 1 for 12 weeks in early 2019.
The one record that Ko didn't break was her run of rounds in the 60s, she had tied Annika Sorenstam and So Yeon Ryu with 14 consecutive rounds but a first round 71 at the BMW Ladies Championship, broke the run.
Ko reflected after her first round:
"I think that every hole counts, and if I just do what I did so far, then I go beyond 14 rounds in the 60s, and I think I can even break my own record. I think for me it's important to just continue down this path and grow as a player."
Lim's runner-up finish is her third of the 2021 season on the KLPGA. Finishing five strokes behind Ko and Lim at -17 sat a duo of major champions in Lydia Ko and A Lim Kim along with KLPGA stalwarts Da Yeon Lee and Na Rin An. Ko and Kim, along with the event winner, tied the 18-hole scoring record with 64s all around on the final day.
The LPGA now takes a two-week break before returning for the final two events of the season. Look out for some LPGA stars who will be heading to Dubai and the Ladies European Tour Dubai Moonlight Classic this week.
Charlotte Liatutier wins Santander Golf Tour Barcelona Title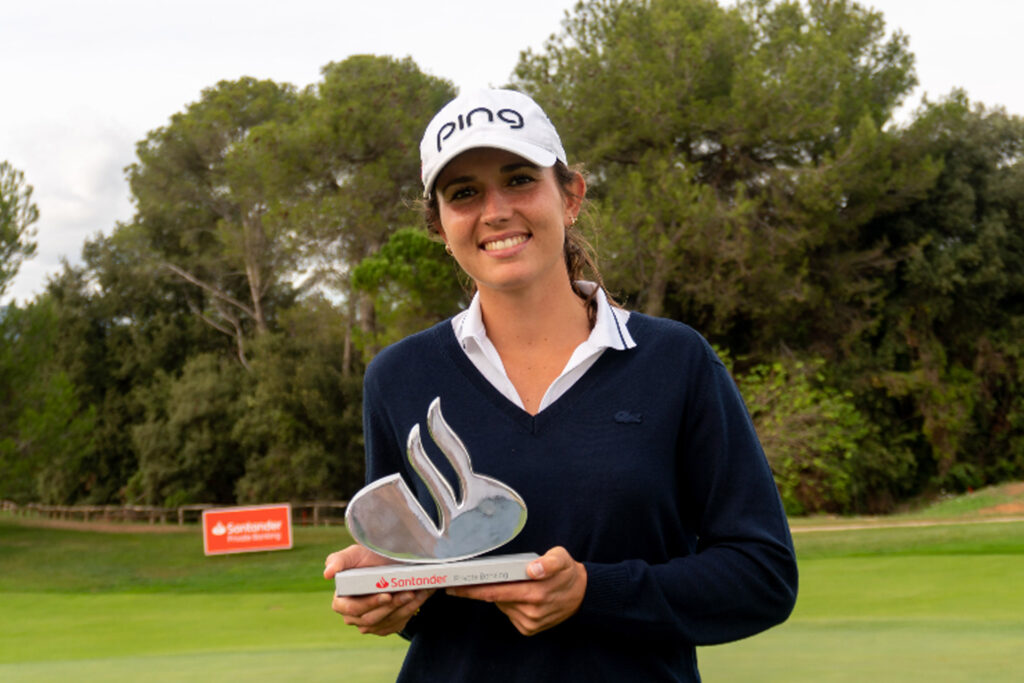 French amateur Charlotte Liautier secured a one-shot victory at the Santander Golf Tour Barcelona after shooting a final round of 74 (+2).
All week, Real Club de Golf El Prat has proven to be a tough test for the players and on the final day, only two players shot under par.
The 22-year-old finished level par for the tournament and clinched her first LETAS win. Liautier said:
"It's been an incredible week! It's my best win to date and my first professional win and for that I'm very happy. I played very well during the week on a very demanding course that was in perfect condition.
"Being with my boyfriend, caddie and coach on the bag has helped me a lot throughout the week. It has been one of the keys. The course demanded to catch a lot of green and putting has been fundamental to be able to win. Thanks to Santander and all the sponsors who make it possible for us to play in these courses and these tournaments."
German amateur Helen Briem, who was a winning member of Team Europe at the 2021 PING Junior Solheim Cup, concluded her week with a round of 73 (+1).
The teenager finished on one-over-par for the tournament and shared second place alongside England's Rachael Goodall, who also carded a 73 on the final day.
At the end of the final LETAS event of 2021 the top six in the Order of Merit clinched their LET cards for 2022 and they were Lily May Humphreys, Gabrielle Macdonald, Nina Pegova, Goodall, Bringner and Tukiainen.
LET Access Order of Merit - here's the full story.
LPGA Qualifying Tournament Stage II – Pauline Roussin-Bouchard runs away with Stage II Medalist Honors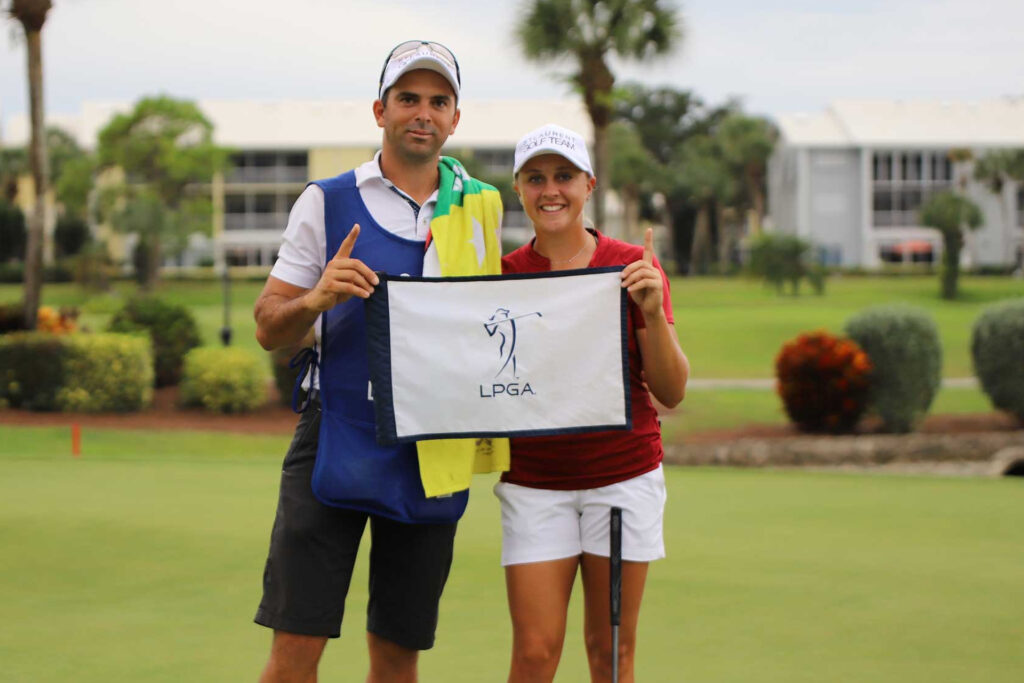 The 21-year-old Frenchwoman fired a bogey-free, 7-under par 65 on the Bobcat Course at Plantation Golf & Country Club in the final round to run away from the field at the LPGA Qualifying Tournament Stage II.
Roussin-Bouchard came into qualifying after turning pro in August and already had a Ladies European Tour title to her name after winning the Didriksons Skaftö Open in just her second professional start. Also, in July, she finished in a tie for 38th at the Amundi Evian Championship. The transition from amateur to professional has been seamless, and her performances at both levels have prepared Roussin-Bouchard for the magnitude of this moment.
"I think every experience that you have and huge tournaments—Augusta National, U.S. Open, Evian Championship, all these tournaments that you play as an amateur or a pro give you some background when you get on this kind of tournament. It's another type of tournament. It's a different type of pressure. At the end of the day, you just have to play your own game and not try to be someone else."
Roussin-Bouchard, a five-time medalist for the University of South Carolina, captured medalist honors with a five-stroke victory at 19-under-par. She said:
"I tried to practice this week in a way that I would play better and better each day, so I am happy I could finish with a round like this. It was just about being happy, enjoying and being in the moment, living it.
"Winning is always on my mind, I just keep it to myself. It's also that winning is about the result and it doesn't depend on you, completely. I was trying to focus on what I could control. Of course, I was trying to go low. I told my caddie on the first hole, 'Go low or go home.'"
For a player that likes to have fun on the golf course, her metaphors during competition only add to the bubbly, yet calm demeanour she exhibits daily.
"We called the green, the dance floor. And were talking about doing the right move, dancing the right way on the green. It was all about that. Fairways and the dance floor, and just dance on it."
After a challenging week in Venice, Fla., it's now back to her life in Columbia at the University of South Carolina. Roussin-Bouchard takes flight out of the Sunshine State first thing Monday morning so that she can make her evening Introduction to Drawing course on campus.
45 players advance to Q-Series
The top-45 players plus ties at Plantation Golf & Country Club in Venice, Fla. advanced to LPGA Q-Series from November 29 – December 12 on the Robert Trent Jones Golf Trail in Alabama. With 72 holes completed in Stage II of the LPGA Qualifying Tournament, a total of 45 players finished the week at 3-under par or better to punch their ticket to LPGA Q-Series.
View the full LPGA Qualifying Series leaderboard here.
Other tour news
Masters champion Hideki Matsuyama shot a final-round 65 to win the Zozo Championship on home soil in Japan. He made an eagle on 18 to win his 7th PGA Tour title by five shots over Brendan Steele and Cameron Tringale.
Jeff Winther won his first European Tour title at the Mallorca Golf Open. He shot a final round level-par 70 to stay on 15-under-par and win by one shot from home favourites Pep Angles and Jorge Campillo and Swede Sebastian Soderberg.
Which other tours would you like us to report on? Drop us an email with your request here.