A near-faultless final round saw Collin Morikawa win on his Open debut, whilst Matlida Castren came one step closer to her Solheim Cup dream.
We knew it was going to be a scorcher on the links during the final round of The Open and it was 24-year-old Collin Morikawa who was able to keep his cool and produce a sublime performance to be crowned Champion Golfer of the Year.
What is more remarkable about his win is that this is the first time that he has played in an Open championship, like his PGA Championship win in 2020, he has claimed both major wins on his debut.
On making history he said:
"I think when you make history, and I'm 24 years old , it's hard to grasp, and it's hard to really take it in.
"A quick little side note, when Phil won the PGA, I think he's 50 years old, right, I didn't look at him as this old guy winning. I looked at him as competition that could still play really well. If he put everything together, and he did, he could play well and win.
"At 24-years-old, it's so hard to look back at the two short years that I have been a pro and see what I've done because I want more. I enjoy these moments and I love it, and I want to teach myself to embrace it a little more, maybe spend a few extra days and sit back and drink out of this. But I want to, yeah, I just want more.
"When you're in these moments and you truly love what you do, which I love playing golf and competing against these guys, these are the best moments ever because the nerves push you to just be a better person."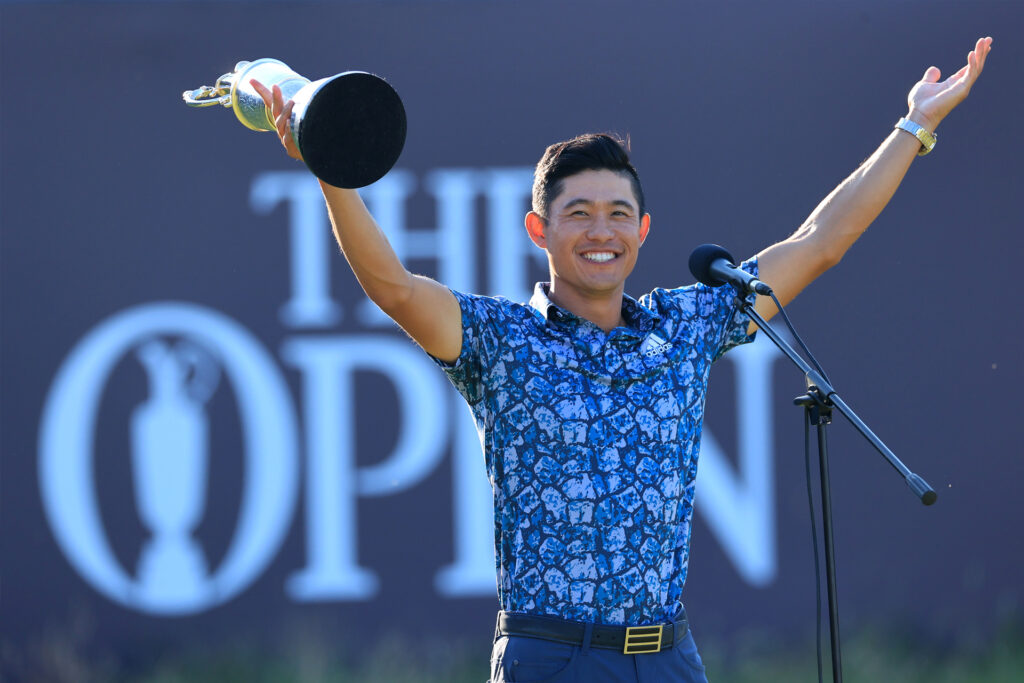 It appeared that it was the seventh hole that was the undoing of Louis Oosthuizen's Open dreams. Hitting from one bunker to another only resulted in a bogey but with Morikawa scoring a birdie, this was the moment there was a definite shift in momentum. A near hole-in-one on the 11th hole, showed that he had what it took to win but ultimately it was the precision on and off the green from Morikawa which gave him the win. A bogey-free 66 was just too much to compete against.
Jordan Spieth, the 2017 Open Champion, made a charge with three birdies on the back nine but mistakes on Saturday cost him and two early bogeys in his final round made the chase that much more difficult.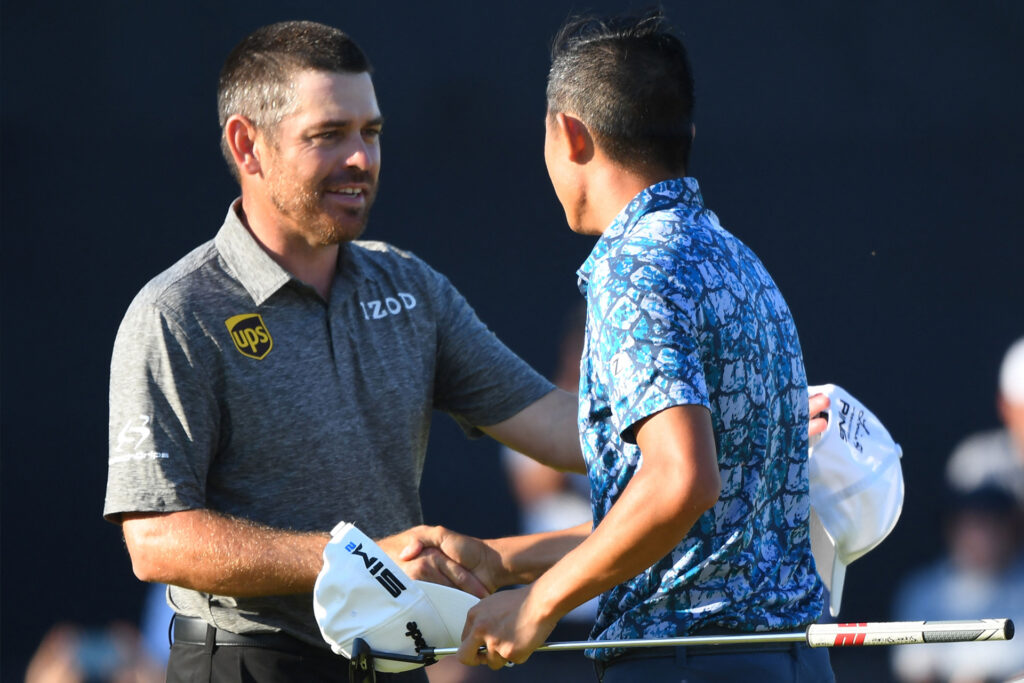 Morikawa had nothing but praise for his playing partner of the last two days, he said of Oosthuizen:
"These are the first few times I played with Louis, and Louis is an outright amazing player and person. I hope I get more pairings with him because he's just a great guy to play with. Just everything about it, tempo. It's nice to see another guy just stripe it down the middle. I mean, when I watch him play and hit his drives, I'm like, wow, I want to hit it like that.
"Louis is consistent, he really is. He's going to keep knocking at these doors, and I'm sure he's going to knock a few more down. He's just too good."
And we finish with some wise words from the 149th Open Champion, something that all golfers can relate to when it comes to playing golf and enjoying it:
"I think enjoying every moment you can, even though sometimes frustrating, you look at some of the best players, their demeanor is that calm, cool, relaxed, but they're so driven, right? The end goal is still there. So we've had tough days. We've had good ones. You try and remember the good, forget the bad, and then move on."
The European Tour now moves onto the Cazoo Open supported by Gareth Bale at Celtic Manor - you can still book tickets here. The PGA Tour moves to the 3M open at TPC Twin Cities in Minnesota.
Castren wins on home soil and secures much needed LET membership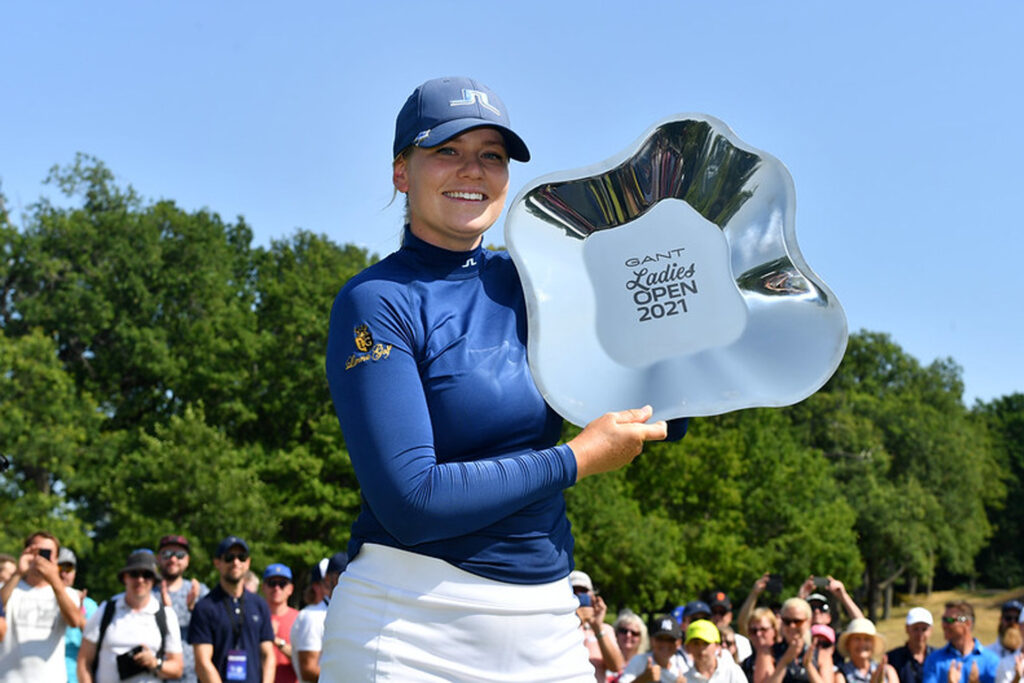 When Finland's Matilda Castren won the LPGA MEDIHEAL Championship a month ago talk immediately turned to the Solheim Cup and her potential spot in the European Team. However, as she wasn't a member of the Ladies European Tour, she wasn't eligible to play, regardless of how fair this may have seemed to be. We would argue that this is something that needs to be looked into in future years – as more players commit to the LPGA.
As Q-School doesn't take place until after the Solheim Cup, Castren only had one option and that was to play on an exemption and win which would automatically give her LET membership.
Unbelievably this is exactly what Castren did at this week's Gant Ladies Open, in her home country and in front of her family. She shot a final round of 68 to win by three strokes and claim her first LET title.
The 26-year-old rounded off an excellent week, which saw her card rounds of 71, 69 and 68 to triumph with a score of five-under-par at Aura Golf.
Castren said:
"I am so happy about this! I could not be happier. It was what I came here for, and it is unbelievable that I pulled it off.
"It was awesome to see that many people here and great to see the little kids too. A lot of people came to watch such as my relatives and family members – people who I have not seen in a couple of years."
She added:
"It was my goal for this week to become a member of the LET by winning. I could not be happier to make it happen and I'm just very thrilled. It has been my dream since I was little girl to be at the Solheim Cup. It is one of my goals that I knew might be possible in the future. Everything has happened really quickly this year and to be able to be considered is such an honour. Hopefully it will happen, and I will be able to represent Finland and Team Europe."
There are now three ways that Castren could make it into the European team and realise her dream. She would need to be in the top two in LET Solheim Cup points, be one of the top four Europeans in the World Rankings, or be one of captain Catriona Matthew's six picks. With two wins on either side of the Atlantic you have to expect that her chance to play is very strong.
In the 2021 Race to Costa del Sol, Atthaya Thitikul still leads the way in the standings with 1272.50 points while Sanna Nuutinen is second with 1016.42 and Stephanie Kyriacou is in third place.
It's major week on the women's tours as we see who will be crowned the Amundi Evian Champion.
Sister Act – Jutanugarn's win team event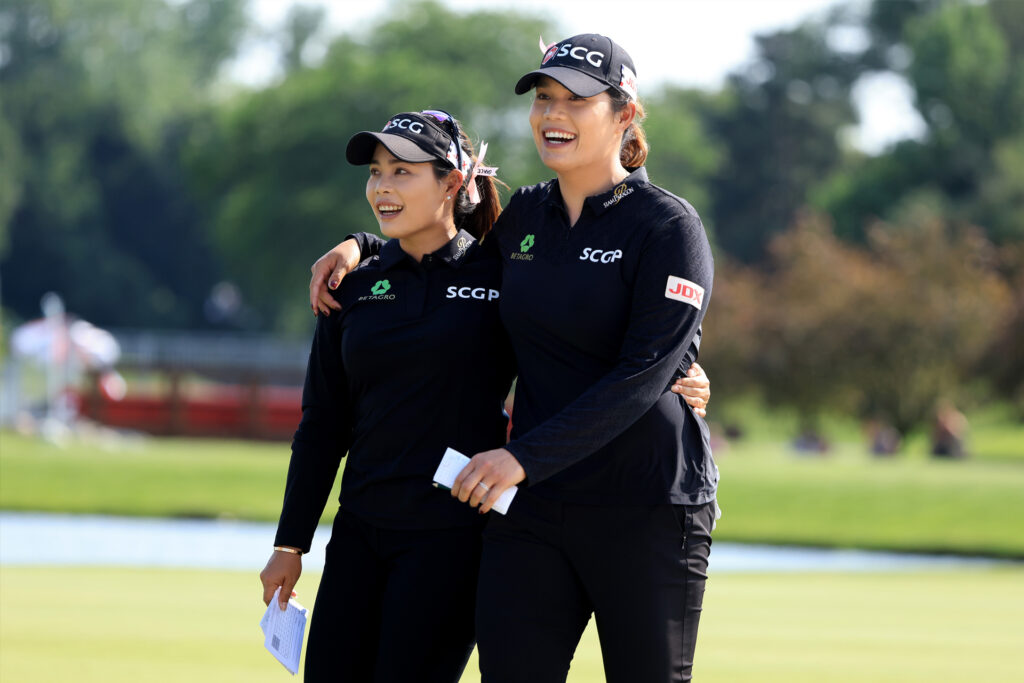 The Dow Great Lakes Bay Invitational made its second appearance on the LPGA tour and after a successful team format on display the previous week on the Ladies European Tour, it definitely showed that there is an appetite for different formats, especially including team golf.
The 72-hole tournament was a stroke-play team event with each team comprised of two players. The first and third rounds were played as foursomes and the second and final rounds were played in a four-ball better-ball format. The field was cut after 36 holes to the top 35 teams and any ties.
Starting the day final day two shots off the lead, Ariya and Moriya Jutanugarn knew they had to put a great performance together to an impressive day on the fairways of Midland Country Club. The affectionately named Team M&M, Mo and May, which they are commonly known as finished with a 59 and -24 to take the title.
Moriya commented:
"We had a pretty good momentum at the start. It's just more like supporting, just I said over and over again, and of course I had a great support from my sister this week. No matter what, like she probably hit a few trees out there, but she still make a lot of birdies for me, so I forgive her!"
The Jutanugarns were the only pairing to shoot under 60 and also posted a 59 on Thursday. With the win, Moriya earns her second LPGA Tour title and first in 1,182 days. Ariya has now won for the second time in eight starts, and is the second player with multiple wins in 2021, joining World No. 1 Nelly Korda. Ariya, who now has a total of 12 wins on Tour, said this week may rank above her major championship victories, she said:
"It's a tough one. I would say going to be the top one because like every tournament we spend together, she is always with me, and this time even more special because we win together. So far, this one the best one, yep."
Defending champions Cydney Clanton and Jasmine Suwannapura put up a final day fight after sharing the 54-hole lead, finishing in solo second at -21 after recording a six-under-par 64.
The LPGA will be in France for the next women's major, the Amundi Evian Championship - with some big names missing it will be interesting to see who comes out on top.
Another successful mixed event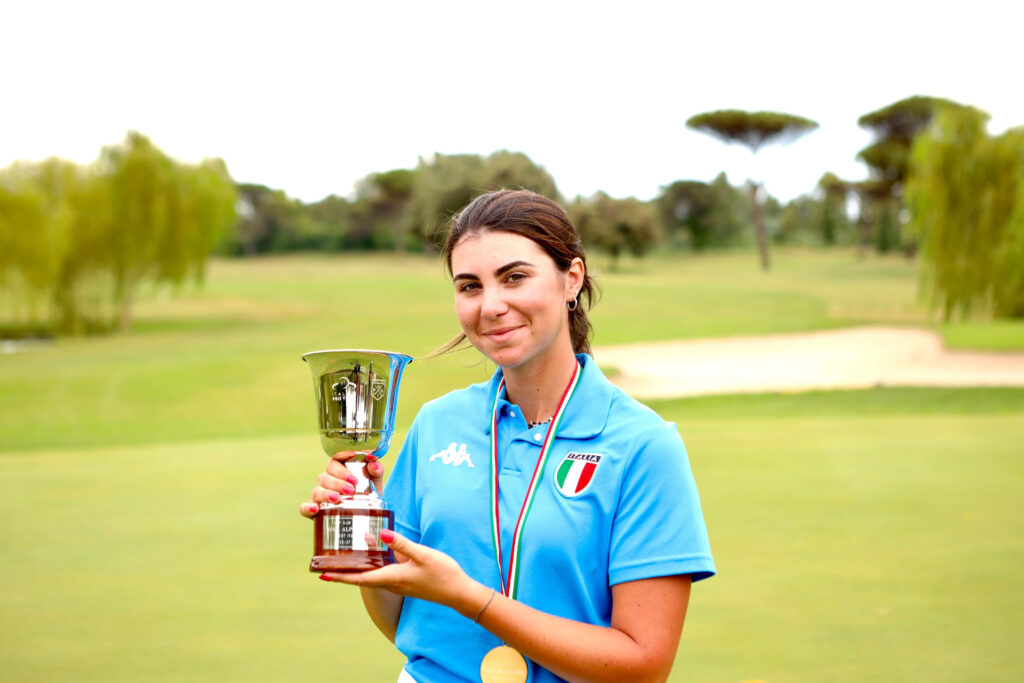 Frenchman Xavier Poncelet was crowned the winner of the Roma ALPS LETAS Open as Italian amateur Alessia Nobilio carded a final round of 68 to finish in third place.
Golf Club Parco de' Medici hosted the second mixed tournament in LETAS and ALPS Tour history, which saw 114 men 42 women tee it up and compete for the same trophy and prize fund on the same course.
Nobilio started the day tied for third on eleven-under-par alongside fellow amateur Anouk Casty from Switzerland.
It was a sensational start to her round as she carded three birdies on the front nine and added two more birdies and one bogey on the back nine to finish in third place.
The Italian said:
"It feels amazing. I came here hoping to make the cut and now I finished in the third position. I am really happy about these past three days, everything was perfect."
This is the best finish in a professional event for Nobilio, who was a member of Team Europe at the 2019 PING Junior Solheim Cup.
Nobilio was paired with eventual runner-up Lumsden in the first two rounds and the Scottish golfer heaped praise on the best amateur at the tournament.
She added:
"That is so nice to hear. Ryan was so kind to me, and we really had fun on the course, so I am very happy he played well, too. I liked the mixed format and enjoyed playing with the guys. We have such different games, but I learned so much from them. I think the main difference is that the guys have more feel for it than us. We are all about the mechanic side of it, but they just go out there and hit their shots."
Scotland's Gabrielle Macdonald finished in the top-10 after firing another round in red – a three-under-par 69. The 27-year-old carded four birdies and one bogey on her way to finish tied for ninth.
The LET Access tour moves to Spain and the Santander Golf Tour Zaragoza.
Power wins in a play-off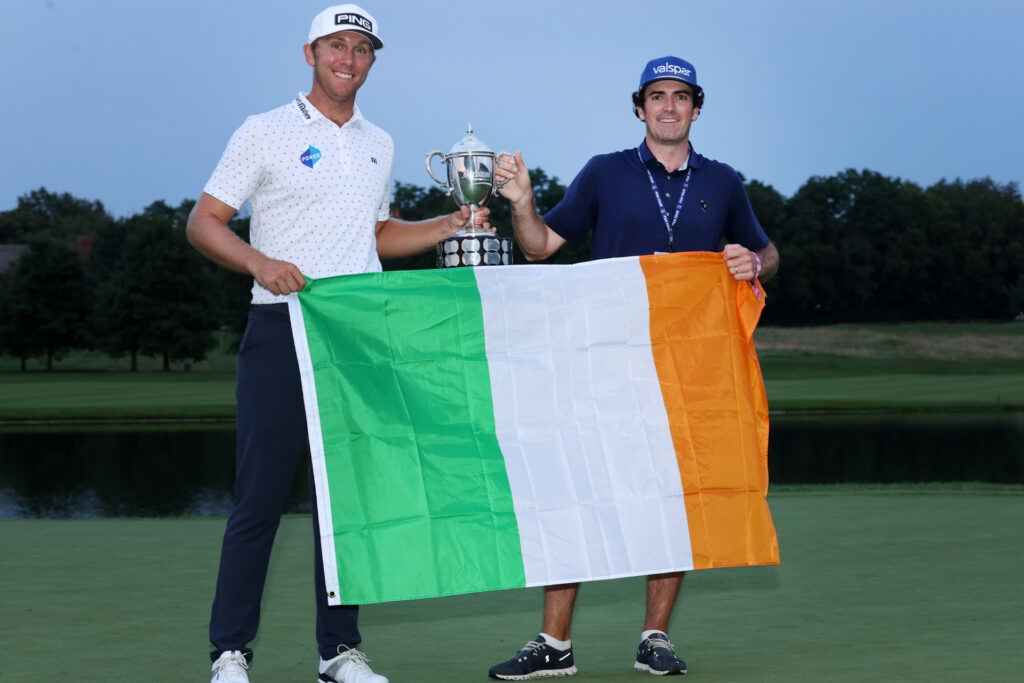 Ireland's Seamus Power won his first PGA Tour title at the Barbasol Championship beating J.T. Poston with a tap-in par on the sixth hole of a play-off.
J.T. Poston had a three shot lead as he stood on the 15th tee, but a wayward drive out of bounds lead to a double bogey and another bogey on 16 brought Power into a play-off.
The 34-year-old kept his cool on the extra holes and it was Poston who ended up driving into the water on the sixth play-off hole, where Power made par and secured victory.
The enormatiy of the win will take a while to sink in, he said:
"This changes everything for me. Forever I will be able to say that I won on the PGA Tour. It hasn't sunk in yet."
Which other tours would you like us to report on? Drop us an email with your request here.