Europe and the USA will go head to head in the biggest showdown in Women's golf this weekend as the 16th edition of the Solheim Cup makes its way to Gleneagles. Are you ready?



As the 16th edition of the Solheim Cup makes its way to Gleneagles from 9–15 September, it all leads to this moment, are you ready?
The best players from Europe and the USA will go head to head in the biggest showdown in Women's golf this weekend: The 2019 Solheim Cup. With a record crowd expected and the stakes as high as ever, we're definitely in for a treat – and no doubt a bit of drama along the way. If you need us, we'll be sat in front of the TV ...
By Charlotte Ibbetson
Where it all Started
The first-ever Solheim Cup took place at Lake Nona, Florida, in 1990. Captained by the legendary Kathy Whitworth, a strong USA side defeated Mickey Walker's European team 111/2-41/2.
Two years later, Walker gained her revenge and the tone was set for one of the most hotly-contested events in world sport. Spearheaded by Dame Laura Davies, Europe beat the USA 111/2-61/2 at Dalmahoy Hotel Golf and Country Club near Edinburgh.
With four wins under their belt compared to the Americans' nine, can Europe repeat Scottish history at Gleneagles this year?
The Captains
In her first role as Solheim Cup Captain, cool-headed Catriona Matthew will lead Europe into battle against the Americans at Gleneagles.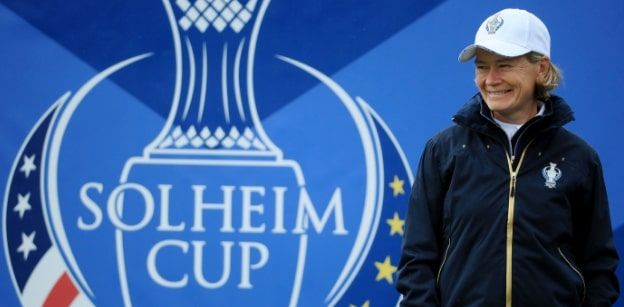 On how she felt about taking on third-time American Captain, Juli Inkster, Matthew commented:
"Everyone has a lot of respect for Juli – but winning ways have to come to an end at some point."
But what's her game plan? The one thing Catriona's been trying to instil into her players is to not be influenced by the leaderboards - a bad practice which never proved more heartbreaking than in an early Solheim Cup at St Pierre, Wales. On that occasion, blue quickly turned to red in the first hour of play on Sunday after Europe had taken a convincing lead on the Saturday.
"Whatever the circumstances," said Catriona, "you should never give up. It's virtually impossible not to look at the boards but you have to try – and to concentrate first and foremost on your own match."
The Teams
For Europe, Carlota Ciganda from Spain, Sweden's Caroline Hedwall, Germany's Caroline Masson, England's Charley Hull and Spain's Azahara Munoz will all make their fourth appearance in the competition, whilst Sweden's Anna Nordqvist returns for her sixth successive appearance.
After playing in the 2017 match, England's Georgia Hall will play her first Solheim Cup on European soil. Anne Van Dam from The Netherlands who is the only rookie of the eight automatic qualifiers.
Celine Boutier from France made it to the team as a Captain's pick alongside England's Bronte Law and Jodi Ewart Shadoff. Matthew also controversially opted for Suzann Pettersen as her fourth pick, giving the Norwegian's Vice Captain title to Mel Reid.
From the other side of the pond, the USA team includes five rookies; Nelly Korda, Megan Khang, Marina Alex, Brittany Altomare and Annie Park. They'll be joined by Lizette Salas, Lexi Thompson, Danielle Kang, Jessica Korda and Angel Yin. For her Captain's picks, Inkster chose Morgan Pressel and Stacy Lewis.
Looking to the Future ...
This week isn't just about the best golfers right now, it's also about investing in the talent of the future too. On Tuesday 10 and Wednesday 11, 12 amateurs from Europe and 12 amateurs from the USA, all 18 years or younger, will compete in the PING Junior Solheim Cup – an event that provides elite golfers with a platform to make it on the professional circuit.
The PING Junior Solheim Cup teams will be captained by Mary Bea Porter-King for the USA and Mickey Walker for Europe. Walker's team includes a host of players from the home nations, with Mimi Rhodes, Hannah Darling, Annabell Fuller and Lily May Humphreys all hoping to follow in the footsteps of the likes of Georgia Hall and Charley Hull.
The Americans have won the last three matches, but can our girls turn the table this year?
It's a Dog's Life
You might spot Henry, Gleneagles' resident golden Labrador, supporting Europe at the Solheim Cup this week.
He'll be out and about donning his infamous tartan neckerchief and no doubt featuring in plenty of team photos. Henry even did his first-ever Q&A with Barbour.com last year if you'd like a sneak peek into a day in the life of a Gleneagles pooch.
What are your #SolheimCup predictions? Join the conversation on Facebook and Twitter.