Team USA dominate on day two, securing five out of eight points and are on the cusp of winning back the Ryder Cup
As a European fan, it would have been hard not to look at the Saturday morning foursomes and think that they were going to face a really tough time. The sense of dread as the first tee time approached was real, it was going to be a whitewash and I personally didn't want to watch it.
It certainly couldn't have started any worse, from a European fan's perspective, Jon Rahm and Sergio Garcia three-down after three against Brooks Koepka and Daniel Berger. Whilst Dustin Johnson and Collin Morikawa also went three-up after three, as Paul Casey and Tyrrell Hatton just couldn't find a birdie.
However, as with all things in match play, it's never over after three holes. Whilst Europe rallied and the scores settled down, there was some hope that Europe would be able to salvage something out of the morning session.
USA didn't have it all their way
Unsurprisingly, the first push back and point on the board came from Rahm and Garcia, who have combined to play some fantastic golf this week. Still three-down after five holes, Garcia finally found his swing and barring a lengthy rules delay on 15, they dominated the rest of the round.
What was the rules delay?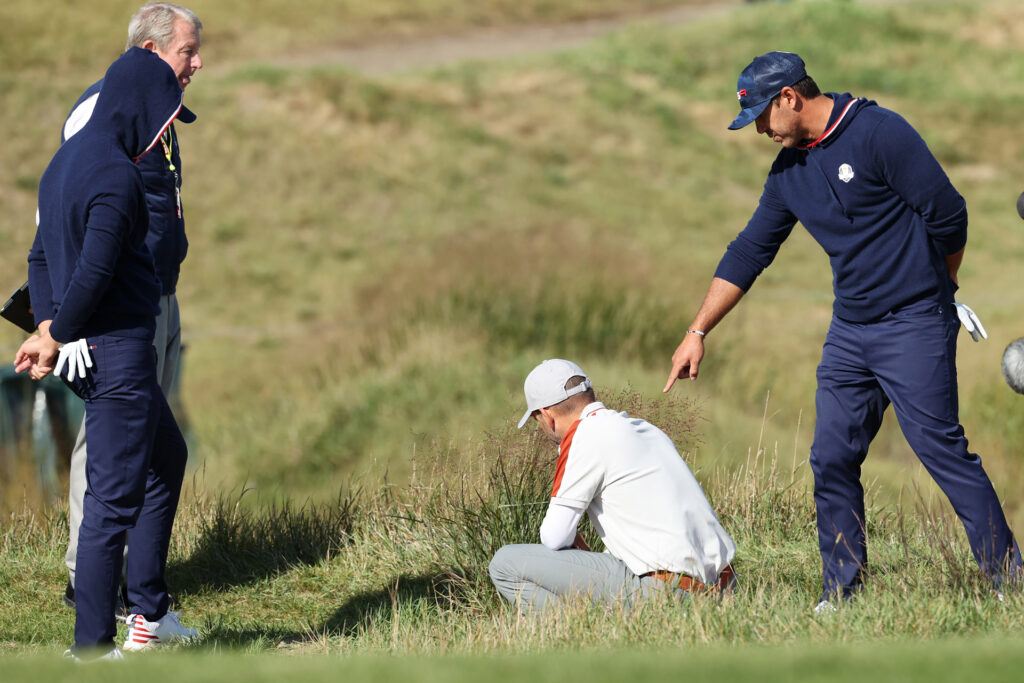 Koepka faced an awkward second shot on the par-4 15th, that was near a bunker. He was sure that his downswing would impact a nearby drain. The rules official disagreed and a second opinion was sought.
He still had to play the shot, which he was not happy about saying:
"If I break my wrist, it's on the f****** both of you," whilst pointing at the rules officials.
Not nice, not necessary and in the end the rules officials were right as he played a fantastic shot and they made par.
There was much discussion on social media about whether Koepka should have been reprimanded. Maybe something we'll discuss another day.
The largest lead since 1975
The rest of the morning matches, although Europe didn't give up, belonged to team USA:
Johnson and Morikawa won 2&1 against Casey and Hatton
Thomas and Spieth won 2-up against Hovland and Wiesberger
Schauffele and Cantlay won 2&1 against Westwood and Fitzpatrick
That meant that the Americans took a 9-3 lead into the afternoon fourballls. This was the largest lead since 1975 at Laurel Valley Golf Club where USA led 9½ to 2½ against GB&I after the Saturday morning session.  USA went on to win 21-11.
Ever the pessimist, I wish my thoughts before the start of the day hadn't been there but if European fans were honest, a 3-1 defeat was probably the best we could have hoped for.
Afternoon fourballs
Garcia summed up Europe's approach heading into the afternoon, he said:
"You know, we are not giving up. We're going to fight until the end as hard as we can. Hopefully we have a good afternoon this afternoon and see what happens."
And that was exactly Europe's approach. They came out fighting and for first time this week there was more blue than red of the board (well, for a period of time).
The atmosphere felt more tense, there was also clearly more tension amongst the players and when you add Shane Lowry and Bryson DeChambeau into the mix, the desire to win shone more brightly.
Koepka and Spieth lose 3&1 against Rahm and Garcia
Finau and English lose 1up against Lowry and Hatton
Scheffler and DeChambeau won 3&1 against Fleetwood and Hovland
Johnson and Morikawa won 4&3 against Poulter and McIlroy
There really had been hope of a reversal of the morning result but a brilliant fightback from Scheffler and DeChambeau denied Europe their third point of the afternoon.
To be in with any chance of coming back from a six point deficit (USA 11 - 5 EUROPE), Europe will need to channel their inner Lowry, who showed so much passion and determination:
McIlroy and Poulter have had a disappointing week, maybe it has been the pairings, the course conditions, form or just that the American side is so strong. Whatever the reason, McIlroy is determined to claim a point in the singles, he said:
"Obviously disappointing. Disappointing not to contribute a point for the team yet. So hopefully just go out tomorrow and try my best to get a point, and hopefully we can rally and at last give them something to maybe sweat about tomorrow in the middle of the afternoon."
Sunday Singles
There will be no better way to do it than by claiming the first point as European Captain Harrington has chosen McIlroy to lead team Europe out in the singles. It's definitely a bold decision based on the last two days but one that might just pay off.
Team USA head into the singles with a six point lead and only need 3.5 points to win, whereas Europe require nine points to retain the Ryder Cup. It certainly seems that with such a strong American team, Europe will need more than a miracle to recreate the celebrations we saw in France three years ago. But now I've seen the singles pairings...could it be really close?
In the UK Ryder Cup coverage starts at 2pm on Sky Sports Golf with the first match teeing off at 5:04pm.
Don't forget to enter our Exclusive Glenmuir Ryder Cup Competition - you can enter here.