Here's what happened on day one at the Ryder Cup where team USA take a 6-2 lead over Europe into the second day
European fans may be small of voice on the ground at Whistling Straits but that doesn't mean that there isn't plenty of support behind the 12-man team. A slightly acidic taste is left in the mouth when you hear the boos ringing out around the first tee when the European team are announced. A game that prides itself on honesty, integrity and courtesy is reduced to a baying pit where supporters forget themselves and the game that they are about to watch.
In complete contrast to the Solheim Cup three weeks ago where the crowd was respectful and able to appreciate the fantastic golf that was played. Let's hope it's just the excitement of the first day…who am I kidding, we have to endure another two days of it :/
Coming in as underdogs, with a lack of home advantage and a fraction of the usual support, team Europe would need to dig deep to come out on top. I'll admit that I was pretty optimistic heading into the morning foursomes. My prediction was a tie at 2-2.
Morning foursomes
The first point of the day went to team Europe in the opening match, with the Spanish pairing of Sergio Garcia and Jon Rahm posting a 3&1 victory over Jordan Spieth and Justin Thomas. Garcia, the all-time points leader in the event with 26½ points holed the winning putt on the 15th hole. It came after a magnificent shot from Spieth which gave USA a chance to win the hole but Garcia denied them.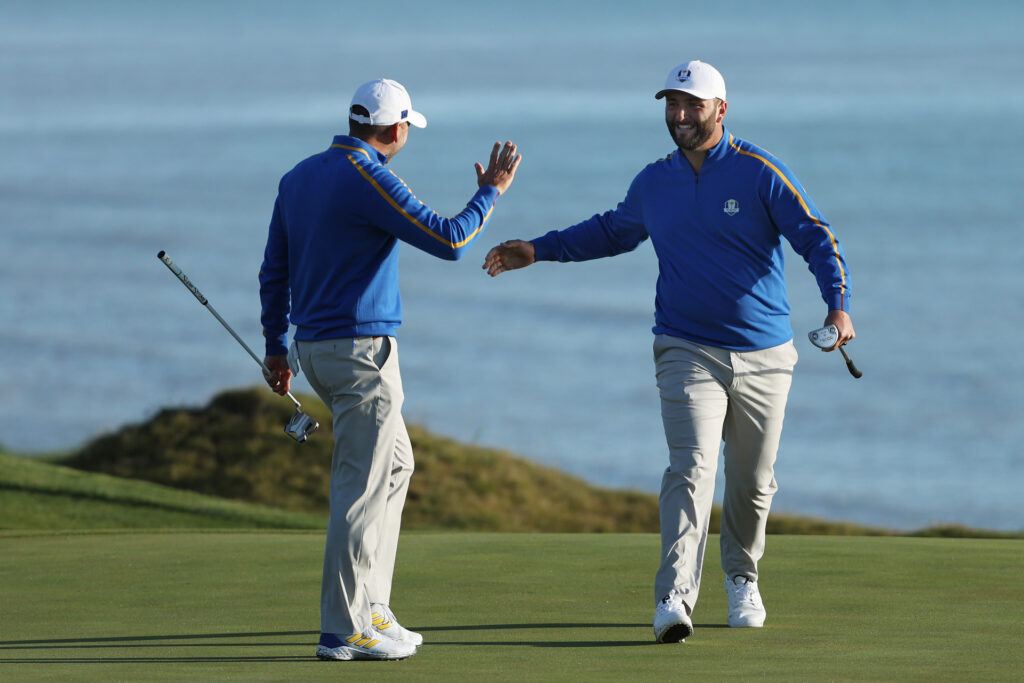 Afterwards, Garcia said:
"Every point is important, and obviously if you don't win the first, you can't win them all, I guess. But no, I mean, just jokes aside, I think that any point that you can bring to the team, it's always welcome and it's always exciting. And I was just very honoured to play with Jon. It's something that I wanted to do for a while. I was very honoured to hit the first tee shot, and it was just amazing how we both played and how Jon stepped up every time he had to do it. It was great."
The first point for Team USA came from rookie Collin Morikawa and veteran Dustin Johnson who claimed a 3&2 victory over Paul Casey and Viktor Hovland. Morikawa was pleased to get the points tally started and Johnson added:
"It was great. We knew we were probably going to play alternate-shot together so we got to practice a little bit. I feel like we both have kind of similar games and we mesh well together and obviously, we played a good match today."
Brooks Koepka and Daniel Berger added another point with a 2&1 win against Lee Westwood and Tommy Fleetwood. It was a close match that swung in the American's favour. Koepka enjoyed playing with someone who complimented his game, he said:
"I think there's some part of knowing your partner and understanding the little nuances, comfortable over a shot, they love it, they don't like it, you can tell and that helps. We played really well today, solid and hit a lot of good putts that didn't even go in. Played solid tee-to-green as well."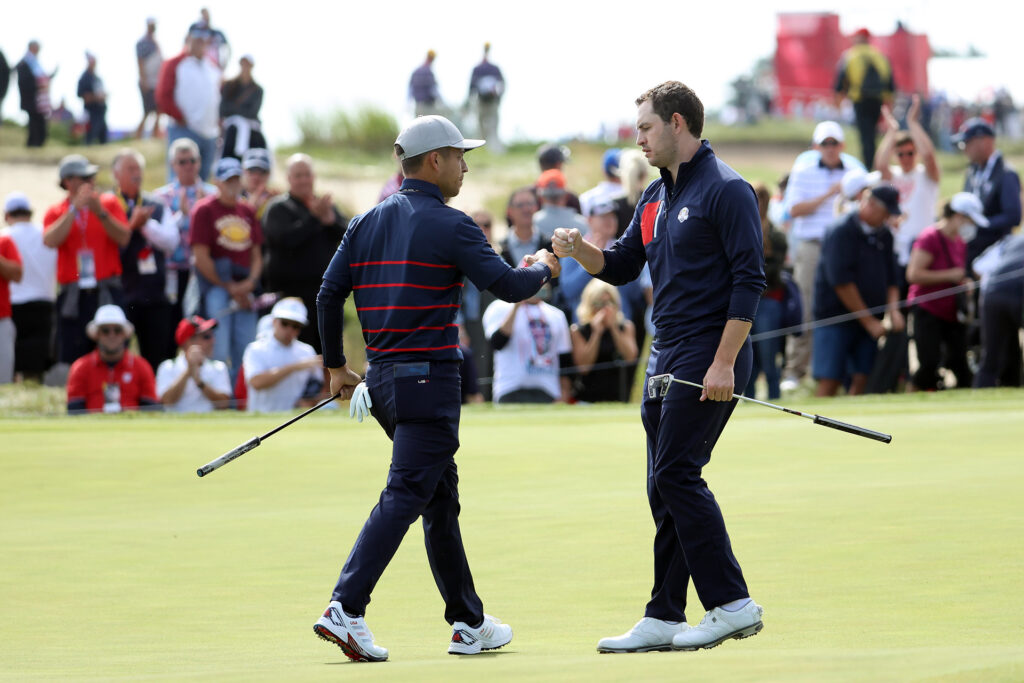 I think like a lot of other people, I hadn't appreciated the power combination of Xander Schauffele and Patrick Cantlay. They'd played together in the 2019 Presidents Cup, four matches, two points, nothing too spectacular. But the display they put on in the morning was seriously impressive, five-up through five holes, proved just too much for the experienced combination of McIlroy and Poulter who lost 5&3, after trying to make a comeback on the 10th and 11th holes. Afterwards, McIlroy conceded, the lost to a pairing that was just too strong, he said:
"The start wasn't great. I don't know if anyone could have beat Xander and Patrick today. They played really good, four birdies in a row. Geez, yeah, they played great. They were a great pairing today, and all you can do is praise them for the way they played.
Afternoon fourballs
After being rested in the morning, Tony Finau charged out of the blocks in the third match of the afternoon fourballs. He meant business and was clearly thriving off the noise and energy from the American crowd around him. Although McIlroy and Lowry went one-up on the fifth hole, Finau levelled it on the next hole and then they took hold of the match. With playing partner Harris English, they won three of the next four holes, added another on 13 and then won 4&3 on the 15th hole.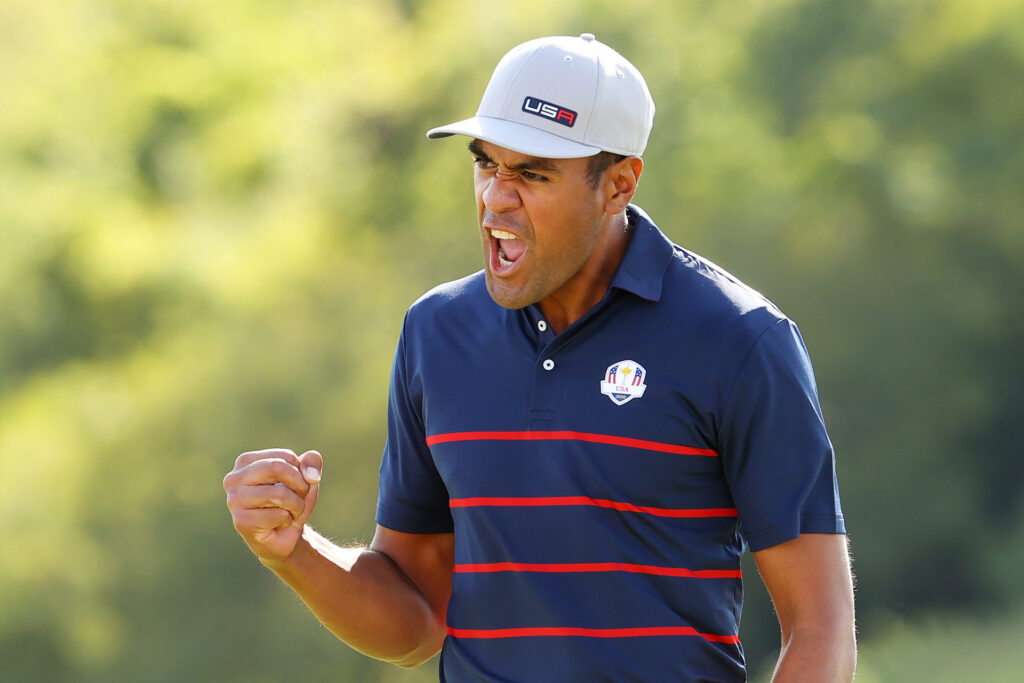 Finau told Sky Sports:
"You've just got to enjoy it. All these people out here cheering us on, that's the biggest thing. You have to enjoy it. I learned that in Paris, and the more you can just have fun with it, seems to keep you loose, and you know, I was able to roll the rock nicely today."
Adding a fifth point to USA was Dustin Johnson and Xander Schauffele who beat Paul Casey and rookie Bernd Weisberger 2&1. It was a close match which saw the Americans swing the game into their favour with birdies on the 10th and 12th holes. Casey clawed one back on 16 but it wasn't enough.
Although they had made some putts looks easy, Johnson confirmed that the putting conditions were tricky in the afternoon, he said:
"Today with the wind, once you got your shot up around the hole, it was just hard to make the putts just because, you'd have a left-to-right putt, wind is coming off the right and you're playing it outside the right. It's difficult conditions."
The second match out in the afternoon went all the way to eighteen with Bryson DeChambeau and Scottie Scheffler having to settle for a half point against Tyrrell Hatton and Jon Rahm. It wasn't quite all about the Bryson show but he did produce an unbelievable drive on the par 5 fifth hole which led to an eagle to win the hole.
Vital half points?
The match went back and forth with USA leading heading into the final hole. A birdie at the last from Hatton to tie the match could prove to be a very important moment for Europe. It's something that Rahm believed, he said:
"To birdie this hole the way did he, driver, 5-iron to six feet and make it, it's a heck of a hole. Not many people are as clutch as he (Hatton) is under pressure, and he showed it right here, so hopefully this gives him a lot of confidence for tomorrow and get this ball rolling."
The final match also went all the way to 18. It was a game that Europe had dominated in, with Tommy Fleetwood and Viktor Hovland heading to the turn three-up. But Patrick Cantlay and Justin Thomas fought back with birdies at nine, twelve and sixteen to pull it back. They couldn't be separated on 18 and another half point to both teams.
Harrington was pleased with Team Europe's performance, but knows they have a tough road ahead to get more points on the board. He said:
"My team played well today. You know, just a few times, the momentum, the odd putt didn't go in, and you need a bit of momentum. Things didn't go against us. But hopefully, I just think the last couple of matches there, when it was really, really tight, the boys came through, and it certainly felt like we couldn't have afforded those two halves at the very end were crucial for us, Tyrrell with the birdie on the last, very, very important in those situations."
Team USA take a commanding 6 points to 2 lead into the second day,
Saturday morning foursomes
Looking at the pairings for Saturday morning, Europe certainly are going to need a few putts to go in their favour as the Americans take the same strong pairings into the foursomes that they did on Friday morning:
The Europeans have kept two pairs the same and are not playing Poulter and McIlroy. It's good to see it mixed up a little but there is no denying that team USA looks very strong.
In the UK TV coverage starts at 11am on Sky Sports Golf. Follow live scoring here.