Liz Young held her nerve and holed some good putts to secure her second Rose Ladies Series title of the season with a three-under-par 68.
After a six-week summer break, the Rose Ladies Series returned for the final three events of the season. The course was in fantastic condition and it was a gloriously sunny day on Monday when 53 players took on the challenge of North Hants Golf Club, the ninth event in the 2021 series.
Rose Ladies Series founder Young, had only been back for a day following her T-27 finish at Lacoste Ladies Open De France on the Ladies European Tour as she shifted her focus to the one-day event. She was in the hunt for her second win after securing her first professional title at the second series event at Woburn in May and narrowly missing out in the following event at her home club Brokenhurst Manor, where she lost in a play-off to Becky Brewerton.
Going for The Slync Slam
There was an added drive for Young to win for a second time as this would make her eligible to compete for The Slync Slam – the £50,000 bonus that can be won by a player who has won two events in the series and then wins the final event at Bearwood Lakes.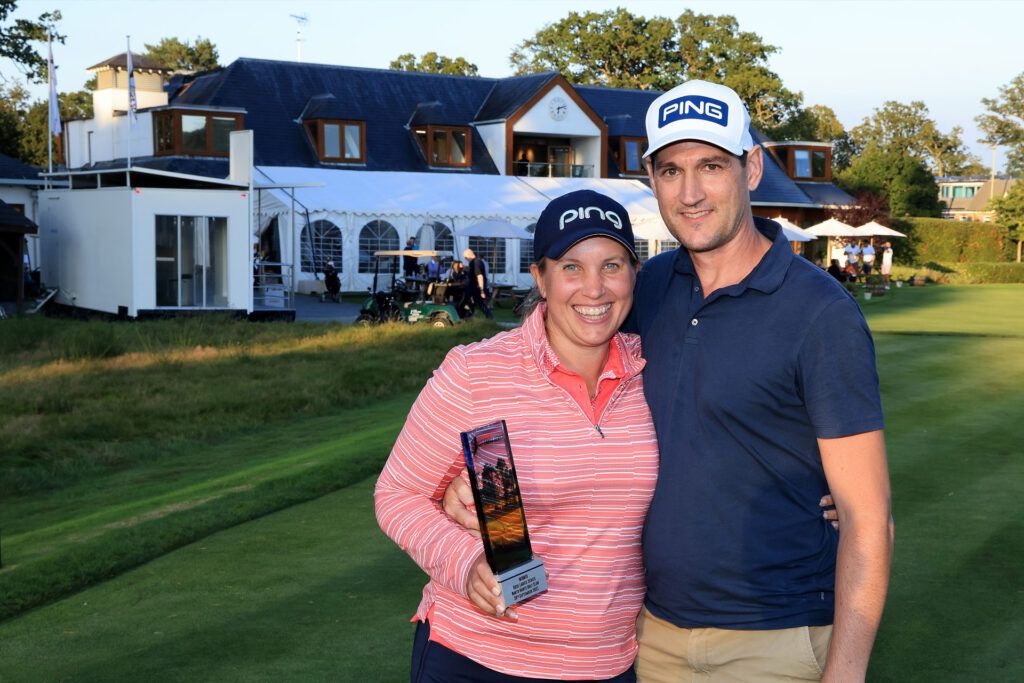 We spoke to Young after her win and she told us that she had fond memories of learning to play golf at North Hants. She admitted that she hadn't been great tee to green but that she had holed a lot of good putts which really made the difference. With husband Jonathan on the bag, she left him to read the putts as she had been struggling in France the week before.
It's a credit to their teamwork and by her admission his great green reading ability that she was happy to take his read and just trust her putting stroke. A card with six birdies and three bogeys, would attest to that too.
A tight leaderboard at North Hants
The early clubhouse lead was set by Emily Slater and England Golf's U18 Girls National Squad member, amateur Lottie Woad, who were playing together and shot one-under-par. Woad took to her social media afterwards saying:
"It was a great experience being in contention with the pros but in the end I was a couple of shots short."
After a bogey on the last to drop to three-under-par, it was tense wait for Young as Tara Mactaggart, a Scottish pro playing in her first professional event, was two-under-par after 13 holes. Mactaggart wasn't able to convert any of the remaining holes into a birdie or better, but was very pleased with the outcome of her professional debut. Afterwards, she said:
England's Bel Wardle, was also making her professional debut and finished in a respectable 11th place. She will be teeing it up, with Slater and Mactaggart at the penultimate event at The Buckinghamshire on Thursday.
Watch the highlights from North Hants
Young only had once chance to win
There was an added pressure for Young to get the win at North Hants as she has a family wedding that meant she would not be able to compete at The Buckinghamshire. She now goes into the final at Bearwood Lakes with a chance to win one of the biggest prizes of her career. How will she approach the final? "Just one shot at a time, like I always do. I know the strengths in my game and I just have to focus on 18 holes."
We'll be heading to The Buckinghamshire on Thursday to catch the action live. Becky Brewerton, Gemma Clews and Jae Bowers are all still in with a chance to get their second win so they can also contend for the bonus prize at Saturday's final with Young and Gabriella Cowley. It's certainly set to be an exciting penultimate Rose Ladies Series event.
See the full Rose Ladies Scores from North Hants here.