Inbee Park, Lydia Ko and Shanshan Feng are set to return to the Olympic stage to defend their Rio 2016 medals.
The qualification process for the women's golf competition at the Tokyo 2020 Olympic Games has been completed with today's publication of the final Olympic golf rankings.
The final Olympic rankings were taken from the women's world rankings after the completion of the KPMG Women's PGA Championship, where 22-year-old American Nelly Korda captured her first major championship and moved to world number one and top of the Olympic rankings.
Both the United States and South Korea lead the way with four qualified players, while none of the other 34 countries represented has more than two. The 60-player women's tournament will be held at Kasumigaseki Country Club August 4-7.
Korda jumped South Korea's Jin Young Ko and Inbee Park in the final Olympic rankings and is joined by Danielle Kang (No. 5), Lexi Thompson (No. 9) and older sister Jessica Korda (No. 13). Joining Ko (No. 2) and defending gold medalist Park (No. 3) are Sei Young Kim (No. 4) and Hyo-Joo Kim (No. 6). In addition to Park, 2016 silver medalist Lydia Ko of New Zealand (No. 10) and bronze medalist Shanshan Feng of China (No. 16) are qualified.
The next step is for the International Golf Federation (IGF) to send confirmation of the qualified athletes to the National Olympic Committees. The NOCs will then confirm use of allocated quota places to the IGF by July 1 and the IGF, in turn, will reallocate all unused quota places before the Tokyo 2020 Sport Entries Deadline on July 5.
Tokyo qualifying process extended
The women's rankings were to have run from July 8, 2018 through to June 29, 2020. However, following the postponement of the Olympics to 2021 due to the COVID-19 pandemic, the IGF and International Olympic Committee adjusted the qualifying system to where the athletes accumulated Olympic Ranking points through Sunday's conclusion to the major championship.
The top-15 world-ranked players are eligible for the Olympics, with a limit of four players from a given country. Beyond the top-15, players are eligible based on the world rankings, with a maximum of two eligible players from each country that does not already have two or more players among the top-15. The host country is guaranteed a spot, as is each of the five continents of the Olympics.
Final Olympic entries announced on July 6
Qualifiers for the men's competition, scheduled for July 29-August 1 at Kasumigaseki CC, were announced Tuesday, June 29 following Jon Rahm's U.S. Open victory. The Spaniard moved to No. 1 in the world with his win and topped the Olympic Rankings. He was followed by Americans Justin Thomas, Collin Morikawa, Xander Schauffele and Bryson DeChambeau, respectively, making the USA the only country with four qualifiers. As with the women, 36 countries are represented among the men.
The IGF will publish a final entries list of 60 names for both the men's and women's events on Tuesday, July 6, which will ratify all the competitors for the respective fields at the Olympic Games.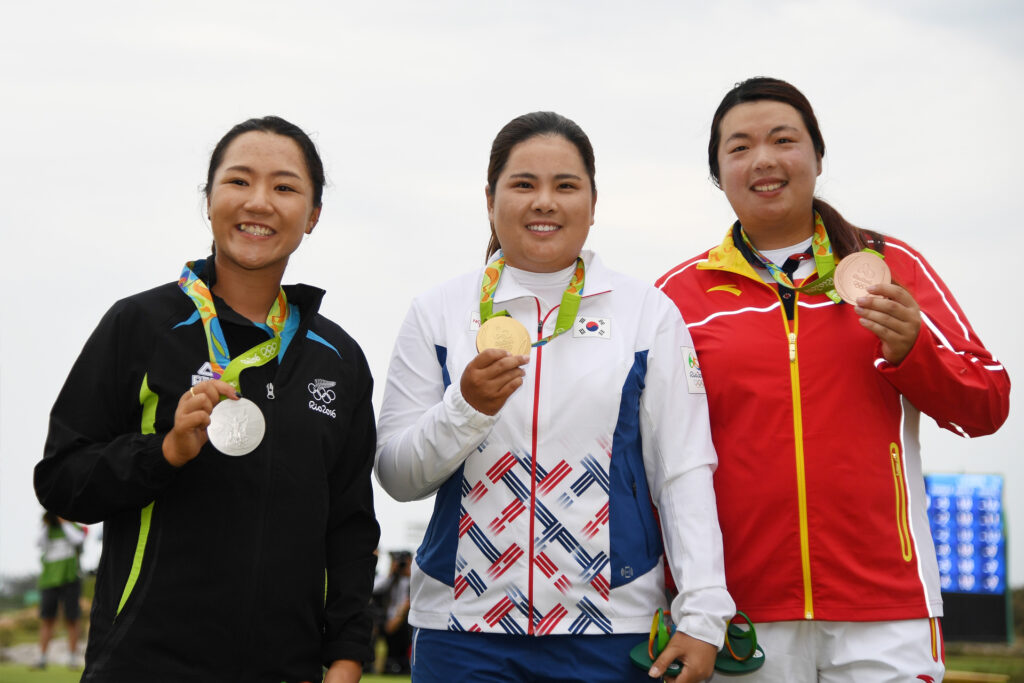 Who will be playing in Tokyo?
The medal winners from Rio 2016, Inbee Park, Lydia Ko and Shanshan Feng will be back on the Olympic stage unlike in the men's draw where Justin Rose, Henrik Stenson and Matt Kuchar did not qualify.
Just before the Olympic golf rankings were announced, Charley Hull posted to her Instagram that she will not be playing in Tokyo, she said:
"I've been thinking long and hard over the past few months about this year's Olympics and whether or not I'd be able to give my best performance given all the scheduling and travel challenges involved.
"Obviously it would be a huge privilege to represent my country but I have, very reluctantly, made the tough decision not to travel this year which has been very hard given all the amazing memories I have from my experience in Rio five years ago.
"I'll be following Team GB closely in Tokyo and wish them all the best of luck."
Since the announcement, Great Britain's Georgia Hall has also declined to take part citing the exhaustion and Covid-19 restrictions as playing a big part in her decision. She said the following on her Instagram story:
"I was honoured to have the opportunity to represent Team GB in Tokyo this year. However, it has been an exhausting schedule spending three months away from home and, with the current restrictions in place due to Covid-19, I feel it's the best decision for me not to go. I don't feel that going to Japan would allow me to prepare properly for the important few weeks ahead. I wish Team GB the best of luck in Tokyo and will be supporting them all the way. Georgia x"
Taking Hall's place will be Jodi Ewart Shadoff, who posted to Instagram about her excitement at representing Team GB: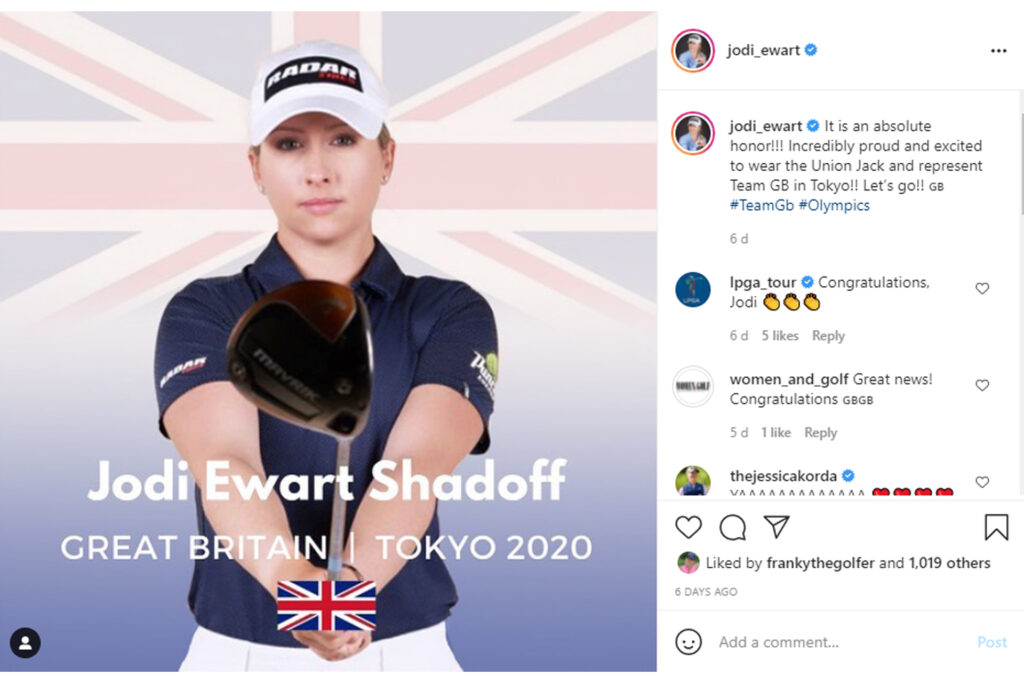 Women's Olympic golf competitiors
Argentina
Magdalena Simmermacher
Australia
Minjee Lee
Hannah Green
Austria
Christine Wolf
Belgium
Manon De Roey
Canada
Brooke Henderson
Alena Sharp
China
Shanshan Feng
Xiyu Lin
Colombia
Mariajo Uribe
Czech Republic
Klara Spilkova
Denmark
Nanna Koerstz Madsen
Emily Kristine Pedersen
Ecuador
Daniela Darquea
Finland
Matilda Castren
Sanna Nuutinen
France
Celine Boutier
Perrine Delacour
Germany
Sophia Popov
Caroline Masson
Great Britain
Melissa Reid
Georgia Hall
Jodi Ewart Shadoff
Hong Kong
Tiffany Chan
India
Aditi Ashok
Diksha Dagar
Ireland
Leona Maguire
Stephanie Meadow
Italy
Giulia Molinaro
Lucrezia Colombotto Rosso
Japan
Nasa Hakaoka
Mone Inami
Korea
Jin Young Ko
Inbee Park
Sei Young Kim
Hyo-Joo Kim
Malaysia
Kelly Tan
Mexico
Gaby Lopez
Maria Fassi
Morocco
Maha Haddioui
Netherlands
Anne van Dam
New Zealand
Lydia Ko
Norway
Marianne Skarpnord
Tonje Daffinrud
Philippines
Yuka Saso
Bianca Pagdanganan
Puerto Rico
Maria Fernanda Torres
Slovenia
Pia Babnik
South Africa
Ashleigh Buhai
Spain
Carolta Ciganda
Azahara Munoz
Sweden
Anna Nordqvist
Madelene Sagstrom
Switzerland
Albane Valenzuela
Morgane Metraux
Kim Metraux
Taiwan
Wei-Ling Hsu
Min Lee
Thailand
Patty Tavatanakit
Ariya Jutanugarn
USA
Nelly Korda
Danielle Kang
Lexi Thompson
Jessica Korda
See the full list of golfers who qualified for the Tokyo Olympics here.