Emily Pedersen and Lydia Hall have a share of the lead going into the final of the Saudi Ladies International, with Georgia Hall one stroke behind.
Since Thursday, we're sure that many of you have been escaping to the blue skies and turquoise seas of Saudi Arabia to watch the women compete before the Masters kicks off.
It's been absolutely brilliant so far and perhaps best of all, it looks highly likely that the champion of the first ever professional women's golf tournament in the Kingdom will be a British player.
So here's where things stand as we go into tomorrow's final...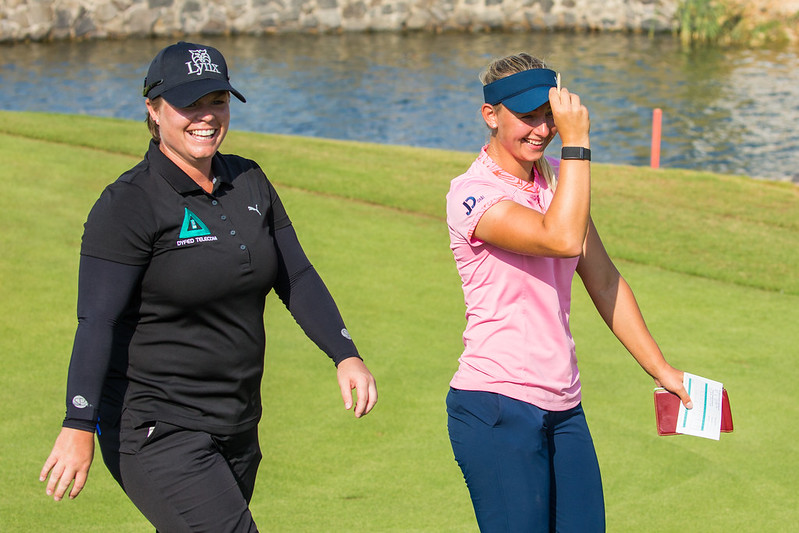 Emily Pedersen and Lydia Hall share the lead
The stage is set for a Sunday showdown at Royal Greens Golf & Country Club with super smiley Welsh star Lydia Hall and big-hitting Danish player Emily Kristine Pedersen locked together at ten-under-par after rounds of 69 (-3) and 71 (-1) respectively.
At the start of the day it seemed liked Lydia was on fire and nobody would be able to catch her.
Finishing the front nine in a spectacular 32 strokes she was as many as three strokes ahead of the rest of the field after securing her fifth birdie of the day on the short par three 11th hole.
Things levelled out somewhat after she slipped and recorded a couple of bogeys on the 12th and 13th holes, but after keeping up a steady stream of pars until the end she will go head-to-head with Czech Ladies Open LET Emily tomorrow.
If Lydia emerges as Champion of the inaugural Saudi Ladies International, it will be the biggest winner's cheque of her career with a total of $1 million in the purse.
Lydia said: "I got off to a fast start and holed a good putt on the 1st. Shaved the hole on the 2nd and made a really good putt on the third. The wind picked up on the back 9 and I had two bad swings all day.
"I'm pretty happy with the result and I'm looking forward to playing with the same group tomorrow again – it's going to be fun."
Emily wasn't quite her usual straight-hitting self out there today but she recovered expertly from some of the more wayward tee shots.
The 24-year-old said: "I'm really satisfied to still be in the lead after today, I was a little all over the place, hit some really awful tee shots and it is hard to score when you are not in the fairway. I kept grinding out there, I still hit 16 greens in regulation, but they are just not close enough."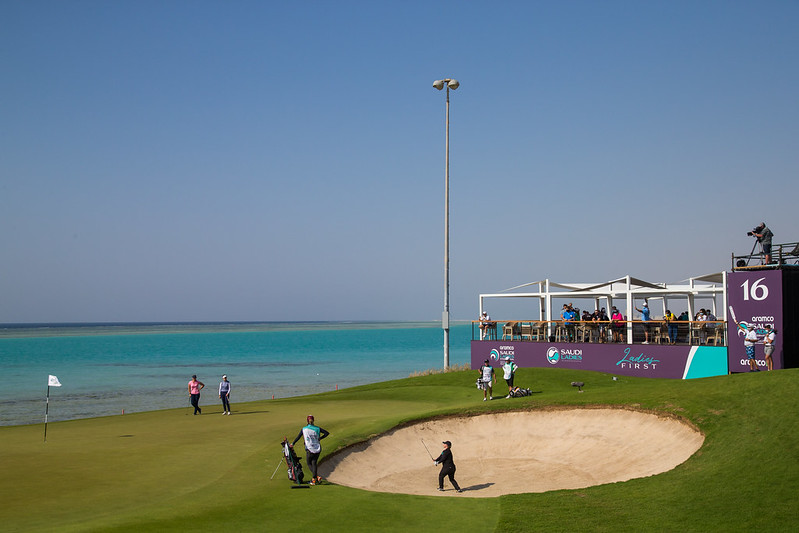 Another Hall is chasing behind
The overnight leader after Round 1, Georgia Hall is just one stroke behind Lydia and Emily at nine under.
Never one to be underestimated, she will be doing all she can to capture her first LET win of the season tomorrow.
It's a particularly special week for her to win, too.
Fun fact - Georgia is actually named after the state of Georgia where the Masters is held. Her Birthday falls in April during the traditional date of the tournament and her Dad wanted to name her in honour of his favourite event.
The Dorset-based star said: "I was very steady today. I thought I could have holed maybe one or two more putts towards the end, but my long game was really good. It was great playing with Lydia and Emily, I know them both very well. Me and Emily are good friends and it was just fun. I'm looking forward to the same three-ball tomorrow, all nice girls."
It really looked like they were having fun out there today and we're sure it will be the same again tomorrow.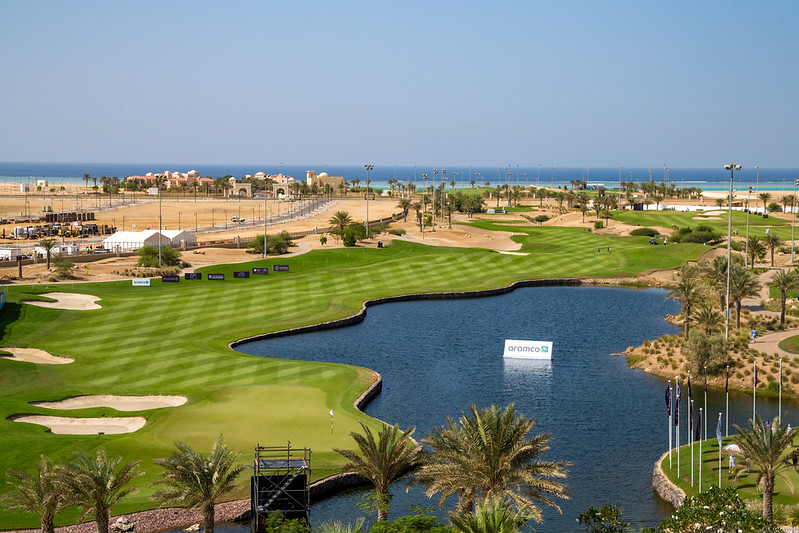 Carly Booth is the top performing Scot
Next to appear on the leaderboard from our home players was household name Carly Booth.
Now in her tenth season on tour, she finished T7 and four under with Charley Hull and Ellie Givens just behind her at three under.
Finally, one of our favourite stories of the tournament has been how well Laura Davies has been playing.
Proving that class and skill can last forever she shot another super round of 71 leaving her two under and T17.
Round 3 of the Masters has a lot to live up to if it wants to top this incredible display of hard work and talent.
You can watch the final tomorrow from 10am to 1pm on the LET's website and see the full leaderboard HERE.