An exciting finale to the KPMG Women's PGA Championship lies ahead where Lizette Salas and Nelly Korda hold a five shot lead.
The final round of the KPMG Women's PGA Championship is looking like it will be a duel between two players on the Highlands course at Atlanta Atheltic Club – Nelly Korda and Lizette Salas. Both are -15 and five shots clear of their closest competitors Patty Tavatanakit, Giulia Molinaro and Celine Boutier.
A third round of 68 and 67 for Korda and Salas, saw early birdies set the scene for how the final round may play out and how they can bring the best out of each other. Korda hopes that will be the case but knows that nerves are likely to come into play, she said:
"I don't know, I guess on No. 1 Lizette drained a really long putt and I had a decent look at birdie, and I think when you get into that mindset of kind of egging each other on, it's fun, but it's also nerve-racking. Your adrenaline definitely gets up there."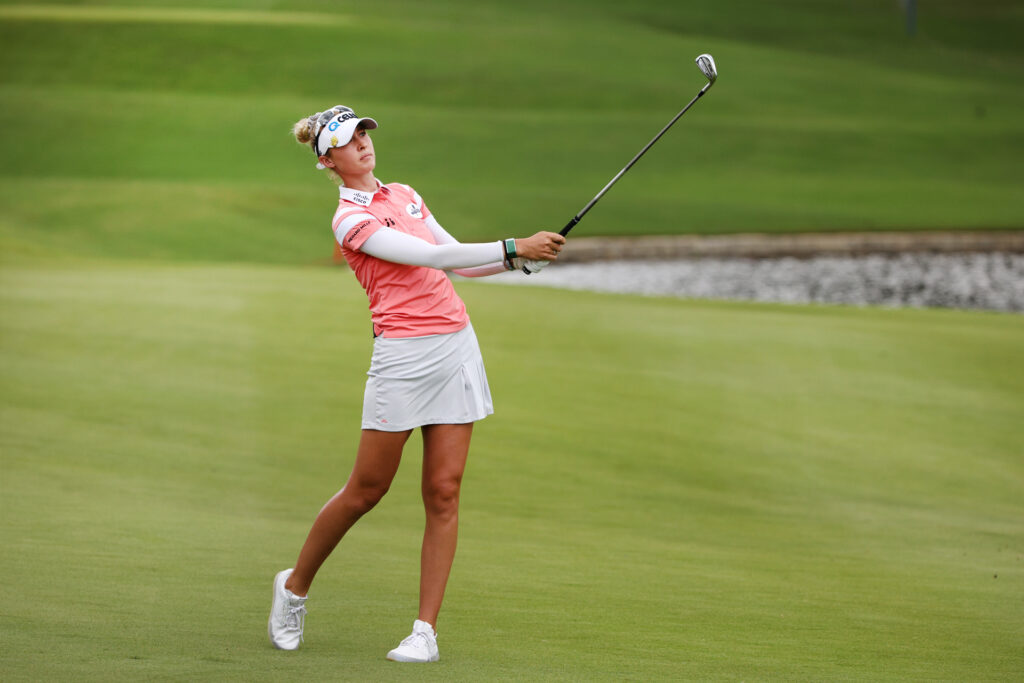 Two players, two different approaches
They may be complimenting each other when it comes to holing birdies but that is where the comparisons in their game play stop. Where Korda plays quickly, Salas is slow, Korda long off the tee, Salas shorter. Sticking to their game plan is going to be key during this final round, the 22-year-old Korda said:
"You just stick to your game plan and you kind of don't sway from it because it's very easy to do that when you're draining putts on top of each other. You tell yourself that there's so much golf left that you can't win on a Saturday but you can definitely lose it."
Salas is comfortable with not being one of the longer hitters and feels it can be an advantage to hit first off the fairway, she commented:
"Well, knowing that I'm not the longest hitter, I think I'm used to that. I think I'm just so comfortable in saying, you know what, I'm going to hit first, and knowing my game. I'm not thinking about it as a match play setting. I'm more of let's just play boring golf and let's give ourselves good looks at birdie. My hybrid game is pretty good at the moment, and you could look at it that way, that I am applying pressure or something like that, but I'm just sticking to my game plan and what I'm comfortable with, and yeah, it's been resulting quite well."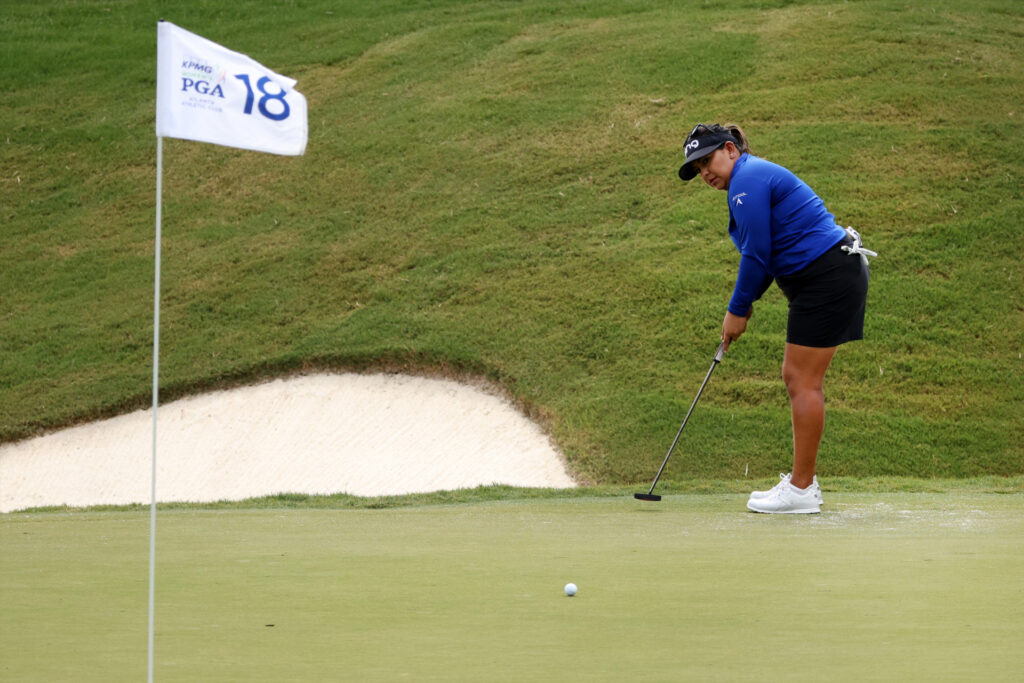 Keeping controversy at bay
Let's hope that it isn't a case of boring golf and that slow play doesn't become the talking point of the day. Major controversies seem to happen a lot more in the women's game and we would hate for that to distract from what should be an excellent final round at the KPMG Women's PGA Championship. Korda wasn't too concerned by the pace of play on Saturday, but Sunday will move from three to two balls and with it being the final round of a major issues around this may become more prevalent.
Talking about slow play, in particular, Korda hopes that it won't affect her game, she said:
"I mean, it's definitely made it difficult before. There's days that are easier than others. When you're playing well, it's not that bad, but when you're not necessarily playing so great, you get a little ticked off for sure. But make making sure you and your caddie have a good game plan and just talking about something other than golf helps a lot."
Major Sunday momentum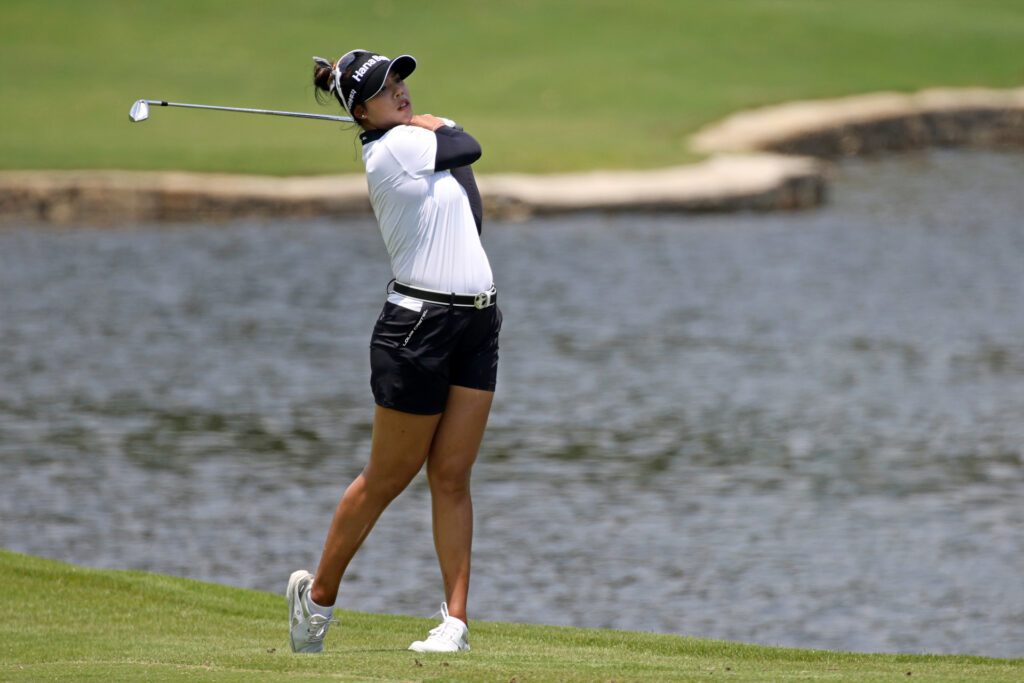 We're pitching this a battle between two players but with ANA Inspiration champion, Patty Tavatanakit in the hunt after scoring her low round of 65 on Saturday and she is right in the position she wants to be:
"Not going to lie, I feel like chasing more than I love just having the lead because I like the feeling of just chasing. I have something to look forward to or just look up to all the time."
Korda is also well aware that you never know what can happen, it's major Sunday after all:
"Yeah, I mean, you still have 18 more holes, a lot of golf left out here, so anything can happen. Someone from behind can come and shoot a really low score. You just never know with golf, and that's the beauty of it."
View the full KPMG Women's PGA Championship leaderboard here.
You can watch live coverage of the KPMG Women's PGA Championship live on Sky Sports Golf from 5pm and for free on their YouTube channel from 7:30pm (BST) here.