Hull in contention after round one of the KPMG Women's PGA Championship as talk turns to mental health struggles
England's Charley Hull shot a four-under to hold second place on her own heading into the second day of the KPMG Women's PGA Championship. At times she made the course look easy as she racked up six birdies and two bogeys for a 68. Reflecting on her round she said:
"Yeah, I played pretty solid. I feel like I'm in a good head space at the minute, just out there having fun. I could have been lower, but then I holed some good putts, as well. It was good.
"I can't actually remember much of my round today. I just felt quite focused. I wasn't even sure of my score until I looked at a leaderboard."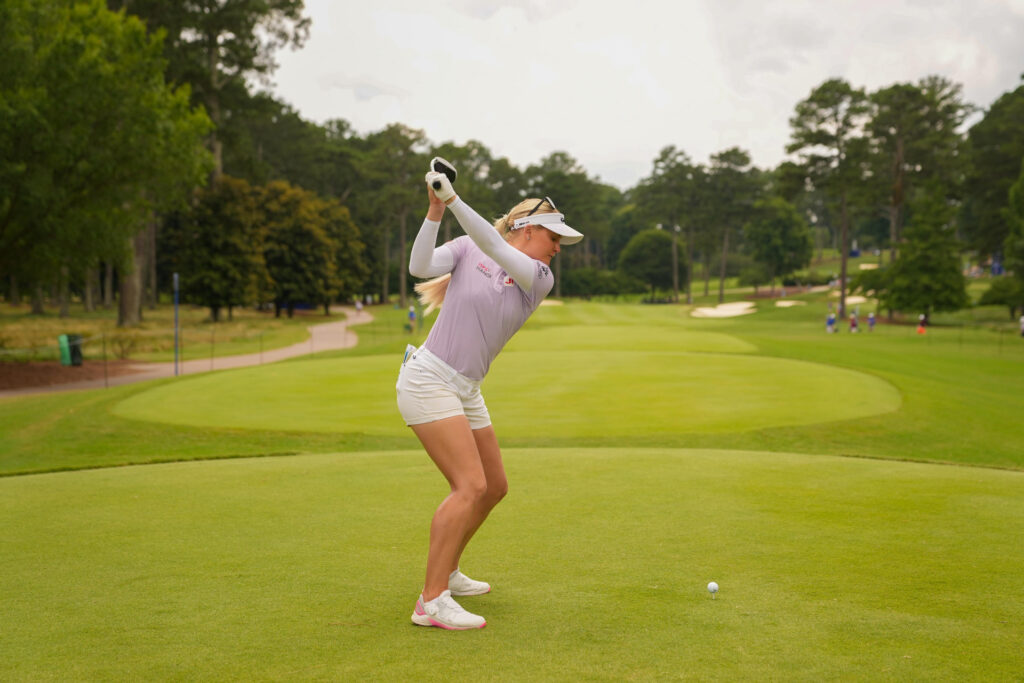 Hull is heading home
In three days, she will be heading back to England to see her family and this may prove to be the motivation that the 25-year-old needs to produce a solid performance this week. Being on the road under normal circumstances is hard but even more so during the pandemic, is understandably difficult for players. She explained:
"I'm going home Monday, so I can't wait to see my friends and family. But just out there enjoying it. I've been suffering a little bit with like being out there, being away from my family for so long sometimes, so I'm just out there trying to enjoy it as much as I can."
Mental health struggles
Sitting at the top of the KPMG Women's PGA Championship leaderboard is Lizette Salas, the American shot a bogey-free five-under par around the Highlands course at Atlanta Athletic Club, which was playing at 6,710 yards in the first round. Salas came into the week after finishing sixth at the Meijer LPGA Classic and her form has been improving after finishing 23rd or better in her last four events.
After her round she opened up about the mental struggles she has experienced due to the pandemic. She said:
"To not get in a lot of detail, it was a combination of things. I really didn't like myself in 2020, and I think with the whole COVID and not being able to work and have golf as my outlet, that really hit hard.
"That was a really tough year for me. It was probably one of the lowest points of my career mentally, but I am so lucky to have a strong backbone and team to just be there for me."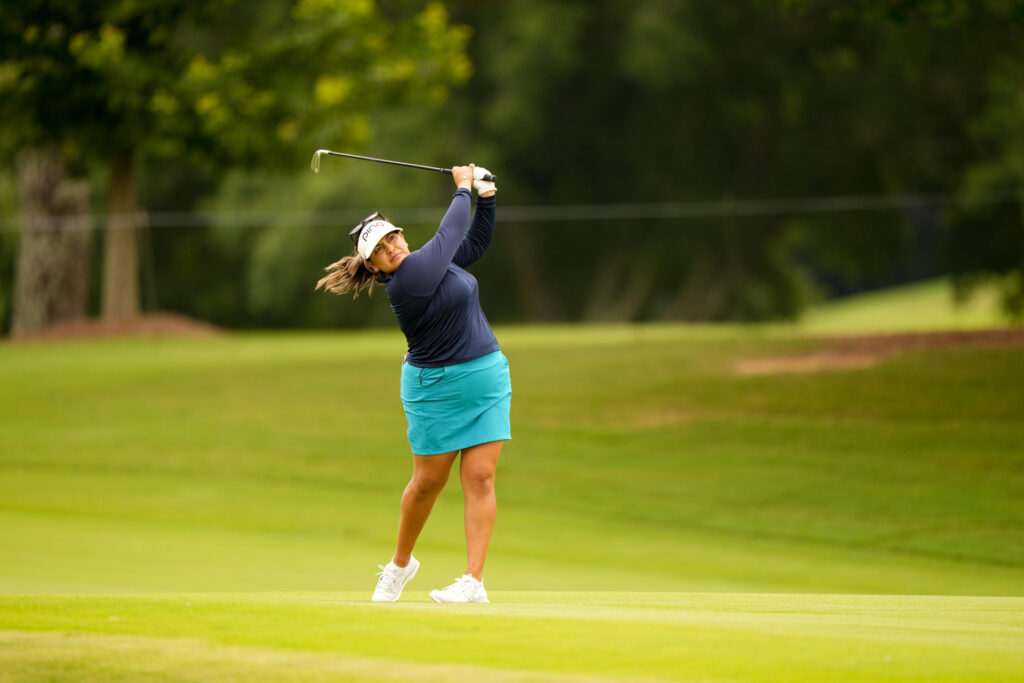 Salas getting her game back on track
The 31-year-old as talked about how she has tried to get her game back on track, she said:
"Well, at the beginning of this year, we started with a goal with a plan, and sometimes that plan kind of gets worse before it gets better, and probably right before Pure Silk, I really analyzed my game and really talked with my coach and my trainer and what we really need to do.
"I know these courses are tough, and I still believe that I could play well in these big events and contend, and I think that's more so the shift in everything is that self-confidence, and I'm not afraid to be out here anymore. It's fun. Even though some days aren't as nice as others, you can always learn from it and bounce back."
Alena Sharp remains grounded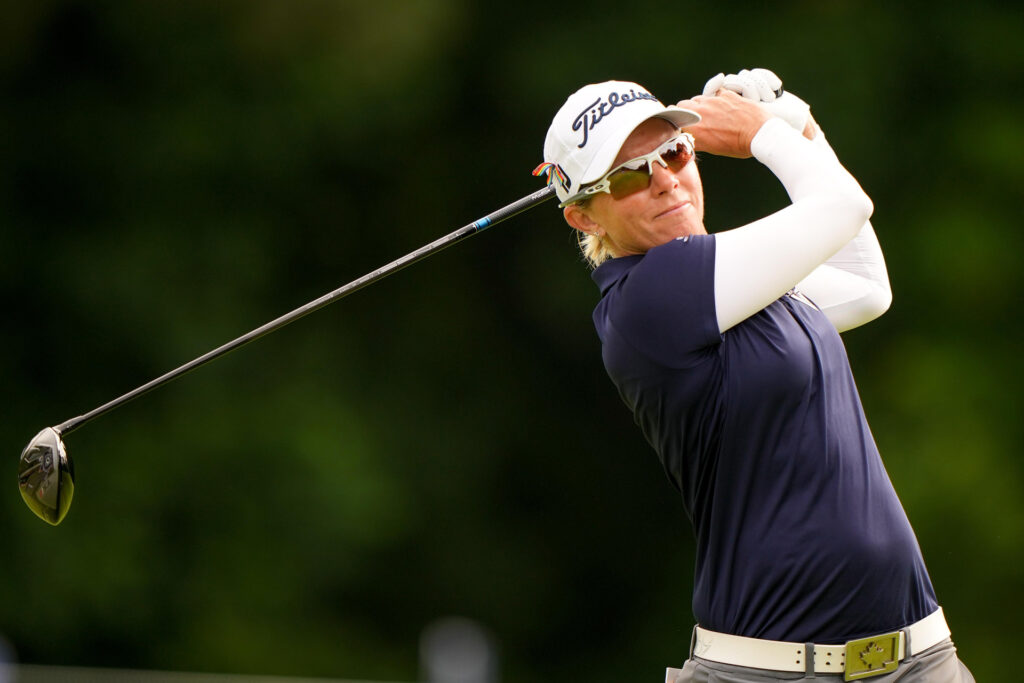 Canadian Alena Sharp is in an unusual position tied for third at three under, it has been a tough year with her best performance being a tied 31st at the Pure Silk Championship in May. She hopes that working with sports psychologists will help to keep her grounded and in the moment, so that she does not let her nerves take over. The 40-year-old also speaks to Sarah, her wife and caddie, about how she is feeling whilst out on the course. She said:
"Well, I could feel myself getting too much into the future, so I took some deep breaths. I'm working with a new sports psych, two of them actually, and just got to be grounded. I just used my senses. I listened to the birds and the wind and really could feel the ground under my feet. I also talked to Sarah about it. I said, I'm getting nervous. I haven't been in this position in a long time. So that was really helpful just to kind of stay present, and that's one of my big keys the rest of the year is be committed to every shot and be present."
Talking of her mental struggles on the golf course Sharp added:
"I think we maybe sometimes avoid saying the obvious thinking we're going to get over it, but I think I've learned over this year, because it's been a struggle, that it's better for me to say that I'm nervous and I'm not feeling great over the shot, so then if Sarah can help me, she can help me. If not, I can get back to the present and just get it out. Instead of thinking over and over, getting it out kind of lets it out and then you can get on with it."
It's time to talk more about mental health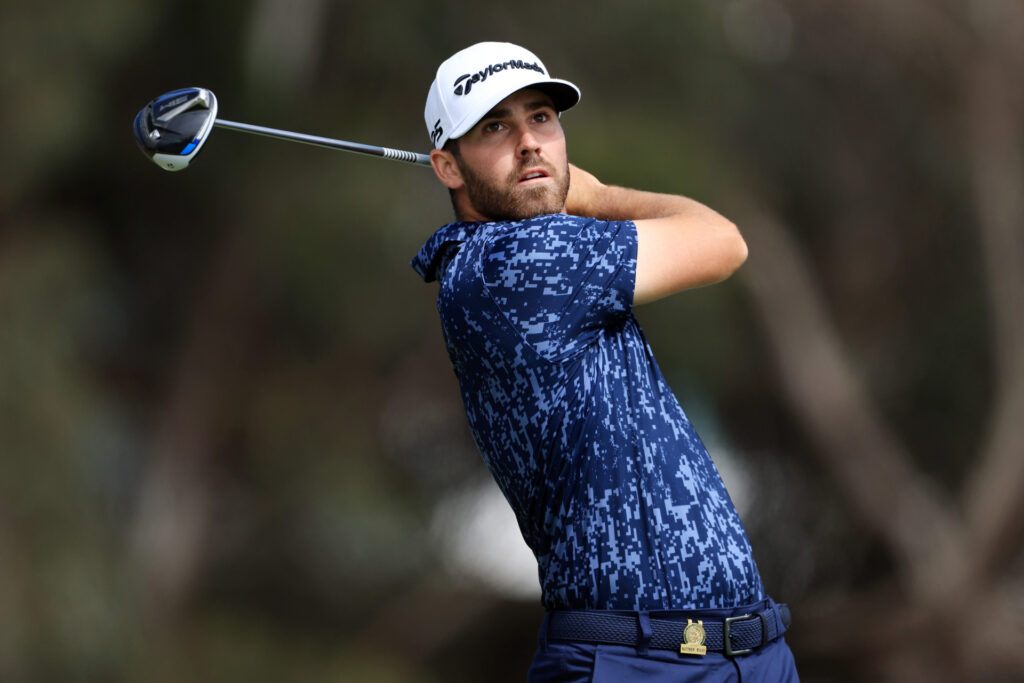 There has been a lot of discussion around mental health in elite sportspeople, including the likes of Naomi Osaka and it was at last week's U.S. Open that Matthew Wolff talked about his own experiences. He told Sky Sports:
"I'm not trying to draw attention to myself specifically, I'm just trying to draw attention to mental health.
"It's extremely important. With all professional athletes, you think that these people just have all the money, all the fame and everyone looks up to them like they're gods or whatever.
"It's like 'how can these people have problems?' I'd say on a good month, we spend two weeks in our bed and a lot of these people have families out here. There's just a lot of things we have to deal with that most people don't have to.
"Even though I come out here every day and try to be strong, I just wasn't strong enough for what I was going through. It's been really hard but I've been battling back, been trying to be happy and I feel like I've done that this week."
View the full KPMG Women's PGA Championship leaderboard here.