The champion of the inaugural Saudi Ladies International is just one stroke off leader Luna Sobron Galmes at the end of Round 2 in the teams event.
It was another predictably brilliant day over in Saudi Arabia and it was great to see the players having some fun, relaxing and relishing the new team format.
Fingers crossed we see more cool team events like this in the future!
Here are the highlights from Round 2...
Luna takes a one-shot lead
Spain's Luna Sobron Galmes made a sensational move to the top of the individual standings at the Saudi Ladies Team International, firing a course-record equalling 65 (-7) to take a one-shot lead from Denmark's Emily Kristine Pedersen at ten-under-par.
Still looking for her first win on the LET the 26-year-old said she actually liked playing in the wind, the very element that was putting so many of the other players off.
She said: "I hit the ball really good. I think I only missed one green. The key to my round was the putter. On the 17th I holed out from 73 metres on the fairway, which was really nice. I'm very happy with my round. I feel like you have to be accurate with your long game on this course and luckily I like to play with the wind, which I did yesterday and last week."
Her round of 65 equals the course record set by Georgia Hall last week and it follows on from a brilliant few weeks for the player. She finished sixth last week and also won on the LETAS last month after enduring a gruelling eight-hole playoff.
We wish her the best of luck for tomorrow!
Emily eyes a triple win
Not content with winning the inaugural Saudi Ladies International on Sunday, Emily is continuing to fire out birdie after birdie.
Her team are leading by two strokes at 27 under par, and after shooting five birdies and one eagle today, with Luna only just holding a one-shot lead ahead of her in the individual rankings, it's not impossible that she could make a clean sweep and win all three titles.
If she manages it, surely that would be one of the most impressive things to happen on the women's tour in a long time...
Her team, which includes Scotland's Michele Thomson and South Africa's Casandra Hall, hold a two-shot lead at 27-under-par from Team Nututinen.
Emily said: "We are keeping our spirits high, making lots of birdies and we are looking great for tomorrow. My focus is on the team this week and I am going to do my best regardless, for the team or the individual, and I hope I can keep making birdies and we can get it done as a team tomorrow."
Meanwhile, Scottish teammate Michele seemed thrilled to be playing with the Saudi Ladies champ. "We are loving playing together and having a good time," she said.
"It's a great new event and we are here for Emily to make all the birdies and we are here to make all the pars. I don't think she realises how nice it us for us to be part of her team, it gives us a confidence boost that she picked us and we're looking forward to tomorrow."
What a lovely thing to say!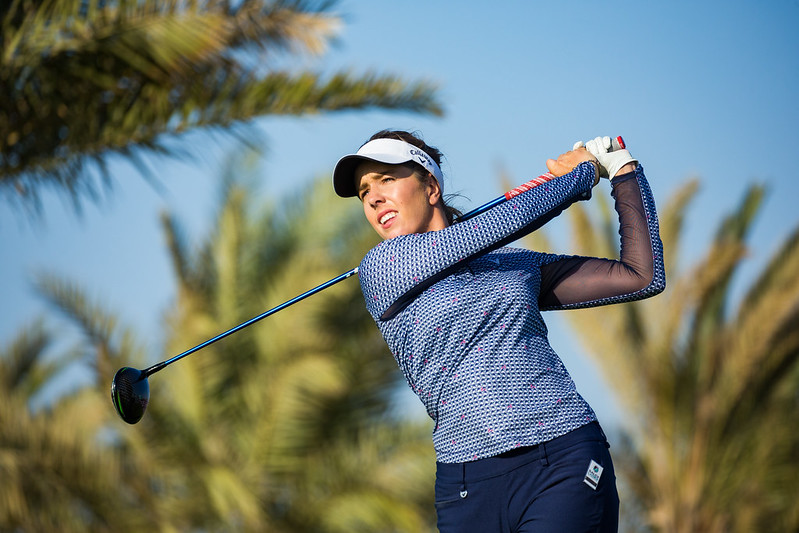 Georgia is back on form
After finishing Round 1 with an eagle, Georgia Hall was definitely back on form today.
Like Luna, she also shot a course record-matching round of 65 and she now sits in T6, one behind fellow Englishwoman Charley Hull, who signed for a round of 69 to sit in solo fifth.
The 24-year-old admitted that in Round 1, where she carded a very un-Georgia like round of 75 and three over, she wasn't really feeling it.
"It was a little bit hard putting the disappointment of last week behind me, especially with such a quick turnaround. I had a day off on Monday then all of a sudden I'm back into another event. It's obviously quite a different format of things and to be honest my really head wasn't quite in it yesterday. The wind was the worst we'd had it since we've been here yesterday, so it was a tough day," she said.
But thankful, she's now made her peace with just missing out on the title last week.
"I took my eagle on 18 yesterday as the hole just giving me back a couple of shots for what happened in the individual tournament last week! I managed to carry on that momentum into today," she said smiling.
You can see the full leaderboard HERE.