Team Buhai triumph in play-off against Team Strom as Alison Lee wins individual event at Aramco Team Series - Sotogrande.
The unique Aramco Team Series event returned for a second time this week in Spain after the successful first event at Centurion Club in July, where Team Cowan took the crown.
This time it was Team Buhai who clinched victory at the Aramco Team Series – Sotogrande after they beat Team Strom in a one-hole play-off at La Reserva Club Sotogrande.
After starting the day one stroke behind, Ashleigh Buhai, Stacy Lee Bregman, Hayley Davis and amateur Ignacio Morillo produced a thrilling back nine as they combined to finish with a total of 35-under-par.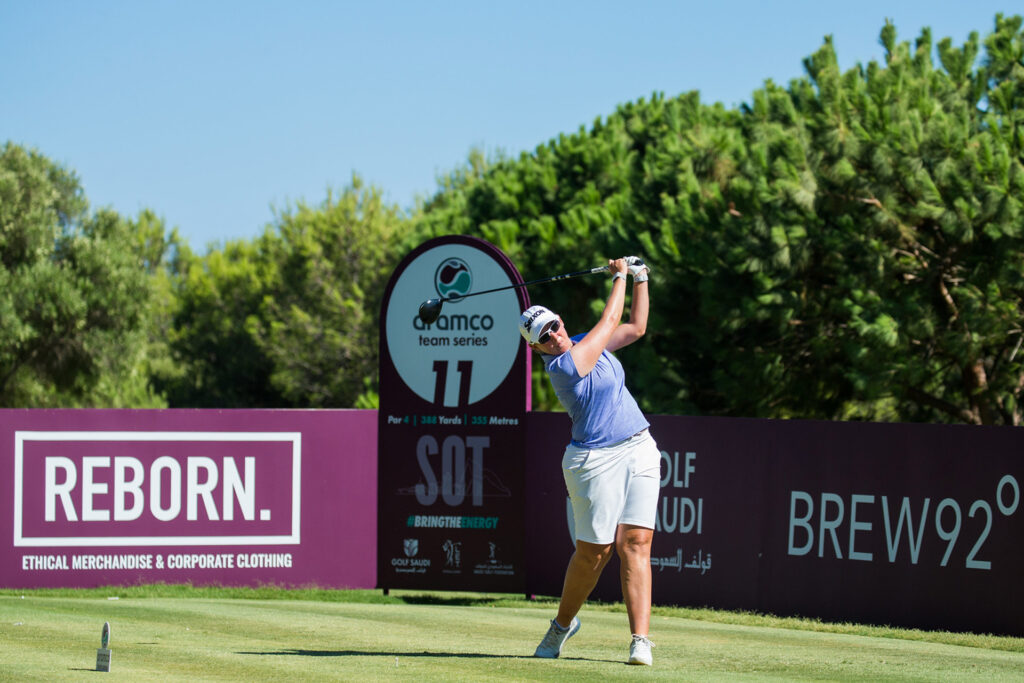 Once a play-off was confirmed, captain Buhai headed back down 18 and made a par to secure her fourth LET victory, while it was a first LET title for Bregman and Davis. Buhai praised her team:
"It was a team effort; we all pulled our part this week. Me personally, I turned even, and I thought okay I have got to get something going now if we're going to have a chance and luckily, I managed to do that and went four-under-par on the back nine.
"Ignacio was great, such great company. He was a little nervous today, but he came in when we needed him, and I think he really enjoyed it too."
Bregman secured clubhouse lead
Bregman made an incredible final shot on 18, rolling in a putt from behind the green, to make a birdie and put her team in the clubhouse lead. Commenting on the shot, she said:
"I have been practicing, I had a feeling I was going to use that shot at some point and I used it twice this week. I actually nearly holed it on nine doing it and I said to my caddie 'this is the absolute perfect shot for this little hybrid' and when I hit it, I knew that it was good and it was a magical moment. It is one of those things… it's surreal. I'm just trying to gather my thoughts on it."
"It was a once in a lifetime experience"
Davis explained:
"It was a lot of fun. It was cool, it was great playing as a team and all of us came in when we needed to. It has been a great week. We were a bit slow on the front nine and we knew we had to get going on the back nine and we did. It was so much fun – I loved it!"
Morillo added:
"What can I say! It was a once in a lifetime experience. These girls are incredible, they have been so nice to me, and I couldn't be more pleased for them."
After holding the overnight lead, it was Team Strom who finished in second place as captain Linnea Strom made a bogey in the play-off.
Team Hull claimed third place on 34-under-par with Team Macdonald and Team Pace one shot further back and tied for fourth.
Alison Lee wins first professional title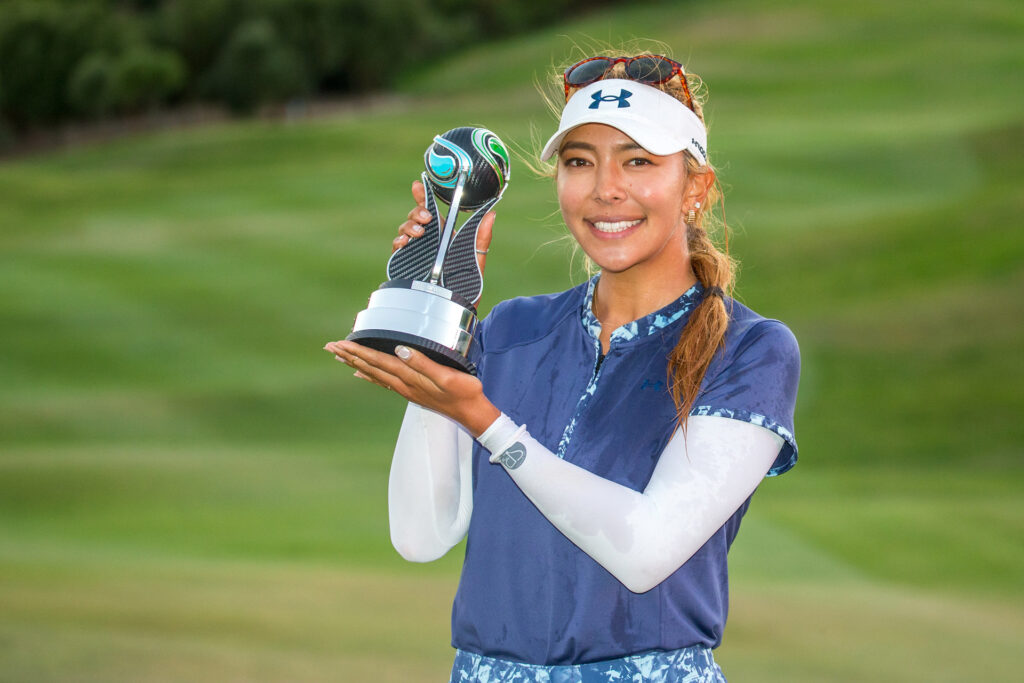 In the individual standings, American Alison Lee stormed to a five-shot victory and captured her first win as a professional. The 2015 Solheim Cup player, really enjoyed the unique event:
"It was a lot of fun. It didn't really sink in until my friend Lindsey [Weaver] came over. It still doesn't feel right thinking that I have won my first event as a pro due to the format and not knowing what the other girls were doing. I'm so glad I came here. This is my first time in Spain, playing on the LET, I'm so happy with my decision.
"I have been through a lot with golf. There were times when I just thought about giving up and a few years where I would lose my card and have to go back to Q School. My parents have supported me so much. I can't wait to call my parents."
After carding rounds of 65 on the first two days, Lee produced a solid round of 71, one-under-par, which included four birdies and three bogeys to clinch the title.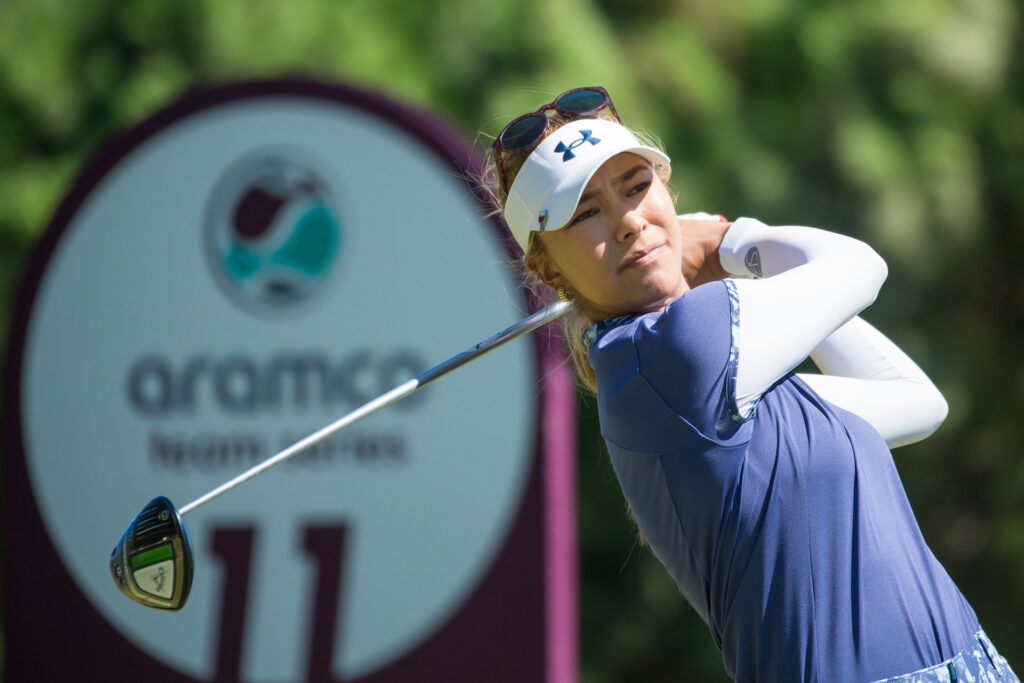 Lee added:
"A seven-shot lead coming into today, I didn't want to think about it too much and get ahead of myself. It was another difficult day because of the wind, it felt like it was going harder today. I did my best to take it one shot at a time and stay confident, not get too down on myself and try and make as many birdies for the team. I feel like I could have played a lot better today, but it was definitely playing pretty difficult out there, so happy with my round."
Buhai finished second in the individual tournament on 10-under-par with Germany's Karolin Lampert in third place and Australia's Stephanie Kyriacou in fourth.
While English duo Charley Hull and Bronte Law ended the tournament in fifth and sixth place, respectively.
In the 2021 Race to Costa del Sol, Atthaya Thitikul still leads with 1,693.25 points but Kyriacou jumped up to second place and now has 1,164.36 points to her name with Sanna Nuutinen in third.
The third Aramco Team Series event will take place October 14-16 in New York.
View the full leaderboard here.