Team Law backed up an impressive first day by shooting 16-under-par in the second round of the Aramco Team Series – New York.
With an early tee time, Team Law headed into the second day on 15-under-par and set the pace this morning producing an even better round on Friday at Glen Oaks Club.
The quartet of Bronte Law, Kelsey Macdonald, Amy Boulden and amateur Jordan Ziegler have gelled together nicely throughout this week and sit in pole position on 31-under-par heading into the final day.
Team Captain Law said:
"We gelled really well again. When one of us wasn't making birdie on one hole, the others were making birdies and we're one shot better than yesterday. Maybe we can go one better again tomorrow. Winning is always fun, that's everyone's goal here but we're going to have fun before anything else."
Shot of the day from Team Law
According to the team, the shot of the day was Macdonald's birdie on 16 which had Law and Boulden celebrating by the green. Law added:
"I have never seen a putt quite like it in my life! Kelsey played awesome today."
Boulden explained:
"It was at the back of the green and downhill. It's hard to keep it on the green, it's that fast. Me and Bronte were behind the pin watching it and I was saying it was in."
"There was quite a swing on it and the moment I hit it, I knew pace wise it had a chance but if it's not in the hole it's 10-feet past. It was quite nice seeing team-mates behind it watching and celebrating," admitted Macdonald.
One stroke behind the leaders in second place is Team Pace, who also fired a round of -16 with no bogeys making it to the team scorecard on day two.
Other teams close behind
2021 Investec SA Women's Champion Lee-Anne Pace is playing alongside Austria's Christine Wolf, Norway's Karoline Lund and amateur Michael Muenchow.
Captain Pace said:
"The game plan is the same. We have played pretty aggressive all three of us and Michael as well – he is a really long hitter. We're not really too focused on the individual score and are going for the birdies and putts, so we're probably more relaxed."
Three teams are tied for third at the end of the second day with Team J Korda, Team Strom and Team Popov all on 29-under-par.
Jessica Korda was pleased with the collective effort of her team with Karolin Lampert, Lina Boqvist and amateur Alexandra O'Laughlin all contributing. Korda said:
"Today was very much a team scramble. Early on we birdied quite a few holes, someone was making a birdie on every other hole and a lot of clutch pars definitely
"The greens are faster and tougher. It was a complete team effort today. We just hope to do the same thing, we have a fun time out there and keep it loose."
Nelly Korda top of the individual standings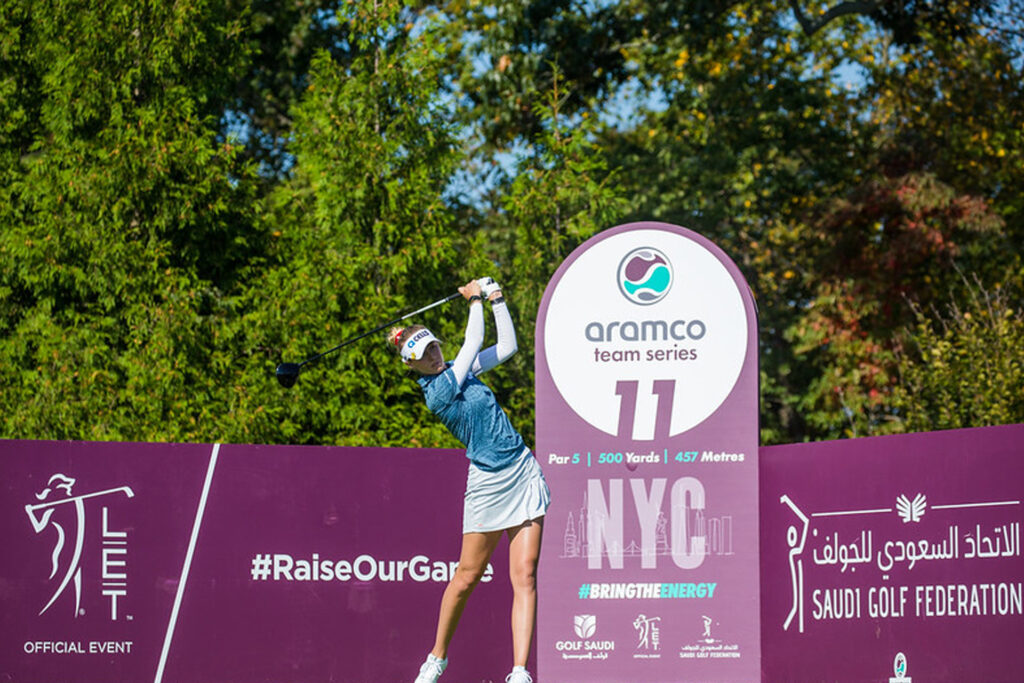 It is Jessica's sister Nelly who is top of the tree in the individual standings after firing a round of 66 (-6) to put herself on nine-under-par for the tournament.
The world number one got off to a good start when she holed out on the fourth and followed that with six birdies in her next 11 holes.
Despite dropping two shots in her last three holes, the younger Korda sister is enjoying her time at the Aramco Team Series – New York.
"I actually holed out on the fourth hole, and I think that started my day a little and I made a couple of birdies from then on in thanks to a lot of good wedge shots. I made a mistake hitting driver on 18, I had a bad lie and then I tried to be smart with it but then I didn't get out of it correctly and was in the rough again.
"I'm going to go with the flow and stick to my game plan and not hit a driver on 18 and see how it goes! I like the event. It keeps it a little easier out there. You're playing not just for yourself but for a team too which is cool. It's new but I enjoy it a lot. It's fun and you get to bond and grow closer with the girls you're playing with and get to know them too."
Alison Lee looking for a second Aramco Team Series title
Sitting one shot behind Korda on eight-under-par is fellow American Alison Lee, who clinched the individual title at the Aramco Team Series – Sotogrande.
Lee produced a bogey-free round of 67 (-5) to move herself into contention for another title with one round remaining.
"My game has been really good. I have been hitting it really accurately today and a few more putts dropped in which was nice. I feel that's the key out here, you've got to hit good approach shots to have a good look at it to make birdie. I saw a few lip outs but I can't complain with a round of five-under," said Lee, who is playing alongside Catriona Matthew, Trish Johnson and Michael Minto.
"I feel really comfortable out there with this format. You're playing as a team so I'm not thinking about my personal score and the whole game plan is to play aggressively and make birdies for the team and I feel like having that kind of mindset has really helped my game."
After winning her first title as a professional in Spain, Lee acknowledges it would be nice to put another victory next to her name.
She added: "It would be really cool to win, I was able to win this event back in Spain so being on the leaderboard right now I'm looking pretty good in terms of my score and just need to do tomorrow what I did today."
Three players are T3 on seven-under-par including American duo Lindsey Weaver and Danielle Kang plus 2021 Jabra Ladies Open champion Pia Babnik.
Another three players are on six-under-par after 36 holes – three shots off the lead – with Law, Sophia Popov and Pauline Roussin Bouchard in T6, while Jessica Korda and Charley Hull round out the top ten on five-under-par.
View the full leaderboard here.
Watch live coverage of the final round at Glen Oaks from 7:30pm on Sky Sports Golf or their YouTube Channel here.