Team Cowan move to the top of the team leaderboard at the Aramco Team Series - London and Georgia Hall shot a course record to lead the individual competition
Olivia Cowan praised her team-mates after their birdie blitz saw them surge to the top of the leaderboard in the $1million Aramco Team Series - London at the Centurion Club.
Cowan, fellow German Sarina Schmidt, India's Diksha Dagar and amateur Andrew Kelsey moved to 29-under-par as they stepped up their search for the lions' share of the $800,000 on offer for the team tournament.
That left them two clear of Team Simmermacher with a further two strokes back to third-placed Team Williams.
Cowan and her team-mates began a couple of shots off the pace but wasted little time in making their move. Under a format in which the top two scores on each hole count towards the team tally, they picked up shots at regular intervals through the opening nine.
Working as a team
In particular, Schmidt and Dagar remained on the front foot after turning for home, with the latter sinking a bomb from the front of the green on the 16th. Cowan said:
"My team-mates carried the team today. They were rolling in so many putts – I was just on the sidelines! No, we did great today and hopefully it will be the same tomorrow as well.
"We're going to do the exact same as we have been doing the last two days. We're just going to go and have fun – have a great time out there, hole some putts and hopefully get the trophy at the end.
"I don't think there will be pressure as there would be in a normal individual event because we are there as a team – all there to support each other. So we're all doing it together. If someone is struggling, we'll try and help them out. I think it will be interesting tomorrow."
Course record for Hall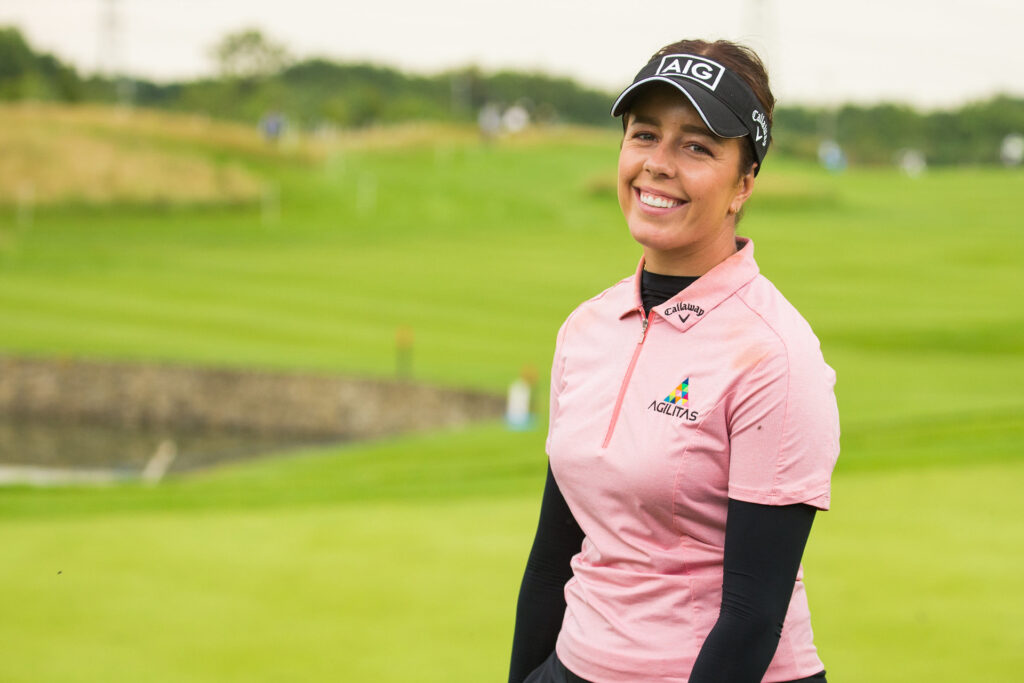 Georgia Hall lit up the race to finish leading individual with a stunning nine-under-par 64, grabbing a narrow lead.
On a weekend when the England football team will bid for Euros glory, Hall has her sights set on recording another home win. The Bournemouth golfer, 25, sits at 11-under-par – one clear of talented Thai teenager Atthaya Thitikul.
Hall, whose team are tied 16th on 18-under, took advantage of the perfect early-morning conditions, notching four birdies in the first six holes. She stepped up the charge at the par-4 eighth, holing out for eagle and a second eagle arrived at the uphill par-5 13th where she nailed a 3-wood onto the green and then sank the resulting 20-foot putt.
Hall's flying form saw her have a tap-in birdie on the 17th and she kept her card clean by pulling off a brilliant up-and-down from deep greenside rough at the last hole.
Hall pleased to be back playing in England
The 2018 AIG Women's Open champion said:
"It was a bit more drama than I wanted on the last hole but I was happy to get a par.
"I played really well and managed to hole some good putts. I actually hit it really close – my long game was much better today. I'm really happy with how I'm playing. I came into this tournament with good form – hopefully that will continue tomorrow.
"It's really nice just to be in England and see some English crowds and play on an English golf course. I don't get to play here very often, so it's really nice to be at home."
Hall's nearest challenger is Thitikul but Norway's Marianne Skarpnord is only three off the lead after a superb eight-under-par round of 65.
As the clouds gathered towards the end of a steamy day, Kim Metraux produced a moment of magic at the short 17th. The Swiss bagged an ace, her first in a professional tournament, with a perfect 9-iron from 128 yards.
It was a masterful stroke from Metraux and there will be more on Saturday when the Aramco Team Series - London at Centurion Club is set to come to a thrilling conclusion.
Follow all the live scoring here and you can watch Live coverage on Sky Sports YouTube and Sky Sports Mix from 1:30pm (BST). Watch YouTube coverage here.