Georgia Hall standing tall in team and individual events at the Aramco Team Series - Jeddah
Georgia Hall is contending on both fronts at the Aramco Team Series – Jeddah as her team have a one-shot lead, while she is also in a share of the individual lead.
From the morning starters it was the Major winner's team who posted the best score with 19-under-par at Royal Greens Golf & Country Club.
The quartet of Hall, Maha Haddioui, Diksha Dagar and H.E. Yasir Al-Rumayyan produced a bogey-free day as a team making the turn in -11 before finding more birdies on the front nine to get to -19.
And Hall herself sits top of the individual leaderboard with Germany's Olivia Cowan after carding a bogey-free round of 65 (-7).
The European Solheim Cup star said:
"Bogey-free is always nice round here, and I tried to make advantage of there not being a lot of wind, I still missed quite a few putts but I'm happy with seven-under."
Dagar, who was part of the winning Team Cowan at the Aramco Team Series – London, explained:
"It was a very good day, we started well, and we had very good teamwork with everyone contributing birdies. We definitely have a good chance [to win], especially if we continue playing good golf."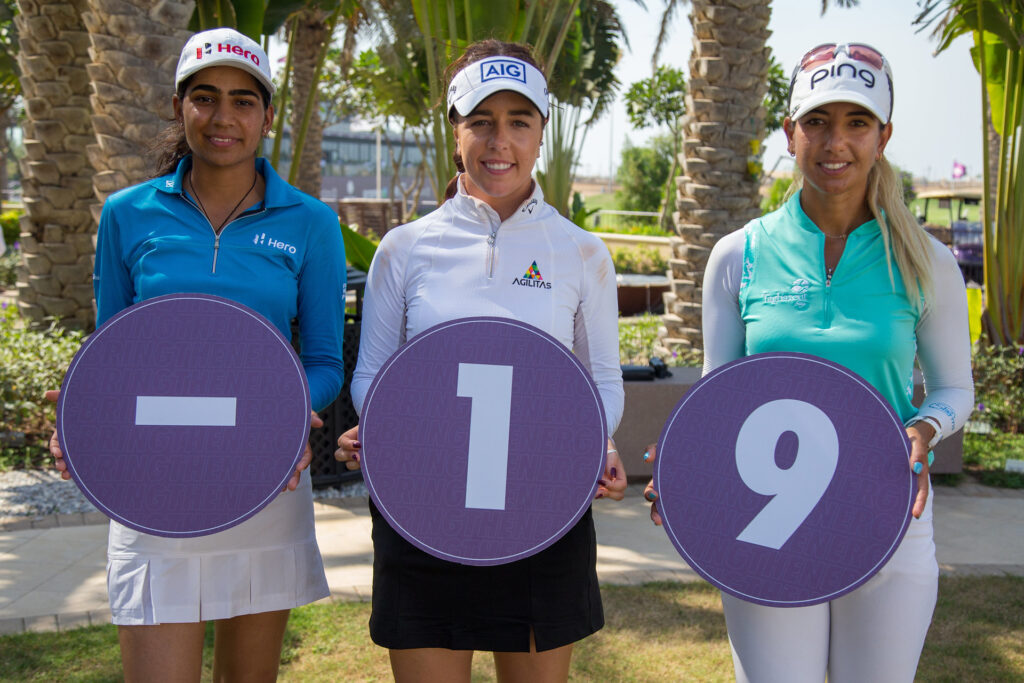 Lots of teams close behind
Team Ciganda were the quartet who burst through in the afternoon with Carlota Ciganda, Harang Lee, Leticia Ras-Anderica and amateur Lee Seung Su combining for a total of 18-under-par. Captain Ciganda commented:
"I'm enjoying playing this course, I really like it, I think it's a lot of fun with different holes, the back nine was playing quite tricky with a lot of wind today, so the last few holes were not easy.
"We did great as a team, if someone was in trouble the other was in great shape, which is what you want in this format, I had a great time with Harang and Leticia so I'm excited for tomorrow."
Three teams are tied for third place two shots behind the leaders with Team Weaver, Team De Roey and Team Givens all on 17-under-par.
It was Lindsey Weaver's group who held the morning lead until Team G. Hall surpassed them and the American is playing alongside Emma Grechi, Gudrun Bjorgvinsdottir and amateur Marc Topiol.
"We all played really solid. They both shot two-under, I shot four-under, and our amateur contributed quite a bit which was great," said Weaver.
"We had some good momentum out there, if we didn't birdie one hole we'd birdie twice on the next hole, so it was really solid."
Captain Ellie Givens, who was playing with Nicole Garcia, Hayley Davis, and amateur Zayd Alireza, said:
"Hayley and Nicole played solid golf, but our amateur was the star of the show with four birdies in the first five holes. It was crazy! He played great; it was a lot of fun out there."
Tied at the top in the individual competition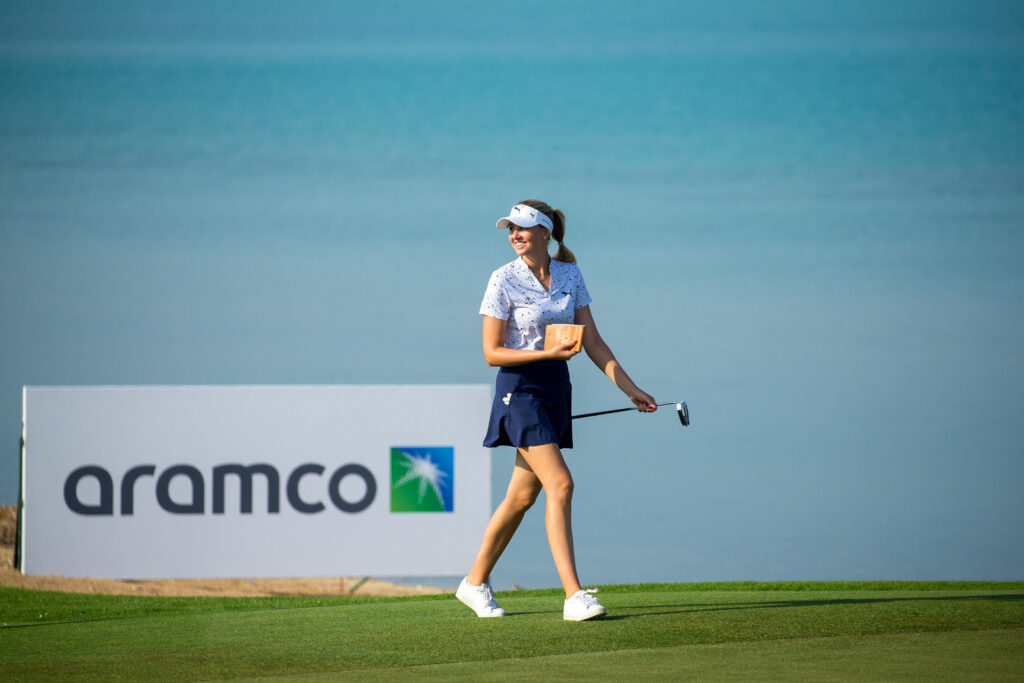 In the individual competition, Cowan is tied alongside Hall in first place after she also produced a flawless round of 65 (-7), following her T5 finish at last week's Aramco Saudi Ladies International presented by PIF.
While captain Cowan led her team of Nobuhle Dlamini, Madelene Stavnar and amateur Loay Nazer to a combined score of 16-under-par to be in sixth place after round one.
The Aramco Team Series – London team winner said:
"I think we just worked really well as a team, on some of the holes where one didn't do as well the other two helped out, we had quite a few birdies out there which definitely helped, and we had a good time out there.
"Our amateur is really good to talk to and he's really chilled out and we all get on really well, so it's a good team. The most important thing is to have fun out there and we're having a good which makes us play well."
Argentina's Magdalena Simmermacher and Spain's Carmen Alonso are tied for third in the individual competition having shot rounds of 66 (-6).
Three players fired rounds of 67 to be five-under-par with 2021 Race to Costa del Sol champion Atthaya Thitikul sitting alongside Scotland's Michele Thomson and Sweden's Anna Nordqvist.
If you missed it, catch up on Day 1 action of the Aramco Team Series - Jeddah here and you can watch live coverage of Day 2 via Sky Sports Golf YouTube here.