Anannarukarn and Noh share early lead in Evian
Thailand's Pajaree Anannarukarn and USA's Yealimi Noh both fired an opening round of 65 to lead on six-under-par at The Amundi Evian Championship.
Anannarukarn posted a bogey-free opening round with three birdies on the front nine followed by three on the back.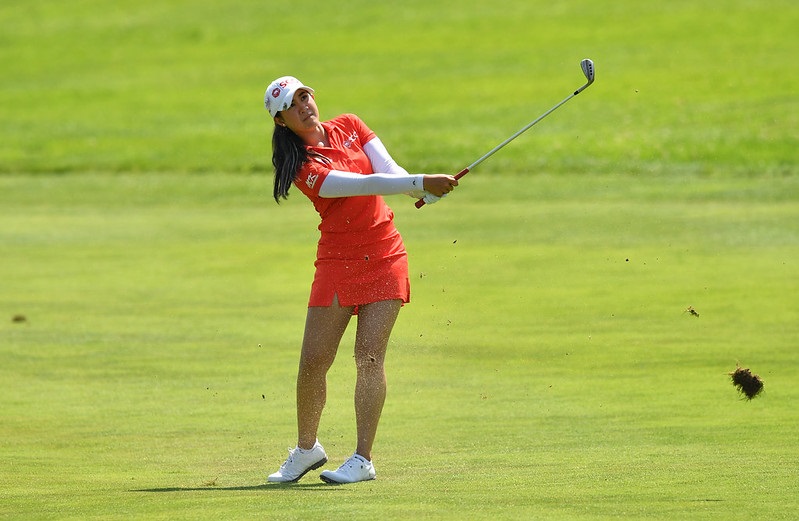 Noh starts with an eagle!
While Noh started off the Major championship with a hole-out eagle on the first hole and followed that with five birdies and one bogey to share the lead with the Thai golfer.
"It has been a good day out there. I was trying to focus on my game all day and tried to give myself a lot of opportunities. I made some really good putts that were not easy, but I focused on the speed and what I have been working on and it worked out pretty well," said Anannarukarn after her round.
Noh said: "It was the first time I've started a tournament with an eagle. Both of my playing partners stuck it and I was like 'I hope I stick it too, I don't want to be left out' and it went in, so it was nice. I wanted to finish good and take the advantage of that early start."
Pedersen looking to cement Solheim Cup place
Denmark's Emily Kristine Pedersen had a stellar first round with two eagles on the par-five ninth and 18th holes.
The 2020 Race to Costa del Sol winner added two birdies and one bogey to be among the five players who are tied for third place on -5 (66) – one stroke off the lead.
Pedersen commented: "It's a good start to the tournament and I holed a lot of good putts and a chip today. I have been struggling with my putting so it's really positive to see that I've found something good going forward."
One player alongside Pedersen is this season's Race to Costa del Sol leader Atthaya Thitikul, who carded an error-free round.
The teenage Thai sensation made her first appearance in the Evian Championship at only 14 years old, where she made the cut, and this year she finished T6 at the Jabra Ladies Open.
"I know the course pretty well and I just know where to go," she said. "It's a lot of fun out there with my caddie as well and it was a great bogey-free opening round. I am just not comfortable with my putting and even though I rolled it well today, I can do it better."
Four more Europeans are in the top-20 after the first round, all of them tied for 11th on three-under-par after shooting rounds of 68.
Last week's champion on the LET, Matilda Castren, had a slower start with a bogey on her first hole but bounced back playing bogey-free for the rest of her round.
The 26-year-old said: "I feel like I played really steady today. I missed a few putts but made a couple birdies on the par-5s and a few more on 13 and 16. This morning I felt pretty tired because it's my fifth week in a row. I just tried to do one swing at a time and just make it until the end of the round. Every day is a new day, and anything can happen. I am really enjoying it here and the course is beautiful."
Positive start for home players
French duo, Celine Herbin and amateur Pauline Roussin-Bouchard also carded opening rounds of 68.
The amateur, who is sixth in the Women's World Amateur Rankings, came in hot with three birdies on her front nine and maintained her score on the back nine.
She said: "I tried not to pay a lot of attention to the score, but the birdie on the second hole, which was my 11th, was pretty funny since I played the area I wanted to be on, ended up a little bit long and then holed out a very long putt."
Two-time LET winner Herbin got the 2021 Amundi Evian Championship underway this morning and was the first Frenchwoman to finish under par.
Herbin said: "I feel lucky to be able to play here as a French player in a Major. My game is in a very good state and the scores show it. I feel good on and off the course and I think it helps me a lot. I also hope lots of people are going to be here towards the end of the tournament, my goal is to make them enjoy my golf."
Follow all the action on @LETGolf on Instagram and Twitter and Ladies European Tour on Facebook – #RaiseOurGame #EvianChamp #RaceToCostaDelSol.
View the full Amundi Evian Championship leaderboard here.