Amateurs Hannah Holden and Mia Baker got to play in the Aramco Team Series - London. We spoke to them about their experiences.
Standing on the first tee at the start of a competition round can be a daunting prospect for a lot of golfers (to be honest this is me every time I'm on the first tee). If we then add in a team element, so you're not just playing for yourself, that you're the only amateur in the team and the small fact that it's a tour event and the rest of your team is playing for their livelihoods and a prize fund of $1 million…now how does that feel?!
That's exactly what happened last week at the Ladies European Tour Aramco Team Series – London event at Centurion Club. A unique team event that saw amateurs teeing it up with the professionals and having the ability to contribute to the overall team score.
The event was contested over three rounds with the best two net scores on each hole counting towards the team score. All amateurs had to have a WHS handicap index of no more than 18.0 for men and 24.0 for women and a two-thirds handicap allowance was applied to the course handicap to establish the playing handicap of the amateur.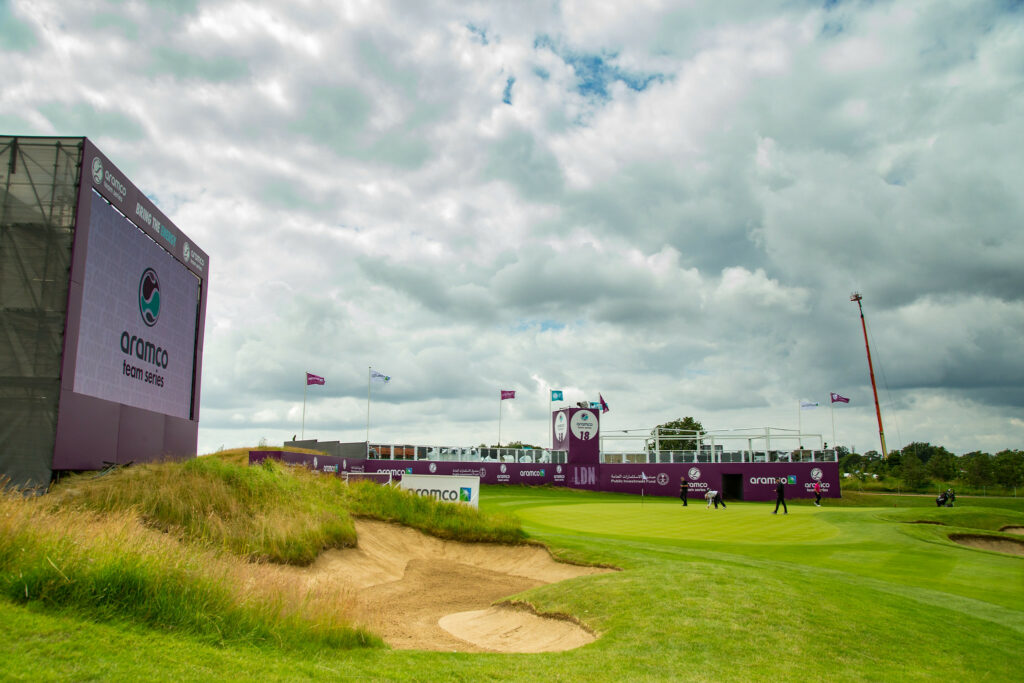 Whereas I would be terrified at the prospect of teeing it up with the pros, there are others that would relish the opportunity and there were 36 willing victims, sorry I mean amateurs, who were happy to pitch their golf game against the pros, potentially watched by hundreds of people and thousands if shared on social media. With walk-on music blaring and the unenviable task of teeing off last after three smashing drives from the pros – it's a wonder that any of them were able to stand over that first tee shot.
But they all did, and they all owned the shank, slice, hook and sublime shot that followed. I spent a lot of time on the first tee over the three days and had nothing but admiration for every amateur that stood up to the tee. Probably more so for the men who were teeing off from the same tee as the LET professionals – the male/female comparison is always present in golf. Potentially a discussion for another day as to whether this tee set-up should have been the case.
Teeing it up with the pros
After their final rounds, I had the opportunity to get the views of two amateurs both from opposite ends of the handicap spectrum – Hannah Holden, Equipment Editor at National Club Golfer, who plays off +2 and Mia Baker, a golf social media influencer, playing off 24 in her first-ever competition.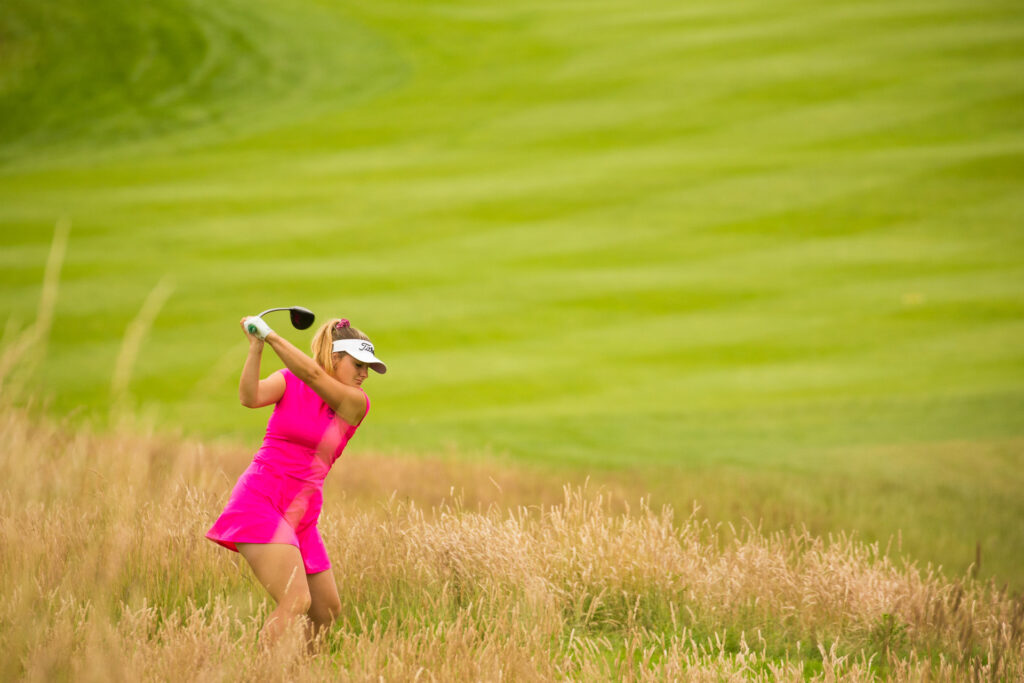 Did you enjoy your three days playing in the Aramco Team Series – London?
Hannah: It was interesting because before the event I didn't feel that nervous because I'm used to playing in a lot of tournaments. But then when I got on the first tee, I was definitely nervous! Saying that, I think I actually played my best golf on the first day down the first when I was nervous.
It was just really enjoyable to play with the pros and see the differences in our game and the similarities and where I could improve. Also, just to see how professional they were, but also really chatty especially our team Captain Malik. She was really nice and welcomed me to the team as soon as I got there.
Mia: I've never played in a competition before, the most I've ever done is go out with mates, we scored the round but it just like happy and jolly so this was the most serious thing I've ever done.
I just think the team format of the event is amazing. I'd like to play golf with a team more than playing as an individual. I love the camaraderie and if you don't do well on a hole, then your partner could do well, it's just much more fun.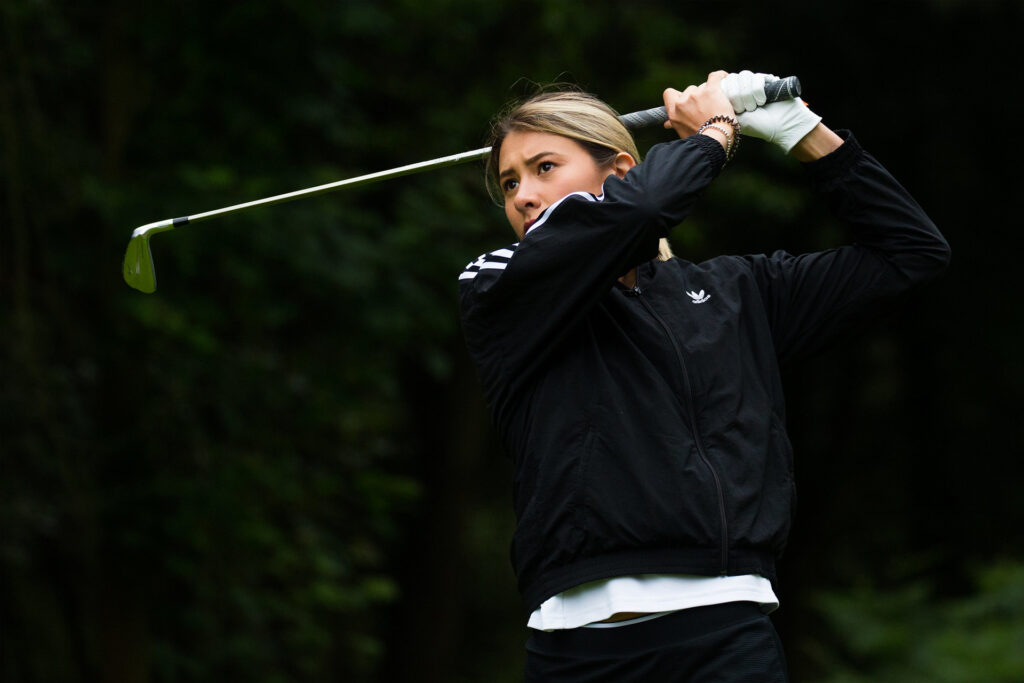 What were the similarities and differences you saw playing with the pros as an elite amateur?
Hannah: It was fairly similar, although they were probably a little bit more consistent. Obviously, it was a bit hard to compare exactly as we weren't off exactly the same tees. But I always thought that in terms of length that I wasn't necessarily long enough like the pros, but it was quite similar. I guess it would have been nice if I could have played off the same tees as them. But I think with the handicap and sloping, it probably wouldn't have worked out because they were off the men's and I don't think that's slope rated for women.
We were also playing in four balls which we don't normally do in amateur competitions, we're always in twos or threes. Then you have the addition of the fact the course was quite long and there's a lot of walking, so it definitely took longer. It made it quite hard to concentrate for that length of time when you're not used to it. I think that was probably the biggest difference.
No one I played with was slow, but obviously when you add in amateurs and some had quite a high handicap and the rough was so thick! So if you went in there it took quite a bit of time to find a ball. The girls' pace of play was good it was more the fact that we were in fours.
It was impressive how obviously they are used to it, but how they stayed focussed for the whole round because by the end, I was dragging a bit!
How did you find playing in front of a crowd?
Hannah: I actually played better when people were watching, I quite like the pressure. Like, when I knew I had to hole a putt for the team, I enjoyed that. It was quite nice when people were watching because they saw me as the amateur and didn't have a high expectations.
Mia: I mean, people get nervous when they play off the first tee with their friends, and they're like, please don't shank it and then you shank it! So, especially on Friday when, for some reason maybe because the sun was out, there were so many people, all the cameras were out, it was the middle of the day the perfect time. And you're also playing with three pros, and then you're trying to think, just don't shank it off the tee shot. But when you do actually shank your tee shot it's actually not that bad. It also makes you feel better when you hear that similar things have happened to other amateurs and putting it into perspective that you are playing with pros.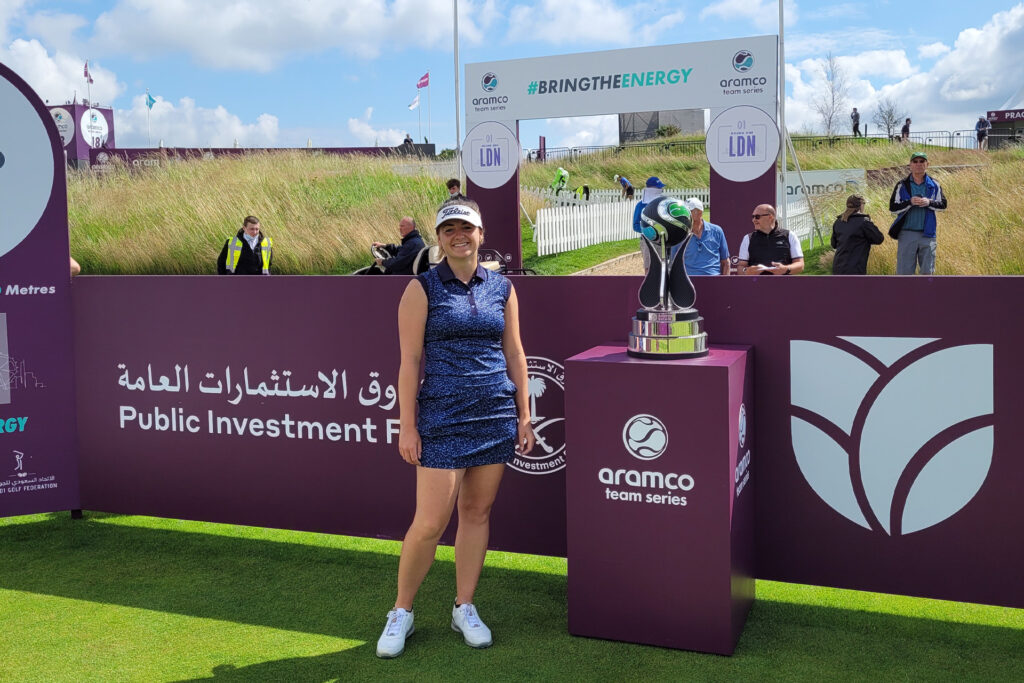 Would you like to see more team events?
Hannah: I really like team golf, and you don't get to do it that much. I think that format of fourball is so much nicer. Because typically when we play a team golf, it's foursomes. So either you feel really bad if you put your partner somewhere bad or they feel bad if they do, where at least with this, everyone's got their own ball. You've got loads of chances for bridies and better, so it's definitely fun.
But I definitely like the idea. We did a similar thing when I played in a Ladies Open at Blairgowrie, where some holes gross scores count and others were nett. Because a lot of amateur stuff is either nett or gross it doesn't really encompass everything for everyone. Something like this is really nice, because you can have someone with a handicap and someone off scratch scoring together without being one or the other.
I think if you did something like that, say going to a Ladies Open and it was a four-ball better-ball and you could have one net and one gross score to count on each hole. It's a nice way to get lots of people together that have different abilities because either low handicappers don't want to play if it's net and high handicappers don't want to play if it's scratch.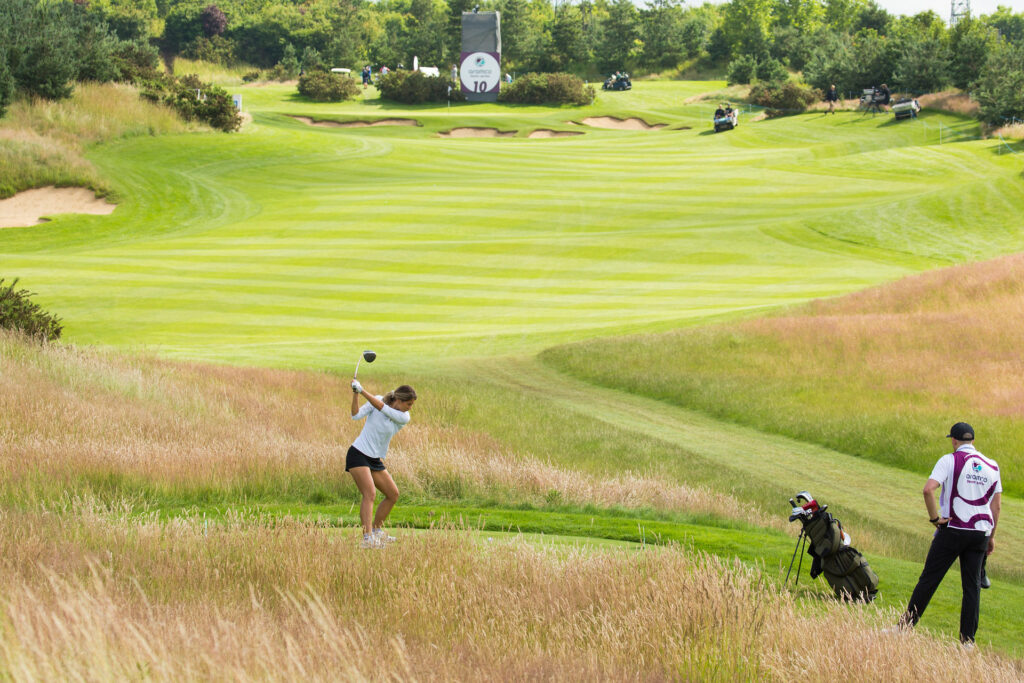 Would you play in a pro-am event like this again?
Mia: Yes, I mean I wouldn't want to be a pro golfer, just because it's just so mentally, really hard. Maybe if I was better I would be keen to be a pro…actually, I don't know I don't think I would, I just like to enjoy my golf. But definitely, I think having a competitive side to golf has kind of opened my mind and eyes a little bit. Before this, I just went out to enjoy it and have fun and just get better, I didn't really think about it being a competitive sport. I'm definitely going to get down to the range again soon. However at the moment I'm so tired, I could sleep for about three days!
After three days of competition Hannah who was part of Team Malik finished in 9th at -33 and Mia who was part of Team Williams finished in a tie for 10th at -32.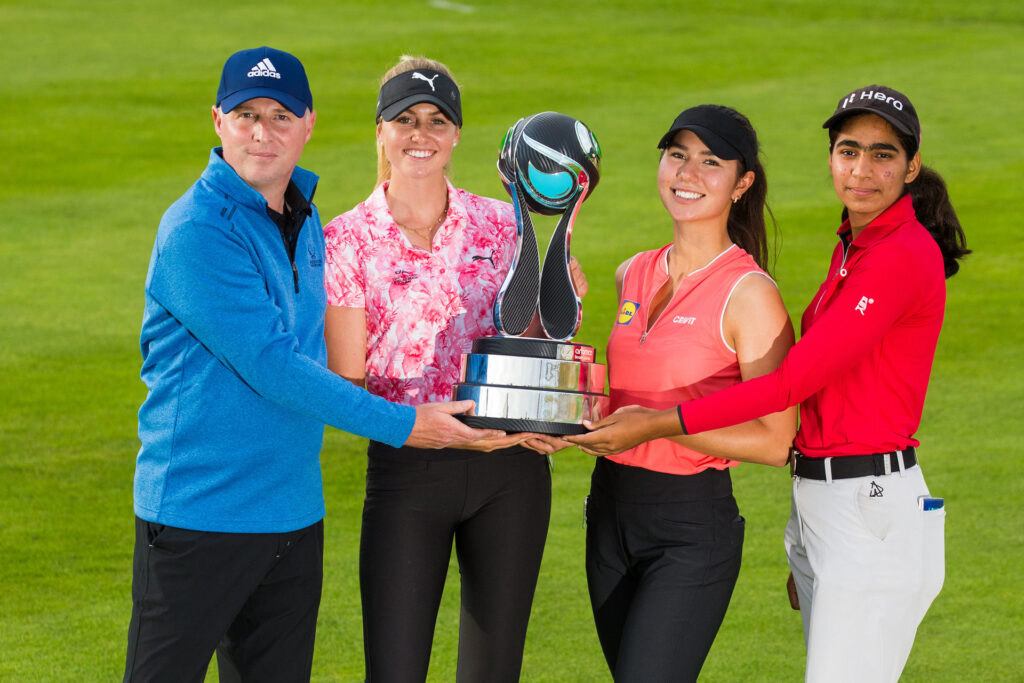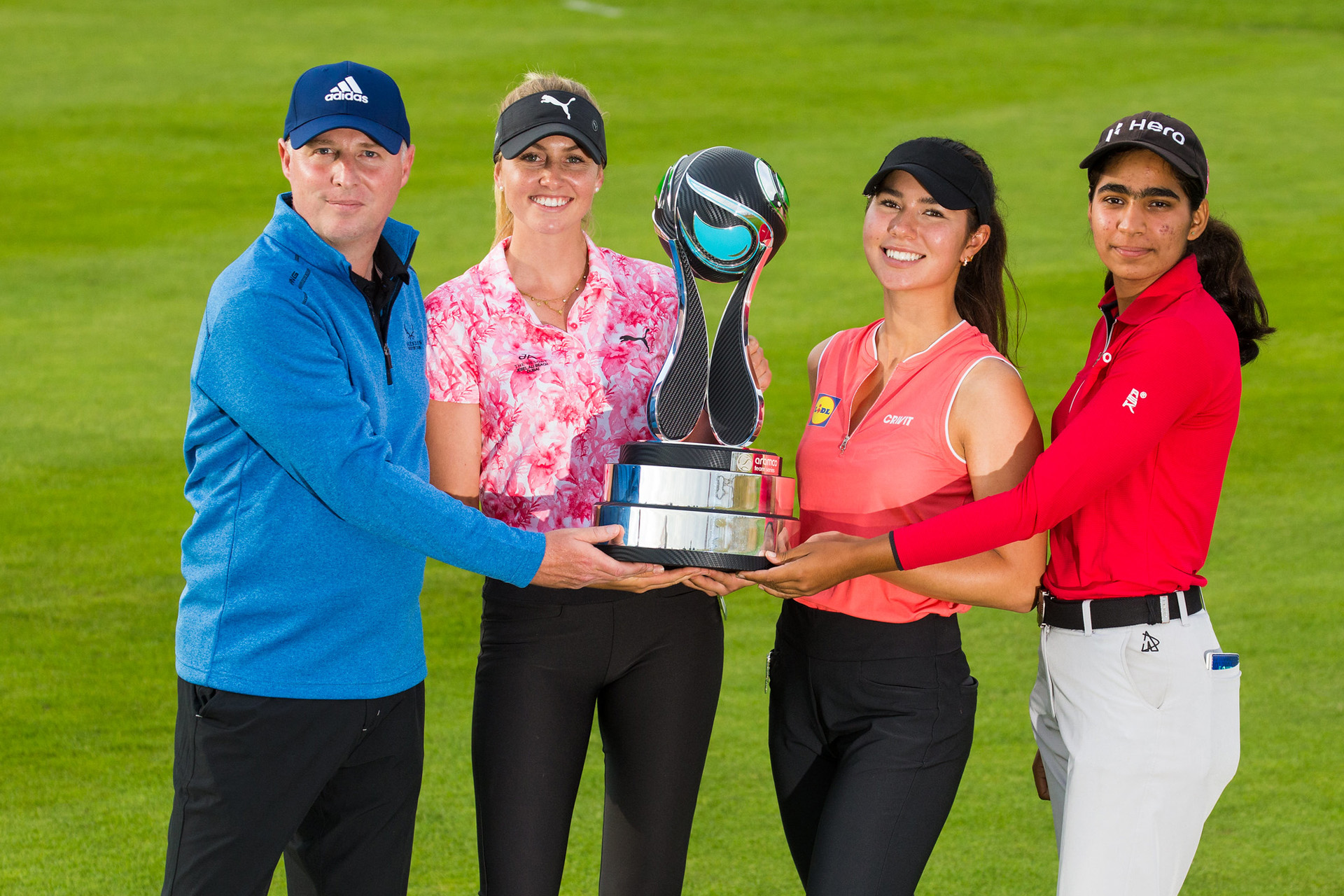 The Aramco Team Series has proved – contrary to my personal worries around how I would perform under pressure – that regardless of your handicap the opportunity to play with the professionals on the Ladies European Tour far outweighs the negatives around nerves, stamina and mental toughness.
With Team Cowan walking away triumphant including amateur Andrew Kelsey, it will be interesting to see how well the amateurs handle their chance to play at the highest level at the next Aramco Team Series stop in Sotogrande.
See the full Aramco Team Series results here.