American star Ally McDonald bagged her first LPGA Tour victory on her 28th Birthday at the Drive On Championship.
Ally McDonald really did have a 28th Birthday to remember.
After four years of hard work on the LPGA Tour, the American star won her first title at Reynolds Lake Oconee with a final score of -16.
She finished one stroke ahead of five-time LPGA Tour winner Danielle Kang, and it really was tense as the two stars battled it out over the final holes.
Speaking after the final round yesterday (October 25), Ally said her win was the "best birthday present ever."
"I've never doubted my ability, but I've definitely questioned whether I would be able to win out here. It's really hard to win out here," she said.
"So I've just really hung in there and tried to stick to my process since day one. That was able to get me in the winner's circle today. I'm really thankful."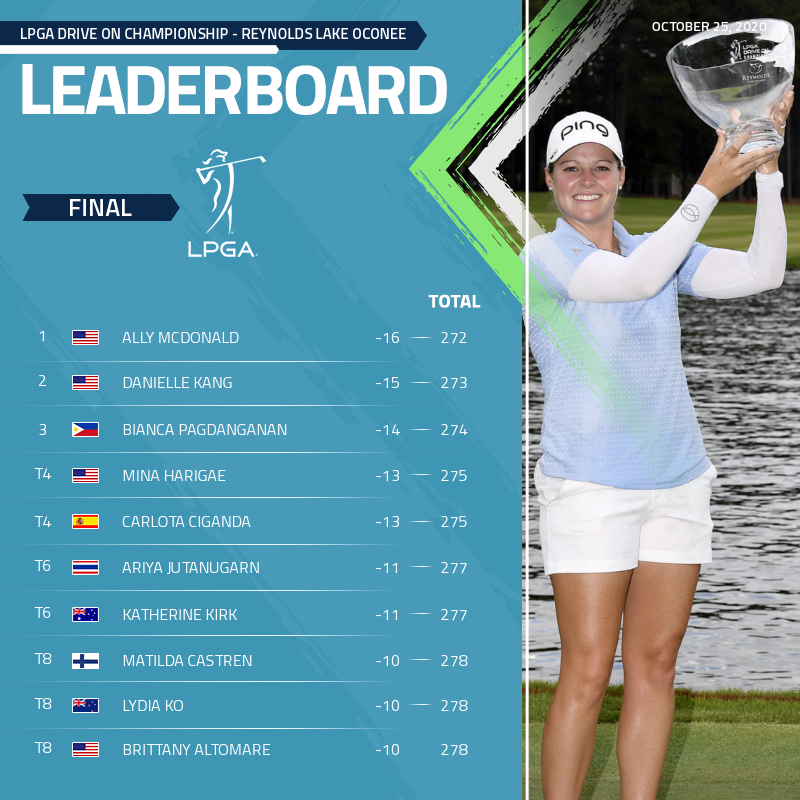 The final round
Playing in the same group as Danielle and Filipino rookie Bianca Pagdanganan, who also finished in the top 10 at the KPMG Women's PGA Championship, she had tough competition from the start.
Danielle pulled ahead by one stroke when she carded the first birdie in the group on the 2nd hole, but Ally answered with a birdie on the fourth and pars across the rest of her front nine.
At the turn Danielle was two shots back, and Ally continued her momentum with three consecutive birdies through holes 10 to 12.
Then with Danielle at -15 and Ally at -16 it all came down to final hole, where it looked for a moment like the former might make an eagle.
But Danielle eventually putted for birdie and finished as the solo runner up, with Biance -14 and solo third.
22-year-old Bianca is definitely on our list of ones to watch in future years. Only in her first year on Tour she parred the first 16 holes and birdied the last two during Round 4.
The European girls played brilliantly too, with Solheim Cup star Carlota Ciganda finishing T3 and England's Mel Reid at T11.
A "fulfilling" victory
The LPGA players now have three weeks off, and the Tour's most recent champ will use this time to let her victory soak in and keep grinding away.
"It's very fulfilling for me to finally get that victory. I won't say over the hump or anything like that because it's really hard to win out here," said Ally.
"I'm just going to continue working really hard and try to even get No. 2 after this one. But I'll definitely soak this in. I'm just really grateful and blessed that I play on the LPGA Tour and am able to do what I love to do every single day."
You can see the full leaderboard from the LPGA Drive On Championship HERE.