After a thrilling final round Anna Nordqvist secured her third major title at the AIG Women's Open at Carnoustie
The sun is setting on my first AIG Women's Open with Women & Golf and what a week it has been! The weather may not have provided the true test that everyone watching would have hoped for, except for a rain deluge yesterday, but it has been a spectacular week on the links.
After last year being played behind closed doors, the return of spectators was very welcomed. There was a total mix of ages across the week and the spectator village was always abuzz with chatter and the occasional cheer as someone sunk the long putt challenge.
They filled the stands for the final day, many travelling locally to support home favourite Louise Duncan, and got ready to see who could hold their nerve to claim one of the most coveted prizes in golf. With 26 players within five shots of the lead it was always going to be a thrilling final round.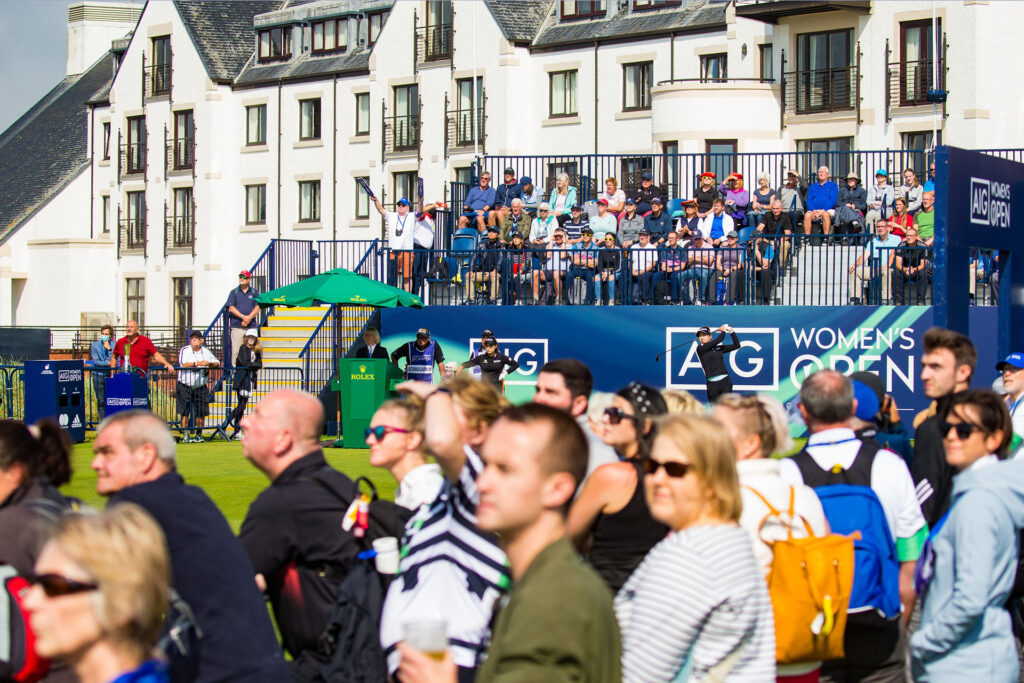 Setting the scene and the pace in the final round here at Carnoustie was Australian Steph Kyriacou who made four birdies and an eagle over the first 12 holes to get to nine-under-par. Unfortunately, that's where her charge ended with three dropped shots, including a double on 18, to get her into the clubhouse at -6.
It wasn't just Kyriacou making a move as once all the players were out onto the course, the birdies started to drop at one point there were six players in a tie for the lead at nine-under-par. That soon became four at -10, Lizette Salas, Nanna Koerstz Madsen, Anna Nordqvist and Minjee Lee.
Lee was 11 groups behind the leaders and had started the day at four-under-par. She scored seven birdies in what was a blemish free round. On the 18th tee, the Australian was -11. She did manage to get a lucky bounce as her ball narrowly avoided the Barry Burn but it wasn't enough to stop a bogey. A final round 67 was enough to set the clubhouse lead at -10. After her round she said:
"I didn't really feel too much pressure or anything. I was five shots off the lead, so I just tried to pray as aggressively as I could, given the conditions and the pin placements. Just try to hit one shot at a time and just try to hit each shot, like commit to each shot. That's pretty much what I did, and had 6-under today, which is a great score around here."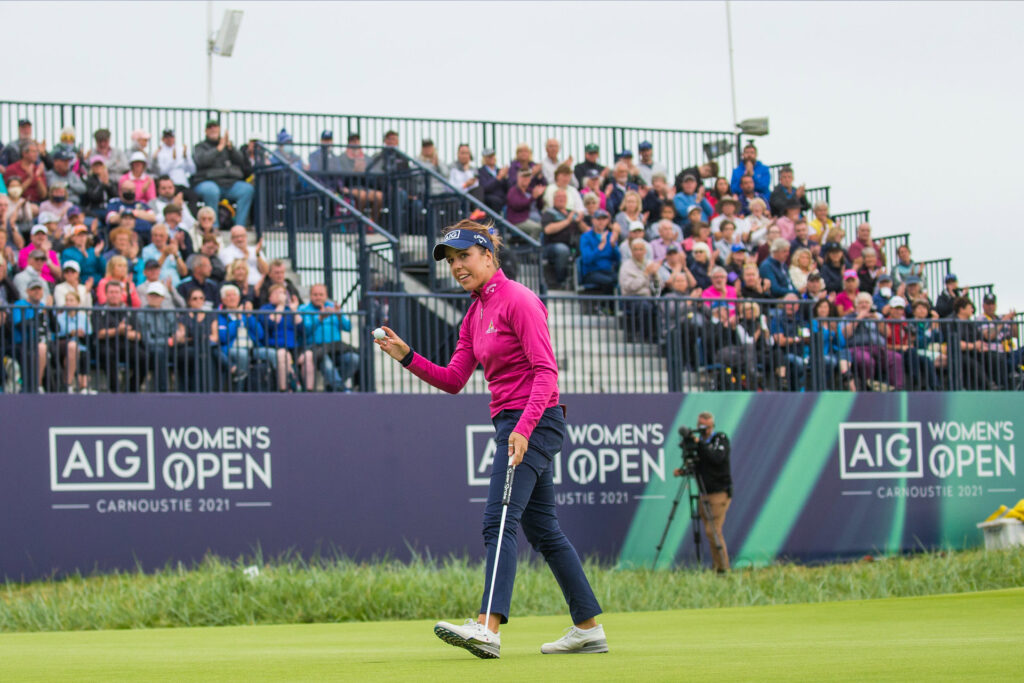 After a slightly disappointing third round, Georgia Hall was back to Women's Open form and if it hadn't been for a couple of putts she may have been lifting her second AIG Women's Open trophy. She was joined in the clubhouse at -11 by Madelene Sagstrom and Lizette Salas who with 68 and 69 respectively did all they could.
That left a final two-hole battle between overnight leaders Anna Nordqvist and Nanna Koerstz Madsen who were both -12. Nothing could separate them on the 17th, both sinking similar three-foot putts. So it was left to the famous 18th. And separate them it did, whilst Nordqvist hit her second shot onto the green, Madsen ended up in a bunker – it would take her four shots from there to finish her round to be -10 and tied third with Lee.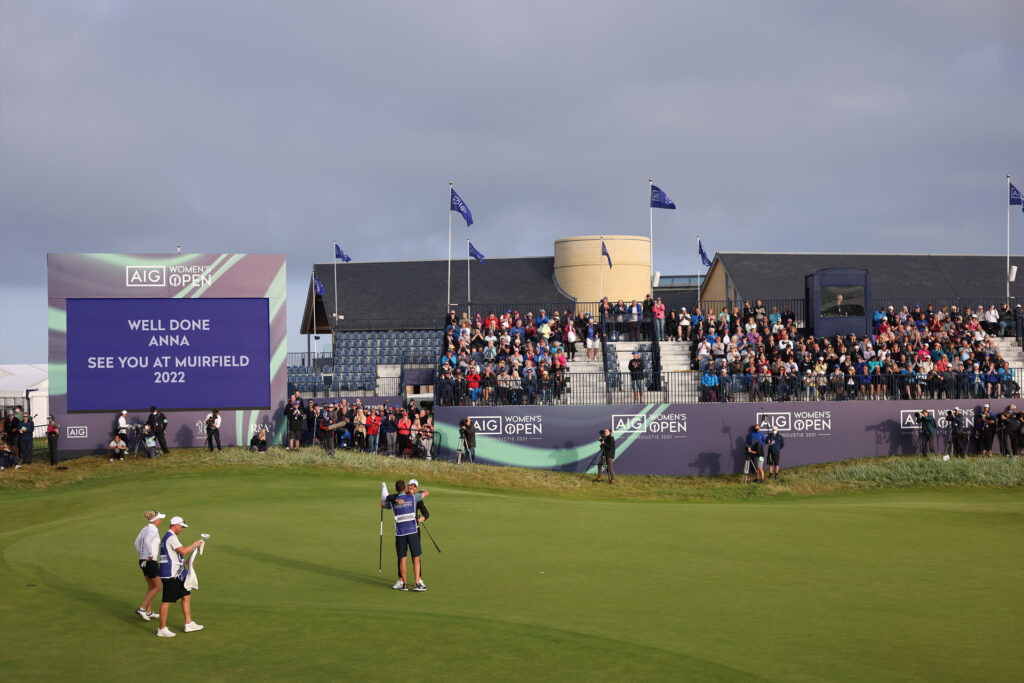 The 34-year-old Swede's job was a little easier and leaving herself a tab in for par she won her third major Championship and her first AIG Women's Open. Her last win was also a major but that was back in 2017 at the Amundi Evian Championship. She noted that it has been tough, she said:
"There have been a lot of downs, a lot of hard times. Which makes this win all the sweeter. I could only dream of winning the Women's Open. This is a truly special place to me. I loved the fans being back and the atmosphere was great."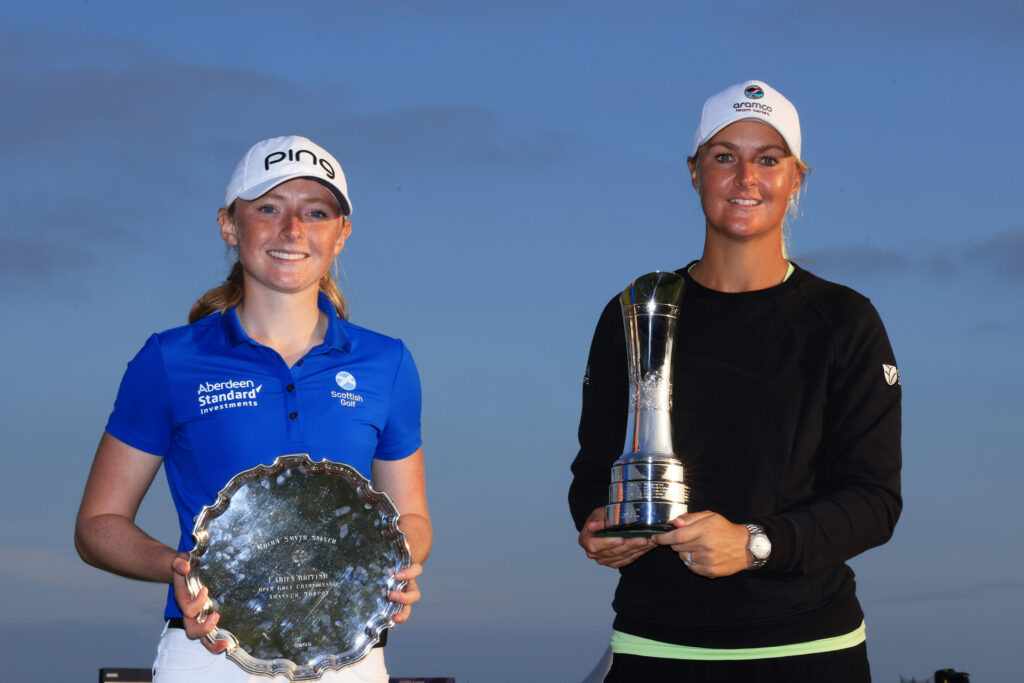 Although Nordqvist won the major, the story of the week has to go to Scottish amateur Louise Duncan who ended the day at seven-under-par after final round 72. She claimed the Smyth Salver for the lowest placed amateur, an award the Nordqvist won in 2008, and ultimately the hearts of the Scottish crowd. It's certainly going to take some time for her to appreciate what she achieved, she said:
"I feel a bit mind blown as if it's not actually happened yet. So maybe take a couple weeks to sink in. Feel over the moon with how I played and how I handled it. Had a great time, and yeah, really happy with how I played the past four days."
See you next year in Muirfield!
The full AIG Women's Open leaderboard can be viewed here.