Golf looked to the next generation of talent at the PNC Championship this weekend. Plus golf is snubbed yet again at BBC Sports Personality of the Year.
It feels like this golfing weekend has been spent in a parallel universe, a sort of back to the future-esque time. My social media timelines have been full, and I mean full, of 12-year-old Charlie Woods as he returned to the fairways with his dad at the PNC Championship.
There was obviously double excitement as Tiger was making his return since his potential career-ending car accident back in February. Swing sequences, shot tracers, major predictions and so much more. It was all there for golf fans to soak up and there was a hugely confident swagger from Woods junior.
Don't get me wrong, it was great to watch and with my first point, almost felt like it must have done when people watched a young Tiger all those years ago.
Next generation of golfing talent
It wasn't just Charlie Woods in the limelight. Eleven-year-old Karl Stenson also took it all in his stride, had no trouble being interviewed and displayed his dad's dry sense of humour.
The PNC Championship kept viewers engaged right until the end thanks to the Woods duo as they went on a birdie run, they were already four-under-par after three holes but from the seventh, they scored 11 consecutive birdies which was the longest birdie streak in the tournament history.
The birdie run wasn't quite enough as Team Daly finished two shots ahead. Again though, it was the next generation that were dominating the conversation. John Daly II at 18-years-old has already shown before that golf is in his genes and along with Charlie Woods and Karl Stenson – it's safe to say the future of professional golf is in safe hands.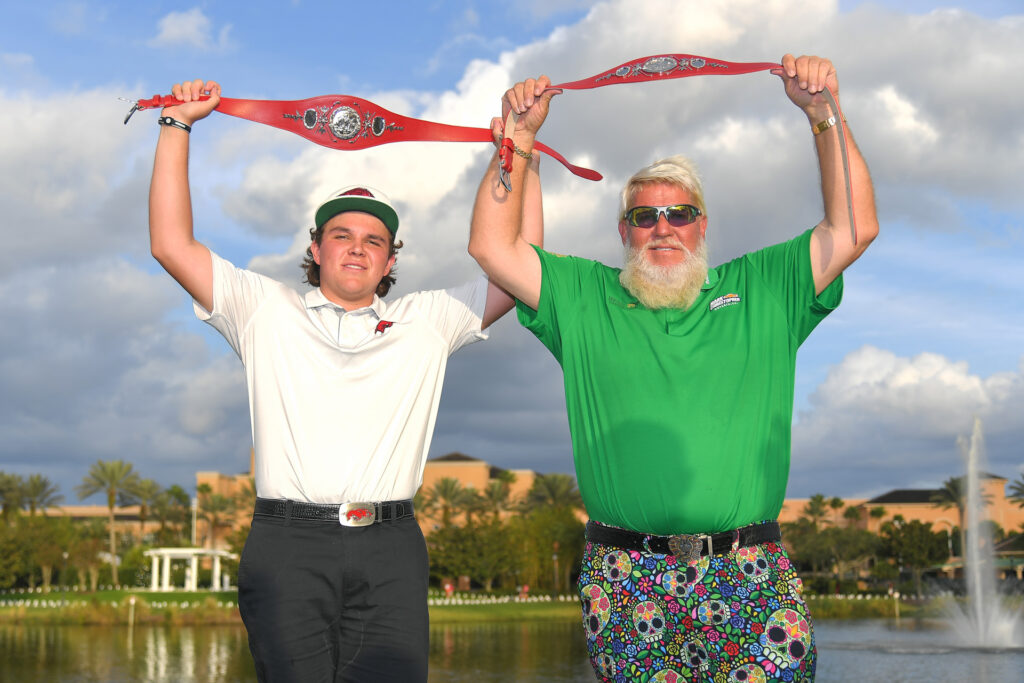 One final surreal point from the PNC Championship was when Nelly Korda met Tiger. Imagine being the World Number 1 golfer, Olympic Golf medallist and major winner and being totally awestruck. That's exactly how she felt when asking to get a picture…
I was amazed they hadn't met before!
BBC Sports Personality of the Year
Every year I watch BBC Sports Personality of the Year (SPOTY), every year I tend to come away a little disappointed and every year I read several articles from the golf community that talk about their indignation at how golf was "snubbed" yet again.
So, it really shouldn't come as any surprise that golf didn't win big again. The triumphant European Solheim Cup team not only won playing on American soil, but they also did so without European fans and their captain Catriona Matthew was the first European captain to have back-to-back victories.
On a very pared-back version of SPOTY, due to Covid-19, it was at least great to see that Catriona Matthew had been invited to speak. At that moment, I had hopes that Team Europe might at least get one trophy.
But it wasn't to be. The expert judging panel unanimously decided to give the Coach of the Year award to England Men's team manager Gareth Southgate and the Team of the Year to the England Men's football team.
One of our W&G Facebook followers summed it up perfectly:
"Lost at home with a stadium full of fans. Won away with only your junior team to cheer you on. Now let me think what was the achievement…"
Also:
As a golf fan, it's hard not to feel that we were robbed in some way but then I am sure the swimming, diving and other sports fans thought their sport's nominee was the most worthy.
Does golf need an image change?
It's my opinion that golf still isn't being taken seriously by the wider sports community. Especially in the women's sport sphere, golf just isn't embraced like other women's sports. Maybe it's an image problem? The elitist, money rich men's game overshadowing the sport and now even the LPGA's growing prize funds creating a gulf from other women's sports.
I feel it definitely needs to shake this image off before the wider sports community embrace golf as a sport that is worthy of recognition on the global sports stage.
Whether the likes of Charlie Woods, Karl Stenson and John Daly II are able to achieve this remains to be seen.
Women's sports win big
U.S. Open Champion Emma Raducanu won the public vote to be crowned BBC Sports Personality of the Year and became the first woman to win since Zara Phillips in 2006 and the first female tennis play to win since Virginia Wade in 1977.
Overall, it was an awards night that was dominated by female winners. It's just a shame we didn't make it a clean sweep with the Coach and Team of the Year. I guess there's always next year…when it's unlikely that golf will feature at all…sigh.
What were your thoughts on SPOTY? Have your say on our Facebook page.