Rose Zhang, the number one ranked amateur female golfer in the world is turning pro.
Rose Zhang, one of the most decorated amateurs in history, is turning professional and will make her first appearance at the Mizuho Americas Open next week on the LPGA Tour.
The Stanford sophomore is forgoing her final two year at college to pursue a professional career. Zhang took to her Instagram account on Friday morning to make the announcement:
"I am excited to announce that I am officially turning professional and will be making my debut at the @mizuholpga next week! The endless love, support and inspiration from so many people brought me to this point of my golf career. From my teammates to my coaches and trainers, to my friends and my family – you have all been integral in my journey, shaping me as a person and player while making sacrifices for my success. You have made it possible for me to pursue my dreams.
"Looking forward, I am truly blessed to have a packed summer schedule that includes all four of the Major Championships and want to thank @pga, @usga, @therandagolf and all of the title sponsors for such incredible opportunities at the start of my career.
"Stanford is truly a special place with special people. I would never take these incredible memories and experiences for granted. With that in mind, while I am pursuing my professional career, I will continue to earn my degree in the years to come. Stanford fam forever ❤️🌲
"I appreciate everyone who continues to believe and support in me as I will be embarking on this new chapter in my life. With faith in God's plan, I'm stoked for what's to come 💞"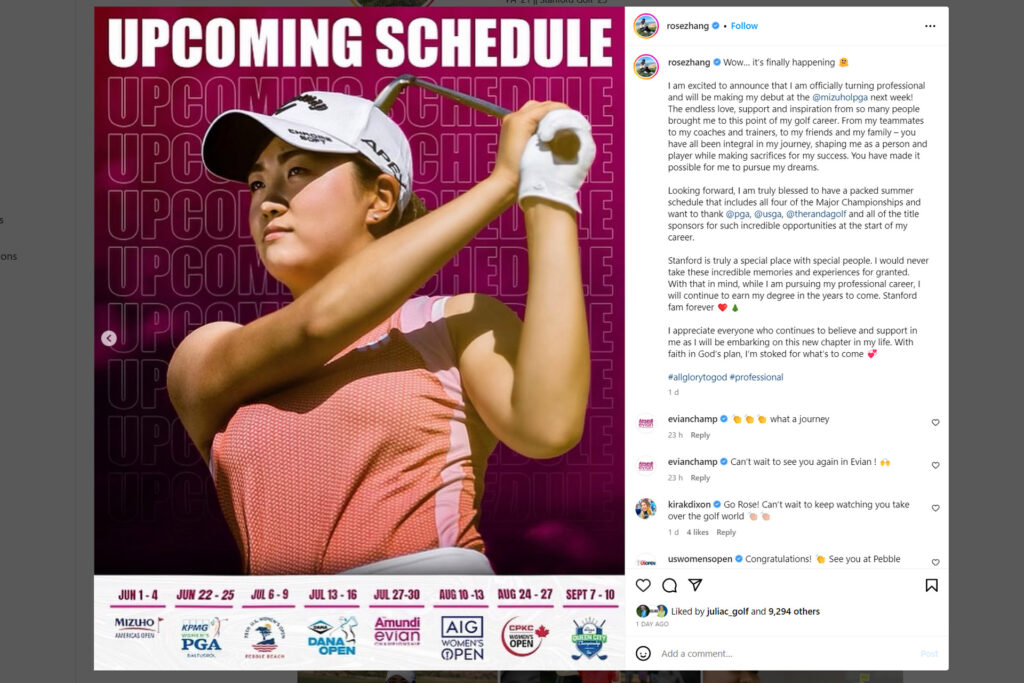 Not a bad run for your first professional events! Not long after the announcement The R&A and USGA confirmed that the 20-year-old would gain special exemptions into the AIG Women's Open and U.S. Women's Open. The American will also feature at the other two Majors this season the KPMG Women's PGA Championship next month and the Amundi Evian Championship.
An unbelievable amateur career
Zhang made history as an amateur, currently spending 141 weeks as the number one golfer in the women's World Amateur Golf Ranking® (WAGR®).
She reached the number one position in WAGR® for the first time in September 2020 and went on to beat Lydia Ko's record of 130 consecutive weeks by remaining at the top of the ranking until she turned professional. Last month, Zhang also surpassed the record total of 135 weeks set by Leona Maguire of Ireland in 2018.
Zhang received the Mark H McCormack Medal as the world's leading women's amateur golfer in 2020, 2021 and 2022. Her other amateur achievements include being the first women's player to win two NCAA individual titles following her successful title defence of the NCAA Division 1 Women's Championship this week. This also saw her surpass the number of wins Tiger Woods achieved as a Stanford University golfer.
Zhang also won the Augusta National Women's Amateur last month and the US Women's Amateur two years ago. She also played a leading role in the American Curtis Cup team's victories over Great Britain and Ireland at Conwy and Merion in 2021 and 2022 respectively.
Special exemptions into the remaining 2023 Majors
Martin Slumbers, CEO of The R&A commented on Zhang's inclusion at the AIG Women's Open this August at Walton Heath:
"Rose Zhang is an incredibly talented golfer who has already written her name into the history books as an amateur golfer. It is very rare that we grant a special exemption for the AIG Women's Open but we believe that Rose's exceptional achievements to date warrant her inclusion in the field at Walton Heath."
The U.S. Women's Open at Pebble Beach will see Zhang join past champions Annika Sorenstam, of Sweden, and So Yeon Ryu, of the Republic of Korea, as players who have received special exemptions into this year's field.
It's set to be an exciting but tough start to Zhang's professional career but if there were any amateur that was up to the challenge then you wouldn't bet against her making an impact right from the outset.
We wish Rose Zhang every success in her professional career and we're going to be following with great interest.