The Open has announced a major evolution to The One Club membership offering unrivalled once-in-a-lifetime year round upgrades
Following the successful launch in 2017 of The One Club, The Open's free-to-join membership for golf fans across the world, a new evolution to the membership has been announced ahead of the much anticipated 150th Open. A number of new benefits will be added to the roster this summer, giving fans across the world the chance to get even closer to golf's original Championship.
The membership continues to be free for all and the new suite of benefits to The One Club now include:
Access to The One Club Hub, a new portal on TheOpen.com featuring the latest content and competitions
Exclusive content from The Open, including four brand new series coming this summer
Exclusive offers and competitions, with chances to win once-in-a-lifetime prizes all year round
One Club Advantage members
As part of the announcement, Mastercard, an Official Patron of the Open, is to become the Presenting Partner of the fan membership programme. Members who own and link their Mastercard to their One Club membership account will automatically become One Club Advantage members free of charge. These members can enjoy the standard benefits, as well as additional benefits, including:
Access to golf, and the chance to play at some of The Open's most iconic venues
Enhanced chances of securing tickets to future Championships
Even more exclusive year-round competitions and offers
New member upgrades like free golf lessons and equipment upgrades
Once-in-a-lifetime experiences at The Open, including the chance to meet golfing legends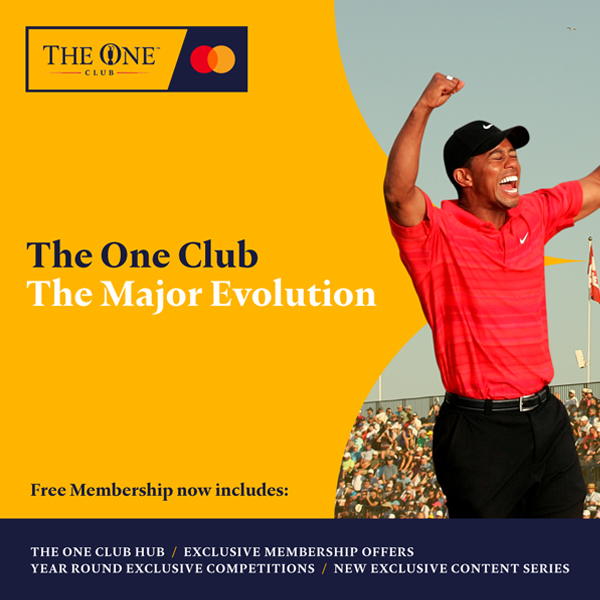 The Open has listened to its members, of which there are now more than 700,000 of the most passionate golf fans across the world, to ensure that this next chapter of The One Club is better than ever. Through membership surveys undertaken over the last 24 months, key feedback was the need to include a 'playing' benefit, and now One Club Advantage members will have the opportunity to enjoy tee times at some of The Open's most iconic venues.
The One Club Hub
All members will also have access to The One Club Hub – a new unique portal area that will feature everything a member may need, from the best exclusive content from The Open and latest offers and competitions.
John Espley, Director of Commercial Partnerships said:
"When we launched The One Club we delivered a truly unique offering for golf fans all over the world. The free membership meant people of all ages could get closer to The Open all year round with exclusive content. We're thrilled to be able to take the membership even further in partnership with Mastercard, allowing us to offer unrivalled benefits as part of the free membership, meaning golf fans can experience the magic of The Open in new and exciting ways."
Michael Robichaud, Senior Vice President of Global Sponsorships of Mastercard said:
"At Mastercard, we value that experiences matter more than things and strive to provide Priceless moments to our cardholders across their passion areas. As a proud sponsor of The Open Championship since 2011, we have a long tradition of bringing fans closer to the game of golf. We are delighted to be the presenting partner of this exclusive program in celebration of the milestone 150th Open Championship."
For more information on the One Club and to access exclusive content, please visit TheOpen.com